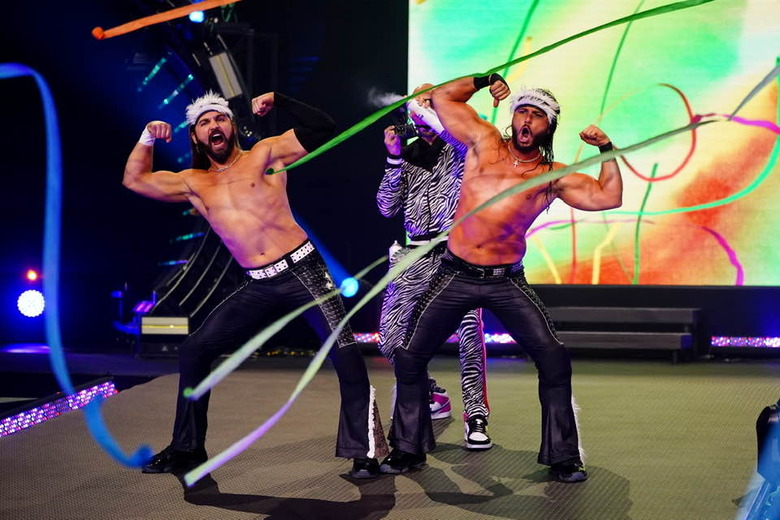 Following the recent suspension of The Elite due to the backstage brawl between themselves, CM Punk, and Ace Steel at this year's All Out PPV, questions started to emerge over the stable's long-term AEW future, due to a report from Ryan Frederick of the Wrestling Observer stating that the Bucks had contacted a WWE talent to inquire about WWE's potential interest in them when their contracts are up in 2024.
It's worth taking into consideration that whilst many believe this to be a sign of the Young Bucks' interest in a move to WWE, wrestlers putting out 'feelers' is not an uncommon occurrence, and may simply be an example of talent playing sides against each other to negotiate themselves a better deal when the time comes.
Speaking on the Wrestling Observer Radio, Dave Meltzer spoke about the rumours, what doesn't seem to make sense, and also reports that the Young Bucks have denied the rumours of them sending feelers to WWE.
"The only thing I know on that is they have said that story is not true. They talk to people in WWE, that's not unusual. But again, time will tell on what happened and what's happening and everything like that. — but I do know that they've denied that stuff.

-Dave Meltzer
"One thing that's kinda weird to me, it's like the nature of the story is that they called a WWE Talent, who I'm sure they did call, and wanted to get in touch with Triple H or something right? And it's like why would they — If you wanna get in touch in Triple H, they negotiated with the guy in 2018. A lot. So why would you need an intermediary to go through? If that was your goal, why? — That's the thing that doesn't add up.

I'm not saying it didn't happen. I am saying they denied it happened.

– Dave Meltzer
As previously mentioned, the Young Bucks are just two of a number of AEW talents and backstage producers currently suspended as a result of the events that took place following the All Out post-event press conference.
In addition, it was confirmed last night that the Bucks' weekly YouTube show, Being The Elite, is on hiatus until further notice, likely as a result of their suspension.
If you use any of the quotes above, please credit the original source with a h/t and link back to WrestlePurists.com for the transcription.