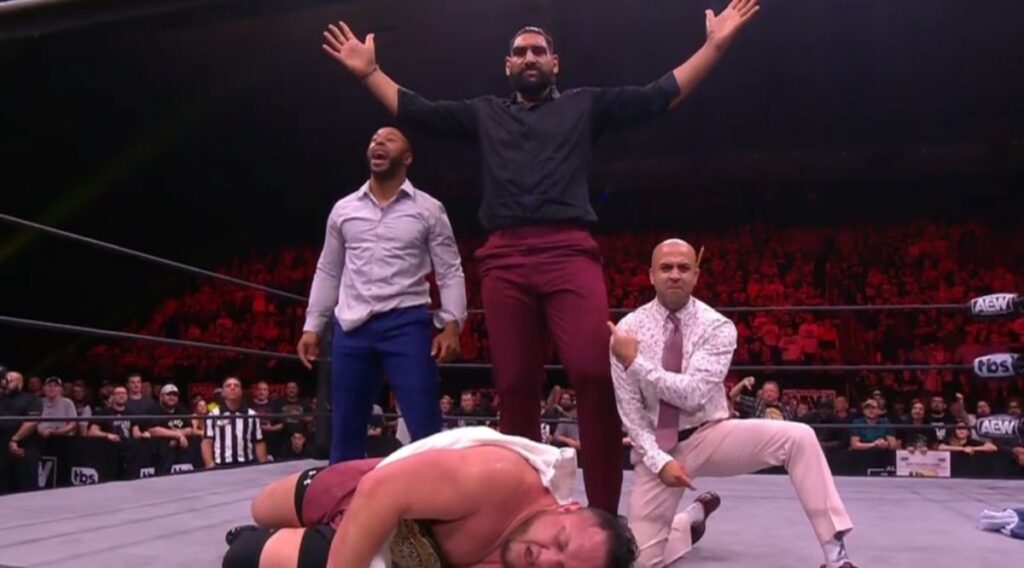 This past Wednesday's AEW Dynamite saw the highly anticipated ROH World Television Title bout between Minoru Suzuki and Samoa Joe, with the Samoan Submission Machine coming out on top to win the title.
Joe's post match celebrations were cut short however, as Jay Lethal and Sonjay Dutt revealed their "present" to the new champion, flipping off Joe before the lights went out. As the lights came back on, the debuting Satnam Singh stood behind Joe, before laying him out with a clothesline.
Unfortunately for the 7'3 former basketball player, the debut didn't go over well with fans, as many weren't sure who Singh was, and perhaps expected a more familiar name, with the likes of the former Cesaro being rumoured to sign with AEW.
Speaking on Busted Open Radio, Tony Khan had a chance to adress the criticism regarding Singh's Dynamite debut.
"I could have done it better. It's one of those things, I wish I had done it differently because the fans are always going to be right so if the fans don't like something…sometimes, there is something where you're trying to get heat, so if you're in a 'trying to get heat,' situation people aren't always going to love it, but there are things about it that I probably should've done differently, now that I see in hindsight. To be honest, it wasn't my idea to turn the lights out, but I am the ultimate filter and who everything goes through. I put the outline of the show together and when I came in Wednesday, I thought it was the best outline I had ever put together, one of them, at least. It was as much strong wrestling as you can fit into the program and I thought up until that point, the show was excellent. That was the one thing we went off on. People might not have liked it. Satnam is an important person for us, it was important to debut him in a meaningful way and to show that, with Jay Lethal, he's going to be a force to be reckoned with,"

-Tony Khan
Khan continued, further discussing the decision to debut Singh by turning the lights off, noting that no one saw the negatives when the idea was brought up in creative.
"At the same time, turning the lights off for somebody people didn't recognize, it's a great point. To be honest, the person who brought up turning the lights off has over 30 years of experience in pro wrestling. When they brought it up to me, I was only looking at the pros and I should have thought about the cons, because that is my job as the person who decides what goes in and who filters out these ideas. We have all these people in the room and somehow, not one person brought up the negative. When we did it, all the negatives were very obvious. I'm not going to say who it was and I don't need to list all the credentials of all the great people around me in the production meeting, but it was a lot of veteran people. Nobody said that and when it happened, I agreed with the fans completely. When it came up, I said, 'that could work, it's different.' I was looking for how to physically get him in there for that moment and somebody, like I said, with over 30 years of experience said, 'we could turn the lights out and do this' and I went, 'Okay.' I should have seen the negatives before we did it and I really didn't see them until it actually happened. That's not Satnam's fault, it's definitely not Jay Lethal's fault. At the same time, I'm very excited for it. It created a lot of buzz. Satnam's debut has been the most-watched thing out of the show and it's gotten international attention I wanted it to get, but I didn't want it to loom over a lot of great stuff on the show either and I don't think it has or will."

-Tony Khan
As first reported by Fightful Select, Grapsody's Will Washington learned that the decision to debut Singh on the most recent episode of Dynamite was a strategic move folmowing the Discovery-Warnermedia merger as a big angle for Eurosport. Discovery owns Eurosport, which is also All Elite Wrestling's India TV partner.
The debut certainly grabbed the headlines on the night, with the segment gaining 686,000 views on YouTube, making it the most watched segment from the episode.
Khan closed by stating that he appreciates the feedback he received following the debut, and will ensure that such mistakes will not be made again.
Despite Satnam Singh's disappointing debut, those behind the scenes are said to be impressed by the giant's progress, with Singh attending training every day for the past few months and apparently having a few tricks up his sleeve.
H/T to Fightul's Jeremy Lambert for the transcription.