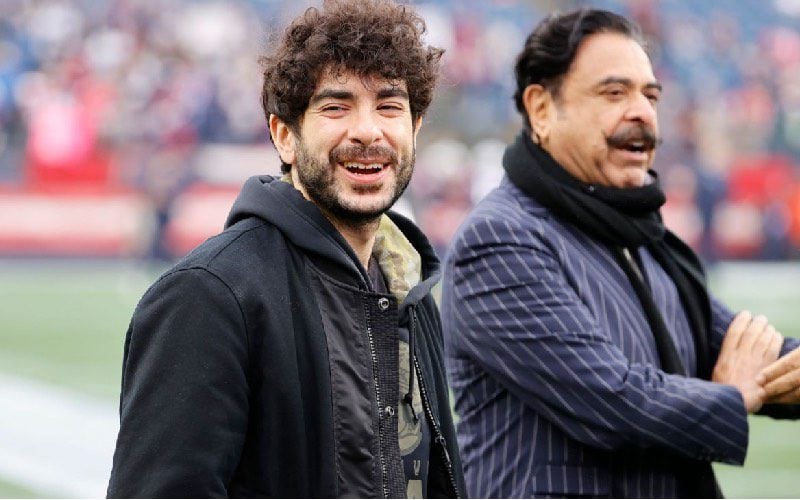 On January 12th, a report from Barron's stated that AEW President Tony Khan and his father Shad Khan are "in the pool of" potential buyers amid the reports that Vince McMahon has returned to WWE's Board of Directors in order to sell the company. It was additionally noted that the Khans would likely seek financial partner should they look to aquire WWE as an asset.
During a recent appearance on The Maggie and Perloff Show, Tony Khan addressed the rumours of him and his father looking to purchase WWE, revealing that he certainly has an interest in the process, as well as stating that the family are more than capable of making big purchases.
"I am interested in the news that there is potentially a sales process and certainly, I think we've shown, when there are acquisitions and transactions, we're capable of making the big purchases, whether my dad steps up with the (Jacksonville) Jaguars or Fulham FC in the Premier League and he's done such a great job building up the club and putting resources into it and we're playing football at a high level. With AEW, we've shown that we can build a company. Even when I purchased Ring of Honor, that's a very different thing than WWE, but Ring of Honor is a company with 20 years of history and I really have enjoyed running it and we've shown that we're at all time highs in terms of every business metric since we relaunched it and it's only going to get better. AEW is my main focus, but certainly, when that news is out there, it's very interesting. Stay tuned to AEW Dynamite and AEW Rampage, you never know when I'm going to address something. On the other hand, it's very preliminary to talk about that process. If there is a process there, which it sounds like there may be, I'm interested in being part of it,"

-Tony Khan
With Vince McMahon having recently been unanimously elected as WWE's Executive Chairman, along with the reports that he is the man leading the sales process, many believe that one potential factor that will influence who McMahon sells to is the buyers' willingness to hand power back to McMahon, who retired in the summer of last year amid an investigation regarding sexual assault allegations.
A recent report from CNBC stated that the Khans would be open to discussing a role for McMahon should they eventually purchase the company, although no further details were provided regarding what sort of position they would be willing to offer.
When asked if he has a relationship with Vince McMahon, Khan replied by stating that that is not the case, however, he did note that he's had positive interactions with Stephanie McMahon in the past.
"No, I don't have any relationship with him. I've talked with Stephanie and have had good conversations with Stephanie, but I don't know Vince at all."

-Tony Khan
Staying on the topic of Stephanie McMahon, Khan was asked about the former co-CEO's resignation from WWE on January 10th, although he refrained from commenting due to not having spoken to Stephanie herself regarding the situation.
"I can't speak to it. I haven't talked to her in a long time and I can't speak to what is happening there."

-Tony Khan
WWE put out a press release on January 12th revealing that they have "engaged outside advisors to support review of strategic alternatives,", mentioning the upcoming media rights negotiations, whilst also stating that no further comments would be provided until a breakthrough has been made.
As always, we'll aim to provide any further updates on the prospect of the Khans purchasing WWE as soon as we hear more.
H/T to Fightful for the transcription.