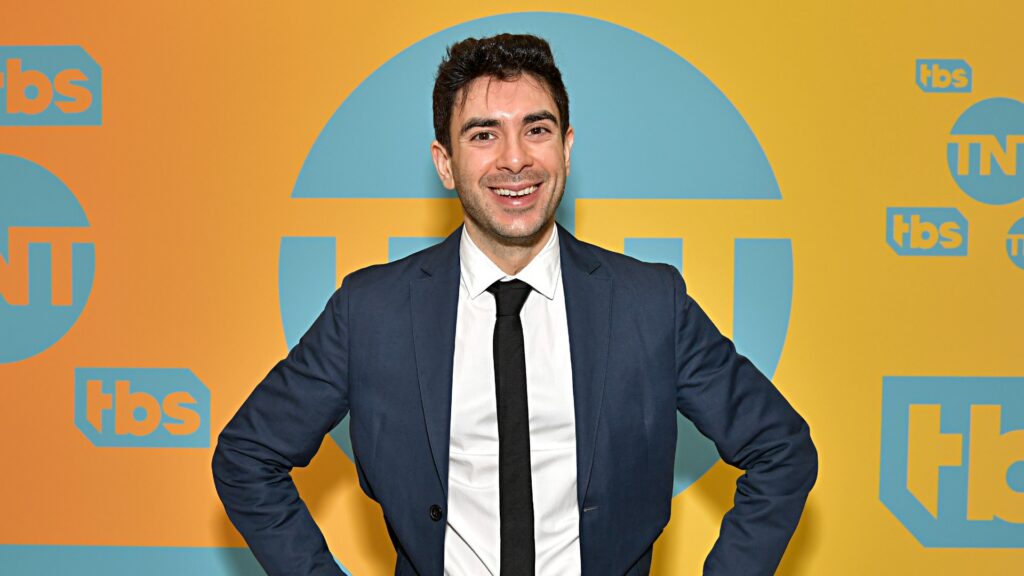 Since filing the trademarks for All Elite Wrestling in late 2018, Tony Khan has become one of the most important figures in the wrestling world.
Speaking on the Wrestling with Freddie podcast, Khan opened up on his experience of the early days of the promotion, noting that a major New Japan match influenced his decision making for their first main event.
"The biggest things to me were, I think, is that when you get in, you're kind of learning from the ground up because you have all these experiences watching wrestling on television, and then you get to work in a company and a lot of what you believe as a fan really translates to the business, and a lot of things you're seeing for the first time when you get behind the curtain. For my first show, I had big picture ideas, big picture thoughts, like, I felt really strongly about certain aspects of the card. For example, Kenny Omega versus Chris Jericho, I really felt like it had to be the first main event. It had done huge business for New Japan as the main event of the Dome show a year prior. I really felt like a big part of my business case was seeing how successful that show had been around the world and knowing that bringing that to America, on American Pay-Per-View, there would be an audience for that match."
Khan has made clear in multiple interviews that he was a huge wrestling fan before the idea of AEW even presented itself, with the man himself confirming a picture of him at an ECW event back in 1996.
Khan goes on to comment on starting a wrestling company having been a fan for many years, highlighting the differences between fantasy booking and actually dealing with the wrestlers themselves.
"From the beginning, I was entering it as an educated wrestling fan and put a business plan together from the beginning. So as far as challenges, like you have ideas that are great ideas, and there's a big difference between booking on paper and booking in real life because you're dealing with actual human beings, and it's very different dealing with people than dealing with wrestlers on paper or in your imagination."
Khan discussed some of the major challenges he's faced in the day to day running of AEW, and how dip in the ratings forced him to take action.
"I was overseeing everything, but it was probably more of a collaborative thing the first several months. I just felt like it wasn't as organized as I would like it to be. We had risen to such great heights. It was such a great opportunity, and it was all so close. At the end of 2019, we launched the show. It had a huge debut, did really good ratings, and now are doing really great ratings these past few years. But after the first two months or so, maybe even after the first six or seven weeks, I started to see a dip. I think it was probably around late November into December, and it continued through December. It was a trend. I didn't like the way the ratings were going, and clearly the way the ratings were reflecting that the fans didn't like the direction I was going or we were going. So I made a lot of changes going into 2020 that I felt really good about in terms of being more organized and doing all shows by hand. They've been a lot more focused. It's great having lots of ideas coming from lots of different places, and I do utilize them and have lots of different contributors bringing ideas to the table, but it's hard"

Tony Khan
Tony Khan would also talk to Freddie about how hard he is on himself when it comes to running AEW:
"We done 127 episodes of Dynamite & 30 something episodes of Rampage, and a lot of times when I come out of TV, even though some of the ones that have been the best received most popular shows, theres like one thing I wanna have back and I'm just banging my head and ripping my hair, and yelling to myself like "what was I thinking!?". Just about one thing, like 'you could've flipped these 2 segments around', 'I probably would've put this later in the show', 'I could've probably helped the rating up higher if I gone with these as the lead segments'. So I think about this stuff all the time and beat myself up. But I would also rather beat myself up than beat anyone else up. A lot of it lives in my head, it's one of the reasons we don't have as much leaking of surprises or secrets and stuff, because its all right here (in his head) anyways."

"It was a lot of learning on the job and I think there was like a big moment. We only lost the Demo once, we were head to head with NXT for 76 weeks and we went like 75-1 in the demo but the 1 was the 1 that reset me. We had been losing the overall number which is not the number the network cared as much about, like the number that was the lead number on the report they'd talk to us about, like the actual scoreline. The actual number was the 18-49 that they focused one. But also you know, looking at the total viewers, in December 2019 we were losing the total viewers but we were still holing onto the demo, and I quit being in denial when we lost the demo. And then its the only week I've ever had had off since starting this, is Christmas 2019 because we done a show every single week since October 2nd of 2019, except for Christmas 2019 we were off because it was Christmas Day, we didn't wanna do a show that day."

– Tony Khan
During the podcast, Freddie was full of praise for MJF, which he happily expressed to Khan. Khan would then go on to explain how he came across MJF in the first place whilst also pointing out that The Elite were some of the first talents on his radar:
The first time I saw him was on MLW, that Summer of 2018 was really big for me. The only people who first took this seriously were Matt Jackson & Chris Jericho, and I talked to both of them almost every day and from there they brought in a lot of other really good people. Obviously Matt brought Nick his brother, and his wife Dana runs our merchandise and she's a big part of the company too, and then obviously Kenny Omega, Cody Rhodes. You know, when I talked to Matt, I wanted to get The Bullet Club together, and especially and particularly The Elite with Matt, Nick & Kenny, which I thought was the best trio in the world. And I really saw Kenny coming in as a singles headliner, and Matt & Nick as the top tag team, and I wanted to get Jericho. And for business case, I knew there were a couple things happening.

"Thats the way I found him (MJF), was on MLW. I was watching a ton of wrestling and other people liked him too, like once I started talking to Cody, he's one of the names Cody brought up that he thought would be great. But in my scouting he was one of the first people I saw outside of that group of names I just mentioned. MJF & Trent, Trent Beretta."

– Tony Khan
It's fair to say that Khan has done an exceptional job in making AEW feel like true competition to WWE, and with his recent acquisition of ROH, his importance in the modern landscape of wrestling is certain to increase.
If you use any of the quotes above, please credit the original source with a h/t and link back to WrestlePurists.com for the transcription.