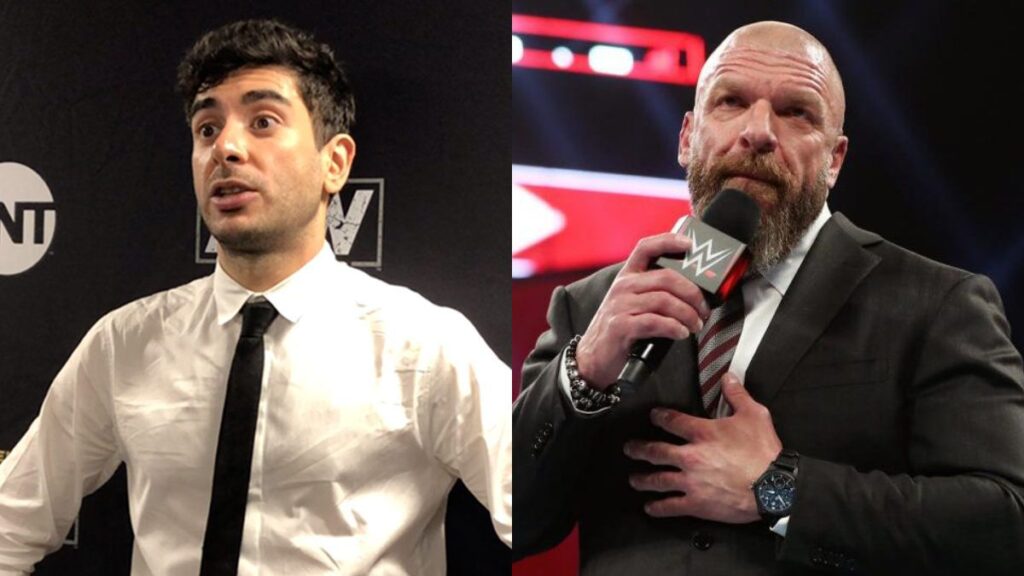 Over the past few days, WWE has seen a seismic corporate shift, as long-time Chairman and CEO Vince McMahon announcing his retirement via his Twitter, with Stephanie McMahon and Nick Khan being named co-CEOs, as well as the news that Triple H would be returning as Head of Talent Relations, alongside also becoming WWE's Head of Creative.
As a result, wholesale changes are expected to be made to WWE's presentation and philosophy across the board, with one potential move that some fans have speculated on being the possibility of WWE working with AEW.
Tony Khan and AEW have partnered with a number of promotions across the wrestling world over the past three years, including NJPW, AAA, DDT, TJPW and IMPACT, amongst many others, although during a recent interview with Steve Fall of NBC Sports Boston, Khan revealed that he's not sure if the changes in WWE will lead to a partnership down the line, although he certainly appears open to an agreement should it be in the best interests of all parties.
"I'm not sure if that's the case, but I would certainly be open to talk with pretty much any wrestling promotion in the world about how to work together if the circumstances are right. We've worked with, I would say, in terms of securing footage or providing talent with probably a dozen companies around the world, including Ring of Honor before I was the owner, when they were owned by Sinclair. I'd like to think that was positively received by them and we did things to help them out when they were in tough times and I think that goodwill helped us in the sale process."

-Tony Khan
Khan then shifted his focus back to AEW television, and revealed that he's hopeful that ROH will soon reach a deal over distribution rights.
Moving back to the topic of WWE, Khan was asked to share his opinion on the news of Vince McMahon's sudden retirement, noting that he's interested to see how the changes affect the company.
"I believe there are a lot of great wrestling fans all over the world who follow pro wrestling closely and there have been shake-ups. I've definitely followed that promotion since I was a small kid and it will be interesting to see how things turn out in the world of pro wrestling. I'm a big fan of pro wrestling all over the place, not just AEW and not just Ring of Honor. We work with New Japan Pro Wrestling and a lot of other great companies all over the world. We'll see what's to be held for the future of the pro wrestling business, but I'm glad AEW and Ring of Honor are a huge part of it."

-Tony Khan
Following the news of Vince's retirement, Khan jokingly tweeted that he was now the longest-tenured CEO in wrestling. He explained that he was simply making a factual statement with the tweet.
H/T to Fightful for the transcription.