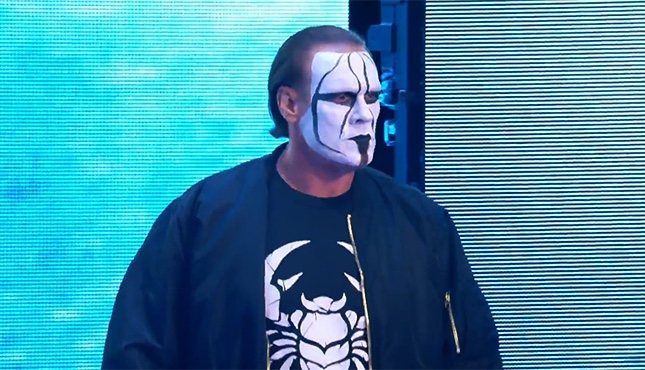 Sting has nearly 40 years of experience under his belt and Tony Khan won't be the one to put a stop to his career.
As of writing, we are just five days away from AEW: All In at Wembley Stadium, where a now 64-year-old Sting is set to team with Darby Allin to battle Swerve Strickland and AR Fox in a tag team coffin match.
To their credit, AEW have been effective in their use of The Icon, as he is usually seen in multi-man tag matches which allow him to be part of prestigious events without being too physical. Though, of course, questions remain over Sting in-ring future, with his contract expiring later this year.
To comment on the likelihood of Sting staying with AEW past the expiry of his current deal, Tony Khan spoke on the All In media call to tell fans that he personally would love to see the legend stay with the company as long he is physically able.
"Sting is very well aware that I would like him to stay as long as he feels physically up to wrestling. I think he enjoys doing it and he's having a lot of fun. Sometimes you hit on things in life that you think are going to be good and they turn out to be great. For me, a good example of that is Sting and Darby together. Not just on screen, but off-screen too,"

-Tony Khan
He would go on to clarify that, should Sting opt to step away from in-ring competition in the near future, it will be a decision entirely made by the man himself, with Khan saying that he won't be the one to pull the plug.
"There have been so many great memories for Sting in AEW. I don't want it to end. I won't be the one to pull the plug on it. When the time comes, Sting knows he needs to the one to say, 'I don't want to do this anymore,' because I'm going to let him go as long as he wants. I want him to stay as long as he can. It's so important to me that we let Sting finish his career the right way."

–Tony Khan
Sting is undoubtedly a legend and is one of the most recognisable names in wrestling today. He has had a career spanning top companies such as WCW, TNA and WWE, with Tony Khan seemingly keen to help the star retire on his terms.
As always, we'll aim to provide any further updates on Sting and his in-ring future as we hear more.
H/T to Fightful for the transcription.