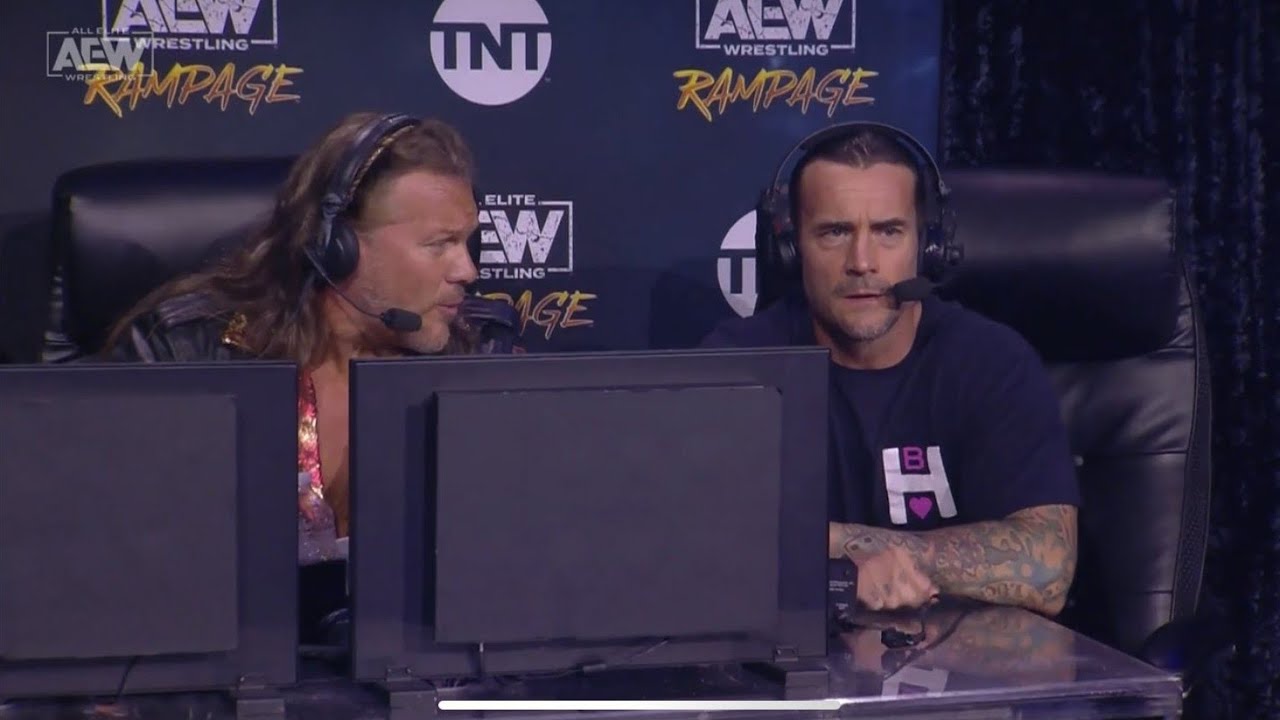 Former AEW World Champion CM Punk has been absent from television since the All Out PPV last September following both an injury he sustained during the main event and the suspension he received for his involvement in the 'Brawl Out' incident after the post-show press conference.
A return now appears to be on the horizon, however, with Punk reportedly set to feature heavily on the upcoming AEW Collision show reported by Andrew Zarian as being set for Saturday night's at 8PM on TNT.
Reporting recently on Punk's planned return, Fightful Select noted that the Chicago native was set to meet with Chris Jericho ahead of a proposed feud between the two. Fightful have now provided an update on said meeting, noting that it was relatively uneventful considering the heat the two are believed to have with each other.
"We'd reported that Jericho and Punk were set to meet and speak with one another, and we've learned that happened over the last week. Those familiar with the situation said that the meeting was relatively uneventful all things considered, and especially when taken into consideration the issues the two have had."

-Fightful
The report also states that upon joining AEW, Punk was reached out to by Jericho in order to establish that bygones were bygones regarding their past issues, with Punk agreeing providing there were no further issues moving forward. Jericho then reportedly shouted at Punk following the 'Brawl Out' incident, with Punk recently referring to him as a stooge during an Instagram stories post.
Sources familiar with the situation told Fightful that it seemed as though the pair could end up working together without issue following the meeting, but they also pointed towards Punk's recent history as well as Jericho often welcoming confrontation as evidence that it may not be that simple.
One source told Fightful, "Well, it's a positive that Punk and Jericho didn't fight," before jokingly following up with "well, yet."
During a recent PWTorch audio show, Wade Keller reported that the meeting, which was also said to have involved FTR, went well.
"I heard the meeting took place with Jericho and FTR. I think it was supposed to be on Friday I think. That might have been why he was in Tampa and I just heard from one source that it went well."

-PWTorch
Earlier in the show, Keller touched on Punk's shocking appearance backstage at this past Monday's Raw, stating that it appears as though his interactions with WWE talent during his flight from Tampa influenced his decision to show up at the taping, with Tony Khan seemingly not being given a heads up due to it being a spur of the moment decision from Punk.
"Sounds like Punk didn't just show up cold. He was on a flight with some people and, connecting dots only here, some people made it seem the idea entered Punk's head based on his interactions with WWE people on that flight that maybe he'd be welcome or it'd be a good idea to visit Raw. It sounds like Tony Kahn was not given a heads up on this…The indications point towards Punk just kind of did this with the idea ostensibly being it's not a big deal. It's just that he wanted to say hi to some friends when they're in Chicago. Part of me just thinks this is going to kind of blow over as a non-factor in the big picture trajectory of Punk in AEW."

-Wade Keller
Additionally, Keller noted that Punk's appearance at Raw is likely to be seen as "another bit of a warning sign of just Punk's judgments in terms of reading the room of how to lay low and help Tony Khan create a successful plan to reintegrate punk into a volatile situation so they can get something for the money he paid him your take."
As always, we'll aim to provide any further updates on the meeting between CM Punk and Chris Jericho, as well as the fallout to Punk appearing backstage at Monday's Raw taping, as soon as we hear more.
H/T to WrestlingNews.co for the transcription.