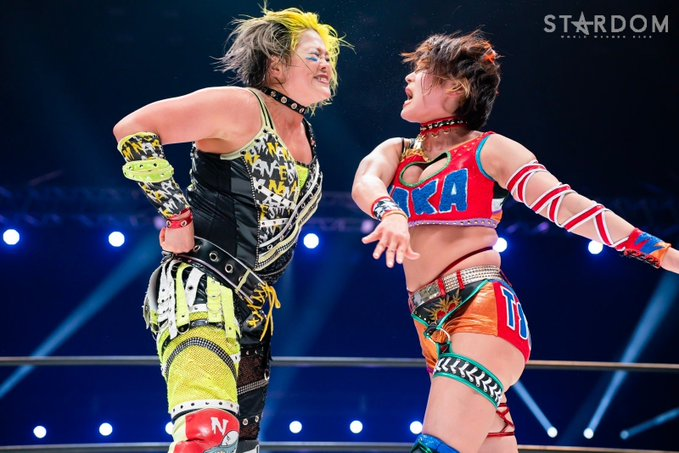 Stardom had a busy weekend with the first New Blood Premium show that featured two big debuts and Waka's first-ever win of her career and the opening round of the 2023 Cinderella Tournament!

The first Rookie that debuted was Aya Sakura. She faced the World Of Stardom Champion Giulia. Aya has a karate background that was seen instantly. She impressed the fans with her kicks. Giulia easily finished her up in around 8 minutes, but she left an impression that makes fans interested in more.

The second Rookie is called HANAKO, and she made her debut alongside Lady C against Maika and Himeka. HANAKO is officially the tallest Stardom Wrestler with a height of 181 cm (4 cm taller than Lady C). This might have been her official professional debut, but that wasn't the first time she stepped foot into a wrestling ring. She wrestled in a wrestling club and for example, appeared in Prominence under the name "Risa Fella" as a homage to her idol and current Artist Of Stardom Champion Risa Sera. HANAKO delivered in this Tag Match. It was clearly seen that she has experience in the ring, not only from her skills but also from the way she moves and carries herself. She showed a ton of potential and can be a future star. Himeka defeated her in the end with the JP Coaster and backstage Himeka proposed that HANAKO should use the JP Coaster after the Jumbo Princess retires.

Stardom also crowned the first-ever New Blood Tag Team Champions on this show. In the first semi-final, it was a Match between four God's Eye Members. MIRAI & Tomoka Inaba defeated Nanami & Ami Sourei in a good match that had some fun moments. Solid work from every one, with the right winners in the end. In the second semi-final, KARMA (Haruka Umesaki) & Starlight Kid defeated Mai Sakurai & Chanyota. This was nothing special.

The final between KARMA & Starlight Kid and MIRAI & Inaba was great and the best match of the tournament. The KARMA bullshit with the fireball got dropped, and she started to wrestle more and more like Haruka Umesaki. It works better for her in-ring-wise, but the highlight here was the interactions between MIRAI and Starlight Kid and once again MIRAI lost a title match with this time SLK defeating her. Going into the Yokohama Arena show, she is 0-8 in title matches in Stardom. KARMA and SLK are the first-ever New Blood Tag Champions, and it seems like the KARMA Gimmick is here to stay. HANAKO and Lady C are the first challengers for the newly crowned Champions.
It was Waka Tsukiyama's last chance to not only stay in Cosmic Angles but also in Stardom. She teamed up together with Tam Nakano against Nanae Takahashi and KAIRI. She can't have a tougher last chance to win than not only facing a former Goddess Of Stardom titleholder Tag Team but also two former World Of Stardom Champions. Waka came out with new gear and a slow walk to the ring. She seemed more focused than ever, and she knew that it is a "Now or Never" scenario for her. The match itself was fantastic and build up a great dynamic between Waka and Nanae. Waka came close a couple of times, but Nanae always was on top. The heart and will of Waka never gave up, and she was able to pin Nanae Takahashi for the first victory of her career. Everyone broke out in tears from Waka, Tam, and the Cosmic Angels Member ringside. This win made Stardom fans in the entire world share a tear. After 2 years and 7 months after her debut, Waka has finally done it and won a Match.
The Cinderella Tournament started on Sunday with its largest field ever. 18 first-round matches happened on the first show, with a lot of shocking names going out in the first round. The rules of the tournament are simple: 10-minute time limits and wrestlers can win by pin, submission, and by throwing their opponents over the top rope. The tournament is known for its big upsets and multiple happened on this show.
In the first tournament match, Waka Tsukiyama got her first singles win of her career by defeating Lady C to advance to the next round. Waka was one of the two unannounced Xs. With that, Waka has a two-match winning streak and gains even more momentum. The first bigger upset happened in the 4th match when Starlight Kid and Haruka Umesaki eliminated each other. SLK was billed as one of the tournament favorites by many fans, and now she is yet again out in round 1 of the tournament. In the 5th Match, the second X was revealed. It is an Australian Wrestler named Xena. She's trained by Madison Eagles & Robbie Eagle and wrestled in PWA Black Level for example. She was introduced by Mina Shirakawa as the newest Club Venus Member. In addition, Mina announced backstage that another member will be introduced on April 6th. The biggest upset of the night was when Mai Sakurai eliminated the current World Of Stardom Champion Giulia. This was the biggest win of Sakurai's career, and with her promo afterward, she put herself into great contention to win the tournament.
Aside from the eliminations of Giulia and SLK, the first round saw a lot of favorites going out. Natsupoi & Mina Shirakawa, Mayu & Kamitani, and AZM & Hazuki eliminated each other, Maika got eliminated by Momo Watanabe and Nanae & Utami fought to a time-limit draw.
Full Results of the first night + the current bracket:

Waka Tsukiyama defeated Lady C
Ami Sorei defeated Yuna Mizumori
Haruka Umesaki vs. Starlight Kid ended in a double elimination
Xena defeated Hina
Mariah May defeated Rina
Saki Kashima defeated Momo Kohgo
MIRAI defeated Hanan
Thekla defeated Koguma
Natsuko Tora defeated Ruaka
Syuri defeated Tomoka Inaba
AZM vs. Hazuki ended in a double elimination
Mai Sakurai defeated Giulia
Mina Shirakawa vs. Natsupoi ended in a double elimination
Saya Kamitani vs. Mayu Iwatani ended in a double elimination
Momo Watanabe defeated Maika
Utami Hayashishita vs. Nanae Takahashi went to a 10 minute time limit draw.
Tam Nakano defeated Himeka