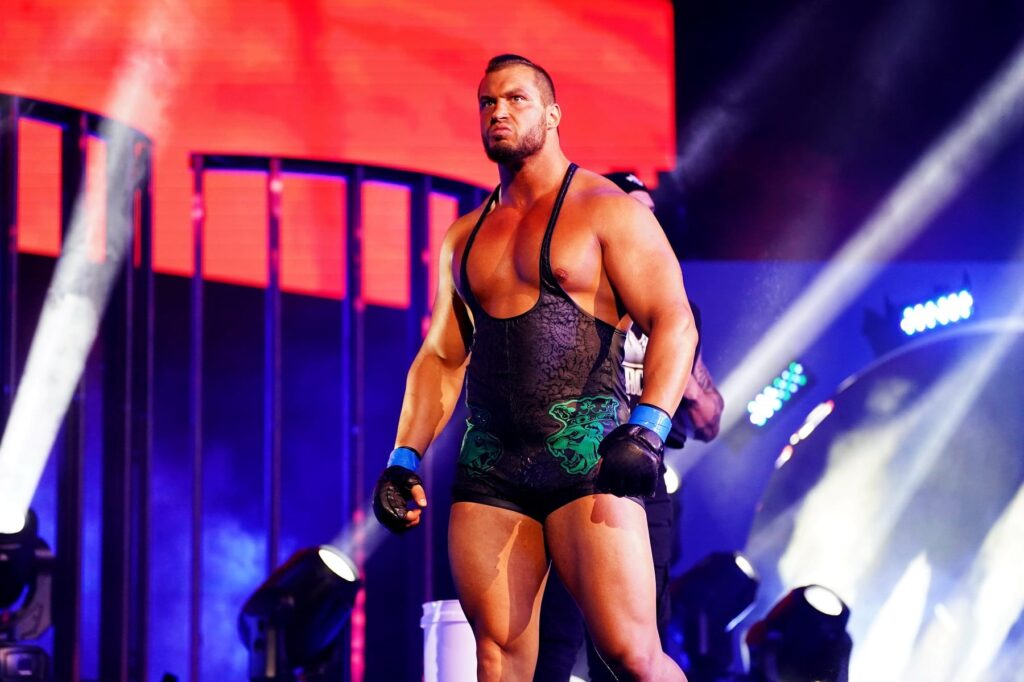 Rising AEW star Wardlow is typically known for his immense power, with his powerbomb symphony being a fan favourite with the AEW faithful.
Despite this, Wardlow occasionally proves that he can take to the skies like the best of them, with a Jeff Hardy-esque Swanton Bomb being a part of his arsenal since his cage match with Cody Rhodes in 2020.
The Swanton Bomb was a move made famous by Jeff Hardy, who now finds himself working with AEW as well. Speaking to Joseph Staszewski of the New York Post, Wardlow revealed that he requested permission from Hardy before using the move.
"Man, it's a weekly thing now, where I just find myself backstage in awe of what my life is. You know I asked Jeff for permission to use the Swanton Bomb. I was getting ready for those three matches where I knew was going to have to wrestle some bigger guys. So I was wrestling Lance Archer, (William) Morrissey and these bigger dudes. I said, 'Hey Jeff, I'm wrestling some bigger guys, I might have to pull some things out that I've never done before or done in a while. If I find myself in a situation where I need to hit a Swanton Bomb is that OK with you?' He said, 'Absolutely, hit that thing.' And I found myself in the situation against Lance Archer where I found myself on the top rope and I went for it,"

-Wardlow
Wardlow continued, detailing the reaction he received from Hardy after he saw Wardlow's version of the move he made famous.
"The next week, I feel a tap on my shoulder and I turn around and it's Jeff and he says, 'Hey man, that's a very graceful Swanton.' I literally just stood there after he walked away for about 10 minutes with this goofy smile on my face, beet red. I was like, "Welp, that was the coolest moment ever.'"

-Wardlow
Wardlow has frequently utilised the move in recent weeks against the likes of Lance Archer & W Morrisey, with the most recent use of the move coming on this Wednesday's episode of Dynamite against Shawn Spears.
Whilst the move itself didn't lead to Wardlow's victory, as MJF refused to count, Wardlow did eventually defeat Spears inside the steel cage, earning himself a match against MJF at the upcoming Double or Nothing PPV.