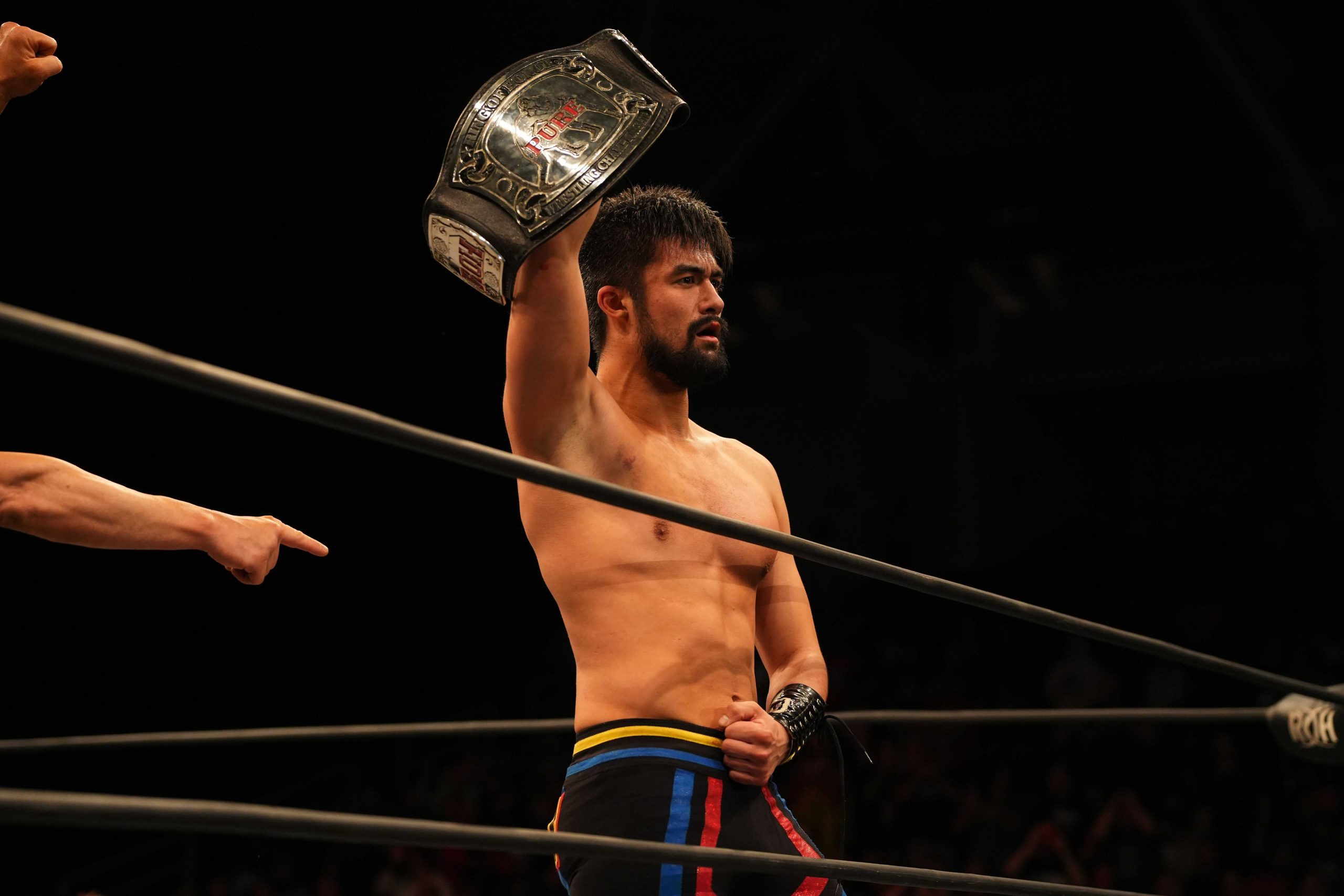 Wheeler Yuta has undoubtably been one of AEW's biggest breakout stars in 2022, with his brutally violent bout with Jon Moxley on the April 8th edition of Rampage leading to him joining the Blackpool Combat Club, elevating him up the card and allowing him to shine on big stages such as the recent Blood and Guts match.
Yuta recently spoke with Jaychele Nicole of SEScoops ahead of his upcoming ROH Pure Championship defence at Death Before Dishonor against Daniel Garcia. Said title defence will take place on July 23rd at the Tsongas Center in Lowell, Massachusetts, the same venue that saw Yuta take on Jon Moxley as previous mentioned.
Yuta revealed his excitement ahead of his return to Massachusetts, highlighting the importance of his bout with Moxley when assessing his career trajectory.
"Yeah, I'm really excited to be back in that area. Massachusetts will be in Lowell for Death Before Dishonor. And then right after that, we'll be in Worcester for Dynamite. So I'm really excited for both of those. Before I got to AEW, I made a lot of my mark on the independence around that area. So it was really cool to have that match with Moxley in that crowd. Seeing a lot of familiar faces was really, it was really nice. And yeah, that was really the career defining match. For me. It's what sort of kick started where we're going now and I'm really excited for what the future holds, but it wouldn't happen without that match."

-Wheeler Yuta
As previously noted, Yuta's bloody affair with Jon Moxley in April of this year led to the young star joining the Blackpool Combat Club. The stable recently gained yet another member, as Claudio Castagnoli joined the ranks at Forbidden Door, before going on to score the win for his team at Blood and Guts.
Yuta shared his reaction to Castagnoli aligning with the BCC, and stated that looking forward to training with the Swiss Superman and taking the former WWE star's advice on board.
"Yeah, Claudio was someone that I've always really had a lot of respect for as a wrestler. He's, he's incredible. Yeah, he, he's someone that I've really, really appreciated and knowing that he ended Regal's career and it only made sense that he would be someone that could fit in with our club, he does our style. He can do so many things. He's absolutely incredible. So, it's really great to have him now as a mentor as someone that I can talk to on my team and hopefully learn from and it's been just great to have him here so far."

-Wheeler Yuta
On April 1st of this year at ROH Supercard of Honor XV, the first ROH event of the Tony Khan era, Yuta captured the ROH Pure Championship from Josh Woods, and as previously noted, he's set to defend the title at the upcoming Death Before Dishonor show.
Yuta revealed that he felt as though he hadn't truly reached his potential during his first stint with Ring of Honor, and is thankful that Tony Khan's acquisition allowed him to achieve one of his goals of being a champion with the promotion.
"It's really been special to me that I've been able to defend the Ring of Honor Pure Championship for, for one thing, it kind of felt like a chapter of my career that I never got to sort of complete, like I had a very brief stint in Ring of Honor, actually it was all through the pandemic. So I never got to have a Ring of Honor crowd even, it was all empty arena. So it felt like something that I had, you know, check it off the bucket list. It's always something I wanted to do. But I didn't feel like I really reached my potential. So when Tony bought Ring of Honor, and I was able to re-enter that world was really exciting. So now being able to defend the pure championship, it feels like I'm sort of coming full circle with that sort of completing that chapter. And additionally, just the people that have held it before me, the legacy of the championship is something that's really special. And I'm really happy to be part of it."

-Wheeler Yuta
Since its formation, the Blackpool Combat Club members have made no secrets about their grueling training schedule, often noting that they're the first ones to arrive to training and the last to leave. Being the least experienced member of the group, Yuta revealed some of the key lessons he's taken away from his training sessions with the unit thus far.
"Yeah, there's, there's countless like little techniques that they've shown me and I could go on for days about that. But I think the main thing that we've we've talked about is just the mindset of knowing that when you're in when you're in the ring, you're trying to when you're trying to hurt that guy. For us in the Blackpool Combat Club, our thing's we're trying to leave a mark on you, trying to leave a scar. So whether it's, you know, a literal scar that you see on your forehead, or maybe it's maybe it's a limp, maybe it's something that something that you get up every day and you go, 'Oh, wow, I wish those guys hadn't done that.' That's the mindset. So that's what we really try to focus on. And that's, that's been the biggest lesson they've taught me."

-Wheeler Yuta
Yuta then noted that his training classes with his fellow BCC members are a weekly occurrence, highlighting his desire to learn as much as possible from his mentors.
Yuta's upcoming ROH Pure Championship defence against Daniel Garcia is set to be the latest chapter in the pair's heated rivalry, and with Pure rules in play, the BCC member is anticipating an exciting clash.
"Yeah, definitely going into this match. I'm more confident than the first one. We went 60 minutes, but that's actually the only time Garcia and I have ever had a singles match. The only time we've ever interacted in a match would be blood and guts. So it's it's definitely going to be something that I'm excited for. And I think we do know each other a lot better now. But I'm excited to see where the return match goes. I don't know if it'll go the full 60 minutes but I think with the pure rules, it'll be an interesting factor as well, that I think fits in very well with both of our styles. So very excited. Yeah... I think it's, it's interesting that it's under pure rules. You know, I think pure rules, people think of a very sportsman like contest, but I think that this one's gonna get gritty, it's gonna get dirty, it's gonna get violent. So I think that the key to winning this match is just who's willing to go the extra mile. Of course, we do have those rules, but who can take those rules. And like I said, make them advantages. Use them to hurt your opponent, as opposed to having them be weaknesses or restrictions. So I think that's what we're gonna have to do. And we'll see who the better man is and hopefully, at the end of this will, we'll have a satisfying conclusion and we'll know."

-Wheeler Yuta
Jaychele then questioned whether any of Yuta's fellow BCC members would be there at Death Before Dishonor to accompany him to the ring for his title defence. Yuta alluded to William Regal potentially being present, although he was conscious not to reveal too much.
As previously mentioned, Yuta recently competed in the second ever Blood and Guts match in AEW, where he teamed with Jon Moxley, Claudio Castagnoli, Eddie Kingston, and Proud & Powerful to defeat the Jericho Appreciation Society. Yuta revealed the mental preparation necessary for match of such intensity, as well as highlighting how gruelling the recovery following the match was on all of its participants.
"Yeah, the recovery was definitely hard, just a lot of kind of waiting for things to heal. But getting prepared for that match was just knowing that you're going into a fight, knowing that you're gonna have to, you're gonna have to hurt people, you're gonna get hurt, it's not going to be fun. You're just going to have to go in there and give it all you got. So just having that mentality going in, I think was the biggest thing. We've done all the physical preparation, we've done everything we can do. So going into that match, it was just the mental preparation of knowing not to be scared by the structure, just knowing you're gonna get hurt, but you're going to hurt people. And I think that's how we want."

-Wheeler Yuta
Prior to Blood and Guts, Yuta had the chance to compete at the first ever AEW x NJPW PPV, Forbidden Door. Yuta revealed how exciting is was being able to perform in front of such a red-hot crowd, before sharing his dream opponents for a potential Forbidden Door 2.
"I think there's a lot of people that I'd like to face As of right now there are two specific people that I'd like to have revenge on for for losses in Super Junior so one of them is Robbie Eagles. I lost in my first match in the Best of Super Juniors, and I think that I would have a great pure wrestling match with him. So I'd love to put the Pure Championship on the line. And another would be El Desperado, another member of Suzuki-Gun. Again, lost him in Best of Super Juniors. He had the best of me that night, but I think that with a rematch, maybe with that championship on the line, it would be really special. So, if there's ever another forbidden door I'd love for either of those matches."

-Wheeler Yuta
Upon the formation of the Blackpool Combat Club, many speculated that multiple young talents could eventually join the group, with names such as Lee Moriarty and Daniel Garcia being thrown around, as well as Yuta himself. Yuta acknowledged that the three of them could've potentially been a trio in AEW, although he acknowledges that the trio going their separate ways will allow for them to push eachother to get better and better.
"I think about it a lot. Yeah, and Lee as well. I think about that a lot. Daniel, Lee, and I have known each other for a long time. I think that we have been great opponents for each other on the independents . And I think that we're destined to wrestle each other for a very long time. So I definitely thought like, 'Wow, what would it be like if these guys were alongside me, because I think we're all cut from the same cloth.' And of course, Daniel Garcia goes his own way. I don't necessarily agree with that. I don't know if he's a sports entertainer. I think he's a professional wrestler. But he goes his own way, Lee's gone his own way. And I think that we're just gonna continue to fight for a very long time. So I'm excited to see where the rivalry goes if the teammates the team thing doesn't pan out."

-Wheeler Yuta
Wheeler Yuta's upcoming ROH Pure Championship defence against Daniel Garcia at Death Before Dishonor is sure to be one you won't want to miss, and we certainly look forward to seeing what the future has in store for the Blackpool Combat Club's youngest star.