Willow Nightingale is the definition of the perfect babyface. She embodies the look, the promo work, the in ring-ability of what it takes to be a top babyface in a promotion. The sheer joy and positivity that Willow possesses is radiant and tangible. From her entrance music to how she makes her way to the ring, her spirit and energy that transfers over to the live crowd is undeniable. Willow has a character that is made for national television. It is ridiculously easy to get her presentation correct, and once you do, the crowd is in her hands. Her star power is undeniable, especially when you factor in her ability to get the crowd behind her, which allows for her opponent to get heat super easily. As an in-ring worker, Willow's moveset aligns very well with her character. The pounce, rolling senton, and fisherman's suplex all perfectly align with her "Babe With The Power" moniker.
Willow's representation of a happy and optimistic thick (and juicy) Black woman is incredibly important to not just Black culture, but also wrestling as a whole. The importance of representation has always been stressed, but Willow has the possibility to reach a new level of influence, specifically in young Black girls. Many times, we see Willow showcase her natural hair and curl pattern which many women of color would find incredibly inspirational. Powerful and positive Black women are needed in every wrestling promotion. They have never failed to get over and be successful. A strong, and recent, example of how successful this could be is Bianca Belair's WrestleMania 37 and 38 wins. There is no ceiling on Willow's success with the amount of talent she possesses. It is simply her destiny.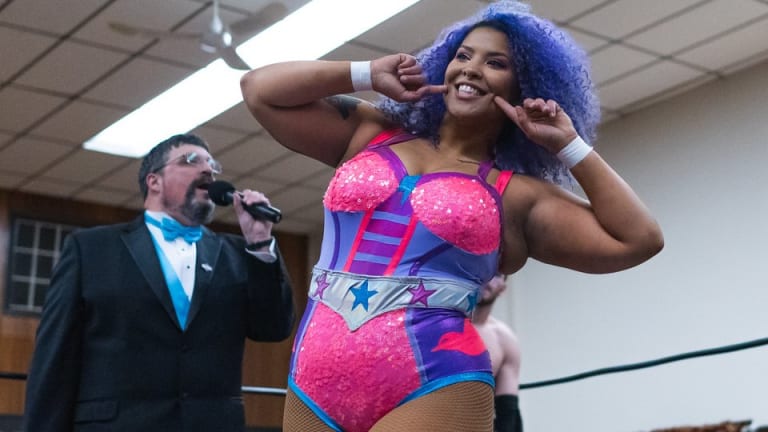 A semi-recent comparison of this level of positive influence is Bayley during her 2012-2019 babyface run. From the beginning of Bayley's WWE career, she was portrayed a "hugger." She came out with many inflatable tube dancers during her entrance, as well as hugging many fans. Bayley is the ultimate example of how marketable a positive female character could be. Back in 2016, Bayley ranked number 4 in Google shopping rankings for WWE female talent. Once she debuted on the main roster, her significant increases in searches. Not only was Bayley's look marketable, but so was her personality. Overall, Bayley was ranked number 8 on a list of WWE Superstars with the most merchandise in July 2018. She had 32 items available at the time. This was higher than John Cena's number of merchandise items. Willow could easily function as AEW's, or Ring of Honor's, top babyface and merchandise seller in the women's division once given the correct push.
Willow debuted in early 2015 and is only 28 years old, yet she has so much experience already under her belt. According to Cagematch, Willow has had 292 matches as of 04/08/2022. Willow recently wrestled Deonna for the ROH Women's World Title at 03/19/2022 IMPACT Wrestling tapings. Nightingale has had nine Game Changer Wrestling matches. She last competed for the promotion on 04/09/2021 at Allie Kat's Real Hot Girl Shit.
So far, Willow has had nine AEW matches, the first of which being on 04/22/2021. Nightingale has had eight matches on AEW DARK/AEW DARK: Elevation. On a pre-taped edition of Rampage, Willow had her first match with AEW on national television. "The Babe With The Power" competed in an Owen Hart Foundation Women's Tournament Qualifying Match against Red Velvet. Luckily, I was able to be in attendance and I can attest to how electric the crowd was when her music hit and throughout the match.
Willow has been able to be a part of both the new era of Ring of Honor and also the old regime prior to the sale to Tony Khan. Prior to the ROH sale, Willow had ten matches with the company. She was even a part of Final Battle where she lost to Rok-C in an ROH Women's World Title Match. She was also brought in to participate in the Supercard of Honor show this past weekend. She lost to Mercedes Martinez in an Interim ROH Women's World Title Match. Hopefully, this isn't the last that we will see of her in this promotion.
Mercedes Martinez is currently the Interim ROH Women's World Champion. Deonna Purrazzo currently holds the ROH Women's World Title after beating Rok-C on January 9. Deonna was unable to appear at the Supercard of Honor pay-per-view, so an interim champion was crowned. All of the "drama" surrounding the women's title leads me to believe that Mercedes Martinez will be taking the belt off of Purrazzo. We are currently waiting to see what will become of Ring of Honor and what a possible TV deal or pay-per-view schedule would look like. However, I do believe that utilizing Willow on AEW's flagship shows would help to build up her level of stardom while we wait for things to fall into place. It is imperative that Willow is built up as the one to take the belt off of Martinez. With her loss at Supercard of Honor, the story writes itself and is incredibly difficult to mess up.
It is the obvious choice to make Willow the cornerstone of the division. She has all that it takes to be the face of the Ring of Honor women's division. She has the look, personality, promo and in-ring ability. Reflecting on my experience seeing her live at the AEW Rampage tapings for this week, she was incredibly over in Boston, MA. From the moment her music hit, the crowd was in her corner. When looking at all of the promo videos leading up to the Supercard of Honor pay-per-view, Nightingale stood out in the best possible way. In terms of marketable talent, we have already seen what Danhausen has done in terms of merchandise sales. There is definitely a possibility that with the right support, Willow could achieve that level of success. It is easy to build the division around her due to her ability to engage the crowd which is something that AEW has struggled with when it comes to their women's matches.
There are many huge match-ups for Willow within AEW and with people on the independent scene that could be brought into Ring of Honor. There is definitely a money match up between her and Jade Cargill, Dr. Britt Baker, Nyla Rose, Thunder Rosa, Toni Storm, and many others. The talent that Willow possesses could eventually be transferred into a heel persona. After a long top babyface run, Willow would likely benefit from a heel turn that could shoot her into the stratosphere.
There is a major opportunity to improve the women's division overall if Willow is added to the AEW/ROH roster. Willow possesses all of the characteristics of a top babyface that can elevate the division as a whole. I'm hopeful for her future within both companies, but however her future plays out, she will be a star. Willow Nightingale is destined for greatness and no one can take that away from her.