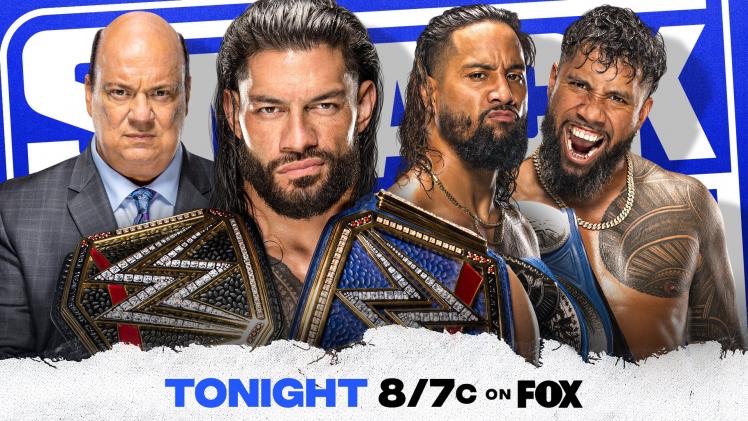 Welcome to Wrestle Purists' coverage of Smackdown on April 8th 2022.
Ronda Rousey In-Ring Promo:
Kayla Braxton mentions to Rousey that she tapped out Charlotte Flair at Wrestlemania and plays it on the titantron. Rousey says she isn't here to make excuses, but she beat Charlotte twice and it doesn't count. Braxton then asks Rousey whats her next step and Rousey replies that she wants a rematch and challenges Charlotte Flair to an I Quit Match.
Flair then appears on the titantron laughing at Rousey and says that quitting isnt in her DNA, but winning is and brags about beating Rousey at Mania. She calls "the baddest woman on planet" a myth, and Rousey cant win when it matters, then Charlotte declines Rouseys challenge. Rousey tells Charlotte she is going to get the match and bend her arm backwards.
Backstage With Sheamus, Ridge Holland & Butch:
Sheamus & Holland are hyping up Butch for his upcoming Smackdown debut match
New Day Promo:
Woods & Kingston cut a promo saying that all records after Wrestlemania are reset, and Woods says that Butch's auntie cant wait to see him kick his ass
Xavier Woods defeated Butch:
After the match Butch lost it and started attacking Holland, but eventually stopped and just sat in the corner.
Sami Zayn & Adam Pearce Segment:
Sami Zayn complains about losing at Mania to Johnny Knoxville, he then shows Adam Pearce some cheese and mentions the mousetrap he was stuck in. Sami Then says he will face the next person to walk through Pearce's door, which is Drew McIntyre. Sami starts to back pedal, but Pearce makes the match official. Pearce is then given a note by a member of staff, Pearce tells the staff member that he cant meet Ronda right now.
Gunther defeated Joe Alonzo
Ludwig Kaiser (the former Marcel Barthel) introduces Gunther, who then makes his entrance. This match was a squash.
Backstage With Raquel Rodriguez:
Kayla Braxton introduces Raquel (the former Raquel Gonzalez), Raquel then says the womens division isn't ready for her. Los Lotharios then enter and ask Raquel for a kiss, which she rejects.
Happy Talk:
When making their entrances, Madcap Moss looked happy as usual, but Happy Corbin looked depressed. Corbin complains about losing at Wrestlemania and says he's been doing some self reflection. Corbin then says there is only one person to blame for his loss, and thats Madcap Moss. Moss apologises but Corbin isn't receptive, Corbin then tells Moss to make a joke. Moss makes a bad joke but Corbin doesn't like it. This process then repeats. Corbin says Moss should be ashamed of himself and all his jokes lately have been terrible. Corbin then leans in and tells Moss to tell him a joke like his job depends on it, because it does. Moss then rips into Corbin and makes a joke at his expense. Corbin then attacks Moss. The two men brawl going back and forth, with Moss getting the upper hand, Moss then clotheslines Corbin out of the ring. Madcap Moss then celebrated and threw his hat on the floor and stomped on it
Backstage with Jinder Mahal & Shanky:
Jinder Mahal complains to Adam Pearce about not being on the Wrestlemania card and demands a title shot at Ricochet, which Adam Pearce says he cant do. Ronda Rousey then enters and Mahal & Shanky leave.
Rousey demands her I Quit match, Pearce said it hasn't been confirmed yet but he should hear something tomorrow.
Drew Mcintyre defeated Sami Zayn via Countout:
As soon as the match started Zayn kept attempting to run away. McIntyre did try throw him back in the ring but Zayn eventually escaped through the crowd and got counted out.
Lacey Evans Promo:
Evans talks about her fathers alcohol problems and the families issues dealing with them such as physical and mental abuse. She then talks about how her Mom collected the kids one day and left their father and details the struggles of going through that and how its made her stronger woman Today.
Liv Morgan Promo:
Liv Morgan is asked why she is on RAW. She says she is here to beat Sasha Banks and gain momentum for hers & Rhea Ripleys tag title match vs Sasha Banks & Naomi on Monday. Morgan is then asked if Ripley is with her, which Morgan replies no but she will be with her on Monday when they win the titles.
Liv Morgan defeated Sasha Banks:
Naomi was on commentary. Natalya & Shayna Baszler were watching backstage.
Roman Reigns in-ring promo:
Roman says he wants to share something private. Roman says that the Universal title wasnt enough so he took the WWE title too. Roman Reigns says there isn't much more for him left to achieve, but still more the Bloodline can achieve. He then says the Usos having 1 title isn't enough and he told the Usos he wants them to unify the SD & RAW tag team titles. Shinsuke Nakamura's music hits and he makes Shinsuke makes his entrance.
Shinsuke attempts to talk but Roman stops him. Roman says he knows how Shinsuke feels, points to how Shinsuke lost his partner like how the bloodline lost Jimmy Uso. Roman offers to help Shinsuke and wants to give him some Bloodline love. He then hugs Shinsuke, but the Usos then superkick him.