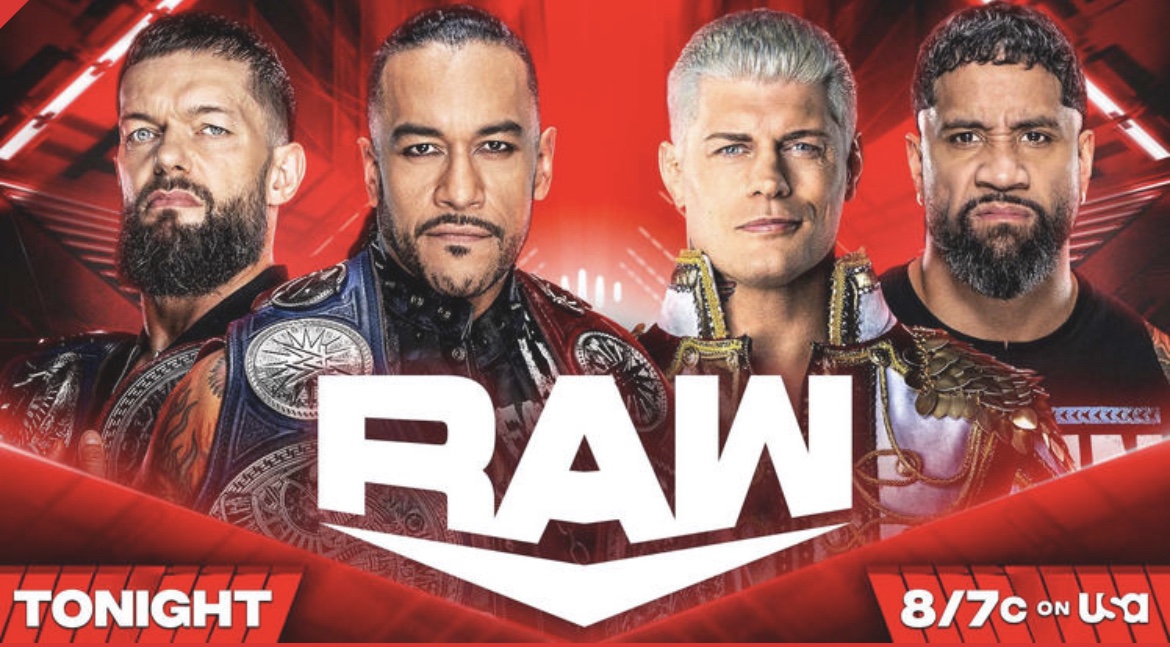 Welcome to the Wrestlepurists' live coverage of Monday Night Raw for the November 13th, 2023 episode.
CODY RHODES IN-RING PROMO
The American Nightmare Cody Rhodes kicks off the show, just under two weeks away from competing in his first ever War Games match! Cody says he has a lot of wonderful memories in Washington DC, and he will give the crowd a memorable moment when him and Jey win the Undisputed Tag Team championships tonight. Cody wastes no time and introduces his team for the Match Beyond. Jey is out first followed by Sami Zayn and then the World Heavyweight Champion Seth "Freakin" Rollins. Seth walks right by Cody without acknowledging him. Cody says they are all in the ring for one reason, and that is the Judgment Day. He mentions that he has different relationships with each men leading to a stare-down between Cody and Seth. Before things can escalate the Judgment Day's music hit and all four men sans Rhea Ripley come to the ring. Finn Balor says Team Cody can't even look each other in the eye, how on earth will they win at War Games? Damian Priest says the Judgment Day is a family and the babyfaces don't know what they are getting into at Survivor Series. Finn asks Seth how it feels to be World Champion but to be standing next to the one man he could never beat in Cody Rhodes. Priest then asks Cody how it feels to know he can beat any of his partners but he will never be World Champion. Finn keeps it going by calling Sami nothing but a loser after his loss to Seth last week. Priest asks if the team can really trust Jey since he screwed them all in the name of the Bloodline. Great points from the Judgment Day to try to create a divide within the babyfaces. Dominik does his normal shtick with the crowd before Sami interrupts and says they know what the Judgment Day is trying to do. Sami says they can put their individual issues aside to take out the Judgment Day. Sami, speaking from experience, tells them all that War Games will be the most brutal match of their lives. "You will find out that the power in Monday Night Raw lies with these four men in this ring." Cody stirs the pot again about Rhea being the leader of the Judgment Day. Cody keeps pressing about who is the leader which gets Priest to yell "I'm the leader!" Whoa Mami won't be happy about that. Seth is fed up with all the talking and says it should be him and Sami versus Dominik and JD McDonagh tonight. Priest accepts on their behalf as Finn stares daggers at Mr. Money in the Bank. Really solid opening segment here, I like that the babyfaces didn't fall for the games Judgment Day were trying to play, and instead drove a wedge into the already splintering trust within the Judgment Day.
SETH ROLLINS & SAMI ZAYN DEFEAT JD MCDONAGH & DOMINIK MYSTERIO BY DQ
Raw General Manager Adam Pearce made this tag match official during the commercial break. Seth starts things off with JD and the Judgment Day recruit immediately gets a beating from the champion. Dominik and JD try and isolate Seth but he counters the third of the three amigos into a falcon arrow onto Dominik. JD and Dominik decide to bail once they are on the outside but Sami and Seth aren't going to let them. Dominik avoids a Helluva kick but JD and him cannot avoid stereo tope's by Sami and Seth as we head to break. Back from break and apparently JD and Dominik have been dominating. It takes about three seconds of TV time for Sami to get a reversal on JD and tag Seth in. Seth is a house on fire, taking both men out with his signature moves. Sami and JD brawl on the outside leaving Seth and Dominik alone in the ring. Seth goes for a Pedigree but Dom slips out. He lines Seth up for a 619 but eats a superkick on the rebound! Seth nails Dominik with a buckle bomb and is looking for the Stomp before Priest and Finn pull Seth out causing a DQ. Rhea Ripley IS out here this time directing traffic on the beat-down. Cody and Jey are out followed by all the officials to break things up. Don't make Petey Williams break out a Destroyer on someone! In the ring, JD takes a spear from Jey that was intended for Priest. Adam Pearce is in the ring and yells "ENOUGH." He says to prevent there being any shenanigans in the main-event, everyone involved in War Games will be banned from the arena tonight. Hell yea, fed up Pearce is really good. I'm totally okay with the DQ finish here since it gives Pearce a legitimate reason to ban everyone from interfering. I'm assuming whoever the fifth member of the Judgment Day's team will make their presence known tonight.
RHEA RIPLEY & ADAM PEARCE IN RING PROMO
We are back from break and Rhea and Pearce are still in the ring arguing. Pearce tells Rhea he doesn't give a damn that she doesn't like his decision. "Judgment Day doesn't run Monday Night Raw, I run Monday Night Raw." He tells Rhea he better not see her tonight during the main-event. That brings out Zoey Stark to the ring, who Rhea wants to hear from. Zoey says Rhea is spread too thin. Rhea is worried about War Games, the Tag Titles, and of course little Dominik. She says if Rhea thinks for one second she is going to overlook Zoey – well Rhea interrupts her. Rhea says she hasn't overlooked Zoey at all. Rhea knew Zoey would be on the main roster when she saw her in NXT years ago. Rhea runs down Zoey's rookie year accomplishments. Rhea says Zoey is a future champion, but the only way Zoey will win a championship in this company is if she is on an opposite brand to Rhea. "I'm not overlooking you. I'm not spreading myself too thin. I can handle (it all) because I'm Rhea bloody Ripley!" Rhea goes back to arguing with Pearce but Zoey tells her she nearly beat her at Crown Jewel, and she is going to finish the job at Survivor Series. Rhea goes for a cheap shot but Zoey is ready for it and sends her over the ropes. Zoey wants a dive but Rhea escapes.
SHINSUKE NAKAMURA VIDEO PACKAGE
We see Shinsuke Nakamura in one of his recurring video packages talking about the person who is destined to challenge him. He says he is taking the decision out of this persons hands, but he will be patient for now until he ends him. Hmm I saw someone guess Sami Zayn and that would make a lot of sense. Maybe Nakamura is waiting till after War Games?
BACKSTAGE WITH SETH ROLLINS, SAMI ZAYN & CODY RHODES
Seth and Sami are walking backstage when Cody comes up and asks Sami for a moment alone with Seth. Cody asks Seth if they can talk. Seth tells Cody to cut it and just ask what he wants to. Cody says for three hundred and sixty four days of the year we can hate each other. But for one night at Survivor Series, he needs Seth. Seth says he doesn't like Cody, he may never like Cody, but he respects him. "You need us to be good for one night, at War Games I promise you were good." Seth tells Cody to go win the Tag Titles. Good stuff, glad they threw that segment in there and they are keeping Cody and Seth's animosity alive. Definitely something they should revisit down the line.
SHINSUKE NAKAMURA DEFEATS OTIS
Man I'm fired up we get to see singles Otis here. 2024 needs to be the year of the big man. Nakamura tries for a flurry of punches but they don't have any effect on his stocky frame. Nakamura's kicks however do, before Otis easily scoops Nakamura up for a bodyslam. Otis does Nakamura's Good Vibrations in the corner which Nakamura absolutely no sells lol Oh we are going to the Caterpillar early, but Nakamura rolls out of the ring before Otis can hit it. Otis follows him and shoulder tackles Nakamura to send us to break. Nakamura regained the upper-hand during the commercial break, but Otis counters Nakamura with a powerbomb to even things out. Otis is out here throwing back elbows like crazy and the crowd is hot for the big man. Now Otis hits the Caterpillar but only gets a two count. Otis takes Nakamura to the top but Nakamura slips through and yanks Otis off so he hits his head on the turnbuckle. Nakamura goes for the Kinshasa but WHOA a Worlds Strongest Slam counter from Otis! It only gets a two but man I really though that was it. Nakamura hits a second rope Kinshasa that only takes Otis to a knee. Nakamura runs the ropes and hits another Kinshasa to the back of the head of Otis, but the big man is still moving! Nakamura hits a third Kinshasa to finally put down Otis for the three count. Hell of a way to make Otis look strong in defeat. Chad Gable is checking on Otis and Nakamura pushes the back of his head. Gable wants to fight him but the rest of the Alpha Academy hold him off.
WAR GAMES VIDEO PACKAGE
We get an inside look at War Games. I forgot this is only the second year of them doing this on the main roster. The video package breaks down the rules and shows footage from the modern War Games matches.
BACKSTAGE WITH SETH ROLLINS & DREW MCINTYRE
Seth is backstage and runs into none other than Drew McIntyre. "You told me that if I lost at Crown Jewel I would have no one to blame but myself. And you were right." Drew says Seth may also have been right that it could be the best thing to happen to him. Drew extends a hand and tells Seth that he represents that championship well. Drew says he will work his ass off and get that rematch. Seth says he knows that Drew will. Hmm are we buying this folks?
TEGAN NOX VIDEO PACKAGE
We see a Tegan Nox video package that builds off the last one we saw about her injuries. Nox says this past year she has been in the ring with the absolute best in the world and she has held her own each time. Really good stuff, as Nox says in the video you don't want to just be known as the person crying in a bunch of videos.
TEGAN NOX DEFEATS PIPER NIVEN
I really didn't think Piper Niven and Chelsea Green would work as a team but they have been a fantastic pairing. Glad that Piper is back doing something relevant too. Nox wastes no time taking it to Piper. Nox throws her entire body into Piper in the corner but that only gets a one count. A headbutt from Piper stops Nox's momentum before bringing her back into the ring with a suplex. Running senton from Piper but it only gets a two count. Piper hits a splash on the arm of Nox, oh man that looked nasty in the best way. Natalya is out here with Nox trying to get the crowd into this one but it's not working. Nox gets some separation but is caught and planted with a shoulder breaker from Piper. These two are having a good one but the crowd isn't budging. Piper wants the Implant Buster but Nox rolls through for a two count. Nox catches Piper with a knee on the rebound but that only gets a two. Green gets up on the apron to distract Nox and allow Piper to get back on top. Natalya has seen enough and throws Green off the apron. Piper misses her Crossbody and Nox nails the World's Shinest Wizard. Piper gets her foot on the rope to break up the count though. Piper goes for a sitout splash but Nox moves and then rolls up Piper for a three count! Fun match, not sure why they wouldn't just have Nox win with her finish. I get the probably wanted to protect Piper, but having the finish come off of a distraction should be enough? I think it would have gotten Nox's shining wizard over a lot more as a move that can down anyone.
BACKSTAGE INTERVIEW WITH THE MIZ
Jackie Redmond is backstage with the Miz. She asks what's driving the Miz to challenge GUNTHER. Miz says it's about respect after all the names GUNTHER has called him. He does an Arnold Schwarzenegger impression and Ivar interrupts him. He calls the Miz a joke before Bronson Reed interrupts. Reed says GUNTHER is lucky that he escaped Reed. Ivar says Reed has had his chance (it's true.) Ivar pie faces Reed and Valhalla steps in front of him. I just don't understand what they are doing with Reed here. I've been doing these reviews for a while now and every time he gets a big win he then loses a bunch of matches in a row and acts like he didn't.
LUDWIG KAISER DEFEATS TOMMASO CIAMPA
We see video from last week's match where Ludwig Kaiser interfered to cost DIY their match against the Creed Brothers. Ciampa hits a running knee on Kaiser that sends him to the outside. He slams Kaiser's head on the announce table and then throws him back into the ring. Kaiser cuts Ciampa off with a big right hand. WHEW these boys are throwing these things, big time lariat off the rebound from Ciampa. Giovanni Vinci grabs the leg of Ciampa which allows Kaiser to take advantage. The referee either saw it or saw them taking afterwards and throws Vinci out as we head to break. Kaiser is in control when we get back, with Johnny Gargano still at ringside for his DIY partner. Ciampa hits the Thez Press and punches combo before dropping the knee pad and calling for the running knee. Kaiser counters with his right hand again and plants Ciampa with the Fireman's Carry Driver. Kaiser follows that up with a penalty kick but that only gets a two count. Kaiser goes for his Inverted DDT finish but Ciampa fights out. Kaiser misses his enziguri and Ciampa plants him with a kick. These two battle on the top rope with Ciampa wanting a Super White Noise. Kaiser slips through and OH MAN Ciampa hits a big right hand. Ciampa catches a diving Kaiser with a knee. Vinci is back and big boots Gargano on the outside. In the confusion Kaiser rolls up Ciampa for the win. As Michael Cole says, kinda messed up the referee counted the pinfall after he was the one who threw Vinci out.
BACKSTAGE WITH THE JUDGMENT DAY
We are backstage in the Judgment Day layer and Rhea wastes no time saying "maybe we should see what our fearless leader says." Priest apologizes for getting heated and saying that he was the leader. Rhea tells Priest that for War Games he can be the leader if it's okay with the rest of them. Dominik and Finn are cool with it. Rhea and Finn say its time to officially welcome JD into the Judgment Day. Priest still isn't sure, but Rhea points out he is currently in medical because he took a spear for Priest. Priest relents and says he will go tell JD the good news. Man I really like how smart Rhea is with all this. There is no doubt from what we've seen that she is probably pretty pissed that Priest called himself the leader. But it also doesn't do her or the group any good to be pissed right now. So why not allow him to be the leader in the match the she won't be in. Really good stuff.
XIA LI DEFEATS INDI HARTWELL BY TKO
We see Xia Li's ambush of Becky Lynch before the battle royale last week. Indi Hartwell hits a big boot as soon as the bell rings and hits another with Xia tied up in the ropes. On the outside Xia slips out and throws Indi into the steel steps. Back in the ring and Xia starts throwing her deadly kicks in the corner to Indi. They've done a good job of making Xia look like a killer so far, this one shouldn't go much longer if they want to keep it up. Indi moves out of the corner and gets some separation from Xia. Big spinebuster from Indi but it only gets two. Xia hits a thrust strike to the throat of Indi and then nails her Spin Kick to Indi. Xia tries to follow up but Indi collapses in the corner. Xia is declared the winner and after doing it with Candice LeRae, the crowd is much more receptive to this finish. Becky Lynch is here! Becky thanks Xia for kicking her in the head, because now they aren't going to do it on Xia's time, they are going to do it on Becky's time. Becky says she came to DC looking for a fight. Becky charges the ring and hooks Xia for a Manhandle Slam before Xia bails. Becky tells Xia she only has seven more days to run because next week it will be Becky v.s. Xia "Welcome to the Big Time." Enough can't be said about Becky elevating the women who were either underused or straight up just not used over the last few months.
BACKSTAGE WITH THE MIZ & GUNTHER
The Miz is backstage warming up when GUNTHER steps in. He congratulates the Miz on winning in a non-decisive fashion and shocking everyone. GUNTHER says the fun and games are over. Miz yells back at GUNTHER to watch his match tonight. Miz says he will do whatever it takes to win. "At Survivor Series you will learn the difference between longest reigning and greatest Intercontinental Champion."
BACKSTAGE WITH SHAYNA BASZLER & ZOEY STARK
We see the end of the battle royale from last week with allies Shayna Baszler and Zoey Stark as the final two. Backstage Shayna and Zoey are in the lockeroom and Shayna says she should be champion and almost had Zoey last week. Shayna admits that Zoey has been on a roll and she is looking forward to watching Zoey beat Rhea. Raquel Rodriquez comes in to also wish Zoey luck. Nia Jax comes in and says that everyone else is pathetic. Nia already squashed Zoey and no one here can beat her one on one. Raquel gets in her face and asks why isn't she champion then? Raquel says that when they fight, she knows she will beat Nia.
THE MIZ BEATS IVAR
I am so so curious to see how GUNTHER v.s. The Miz shakes out. No doubt it will be a good match with GUNTHER on a run of a lifetime and Miz still able to go more than most will give him credit for. Miz starts by throwing hands against Ivar which just earns him some nasty elbows in the corner. Miz jumps off the top and nails Ivar with a hurricanrana. On the outside, Ivar throws Miz into the LED ring apron. With Miz seated, Ivar squashes Miz with a crossbody. I'm going to be so upset if we don't get an Ivar and GUNTHER singles match before things are over. Miz plants Ivar with a tilt-a-whirl DDT that only gets a two. Miz is already calling for the Skull Crushing Finale but the big man backs the Miz up in the corner. Miz runs at Ivar who just throws him down with a spinning slam. Aaand here comes Bronson Reed. Off the distraction the Miz hits a Trish Stratus like bulldog for a two count. A "Let's Go Miz" chant starts with Ivar hitting the sitout splash on the Miz in the corner. Reed grabs a chair but decides to sit in it to watch the match as we head to break. We come back to Ivar having caught the Miz in his vintage clothesline, and he plants the A-Lister for another two cunt. Ivar goes for a running bronco buster, but Miz moves and hits his DDT on Ivar for two. The world famous "It" kicks chop down Ivar but a cheap shot by Valhalla allows Ivar to hit his Spinning Kick. Miz has Ivar on the ropes and is looking for a Super Skull Crushing Finale but instead Ivar plants him with a Super World's Strongest Slam! One…two…no! Miz is still alive. Ivar goes up top to the corner where Reed is and the two exchange words. Miz gets up and nails Ivar with a powerbomb, stacks him up, and puts his feet on the ropes for the three count. Reed runs over Ivar after the match and then hits the Tsunami! I'm all the way in for an Ivar and Reed match. Miz wasn't lying when he said he would win by any means necessary. I do like the angle of GUNTHER really only having faced babyfaces during his reign, this will be the first challenger who has been predominately a heel their whole career.
WAR GAMES VIDEO PACKAGE
We get another War Games Video Package, very similar from earlier but just spelling out the rules a little more.
BACKSTAGE WITH DAMIAN PRIEST & JD MCDONAGH
Priest finds JD limping in the back. Priest says he has been debating this with the crew, but he knows JD is someone he can stand with. After what JD did from Priest tonight, JD is someone he can go to war with and he welcomes him to the Judgment Day. He gives JD a Judgment Day jacket and Finn comes in to celebrate. Finn tells JD to get Dominik and split from the building before Pearce finds them.
BACKSTAGE WITH IMPERIUM
GUNTHER is backstage with Vinci and Kaiser. He tells them well done tonight, but turns out he was just talking to Vinci. GUNTHER tells Vinci that he won that match for Imperium. GUNTHER gets in Kaiser's face before leaving. Kaiser is pissed and sees Jinder Mahal and Indus Sher?! He asks what they want. Jinder says they are just here to talk to Pearce, but Kaiser needs to be careful about his next move. You just can't hinder Jinder baby.
BACKSTAGE WITH ALPHA ACADEMY & THE CREED BROTHERS
Otis is backstage with Alpha Academy and the Creeds. Otis apologizes for losing and Gable says he will take care of Nakamura. The Creeds says maybe the Alpha Academy could use new training partners. Gable isn't fond of abandoning the Gable method. Julius says they are undefeated and could challenge for the Tag Team championships. The New Day hear that and come in to challenge that claim. As all the teams are arguing we see Ivy Nile and Maxxine bond over their performance in the battle royale last week (and a little bit of girl math.) I actually dig that, no reason they shouldn't team up if their groups are going to pal around. Akira Tozawa produces a Washington Commanders Championship and says he wants to be WWE Tag Team Champion. Very stupid segment and I loved all of it very much thank you.
FINN BALOR & DAMIAN PRIEST DEFEAT CODY RHODES & JEY USO (WWE UNDISPUTED TAG TEAM CHAMPIONSHIPS)
Cody Rhodes is out first and Michael Cole talks about how the arena in DC is special to him. According to Cole this was the arena that held the first Smackdown after Cody's return to WWE and "he did some other stuff here." LOL For those who don't know, this is the arena where the first ever AEW Dynamite was held. This match is starting with twenty five minutes left to the hour, let's see if it goes that long. Finn and Jey start things off and the crowd is hot for this one. Almost immediately Cody and Priest jump into the ring as well and all four men are brawling. Priest and Finn try and isolate Jey in their corner. Jey is no slouch but he's probably the right choice if you have to pick in this team. Finn hits an Axe Kick ala Booker T for a two count. We head to break with Cody and Jey sending Finn and Priest to the outside. We are back from break and Cody has Finn on his heels until a Priest distraction allows Finn to rake the eyes and give the Judgment Day the advantage again. Priest has Cody up in a Tombstone position and then jumps forward Styles Clash like. Cody is able to get the hot tag to Jey and he is taking out both members of the Tag champions by himself. Finn makes a blind tag and then grabs Jey's leg as he runs the ropes. Finn runs Jey over with a clothesline on the outside. He tosses Jey into the announce table before he head to our last break. This isn't a bad match but I think we know Cody and Jey aren't winning this one and we've seen these two sides fight so often. It's hard to give them almost thirty minutes even if they can usually deliver. The crowd is pretty into it, I'm just Judgment Day v.s. Cody's Troop out unless it involves the actual War Games match. Cody gets the extra hot tag as does Finn and the two meet in the middle with Cody spamming signatures on both members of the Judgment Day. Cody goes for the Cody Cutter but Finn catches him. Cody counters Finn into a Crossrhodes attempt but that is reversed. Things are getting hectic with Jey and Priest now the legal men. Jey nails a crossbody on Priest that gets a two count. Jey hits a superkick on Finn and Priest, before nailing a Uso Splash on Priest! One…two…no! Priest kicks out of the Splash, that's a big one for him. This match has picked up in the closing minutes for sure. Jey wants a Spear but Priest counters with a kick and a lariat. Priest goes for South of Heaven but Finn tags in before he can hit it. Cody hits Crossrhodes on Priest and Jey hits the Spear on Finn! They want the Cody 1D and they hit it. They would have had it too but Priest breaks it up. Man they sold me a ticket there. Cody dives to take out Priest but Priest throws Cody into the post and the damn ring post breaks. Priest chokeslams Cody into the ring apron as the two teams regroup. Jey hits a tope to take out both members of the Judgment Day. Jey throws Finn back in the ring but he sees Drew McIntyre on the outside. AND YUP. CLAYMORE from Drew to Jey. Drew throws Jey back in the ring and Finn pins Jey to retain the titles. On the ramp Drew shakes hands with Rhea Ripley and I believe the Judgment Day have their fifth man!
This one would have benefited from being cut down just because of the predictability, but a great finish. Love that Drew cost them the title and it doesn't necessarily mean he is joining the Judgement Day team happily. He failed to beat Seth and he got to cost Jey a championship. Really interested to hear from Drew next week.