It's Mark Briscoe week here at the match guide, as the big man returns to singles action for a Dynamite main event with Jay White. Speaking of big men being back, and things of that nature, Chris Jericho heads to Tokyo for his unlikely DDT debut, battling AEW rival Konosuke Takeshita. Elsewhere in AEW, The FTR add something different to their 2023 catalogue, maximising a unique matchup with El Hijo del Vikingo and Komander.
Elsewhere, IMPACT hosts their strongest World's Title match in months, while NJPW delivers some not so glamorous quality on Lonestar Shootout. Finally, Cody Rhodes and Jey Uso look to reclaim tag team gold, completing their trilogy with The Judgment Day. Professional wrestling, I quite like it, personally.
Jay White vs. Mark Briscoe (AEW Dynamite)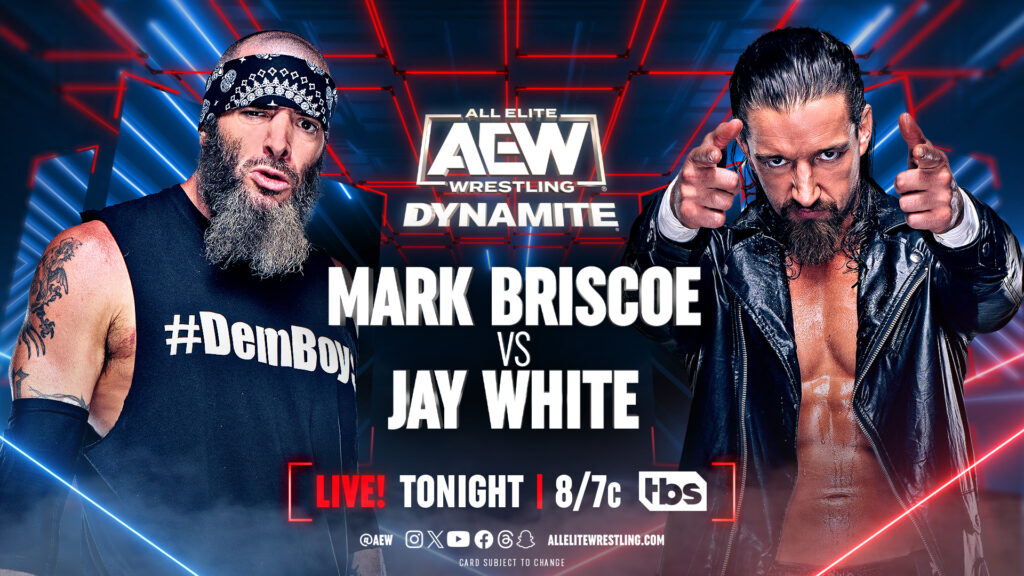 We recently went four months without a Mark Briscoe appearance and frankly, I don't know how we managed. At the time, Briscoe was set for a shot at then Ring of Honor World Champion Claudio Castagnoli, stepping away for knee surgery. He returned in Late October, interrupting Kip Sabian and wrestling a trios match on the following week's Collision. This is his first singles bout since the Concession Stand Brawl, challenging Jay White for his upcoming title shot.
On the road to MJF, White has had ups and downs as a promo in my view, but his in-ring work has remained flawless. At times, he can almost be a touch too pristine, seldom putting a foot wrong physically. White is no stranger to The Briscoes, wrestling Jay in the first few weeks of his ROH excursion. They went the distance, reaching a 20-minute draw and being on opposite sides of some multi-man tags until their February 2017 rematch.
Last May, they reunited for a tag team tilt in IMPACT, as White stood alongside Chris Bey for a television bout with The Briscoes. Even still, White had never wrestled Mark in a singles match, ticking that box in Dynamite's main event. Their chemistry remains palpable at the bell, sharing a tight lockup as Briscoe brings that familiar grit to White's fundamentals. From the start, they're actively fighting for each and every position, going to war early for a headlock advantage.
Briscoe soon breaks from that battle, powering White to the mat and turning this wrestling match into a fight. There is such charm to Briscoe that he's able to make that adjustment without feeling even slightly underhanded, then playing some hits for his babyface shine. The Gunns soon distract him however, allowing White's cutoff as they feed into an ad break. Hilariously, Briscoe finds a hope spot within that break, violently landing at ringside for his troubles.
It's an outrageous spot at any time, let alone during picture-in-picture, but such is the life of a Briscoe. In all seriousness, that attitude is the match's defining trait, as Briscoe still wrestles with such spirit. Even after all these years, there's an infectious enthusiasm to his game, a joy that makes him such a pleasure to watch. Television matches are inherently formulaic on some level, but Briscoe performs each piece of this as though it's the fight of his life.
That allows this to pack an extra punch than it has any real right to, convincing Portland, Oregon along the way. Briscoe clobbers his way to a comeback, then going through the gears for some near falls. The people always respond to Mark, but his work gets them increasingly onboard here, even making an upset feel feasible at times. By the end, it does not feel like a mere stop on White's road to Full Gear but instead, a major league main event between two headline acts.
White's usual selflessness plays a significant role in that feat, rightly giving Briscoe an awful lot of space to fill. In addition, White brings his own physicality, meeting Briscoe in the middle for a heated, fiery main event. This was always going to be good but it actually exceeded expectations in my view, reiterating Briscoe's value. At times, I think it's taken for granted just how special he is, genuinely belonging in AEW's top tier of talent.
Alex Shelley vs. Jonathan Gresham (IMPACT Wrestling)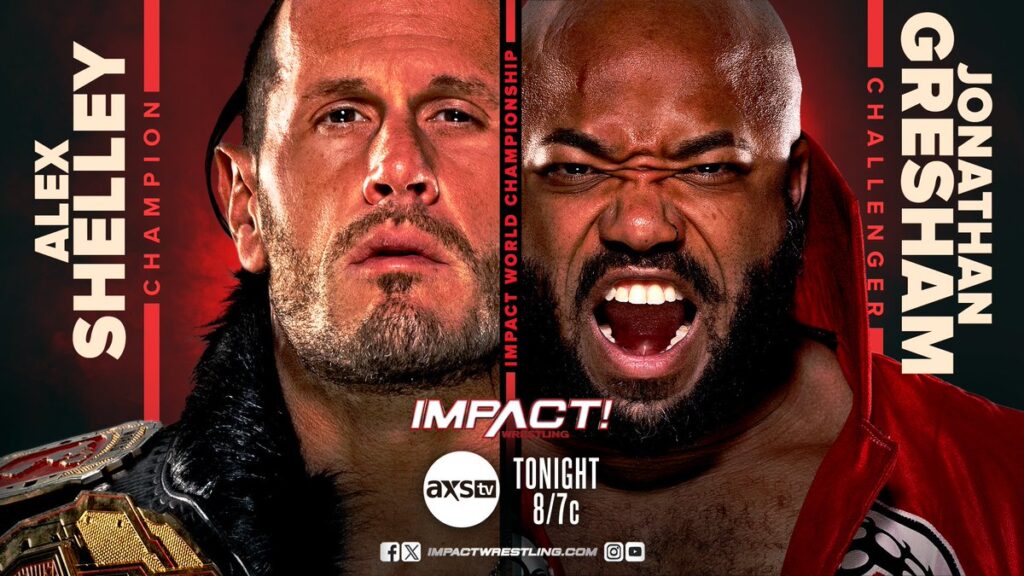 It's been a strange year and change for Jonathan Gresham. Since losing the ROH World Title to Claudio Castagnoli last July, Gresham has found a home in IMPACT Wrestling, mostly operating in the X-Division. Naturally, that's produced some exciting work, but it's been mostly out of focus. Gresham is closing 2023 in encouraging form though, debuting in All Japan Pro Wrestling and producing a strong World Junior Heavyweight Title match with El Lindaman.
Prior to leaving for that tour, Gresham received his first shot at IMPACT's World Title, challenging Alex Shelley. These two have been frequent foes, wrestling a series of singles bouts as well as recent tag matches under the IMPACT umbrella. This meeting is slightly different though, with Gresham recently turning heel, complaining about his lack of opportunities and adopting the behaviour surrounding him. As a result, Gresham is currently bending the rules, embracing that approach rather than obstructing it.
To somewhat mixed results, that shapes much of the match. Gresham is still finding the right balance for this act, at times approaching it almost comedically here. It's a neat idea, using his technical skill to trick the referee, just needs some subtlety, especially at this level. Right now, it's too heavy-handed, slightly distracting from the bigger picture they're painting. Even still, it's a picture worth watching, ultimately operating as an extended limb work duel.
They take their time with that direction, sharing a World Title opening and building gradually. Gresham's aforementioned shortcuts then put him in control, using his advantage to chip away at Shelley's knee. That arrives in the form of a figure four lock, with duelling chants emerging in response. For the first half, Gresham's focus on the knee is secondary to his character work, allowing the match to drift slightly. It's decent, just a touch vague.
As Shelley finds his own target though, the match levels up. Slowly but surely, Shelley makes inroads on Gresham's arm, forcing the challenger to operate with greater aggression on his own target. That tightens everything up, bringing a tenacity to the match that had come and gone previously. Shelley's selling is superb, collapsing as he attempts his usual offence and pairing a grounded agony with more theatrical, dramatic quirks.
By comparison, Gresham's selling is often absent, though Shelley's work isn't sustained enough to make it glaring. In that sense, it's only a limb work duel in flashes, with Shelley's efforts very much serving as a supporting act. If anything, it's more of an opening to revenge for the champion anyway, chasing after Gresham and firing away with chops. That contrast is evident late, as Shelley throws head shots during strike exchanges in which Gresham clubs the knee.
It builds organically, using a dramatic pin sequence as the bridge to their finish. That outcome arrives in fitting fashion, as Shelley snatches the injured left arm to set up his conclusive manoeuvre. This is Shelley's finest title defence yet, wrestling his match with a likeminded challenger. At times, it's felt as though Shelley has plugged ill-suited contenders into his formula, only exposing their lack of selling in doing so. Here, Gresham is good enough for the roles to reverse, allowing Shelley to sell.
These two are a natural match for one another and while Gresham's new character work creates a certain roughness around the edges, they naturally veer in the right direction. The deeper they get in this one, the better it got, a strong television main event that did an awful lot for champion and challenger.
Mike Bailey vs. Zack Sabre Jr. (NJPW STRONG Lonestar Shootout)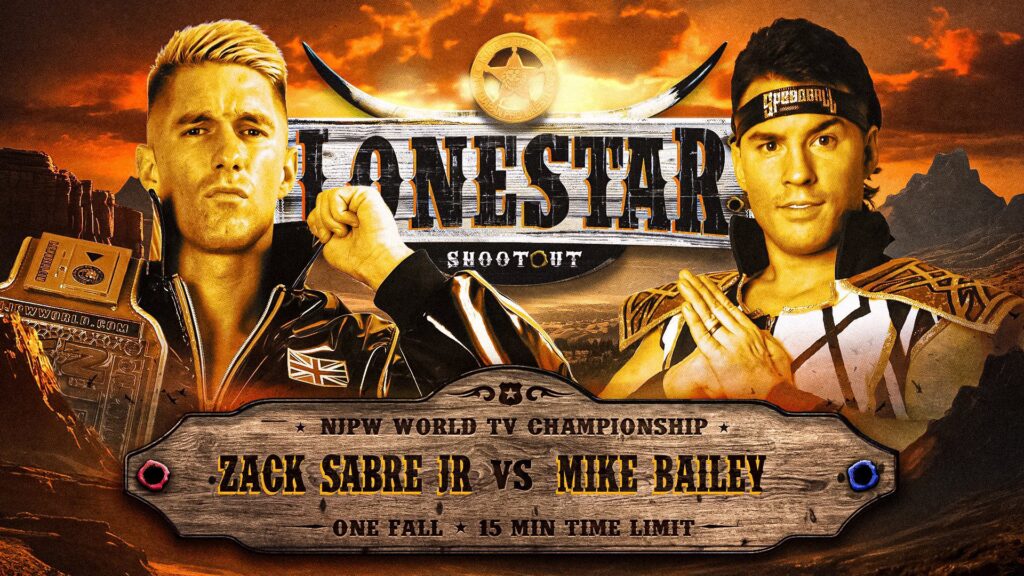 Since becoming the inaugural NJPW World Television Champion at Wrestle Kingdom, Zack Sabre Jr. has had a terrific reign. With notable outings opposite Jeff Cobb, Shota Umino and Tomohiro Ishii, ZSJ has made almost twenty defences, even taking his belt to AEW and ROH. His latest stop came in Garland, Texas, bringing the belt to Lonestar Shootout for an enticing bout with 'Speedball' Mike Bailey. Earlier this year, Bailey competed in NJPW's Best of the Super Juniors, since winning the promotion's US All Star Junior Tournament.
These two haven't wrestled in almost six years, last sharing a two-match series in London. With that being said, the dynamic remains natural, the obvious modern example of striker vs. grappler. Bailey's dominance on the feet is present immediately, uncorking kicks to overwhelm Sabre Jr. His speed is an instant factor, sprinkling in some aerial efforts to further rattle the champion. ZSJ soon finds an answer however, cutting Bailey off and targeting the leg after just two minutes or so.
That briefly shapes the next segment, with Sabre Jr. momentarily torturing Bailey's emerging injury. It's not something that they stick with for long though, as the match instead evolves into a more standard shootout. Back and forth action makes up much of this, though that initial limb work does play factor throughout. As Bailey strikes his way back to neutral, they settle into a rhythm in which ZSJ frequently returns to the leg in order to halt 'Speedball's momentum.
On one occasion, that comes in the form of Sabre Jr. blocking Bailey's double knee drop, launching a brief duel in that domain during the middle portion. Along the way, the champion makes some inroads on Bailey's arm, doing so with a gorgeous counter as the challenger threatens a comeback. It's mostly the leg that gets Sabre Jr. out of jail though, even sweeping it away as Bailey launches a head kick.
Admittedly, Bailey's selling of that element comes and goes, being present on his face but barely altering or even slowing his offence. Sabre Jr.'s work is focused enough to overcome that, with Bailey's offence being sharp enough to make his own selling a worthwhile sacrifice. In addition, the length helps them in that regard, as no segment is stretched long enough to overly expose those shortcomings. After all, the final few minutes will dominate the headlines anyway, and rightly so.
It's a spectacular race to the finish, sharing some staggering exchanges down the stretch. It's not a burst that feels especially attached to what came before, but still packs a serious punch, providing the bout's best as an outright thriller. Moreover, Sabre Jr.'s efforts on the left arm ultimately pay dividends also, providing some connective tissue, even after the uneven selling. It's a really enjoyable match, an incredibly watchable fifteen minutes that wows enough to outweigh its flaws.
Shingo Takagi vs. Trent Beretta (NJPW STRONG Lonestar Shootout)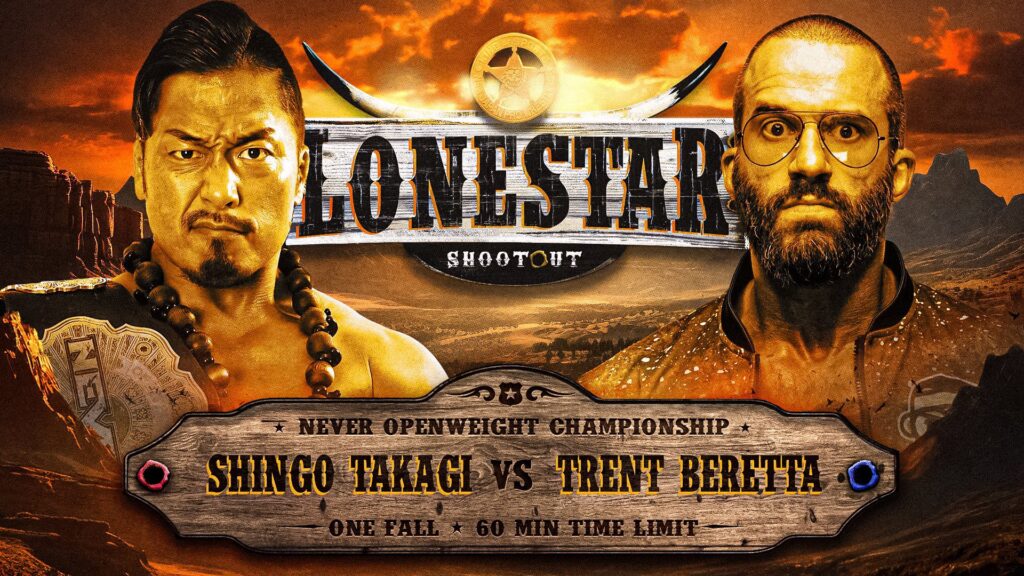 Even in a dimly lit building without any sense of spectacle, main event Trent Beretta went about as you'd expect. Challenging Shingo Takagi for his NEVER Openweight Title, Beretta made the opportunity count, turning in a typically unhinged performance. Beretta is no strange to singles competition, recently closing Rampage with Daniel Garcia and before that, putting in some time against Jay Lethal as well as Roderick Strong. Regardless of opponent, Beretta's effort is undeniable, usually wrestling beyond his presentation or push.
This is a different scenario though, as Beretta wrestles his longest singles match since a February 2019 bout with Juice Robinson. Here, Beretta is not simply maximising a competitive TV match but actively following the undercard with a worthy main event. Prior to this, Mayu Iwatani and Stephanie Vaquer rocked Garland, Texas with an enthralling title tilt, building on the momentum produced by Mike Bailey and Zack Sabre Jr. It hadn't been a short show either, making this a challenging task.
Even still, they take their time early, sharing a main event opening and cautiously wrestling for position. The slow start asks a lot of those in attendance, but establishes a level of physicality in the process, with Beretta happily wrestling Takagi's match. After a brief flurry from Beretta, that approach put Takagi firmly in control, taking over at ringside and scoring a DDT on the floor. Takagi's control segment isn't much, but does allow Beretta to sell, firing back valiantly along the way.
Beretta's efforts get the live crowd onboard, rooting him upright as makes a comeback, scoring a horrifying moonsault to the outside. That success shifts the match, as Beretta wrestles like a desperate man, violently embracing his emerging route to victory. He introduces a table as a result, pushing the referee over and being whacked over the head with his own weaponry. Beretta leaves that portion with a bloody forehead, staggering around ringside afterwards.
He rallies in centre ring, dishing out some suplexes, transitioning the match to its somewhat back and forth finishing stretch. It's a gruelling, hostile affair, with Beretta taking frightening bumps throughout. Paired with the blood, that allows for some drama, though in such a predictable scenario, they're admittedly limited on that front. That's unavoidable but they do overcome that element late, with Beretta managing a strong near fall in the dying moments.
For the most part though, it's a match about Beretta's ability to sustain a beating, surviving an absolute onslaught during the second half in particular. The crowd does get behind him in that role also, willing this to something far more epic than the occasion deserved. Unfortunately, it struggles to add much depth to that form and as a result, is rather one-note. It's an effective note, no question, just one that's stretched thin at this 25 minute runtime
It's a very good match that swings big for something that under these circumstances, simply wasn't available. In truth, it likely would've benefitted from a trim of sorts, which could've given the co-main some more time to boot. Even still, it's a bruising bout that Beretta performs admirably within, almost waking Takagi up in the process. Initially, he seems to be in an understandable house show mode, but visibly relishes the violence that emerges throughout.
Worthy main event with a blunt quality that's present in much of Beretta's work, a scrappy slugfest.
FTR vs. El Hijo del Vikingo & Komander (AEW Rampage)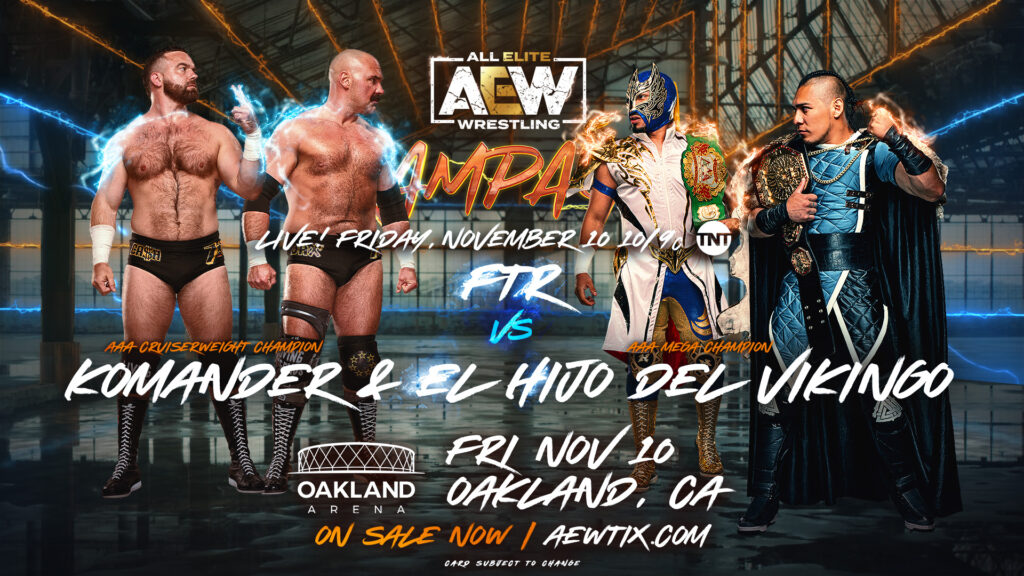 While they've wrestled almost weekly since Collision's premiere, there was something incredibly refreshing about the scenario that awaited FTR on Friday's Rampage. Much of that is the opposition of course, as Komander and Vikingo represented fresh and unique dance-partners. Even beyond that though, it's been awhile since the former champions wrestled a snappy television main such as this, particularly without a third or fourth partner alongside them.
For the most part, FTR's recent traditional tags can be split into two groups, with extended epics opposite brief sprints. That obviously oversimplifies their 2023 campaign, but for my money, this middle ground did add to the matchup's existing novelty. With that being said, this didn't necessarily jump off the page as a natural fit, sporting a presumed stylistic clash. In execution, that contrast works in the bout's favour, providing a centrepiece to build around.
FTR are chasing the match for much of its twelve minute runtime, struggling mightily to wrangle their opponents. That direction does an awful lot for Komander and Vikingo, who have teamed somewhat frequently under the AEW/ROH umbrella. They are positioned to shine and do so brightly, using their creativity to frequently overwhelm FTR. From very early on, it's a quite dynamic take on power vs. speed, with Komander eating a thunderous chop or two before flooring Harwood.
The cutoff captures this match rather well, as Cash virtually deflects Vikingo's dive in order to take over. While FTR are, almost by default, leaning heel here within the match's structure, it's no genius tactic or slick double-team that puts them in control. Instead, Wheeler just barely dodges a bullet. That spot feeds directly into an ad break, allowing for a brief FTR heat segment. It's not much as again, they are barely leaning in that direction, but does provide the match with some shape.
Harwood and Wheeler are sharp as ever in that section, picking up where they left off eighteen months ago. Their physicality really grounds the match, adding a grit to proceedings that Komander and Vikingo embrace, both firing away with chops of their own. It's Vikingo's speed that launches Komander's hot tag though, receiving a double feed and desperately fighting for an advantage. The highlight reel remains intact also, scoring double dives as they return from the break.
As usual, those offerings are spectacular, arriving with a noticeable fire here to boot. As Komander and Vikingo combine for tandem offence, it feels truly cat and mouse, with FTR turning from one flurry to the next. Harwood and Wheeler hardly ever feel in control, instead being forced to embrace the firefight with their own arsenal. That approach gets them further, overpowering their opponents after finally finding the timing to catch them.
Even as they trade hits, there are some neat touches, including Vikingo's continued countering of Harwood's slingshot powerbomb. They manage so much in fact that the finish is probably a touch abrupt, almost deserving a bridge of sorts after such a thrilling ride. At the same time, it feels fitting enough as is, the tag team equivalent of a sudden knockout punch in the form of FTR's Shatter Machine. It's as though they merely survived the bout, wrestling the wrong match but living to tell the tale.
This is a home-run, and my favourite Rampage bout in quite some time. It's a match that embraces its stylistic contrast, telling a cat and mouse tale of power vs. speed. Tremendous television main event, FTR's best work since the BULLET Club Gold series.
Chris Jericho vs. Konosuke Takeshita (DDT Ultimate Party)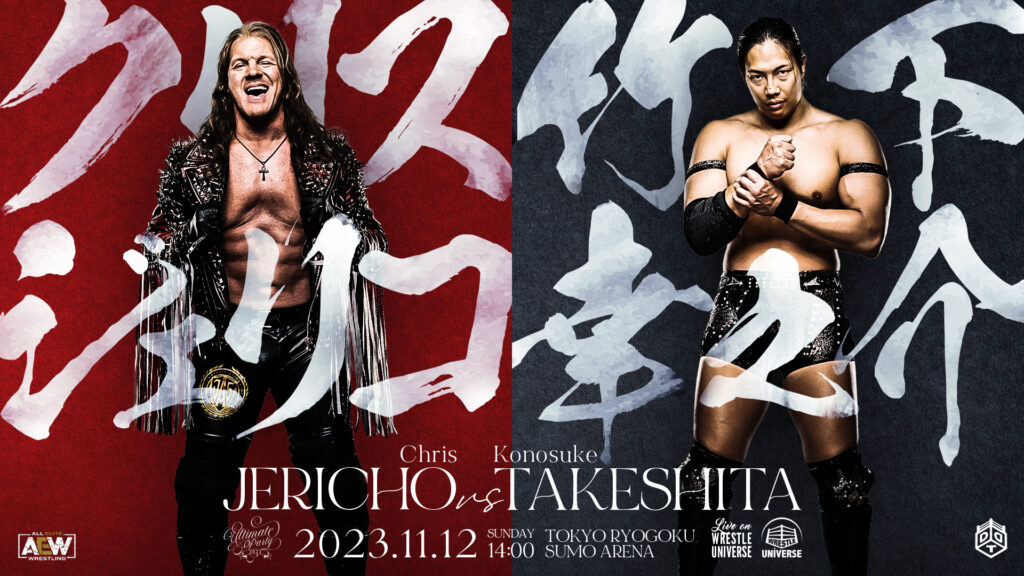 Though the outcome ultimately dominated the headlines, Chris Jericho's trip to DDT always had my attention. At 53 years old, Jericho remains enthralled by these scenarios, still venturing beyond his comfort zone after a hall of fame career. In addition, my issues with Jericho's current form are seldom surrounding his in-ring work, even if 2023 has been a noticeable decline on his prior campaign. That didn't feel likely to hinder this occasion though, virtually operating in a vacuum.
Moreover, there's a genuine novelty to this that separates it from Jericho's AEW work, receiving a hero's welcome at Sumo Hall. In fact, Tokyo even sings 'Judas,' providing this with an engaging and unique atmosphere. It's a refreshing reminder of Takeshita's firepower also, stripping things back and allowing him to simply wrestle, doing so in his most significant match since All Out. The result is an impressive hit, exceeding expectations and gelling better than I had anticipated.
They settle into a rhythm that bounces between two separate pieces, initially setting the stage with a feeling out process. The first of those two pieces then reveals itself, as they fight into the crowd, trading bombs at ringside. Blow for blow, Jericho is obviously outgunned on some level, but he's still happy to play that game, often producing his best work in those brawling pockets. It's not dissimilar to Jericho's initial work against Eddie Kingston, leaning on a familiar roughness.
That roughness doesn't always arrive in chops or forearms either, with Jericho at one point using a barricade to almost uppercut Takeshita. Beyond the strike exchanges, there are frequent windows of more expansive offence, starting with Takeshita's brainbuster on the floor. Along the way, those instances showcase some creativity, with neat placement keeping things fresh. They aren't merely playing the hits either, swinging big throughout, including a wild dive to the floor from Jericho.
In response, Takeshita scores both a superplex and blue thunder bomb off the top, with the former causing Jericho to literally bounce from the mat. No matter how daring that puzzle piece gets though, they never lose grip on the bout's roots, always returning to those bruising bombs. It's a wild effort from Jericho, bumping violently and happily trading knockout blows with a physical force of nature. It's more convincing than that sentence may suggest also, as Jericho is visibly toughing it out.
His success is often a result of knowhow and grit, ultimately overcoming the more dynamic Takeshita. Again, that's the story coming out of this and understandably, it's not a particularly positive one either. With that being said, the match itself is a triumph for my money, Jericho's best of 2023. It escalates seamlessly and really maximises Jericho's remaining game, showcasing the stylistic overlap between him and Takeshita. Very good match, and almost certainly the best version of this pairing.
Cody Rhodes & Jey Uso vs. The Judgment Day (WWE RAW)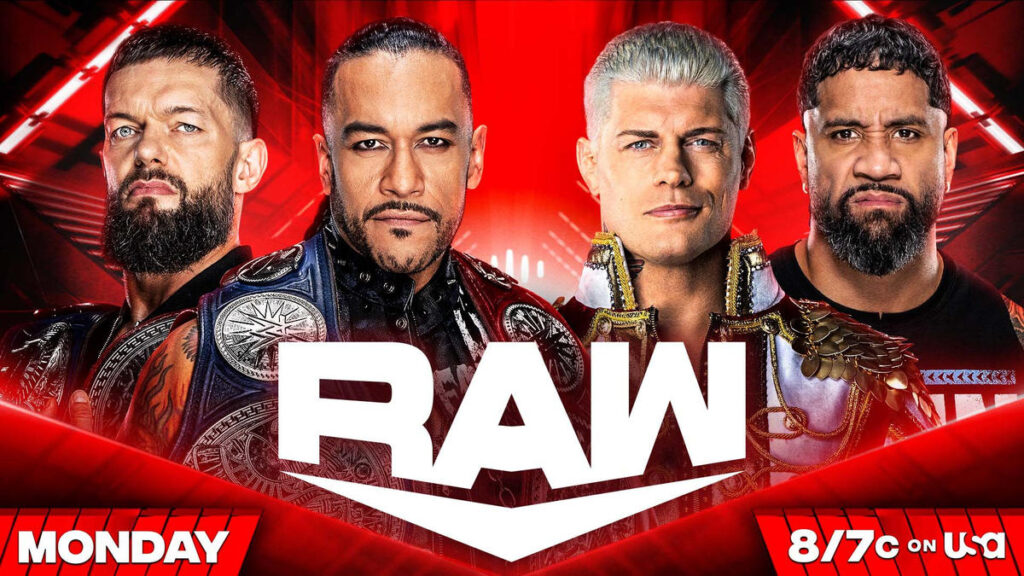 It's a lock to be remembered fondly one day but inside the ropes, Cody Rhodes and Jey Uso have barely scratched the surface in my view. That's fine, and considering Rhodes' presumed destination, isn't likely to change much either. With that being said, RAW added another match to their mini-catalogue, completing the trilogy with The Judgment Day. At Fastlane, Rhodes and Uso claimed the tag team titles, kicking off the show with my favourite match of the night.
Even still, that fell a smidge short of my expectations, being comfortably surpassed by its sequel. I maintain that the second entry is criminally underrated, switching the title back in an exciting, hectic shootout. This rubber match is rather different, actually being structured as a total contrast to that bout. In fairness, it's a slightly different scenario, as the belts are almost secondary here, with the impressive WarGames build taking centre stage.
That makes for an interesting watch though, as this is stripped down as a result, putting in time with a pretty minimalistic television main event. It's their longest match yet, but also may be the thinnest in terms of actual content, almost operating like an early Collision main event. Indeed, that's the "Collision reference" on your match guide bingo card covered. Seriously though, it's not dissimilar, using a traditional structure and simply stretching it to twenty minutes or so.
Fastlane was similar, with this heading further in that direction. In addition, this isn't the PPV opener and is instead closing an episode of RAW, which noticeably hurts its heat. That'll happen sometimes, but they're engaged nonetheless, starting steady before going into an early brawl. Those brawling bursts are a theme throughout, providing admittedly tame flashes of what awaits at WarGames. Rhodes is able to go full World Championship Wrestling in the first act, as he and Uso work over Balor with a clean control segment of their own.
The Judgment Day soon turn it around on Uso though, taking control until another brawl feeds into a break. Cody's tag arrives as we return, though not in the form of a comeback as Uso simply backs Balor into the challenger's corner. With a rake of the eyes, Balor cuts Rhodes off anyway, going into more sustained heat that's momentarily more effective. They still aren't exactly rocking however, which Balor adjusts to by ramping up the physicality.
That's something I've noticed as of late, with the big houses allowing a looseness to creep in on strikes and such. It's no big deal and is a luxury that speaks to the top tier's increasing popularity, but is noticeable when crowds are quieter than usual. Nonetheless, the match somewhat drifts until Uso's hot tag, hooking the people with a fiery rally. He and Priest are noticeably sharper on this occasion, likely benefitting from their recent singles match.
It's a short-lived comeback though, with a blind tag cutting Uso off on the floor as they go to another ad break. Once again, they return to Rhodes tag, though it's an outright comeback on this occasion. He runs wild on Balor, transitioning the match to its brief, but engaging finishing stretch. This portion involves the match's first use of back and forth sequencing, as quick tags break from the more deliberate formula to that point.
Some strong near falls emerge as a result, closing strong and handling the Drew McIntyre business to boot. It's a decent match, but very much feels like a house show main event with a television finish. Ironically, it's also reminiscent of The Usos' TV work, attaching an exciting closing stretch to a bout overloaded with heat. Those portions are excessive here, especially without a centrepiece to build around. It's mostly stalling, particularly at this runtime.
Either way, it's an enjoyable enough watch, also making for an interesting contrast with the series' best. I'm not sure that Cody Rhodes' tag team run with Jey Uso will ever quite scratch the itch that I'm searching for, but they've been good TV regardless. This is no different, keeping things trending in the right direction for WarGames.