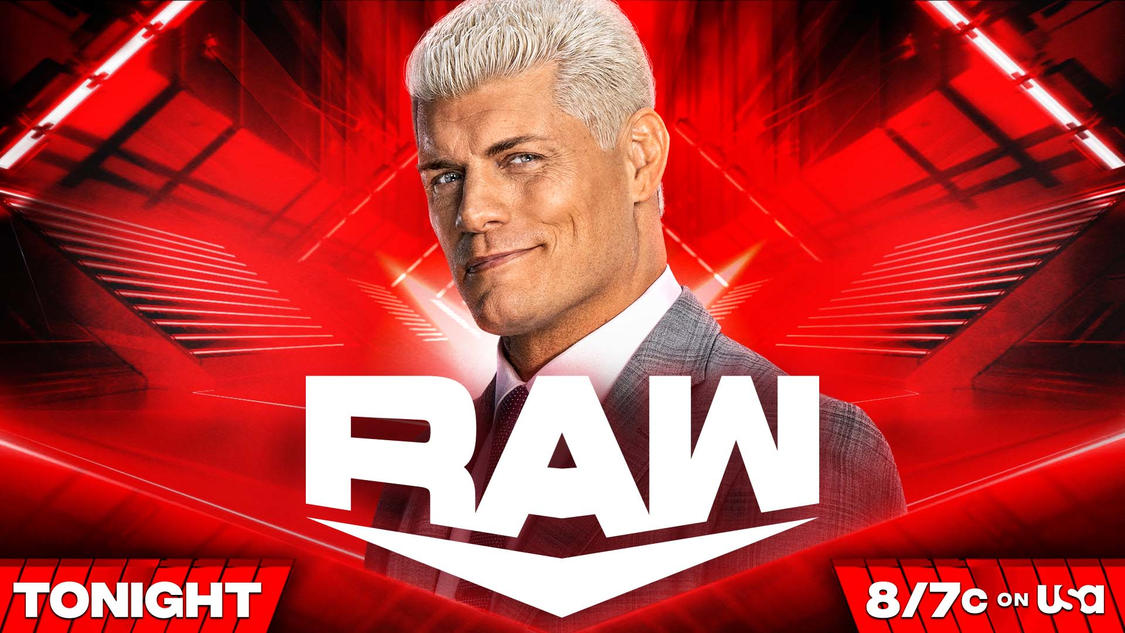 Welcome to the Wrestlepurists' live coverage of Monday Night Raw for the September 11th, 2023 episode.
JEY USO IN-RING PROMO
We are live on what you've surely heard is the final Raw before the Endeavor deal closes. Time will tell what changes will come with the merger, but tonight we kick things off with Main Event Jey Uso. Jey says it feels really good to be on his own and to be on Monday Nights. Before he can say anything else, Kevin Owens' music hits and he slowly walks to the ring. Owens may have been on the receiving end of more Bloodline beatings than anyone else on the roster, so this should be very interesting. Owens says he thinks Jey meant to say that Jey was now on the Kevin Owens show. He says he knows what Jey is going through better than anyone. Owens has done a lot of bad things to a lot of really good people. He remembers trying to make amends and that it took awhile to earn peoples trust and respect. Some in the back still don't trust him. Owens says McIntyre and Riddle are just two of the ones who don't want Jey here. He says there are people that never talk to him coming up saying they should do something about Jey. Owens says that means Jey will have to do a lot to earn his respect, which brings out the Judgment Day sans Rhea Ripley. Finn Balor says that no one speaks to Main Event Jey Uso like that. "Grand Slam Finn respects you." Damian Priest says Owens doesn't speak for the locker-room and definitely doesn't speak for the Judgment Day. Priest tells Jey that the Judgment Day door is always open to him. Priest brings up Dominik Mysterio saying no to them over and over again until he finally said yes to joining. Good point from Senor Money in the Bank. Dominik tries speaking to Jey but you can barely hear him. Priest says they came out here because they thought they had a match with Owens and Sami Zayn. Owens says Zayn isn't here tonight, but he will fight them all on his own. Jey tells Owens to not worry about Sami. That if he wants Jey to earn his respect, than it'll be Kevin Owens teaming with Jey Uso against the Judgment Day. Owens thinks about it for a moment before saying "let's do it" and Jey plants Dominik with a superkick. A brawl ensues as we head to break. Really strong start to the show, like I said last week there is a lot of meat on the storytelling bone with Jey Uso joining Raw. I'm glad they aren't rushing through it, and having Jey step up to team with Owens here is a great story beat.
FINN BALOR & DAMIAN PRIEST DEFEAT KEVIN OWENS & JEY USO
During the commercial break this match was made official, however it is a non title match. Jey and Priest start off the match but Finn quickly tags in. He offers a handshake to Jey who swats it away. Finn goes for the legs of Owens with a chop-block from behind and then quickly tags the bigger Priest into the match. Owens fights through the pain and connects with an enziguri, and then tags Jey in. With both members of the Judgment Day on the outside, Jey clears the top rope on a great dive to the outside. While everyone is distracted, Dominik grabs the leg of Owens and yanks him off the apron. Judgment Day were able to isolate Owens during the break, but KO gets the hot tag to Jey shortly after we return to air. The crowds are still big time into Jey, reaffirming the move to Raw every time he's out there. Jey goes for the Uso Splash but Finn is able to get his knees up at the last second. Jey and Finn both tag out, and Owens is all energy despite limping. He wants the cannonball in the corner but his leg doesn't hold up. Priest tries to hoist him up for the South of Heaven, but Owens counters that. Owens is basically on one leg here, but hits a tornado DDT for the two count. Owens climbs to the top but with his leg it takes him too long allowing Priest to cut him off. Finn tags in and goes for a superplex but Owens reverses it into a brainbuster in midair!! It would have been a three if not for Priest. Owens wants the Stunner on Priest but he ducks. Jey goes for a superkick but Priest ducks again and Jey accidentally nails Owens. Oh no, Priest takes himself and Jey out of the ring while Finn hits a Coup De Grace for the three count. As Michael Cole says, the superkick looked like an accident but with his past people aren't going to give him the benefit of the doubt. After the match Jey tries to take responsibility for the loss but Owens just limps off.
BACKSTAGE WITH KEVIN OWENS & JEY USO
Jey finds Owens backstage and apologizes. Owens doesn't want to hear any of it, telling Jey to go find his new Bloodline in the Judgment Day locker-room.
RECAP OF GUNTHER BREAKING THE INTERCONTINENTAL CHAMPIONSHIP RECORD
We see a recap of the excellent Intercontinental championship main-event last week between GUNTHER and Chad Gable. We then see Imperium get out of a car and they are decked out in suits for tonight's celebration.
THE MIZ DEFEATS AKIRA TOZAWA
The Miz is looking to get some revenge on Akira Tozawa after his upset loss a few weeks ago (with a little help from LA Knight.) Tozawa is getting in some offense, Miz is clearly furious and its allowing Tozawa to take advantage. Miz counters Tozawa into a front facing lungblower and then follows up with a Skull Crushing Finale. He isn't done! Miz hits two more Skull Crushing Finale's, the third that's preceded by him saying "M-I-Z" for the three count. It will be Miz v.s. LA Knight in a rematch on Smackdown. Interesting that there is no stipulation attached, gotta assume Miz gets the win on Friday to set up a rubber match at Fastlane?
INTERVIEW WITH RAQUEL RODRIQUEZ
Byron Saxton is backstage with Raquel Rodriquez. Byron asks her what is going through her mind. Raquel says Rhea may just be the most dominant woman in WWE. But Rhea usually has the match won on fear before the bell rings. But Raquel isn't afraid. And Dominik will be a non factor. "Tonight Rhea learns that reality is worse than a nightmare." Raquel says tonight Rhea will not be the tallest or the strongest, and there will be a new Women's Heavyweight Champion. Good short and sweet promo, looking forward to them getting another crack at showing out tonight.
INTERVIEW WITH SHAYNA BASZLER
Jackie Redmond is backstage with the Queen of Spades Shayna Baszler. She asks Shayna about Zoey Stark. Shayna says that she admits that Zoey surprised her in not taping out right away to the Kirifuda Clutch. Chelsea Green interrupts the interview and says that her partner Piper Niven is technically "not medically cleared" so why doesn't Shayna be her partner? Chelsea calls herself and Shayna peers. Shayna laughs it off and challenges her to a match later tonight. As Chelsea goes to leave, Piper comes into frame. Chelsea looks surprised as Piper grabs one of the titles and tells her that she is medically cleared.
GUNTHER INTERCONTINENTAL CHAMPIONSHIP RECORD REIGN CELEBRATION
Ludwig Kaiser and Giovanni Vinci are in the ring as they introduce the new longest reigning Intercontinental champion in history, GUNTHER. It's an incredible feat and he's done it without really taking any time off. It's not just been a long reign, but a dominant one. GUNTHER is on a raised podium in the ring. He looks incredible in-between two huge pillars. GUNTHER says the legends who held this championship before him did absolutely nothing for the championship. He says he has run out of competition and he is only competing against himself. SHOOOSH. Chad Gable is out by himself to say what an incredible championship fight they had last week. Gable congratulates GUNTHER, who invites Gable into the ring. Gable says last week he saw the look in GUNTHER's eyes after the match. It said that out of everyone GUNTHER defeated during his reign, no one came as close to defeating GUNTHER as Gable did. That wasn't the only look Gable saw last week though. He saw the look of his entire family, the tears running down the face of his oldest daughter. Gable says GUNTHER wouldn't understand what seeing something like that does to a person. What it did last week was light a fire under Gable that won't go out until he makes this right. "I've beat you once, and I'll beat you again." Gable promises he is going to get another opportunity at the Intercontinental championship, and for himself and his family he swears to God that he is winning that title and his daughter is walking out with a smile on her face. GUNTHER asks another opportunity for what? To drag his family out to watch GUNTHER beat him down again? GUNTHER says yes Gable pushed him to his limit. But Gable is a "disgusting, terrible father." Gable immediately attacks GUNTHER but its instantly a three on one beatdown. Otis runs down to the ring and takes out both Kaiser and Vinci. GUNTHER takes down Otis and then Kaiser and Vinci are back on the attack. Its a three on two mugging until Tommaso Ciampa runs down to the ring with a steel chair to chase Imperium off!
BACKSTAGE WITH DREW MCINTYRE & XAVIER WOODS
We see a video from earlier today with Drew McIntyre texting (is he texting Adam Pearce?!) and Xavier Woods comes into frame. Woods asks Drew what was up with last week. Drew says he already apologized for throwing the chair at Woods. Woods says he's not here about that, but about Drew bad mouthing Kofi Kingston. Drew says he said what he said and he has a lot on his mind. Drew says if Kofi has a problem he can man up and talk to Drew himself. He tries to leave and Woods stops him. Woods says he gets it, Drew is jealous that Kofi won the WWE title at Wrestlemania in front of over eighty thousand fans, but Drew won his title in front of no one. Drew says he knows what Woods is trying to do. "What Drew McIntyre is going to run through Xavier Woods?" Drew says that Woods said it, not him. EXCELLENT segment. Woods is so underrated in every aspect and Drew doesn't get enough flowers on the mic. I've been loving this program.
BACKSTAGE WITH ALPHA ACADEMY & TOMMASO CIAMPA
Alpha Academy and Tommaso Ciampa are backstage. Jackie Redmond asks them for a comment on what happened out there. Ciampa says last week Adam Pearce told him to seize his moment. Tonight with GUNTHER celebrating his record breaking reign, there is no bigger moment. Gable says he hates Imperium and Otis suggests a six man tag team match tonight. Ciampa walks off, we can assume accepting the match. Will be interesting to see if Ciampa gets involved in this Intercontinental Championship program, or if Johnny Gargano will find his way back and him and Ciampa will feud with Imperium?
DREW MCINTYRE DEFEATS XAVIER WOODS
Woods smartly starts fast, sticking and moving before Drew nails him with a Glasgow Kiss. Woods is still able to use his speed to duck big blows from Drew though. Woods dives onto Drew on the outside but the former WWE champion catches Woods. He then just tosses him like a doll onto the announce table as we head to break. Woods hits a sunset flip bomb off on Drew off the top and then follows it up with an insane leg drop from the top rope. It looked incredible but only gets two. Drew kicks it into another gear and connects with two belly to belly suplexes. Drew calls for the Claymore but Woods hits a superkick first! I thought for sure that was it, love that they are giving Woods more of a fight. Woods lines Drew up, but gets a chop for his trouble. Drew tries for the Alabama slam but Woods counters into a victory roll for a two count. Woods follows it up with an onslaught finishing up with a sliding knee for a two count. The two are firing off punches to the delight of the crowd. Woods rebounds off the ropes and goes for a discus forearm but Drew hits a Claymore right before Woods can connect! Wow, that's it. Great TV match, so so glad Woods was given the opportunity with someone the tier of Drew to show off just how good he is.
IN-RING PROMO WITH CODY RHODES
Cody Rhodes is out to a huge ovation. Cody asks Virginia what they want to talk about. He says let's talk about Main Event Jey Uso. Before we can go any further Dominik Mysterio and JD McDonagh are out. Dominik says he is so glad Cody brought Jey to Raw, because when Jey joins the Judgment Day it'll make Cody look like a fool. Dominik says there is not a thing Cody can do about it while throwing Cody's tie at him. Cody throws a punch Dominik's way and is able to fight both Dominik and JD off. Listen these two had zero chance against the American Nightmare. Both men eat Crossrhodes as Cody stands tall.
BACKSTAGE WITH JEY USO & DREW MCINTYRE
Jey Uso is walking backstage where Drew McIntyre finds him. Drew says he wants to look him in the eye and tell him he doesn't trust him for one minute. Jey responds "cool." Drew says Jey could never stand on his own two feet, while Jey challenges Drew to pull up to him next week. A match between the two is made for next week. That'll be a fun one!
SHAYNA BASZLER DEFEATS CHELSEA GREEN
Chelsea Green is hiding behind Piper Niven while Shayna Baszler makes her way down to the ring. Shayna stomps on Chelsea's elbow almost immediately. Chelsea is trying to run to the safety of Piper. Shayna goes face to face with Piper and tells her to get out of her buisness. Chelesa goes for a surprise superkick but Shayna is ready for it. Chelsea has one more reversal in her before Shanya picks her up and nails her with Rousey's old Piper's Pit for the three count. Piper runs into the ring to attack Shayna but Zoey Stark runs down to the ring to make the save. Zoey and Shayna stare down Piper, who decides to leave instead of fight off the two men. I know the Women's tag titles seem cursed but I do think having Zoey and Shayna settle into a long reign as killers would work. Barring injury of course, which at this point is becoming a pretty big if with these titles.
SHINSUKE NAKAMURA VIDEO PACKAGE
We see a video of Shinsuke Nakamura talking over footage of the last few weeks. Nakamura asks if Rollins feels like a champion. "Your road to success is littered with the bodies of those who trusted you." We see footage of the Shield betrayal during this. He calls Rollins a liar, a manipulator, and someone who brings shame upon his family. Nakamura says Rollins words mean nothing, and he will challenge Rollins when Nakamura feels like it. I know a lot of people were down on Nakamura turning down the title match last week, but at the very least they are trying hard to play Nakamura up as a cold and calculating assassin.
SETH ROLLINS IN-RING PROMO
The World Heavyweight Champion gives us his normal speech of saying his is a visionary, etc. But then Rollins says he is a manipulator, he is a liar, he is everything Shinsuke Nakamura says he is. But he is also a father, he is a fighter, and he is the World Heavyweight Champion. Rollins says there was a long period of time where he didn't know who he was. But it never worked. But what Rollins finally figured out is what the fans always wanted him to be-himself. That's why the fans love him. Not because he is a bad guy, not because he is a good guy, but because he is Seth "Freakin" Rollins. Rollins says he didn't come here to talk, he came here to fight. He knows management wants him to rest but that isn't how he was built. "I'm a workhorse and I was built to run free." Rollins says he believe Nakamura said no last week because their match at Payback took more out of him than he was letting on. Rollins then proceeds to call out Nakamura for a World title match tonight! Nakamura's music hits but he is nowhere in sight. Instead we see backstage where Nakamura is beating up Ricochet. Nakamura says Rollins has bad timing, he thought Rollins wasn't medically cleared so he found his own fight. I really love Rollins slipping in there his thought that Nakamura might also be banged up from their Payback match.
BACKSTAGE WITH JEY USO & FINN BALOR
Jey is walking backstage again, really getting his steps in. Finn comes in and says both of them are professionals and what happens in the ring stays in the ring. Finn says he liked what Jey did to Owens earlier tonight. Finn says all of Judgment Day is a fan of his. When he says Rhea is a fan that gets a "for real?" from Jey lol Finn ends it by reminding him the door to the Judgment Day is always open. This story-line rocks.
ALPHA ACADEMY & TOMMASO CIAMPA DEFEAT IMPERIUM
Tommaso Ciampa and Giovanni Vinci start off the match. I'm a big Ciampa fan but I was kind of hoping for a Gable title win at Fastlane over GUNTHER. We will just have to see where they go with it. Kaiser tags in and as good as he is, I love that he can't help but showboat. That tends to hurt him at times and keeps him in the number two role for now. Gable does his now signature insanely fast wrestling clinic that ends in Kaiser getting tripped up on the mat. It will never not be impressive. GUNTHER gets a cheap-shot on Gable when he is dumped on the outside by the other members of Imperium. Gable tries to make the tag but Imperium has him completely dominated. The three hit a triple team move on Gable as we head to break. All throughout the break Imperium had Gable isolated. Now GUNTHER is in there with Gable, dishing out thunderous chops to the Olympian. Finally Gable gets the tag to Ciampa who is a house on fire taking out all three members of Imperium. Otis is back up on the apron and gets the tag to a huge ovation. A spinning back elbow takes out Kaiser. It's time we start talking about just how incredible Otis has been the last few years. Otis hits the Caterpillar in the corner on Kaiser and Maxxine Dupri is loving it on the outside. Otis is a little too overzealous and Kaiser moves, causing Otis to hit the post. GUNTHER tags in and so does Gable, and the rematch is on! The two jockey for position before GUNTEHR hits a German. Ciampa is up on the apron and GUNTHER knocks him off. GUNTHER returns to Gable but Gable reverses into the Ankle Lock. GUNTHER gets to the corner to tag in Vinci who finds himself in the Ankle Lock! Gable is able to hit the Chaos Theory on Vinci which would have had the three if it wasn't for GUNTHER breaking it up. GUNTHER wants a powerbomb on Gable but Ciampa hits a running knee on the Intercontinental champion that sends him outside. Kaiser hits a right hand on Ciampa but gets run over by Otis right after. GUNTHER is waiting and nails Otis with a big boot. Back inside the ring Vinci rolls up Gable for a two count and Gable picks the ankle and has Vinci in the center of the ring. GUNTHER tries for the save but Ciampa catches GUNTHER with the Sicilian Stretch. Vinci taps out and the babyfaces win! Wow, what closing sequence. Gable and GUNTHER make magic and that was no difference with the added participants.
BACKSTAGE WITH THE JUDGMENT DAY
The Judgment Day are backstage in their bunker. Priest says he agrees that the more Jey is isolated, the more he will need the Judgment Day. Dominik says he wishes he could be out there for Rhea's title match, but Rhea says its fine and that Mami is always on top.
BACKSTAGE WITH TIFFANY STRATTON, BECKY LYNCH & ADAM PEARCE
Tiffany Stratton is backstage with Adam Pearce and she is pissed at having to wait. Becky Lynch finally comes in. Pearce says he spoke to Shawn Michaels earlier today and they have a contract for both of them to sign. Stratton apologies once again for calling Becky a former NXT Women's Champion, and asks why Becky is coming after her. Becky says Stratton stuck her nose in Becky's business. When Becky thinks of NXT she thinks of hope and passion but when she sees Stratton she sees someone who is just looking to be famous. So tomorrow night on NXT, Becky will make her famous. Stratton says she is the greatest NXT Women's Champion of all time, and she will beat Becky tomorrow night. Becky also put Stratton's wrestling ability over before calling her dumb as a box of rocks. Great stuff, looking forward to that tomorrow.
RHEA RIPLEY (c.) DEFEATS RAQUEL RODRIQUEZ (WOMEN'S WORLD CHAMPIONSHIP)
It's main-event time! These two had an okay match at Payback, but they are getting plenty of time tonight to knock it out of the park. This match starts with Raquel going for and missing one clotheslines but catching Rhea on the rebound. Raquel is all over the Women's World Champion hitting a powerslam for a two count already. We rarely ever see Rhea fight from behind, but Raquel has Rhea doing it tonight. Rhea hits a missile dropkick off the top rope to create separation from the challenger. Now Rhea uses her agility with a running senton off the steel steps on the outside. Rhea hits the running knee on Raquel but only gets a two count. The two fight to the outside with Raquel connecting with a big boot on Rhea into the barricade as we head to break. Rhea has Raquel in an Indian Death lock but Raquel is able to fight out. Raquel goes for a big boot but Rhea ducks. She chokes Raquel with her legs in the corner until the five count. She does it a second time but Raquel is ready for it. Raquel launches Rhea off her shoulders into the turnbuckle much like Rhea did earlier in the match. These two exchange nasty forearms before dueling big boots lay both champion and challenger down in the middle of the ring. Both women exchange blows as they rise to their feet, with Rhea hitting a northern lights suplex for a two count. Rhea hits Raquel in the back of the neck with a forearm and tries for Riptide, but Raquel is just too strong. She reverses it and throws Rhea into the turnbuckle again and hits another big boot for the two count. Raquel goes up for a corkscrew elbow Vader bomb but Rhea has it scouted. The champion goes up top for the frog splash and connects. She only gets a two count and she is starting to really panic. Rhea hits a baseball slide onto Raquel to send her to the outside. Rhea goes for a cannonball dive off the apron but oh my god Raquel caught her! She throws her head first into the announce table and then hits a powerbomb on the ring apron. Raquel throws Rhea back into the ring and NIA JAX IS HERE?!?! Nia hits a Samoa Drop onto Raquel on the outside. Rhea hits a knee on the downed Raquel and then a Riptide to retain her title. Wow, I didn't see that coming at all. Nia headbutts Rhea and then hits a legdrop on Rhea whose head is hanging on the ropes. Rhea is in the corner and Nia hits the Banzai Drop on the champion. Wow. I thought Rhea and Raquel had a good match, the crowd just wasn't into it the way I hoped they'd be for most of the match.
I know there were rumors of Nia coming back, but I didn't expect it here and now. She's real hit and miss for me, but another motivated talent in the women's division isn't a bad thing. I'm willing to wait and see before I pass any judgement. A pretty story heavy Raw tonight, but they've been doing a great job lately so I can't complain!