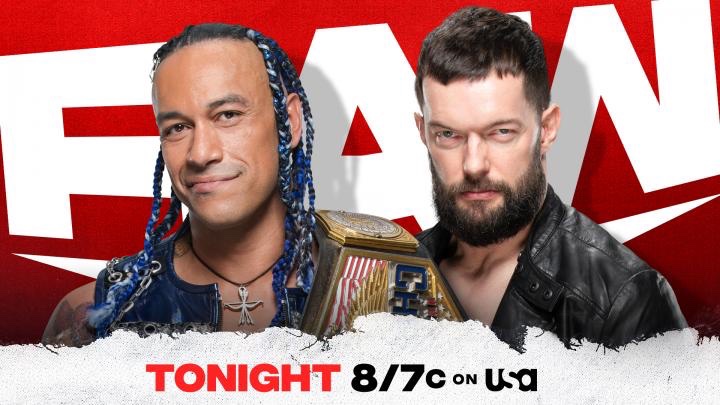 Welcome to Wrestle Purists' coverage and review of WWE RAW on Feb 28 2022.
KO Show with Seth Rollins and the Alpha Academy: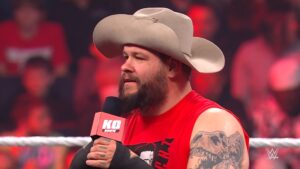 Kevin Owens is the first person we see, and he's wearing a Cowboy hat. Pop. He puts over Seth Rollins as his friend and introduces him.
Both complain about how they still have no match set for Wrestlemania yet, but quickly move to talking about how they'll win the RAW tag team championships next week. Owens mentions his hate for Texas again and seemed worried that his hate for Texas may distract him in the match next week.
Seth introduces The Alpha Academy to the KO show. Both teams then take verbal jabs at each other.
Chad Gable got some good heat when he took shots at the local University. Gable never looks out of place when he's in these segments with top guys and is sometimes even the highlight. He's great.
Gable tells Rollins and Owens to shush repeatedly when they try to talk. Owens starts to gets fired up and they start to shout "SHUSH" at each other. Owens hits Gable with a Stunner & we go to a break.
Kevin Owens And Seth Rollins defeated The Alpha Academy:
A very decent TV Tag Match. I doubt the pairing of KO & Rollins are actually capable of having a bad tag match. Chad Gable was great, and Otis did his thing playing the monster of the match. Good stuff. Rollins pinned Gable.
Backstage With Omos:
Omos talks about how dominant he has been, and how T-Bar his upcoming opponent is the tallest opponent he's faced so far but he's still going to get dominated.
Omos defeated T-Bar:
Omos jumps T-Bar as he's stepping through the ropes before the bell. The match starts and Omos squashes T-Bar in seconds. The crowd didn't really seem into this at all.
Backstage With Becky Lynch, Doudrop And Nikki A.S.H:
The 3 women are set to compete alongside each other in a 6 woman tag match vs Rhea Ripley, Liv Morgan & Bianca Belair. The women put over how they're about to win their upcoming match.
Backstage with Rhea Ripley, Liv Morgan And Bianca Belair:
Liv Morgan asks Rhea what the strategy is for the upcoming match, Bianca then enters the frame and asks Liv and Rhea to tag her in if Becky is in the match, because she wants to get her hands on Becky and give her a preview of their match at Wrestlemania.
Rhea Ripley, Liv Morgan and Bianca Belair defeated Becky Lynch, Doudrop and Nikki A.S.H: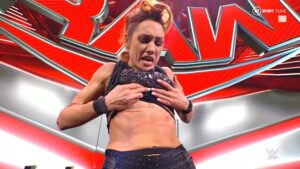 A nice match. It served the purpose it needed to. Becky getting some nice heat on Bianca, but the faces getting some nice stuff in. In the closing stages Bianca used her hair to whip Becky multiple times leaving some pretty nasty marks. Bianca Belair pinned Nikki A.S.H.
Tommaso Ciampa defeated Robert Roode:
Tommaso Ciampa has new music. Like much of the entrance music in WWE these days, this does nothing to stand out. Commentary almost immediately mention his size.
The crowd unfortunately wasn't into this much. It was by no means a bad match though. It was just really short. Ciampa's offence always looks great, and Roode is always more than solid. This seemed to just be a small preview of Tuesday's Tag match between the Dirty Dawgs And Ciampa/Breakker. Ziggler gets on the mic after the match and puts over how him and Roode are going to win on Tuesday.
Dana Brooke And Reggie defeated Akira Tozawa And Tamina: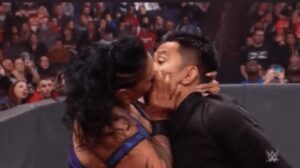 This kinda just happened. Reggie pinned Tozawa.
After the match, Dana Brooke celebrated by diving on to Reggie and kissing him, which popped the crowd. Tamina then grabs Tozawa and kisses him too which causes another crowd pop.
Backstage with The Street Profits:
The Street Profits here talk about how they have their eyes on the Tag belts, and will be targeting the winners of next weeks Tag Title Match.
Rey & Dominik Mysterio in-ring promo:
Rey & Dominik vs Rey talks about how The Miz's BS is done at Wrestlemania. Dominik also takes shots at Miz & Logan Paul.
Miz interrupts to brag about his accomplishments, recently linking up with Logan Paul and to throw insults at the Mysterios. He also puts Paul over by mentioning things like him going the distance with Floyd Mayweather.
The Hurt Business defeated Rey & Dominik Mysterio:
Not a long match at all, so not much to talk about. The Miz appeared ringside for this and he played a part in the finish. He distracted Dominik and Shelton Benjamin pinned Dominik Mysterio.
Backstage With RKBro:
Randy Orton and Riddle talk about how they are going to be on the same page and win the RAW tag team championships next week.
Backstage with Carmella & Queen Zelina:
Carmella talks about sex. Carmella and Zelina accept Sasha Banks & Naomi's challenge for the tag belts.
The Streep Profits Defeated RKBro:
Two good teams having a good match, until a weird finish. The Randy Orton hot tags still work just as good as ever as he is so over with WWE live crowds. They really do love him. The finish looked really awkward. Montez Ford pinned Randy Orton.
Backstage with Kevin Owens and Seth Rollins:
Seth and Kevin brag about their recent win earlier Tonight and how they are riding momentum right now. Kevin Owens again takes shots at Texas.
Vince McMahon and Austin Theory Segment:
McMahon and Theory are in McMahons office and Theory is talking about how Vince is on the Pat McAfee show this Thursday, and starts to plant seeds in McMahon's head by asking McMahon stuff like what he'd do if Pat says something he doesn't like or tries to attack him. He also says he will have McMahon's back should anything happen. But McMahon brushes this off by saying it wont be "that kind of show" and walking away. Once McMahon is gone, Theory says "but it could be" whist smirking.
*TITLE CHANGE* Finn Balor defeated Damian Priest (Intercontinental Championship Match):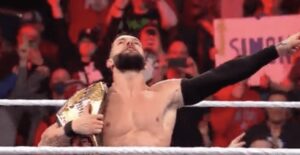 A nice match. Nothing too crazy. Possibly could have gone longer considering it was a title change. There was a break during this match too which never helps.
Priest grabbed the mic after the loss and turned heel. Saying he never got the respect he deserved from the fans during his U.S Title reign and stuff like that. He then attacked Balor.
Edge in-ring Promo: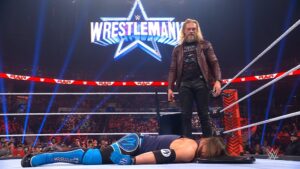 Edge says he is waiting for somebody to accept his challenge for Wrestlemania. He gets fired up and begs somebody to come out. At first nobody comes, and Edge says "what has happened to this place!?"
AJ Styles' music hit, he comes to the ring and says "I accept". Edge says everyone has been waiting for this and that he hopes the bulldog AJ Styles shows up and not that "tag team bitch" AJ Styles. Edge then attacks AJ Styles. Styles starts to get the upper hand over Edge but Edge hits him with a low blow, which the crowd boo's. He considers to leave the ring but decides to grab two chairs instead. He places AJ Styles in position for a con-chair-to but seems to struggle with making the decision of whether or not to deliver the con-chair-to. But he does. Twice. The second clear heel turn of the night.