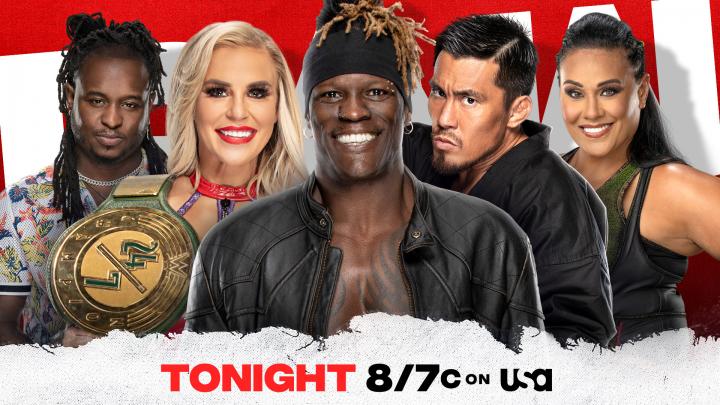 Welcome to Wrestle Purists' coverage of WWE Raw on April 18th 2022!
In-Ring Promo with Seth Rollins and Cody Rhodes:
Rollins says it's a party on Raw and invites Cody Rhodes to the ring, Cody's music plays and he enters the ring.
Rollins says he brought Cody out to show respect for the Rhodes family, then gets upset when Cody pops the crowd repeatedly. He then says he made Cody a star in one night. Cody tells Rollins to get to the point. Rollins says Cody had an unfair advantage at WrestleMania, and that's why he lost, but it doesn't make Cody better than him because Rollins is better in every way. Seth says Cody's goal to win the WWE title is admirable but he's already accomplished it himself. Cody responds that Seth may have done that, but he still beat Rollins at Mania, then asks the crowd if they think he's better than Seth and the crowd roars. Seth gets upset and says Cody should face a surprise opponent of his choosing tonight. Cody accepts, saying he didn't return to WWE to run from challenges.
Sasha Banks and Naomi (c) defeated Rhea Ripley and Liv Morgan (Womens Tag Team Championship):
Sasha Banks pinned Rhea Ripley. After the loss Rhea and Liv argued in the ring, resulting in Rhea turning on Liv and beating her down in the ring.
In-Ring Promo with Sonya Deville and Bianca Belair:
DeVille comes to the ring and says she's heard people saying she's abusing her power, but says she's a competitor that was forced into the position of power and is simply making the best of the situation. Sonya says Belair is the best in the WWE and is who she wants to win the title from, and is then interrupted by Belair's music. Bianca enters the ring and DeVille says there will be consequences if Bianca touches her. Belair challenges her to the title match tonight, DeVille says no, she wants to beat Belair in her hometown next week on Raw. Bianca then picks DeVille up on her shoulders intending to do harm, then slings her to the ground and leaves after Sonya threatens consequences again from atop her shoulders.
Veer Mahaan defeated Jeff Brooks:
This was a squash match, Veer won by submission then continued choking out Brooks long after the match ended.
Backstage Segment with Adam Pearce and Sonya DeVille:
Sonya is upset Bianca touched her and Adam says she should be worried about her own actions as higher-ups are investigating her. DeVille is incredulous and insists Bianca be fined a lot of money. Bianca arrives to pay her fine of $1, then leaves. Sonya is very upset by this.
KO Show with Kevin Owens, Chad Gable & Ezekiel:
Owens starts off by saying Ezekiel is definitely Elias, and he's going to prove it by putting him through a lie detector test, to be administered by Chad Gable, then Gable would beat Ezekiel in a match. Gable thanks Owens for having him back on the KO Show, and says that he'll uncover the truth no matter what. Ezekiel is then introduced as Elias by KO, and he enters the ring.
Ezekiel says he appreciates the invite and that he's Elias's younger brother Ezekiel, but Owens isn't having it. The two argue a bit, then Gable asks simple questions to "set a baseline" for the test. He derails it a bit by talking smack about Gable Steveson before Owens gets him back on track. Gable then asks if Ezekiel is his real name, he says yes and the test confirms. Then Gable asks Ezekiel if Elias is his older brother, he again says yes and the machine confirms. Kevin asks if his real name is Elias and he says no, and again the machine confirms. Owens gets mad and kicks Gable out of the ring. Ezekiel says he's had enough, that KO is ruining his first match. Owens says Ezekiel will admit he's Elias or else, then walks off and lets Gable attack him from behind.
Ezekiel defeated Chad Gable via DQ:
Otis attacks Ezekiel as he has Gable in a submission, causing the disqualification.
The Street Profits defeated RK-Bro:
The Usos music briefly plays, distracting Riddle and letting the Profits take control. Montez Ford pins Riddle for the win. Afterwards the Profits cut a brief promo at the entrance saying they're a team to be feared as much as the Usos.
Backstage segment with Damien Priest and Edge
Damien Priest and Edge are backstage bathed in purple light, Edge is in a throne-like chair. Damien says hes sure people are wondering what they have against AJ Styles. Edge says he's always loved mind-games, and that they haven't lived up to their true capabilities. He says without Damien, Bad Bunny would've been destroyed at Mania last year, yet Damien couldn't get a match at Mania this year. He said he had to beg for an opponent at Mania himself, despite being a legend. Edge goes on to list a number of negative things people have said about him, but he no longer cares, that he's taking back the "mountain of omnipotence." Edge says AJ is the only one brave enough to challenge him, and at Backlash they will end him.
Video package hyping Theory vs Finn Balor for the United States Championship
Theory defeated Finn Balor (c) (United States Championship):
After the match the heels from the locker room come out to hoist Theory upon their shoulders in celebration. As this is happening Mr. McMahon's music hits and he applauds Theory and poses with him for a selfie in the entranceway before raising his arm in victory.
Backstage interview with Seth Freakin' Rollins:
Kevin Patrick asks Rollins who his secret opponent for Cody Rhodes is. Rollins berates Patrick for trying to ruin the surprise, then gets a call from the mystery opponent and dashes off.
Wedding of Reggie to Dana Brooke and Tamina to Akira Tozawa with R-Truth officiating
R-Truth, Tozawa, and Reggie are in the ring with others from the locker room. R-Truth opens by telling Reggie his fly is down then laughing as he checks. He then informs everyone that the 24/7 title is officially on hold via truce for tonight before introducing the brides, Dana Brooke and Tamina, who enter in wedding dresses flanked by Nikki A.S.H and Sasha Banks. R-Truth starts the wedding ceremony, mispronouncing Dana Brooke's name and being corrected immediately. Truth then calls for the vows, prompting Dana to start. Brooke and Reggie exchange vows, the crowd interrupting repeatedly and having to be calmed by Truth. Tamina then looks at Tozawa and says, "What she said" and he responds "Same." Truth then asks for any objections and Tamina objects, swapping Tozawa for Reggie. Truth asks again for objections, and Tamina again objects, going to stand with Dana Brooke and holding her hands. The process repeats again and they end up back with their original partners. Truth pushes on to the ring ceremony, and Tozawa's ring doesn't fit Tamina, but they all kiss anyway. While kissing Brooke, Reggie pins her, then Tamina pins him, then Tozawa pins her, then Brooke pins him and escapes riding Truth's back out of the arena.
Backstage interview with Bobby Lashley
The interview segment starts off with a clip of MVP promoting Omos and saying he's teaching him how to be champ like he taught Lashley. He then challenges Lashley to a match on Omos's behalf. Lashley says he's going to go through Omos to get to MVP. He says both he and Omos are monsters, but Omos is going to learn why they call him "the Almighty."
Cody Rhodes defeated Kevin Owens via countout:
Seth Freakin' Rollins comes out before the match to introduce the mystery opponent as Kevin Owens then leaves, only to reappear later in the match to cheer on Owens. As the match progresses Rollins gets increasingly frustrated and insults Owens, causing Owens to walk off and get counted out. After the match, a frustrated Cody poses in the corner, allowing Rollins to run up from behind and shove him to the outside. The show ends with Cody holding his knee on the outside.