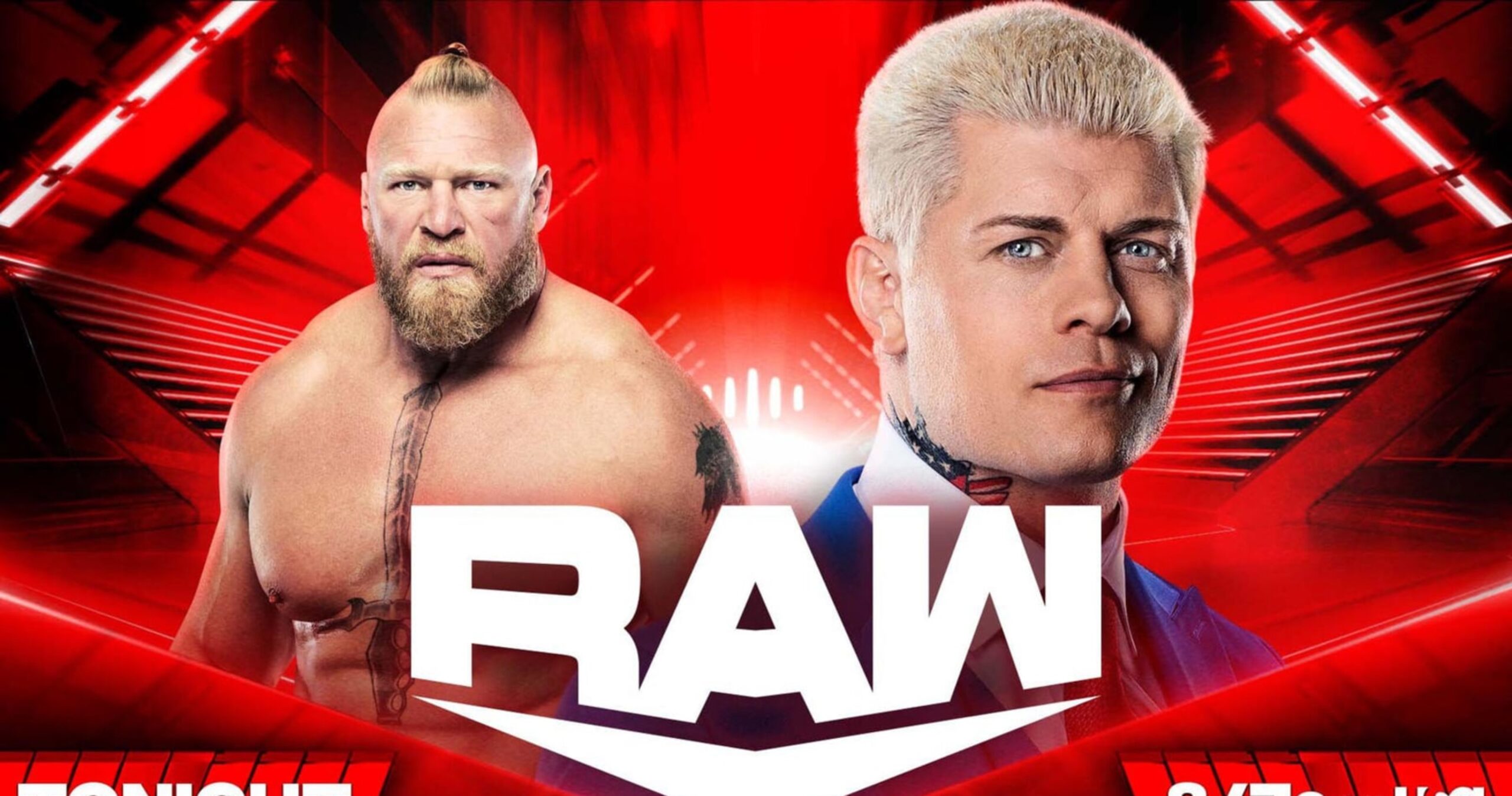 Welcome to WrestlePurists' coverage of the July 10th episode of WWE Raw.
Finn Balor in-ring promo:
We are about 4 weeks away from Summerslam, and Monday Night Raw is live from the Keybank Center in Buffalo, NY. Finn Balor is kicking things off tonight, making his way to the ring with no other members of The Judgement Day with him. Balor says what happened at Money in the Bank still doesn't sit right with him and his issues with Seth Rollins haven't been put to rest because of Damian Priest. Women's Champion Rhea Ripley and Dominik Mysterio make their way down the ramp, Rhea explaining that whatever issues Finn has can be sorted out backstage between the group. Finn tells Rhea that Damian Priest cost him the World Heavyweight Championship, and he leaves the ring, staring daggers at Dom as he makes his way up the ramp. Despite their current issues, Rhea says The Judgement Day still runs Monday Night Raw, and she challenges anyone to question that fact. Out comes World Heavyweight Champion, Seth "Freaking" Rollins, chowing down on a platter of buffalo chicken wings. Rollins exclaims that Buffalo came here to party and watch the The Judgement Day implode, not listen to Dom and Rhea run their mouths. Later tonight, Rollins says he will be the only one whippin' Dom's ass.
Judgement Day backstage segment:
Rhea Ripley, Damian Priest, and Dom are grouped together backstage. Rhea tells Damian that he and Finn need to squash their beef. According to Priest, he has already spoken to Finn, but will speak to him again because of Rhea's request.
Drew McIntyre & Matt Riddle defeat Ludwig Kaiser & Giovanni Vinci:
Our first match of the night started off with a nice back and forth between Matt Riddle and Ludwig Kaiser. Riddle eventually tagged Drew McIntyre in to a loud pop, this being Drew's first time having a match since Wrestlemania. Drew gets some offense in before tagging Riddle back in, and the two of them hit a tag team move that looked very similar to one that RKBRO used to perform. Imperium eventually gained control of this bout when taking advantage of a referee distraction. The heel team kept control of the match until Drew McIntyre got the hot tag. The hot tag was electric, per usual. The crowd was hot for Drew as he delivered multiple suplexes and neck breakers to both members of Imperium. Drew McIntyre eyes Gunther down before hitting a claymore kick on Giovanni Vinci to pick up the win. After the match, Gunther and Ludwig Kaiser showed looks of disappointment towards Giovanni Vinci, and left him by himself as they walked up the ramp, heading backstage.
Judgement Day Backstage:
This time around, the whole group is together backstage. Finn Balor is once again explaining to Damian Priest that he would be World Champion right now if it wasn't for him. The two agree to have a clean slate, on one condition; Finn Balor gets first dibs on Seth Rollins. Damian agrees to the condition, holding up his briefcase implying the group will get Seth's title either way.
Bloodline video package:
We are shown a recap of what happened this past Friday night during the Tribal Court of Roman Reigns.
Kevin Owens and Sami Zayn backstage promo:
The reigning Undisputed Tag Team Champions let it be known that they will take on any challenge. Rhea Ripley and Dominik Mysterio come into the shot, with Rhea letting the champs know that any version of the The Judgement Day can, and will, take the titles from them.
Indus Sheer video package:
A nice little video package hyping the return / arrival of Indus Sheer to Monday Night Raw. Weren't they just here about a month ago?
Brawl with Judgement Day, Seth Rollins, Sami Zayn & Kevin Owens:
Dominik Mysterio was scheduled to go one-on-one with the World Heavyweight Champion Seth Rollins, but before the match got underway, Dom attacked Rollins from behind. The two fought all throughout the ringside area, before the entire The Judgement Day group jumped Rollins. They were teasing a cash in, but Sami Zayn and Kevin Owens made the save. The group of champions successfully fought off The Judgement Day. After the commercial break, tonight's main event is announced. Seth Rollins, Sami Zayn, and Kevin Owens vs Finn Balor, Damian Priest, and Dominik Mysterio.
Logan Paul and Ricochet face to face:
Ricochet is in the ring to call out Logan Paul, but first he wants the crowd to know that every risk he takes is for the fans. He wants everyone to be able to go home and say Ricochet was the highlight of the night. This was actually a solid promo from Ricochet before Logan Paul's music eventually hit. Logan claims that everyone cared more about Logan losing than they did about Ricochet winning. In Logan's mind, Ricochet cost both of them the Money in the Bank match. It should be noted that Logan called Ricochet "90 percent forehead". Logan is very good at this heel thing and continues to be a great asset to the WWE. Ricochet wants a match with Logan, but Logan thinks Ricochet only wants this match so he can go viral. Logan says he isn't about making moments, he is the moment. The self proclaimed megastar went for multiple cheap shots, Ricochet avoiding all of them. This mini brawl ended when Ricochet hit Logan Paul with a sliced bread on the floor outside of the ring.
Zoey Stark defeats Becky Lynch:
Finally, another match on this show. Becky Lynch started out in full control, until Trish Stratus ran interference while the referee was checking on Zoey Stark. Zoey Stark hit a beautiful springboard drop-kick to get her momentum back. This was a very solid TV match, with Stark getting a lot of offense in on the former champion. The ending sequence saw Becky Lynch counter a Z-360, and hitting Trish, who was on the apron causing a distraction, with a drop-kick. Zoey Stark rolled Lynch up and got the 3 count, a very surprising result, in my opinion. Zoey Stark has been very impressive since being called up to the main roster, and the pairing with Trish, accompanied by this huge win shows the company is very high on her, and for good reason.
Seth Rollins, Kevin Owens & Sami Zayn backstage segment:
Seth Rollins thanks Sami Zayn and Kevin Owens for helping him out earlier tonight. Rollins thinks it would be a good idea to have a plan for the main event tonight. Zayn says the three of them are all champions for a reason, and they can beat The Judgement Day. Kevin Owens comes up with a great plan, beat down the The Judgement Day so that they can't walk out of the arena tonight.
Maxxine Dupri graduation ceremony with Alpha Academy:
Chad Gable and Otis are in the ring, dressed in red caps and gowns. They are here to celebrate Maxxine Dupri becoming the first female to graduate from the Alpha Academy. They even brought along an "Alpha Academy" diploma to award Maxxine. Maxxine makes her way to the ring, with new entrance music. She gladly accepts her diploma and thanks Chad Gable. Over time, she has learned that Gable is a great teacher and a wonderful friend. Maxxine also thanks the "beautiful hunk of beef" Otis, claiming if it wasn't ever for him catching her eye, then none of this would be possible. There were loud "you deserve it" chants. The live crowds have loved this recent Alpha Academy stuff with Maxxine. The Viking Raiders' music hit and they were on their way to the ring, Valhalla not with them. To nobodies surprise, Valhalla jumped Maxxine from behind, and stole her brand new Alpha Academy jacket.
Shayna Baszler defeats Emma:
This was a pretty cut and dry squash match, lasting only minutes. After the match, Rhonda Rousey made her way to the ring. Shayna let Rhonda enter the ring and the two once again got into a brawl. This week, Rousey got the upper hand.
Cody Rhodes calls out Brock Lesnar:
It feels like the crowd is singing the lyrics to Kingdom louder and louder each week. Cody Rhodes is presented as an absolute megastar, and it's only a matter of time before he wins gold. We kick things off as we usually do with Cody Rhodes "So, what do you guys want to talk about?". Cody Rhodes thanks the crowd for the support and lets everyone know that everything he has been saying since his return is real. His life goal is to win the championship that his father never won. Cody thinks his momentum is shaky at the moment, due to the mountain in front of him. That mountain is Brock Lesnar. Cody wants to overcome this mountain, and to do that he wants a match with Brock at Summerslam. The American Nightmare gets fired up, he wants to emerge from the fight with Brock Lesnar so that he can become next in line.
It will be interesting to see what they do with Cody Rhodes after Summerslam, assuming he beats Brock Lesnar there. Does he go into another feud with Seth Rollins? Finn Balor? Gunther? The last line in his promo suggests he's going after gold. This will be something to keep a close eye on.
The Miz defeats Tommaso Ciampa (no dq match):
These two wasted no time, brawling with one another before the bell even rang. Ciampa dribbled The Miz's head off the announce desk before sending him flying over it. The Miz was sat in one of the commentary chairs and Ciampa hit him with a chop and then a running knee. Once the two got back in the ring, The Miz gained momentum. His momentum came to a screeching halt when Ciampa delivered a chair shot to his gut. As they always do in these No DQ matches, the crowd wanted tables. Ciampa obliged and retrieved one from under the ring. Before he could set up the table. Ciampa mauled The Miz with the lid of a trash can, stomping it into his chest multiple times. Ciampa finally got Miz through the table and went for the win. He got the 2 count before Bronson Reed came out of nowhere and broke the pin up. Reed hit Ciampa with a tsunami and The Miz crawled into the cover for the win. Pairing Bronson Reed back up with The Miz should work out well, at least in the short term. Miz easily draws heat, and Reed is very believable in that enforcer type role.
This was The Miz's first televised win in months, and it may actually be his first win of 2023 as a whole.
Liv Morgan, Raquel Rodriguez, Sonya Deville, Chelsea Green & Rhea Ripley backstage segment:
This segment was quiet and hard to hear at first, but it confirms that the Women's Tag Team Championships will be on the line next week when the champions, Liv Morgan and Raquel Rodriguez, defend against the team of Sonya Deville and Chelsea Green.
Rhea Ripley appeared and got in the face of Raquel, letting her know that she better stay out of her business unless she wants a problem. Liv and Raquel inform Rhea that as long as she is bullying people, they will be there to stop her. This is surely setting up for a Women's World Championship bout between Raquel and Rhea at Summerslam.
Sonya Deville and Chelsea Green defeat Kayden Carter and Katana Chance:
Plenty of early tag work from Carter and Chance. These two are probably the best pure tag team in the women's division. This was a quicker match, with Chelsea Green pinning Katana Chance via a rollup. Green had her feet on the ropes, and in typical heel fashion, Sonya Deville grabbed ahold of Green's feet to support the pin. Chelsea Green continues to be one of, if not the best, rehires in the Triple H era of WWE.
Chelsea Green and Sonya Deville are set to face Liv Morgan and Raquel Rodriguez for the Women's Tag Team Championships next week on Monday Night Raw. If they are going the Raquel v Rhea Ripley route, I wouldn't be shocked if they put the titles on Green and Deville here.
Matt Riddle and Drew McIntyre backstage segment:
Much like last week, Matt Riddle and Drew McIntyre are seen backstage following their tag team victory earlier in the night. Drew has been out for awhile, and wonders when all of these groups suddenly started popping up. Drew and Riddle have decided to team up to take down Imperium. Matt Riddle has a match against Gunther next week. Drew tells him he should wait for two more weeks, as Drew won't be here next week. Riddle tells his new bro not to worry, he talked to Adam Pearce and got the rest of Imperium banned from ringside. Drew thinks that is a good idea, and him and Riddle head out to explore the town together.
Matt Riddle has once again made a random tag pairing work. I do genuinely wonder if this is all setting up for an eventual Randy Orton return. Riddle and McIntyre could us a third member to fully even the odds against Imperium.
The Judgement Day defeat Seth Rollins, Sami Zayn & Kevin Owens:
Seth Rollins and Finn Balor were the first participants in this matchup. Very fitting as these two will likely face off again at Summerslam. This match started off with a very quick pace, quickly turning to chaos ringside. While the five other participants brawled outside of the ring, Kevin Owens climbed to the top rope and dove onto the other competitors. Owens made sure to let Rhea Ripley know that "her boys are nothing". After the break, The Judgement Day utilized quick tags to hit loads of offense on Kevin Owens. Eventually, Rollins got the tag, drawing a loud pop from the Buffalo crowd. Priest and Rollins had a little back and forth, and Priest looked strong against the World Champion. Smart decision, as the Money in the Bank holder needs to pose a serious threat. Priest almost hit Balor when Rollins ducked one of his clothesline attempts, further teasing friction in the group. Dom hit a flog splash on Rollins and Sami Zayn flew out of nowhere to breakup the pin and save the match for his team. Rhea Ripley sold the shock PERFECTLY at ringside when Zayn broke up the pin. Zayn had Balor lined up for a helluva kick, but Rhea grabbed his foot before he could take off to hit the move. With the referee now distracted, Priest hit Zayn with a south of heaven. This was quickly followed up by a coup de grace from Balor, which earned the 3 count on Sami Zayn. An appropriate end to the show that further solidifies The Judgement Day as real threats to win all of the gold. Finn Balor and Damian Priest embraced after the match to close out this edition of WWE Monday Night Raw.