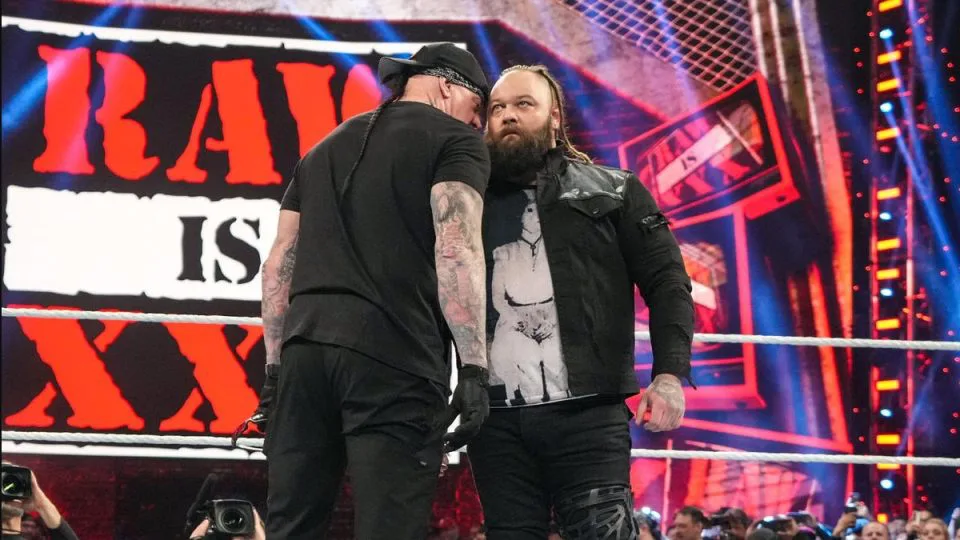 The Undertaker shares his thoughts on Bray Wyatt's current WWE run.
Bray Wyatt hasn't been on WWE programming since the build to WrestleMania 39, where he was going to wrestle Bobby Lashley until the match was removed from the card. Instead, Lashley won the Andre the Giant Memorial Battle Royal on the Smackdown before, and Wyatt hasn't been on TV since March, last wrestling in February.
It was also recently reported that Wyatt still isn't cleared to compete.
In an exclusive interview with Alistair McGeorge of Metro, Undertaker (real name Mark Calaway) shared his feelings on Wyatt's run and how he's been booked since his return last October.
"They need to back Bray's character up to the original character, get away from – they've kind of got themselves booked into a situation where it's kind of difficult for him to have matches. I think the original Wyatt Family Bray, that's the money. I got to work with Bray at 'Mania the year after I got concussed in the Brock match. I worked with Bray – I think a lot of him, and I like what he's doing. I think they just have to figure out how to… they need to back it up I think. His promos, and then his ability to work – he's an incredible, incredible worker but he's not getting the opportunity to do it. I hope the best for him, I really do think a lot of him. We'll see what happens there,"

– Undertaker
It is still unclear when Bray Wyatt will be back on WWE television. Since his return, he's only wrestled one televised match, defeating LA Knight in the highly criticized Mountain Dew Pitch Black match at the Royal Rumble. Alongside Uncle Howdy (played by Bo Dallas), Wyatt was crafting another chapter in the story of his character, but fans will have to wait a while longer before they see him again.
During Monday Night Raw's 30th anniversary show, Undertaker and Bray Wyatt shared a moment in the ring. No one has confirmed what was said (Wyatt said he'll "never tell a soul") but based on Undertaker's comments here, it was likely positive.
As always, we will continue to provide updates on Bray Wyatt's status as we get them.
(H/T Fightful for the transcription)