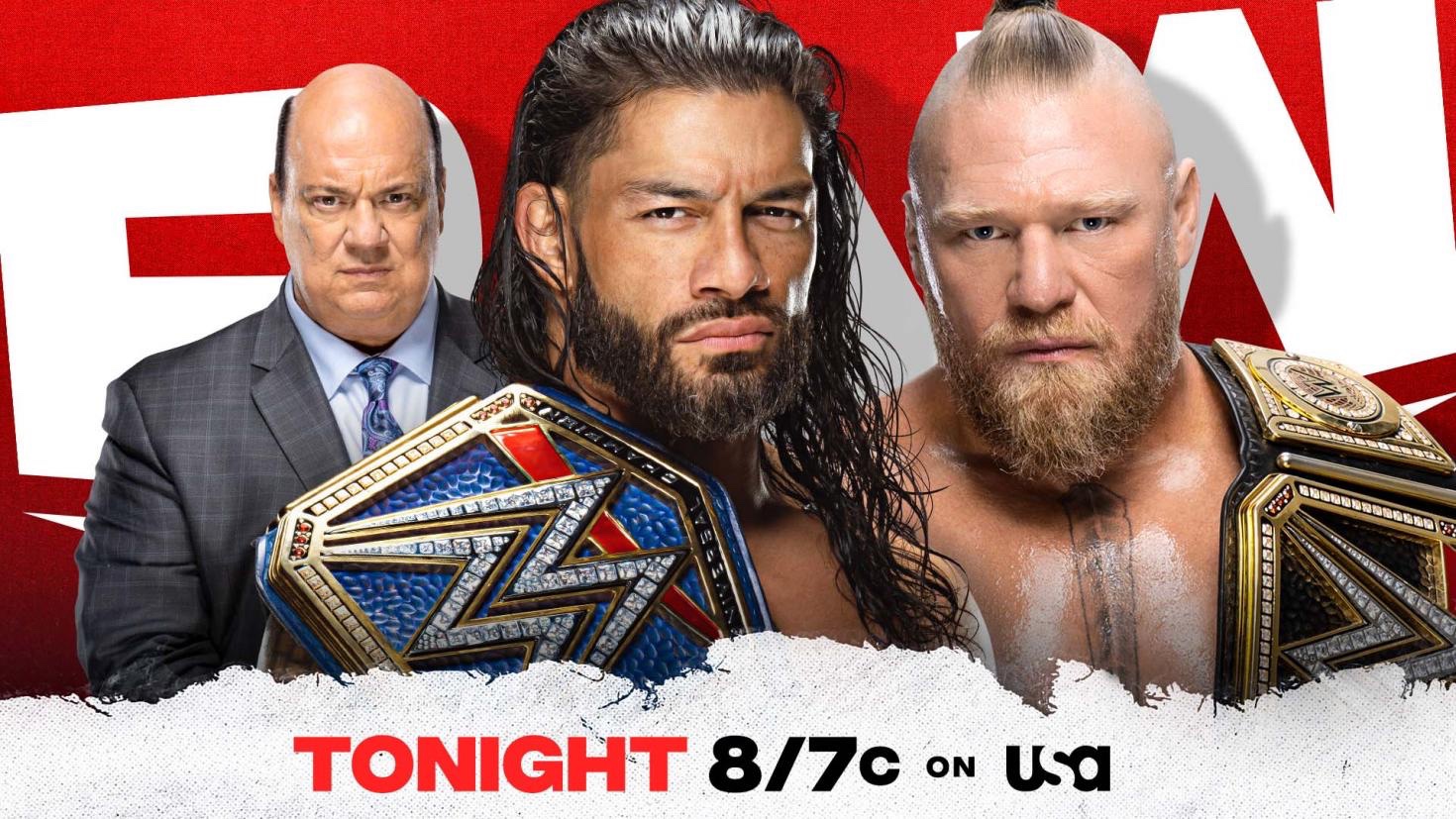 Welcome to Wrestle Purists' coverage of RAW on March 28th 2022.
Brock Lesnar in-ring promo:
Brock says hes in a great mood because he finally gets his hands on Roman Reigns on Sunday, & talks about unifying the titles and taking Roman down memory lane to suplex city etc.
The Miz in-ring promo:
Miz brags about unmasking Rey Mysterio last week and giving the mask to Logan Paul. He then introduces "Lucha Logan" and Logan Paul comes out Rey's mask. Miz then says when you get don't get respect, you take it and that is what he has done. Miz says he will take any mask off that Rey is wearing tonight. Rey & Dominik then come out and attack The Miz & Paul. Dominik is then ejected from ringside.
Rey Mysterio Defeated The Miz:
After the match, Dominik came back out and threw Logan Paul into the ring. Rey & Dominik then get back Rey's mask and hit finishers on The Miz.
Seth Rollins video package:
Video package recapping Seth Rollins journey to Wrestlemania so far.
Seth Rollins meets Vince McMahon:
This was the video that WWE uploaded to their twitter earlier where Vince McMahon says that Seth Rollins is going to Wrestlemania. He didn't name who Seth's opponent will be and said he will be choosing who it is.
Omos Defeated The Viking Raiders via countout.
Omos hit Erik with a clothesline. Erik then rolls out the ring and gets counted out. After the match Omos was ask if he felt there was anyone that could threaten him, and he laughs it off. Bobby Lashley then comes out and takes Omos off his feet with a flying tackle. Lashley then points at the Wrestlemania sign.
Backstage With Reggie & Dana Brooke:
Reggie says him and Dana never have time to themselves. He then asks Dana to marry him. Dana says yes. Tamina then attacks them from behind and fails to win the 24/7 championship, and Reggie & Dana run away. Tozawa then proposes to Tamina, and she also says yes. R-Truth is watching and says he has an idea.
Roman Reigns/Bloodline In-Ring Promo:
Roman Reigns bragged about how he used to run RAW. The crowd starts "what?" Chants at him as he is getting through his promo, so he says that if they carry on he will smash them like he would smash Steve Austin.
Reigns talked about how Brock Lesnar busted him up at Wrestlemania before, and since then he has changed the game. Talks about how he took Heyman from Lesnar, beat his title reign record, and Sunday, finally it will be his title. He finishes by saying it has always been personal to him.
Photoshoot with Carmella & Queen Zelina:
Carmella & Zelina are having a photoshoot with their tag titles. They brag about being on the same page and outsmarting the other women last week. Natalya & Shayna Baszler then appear and say they will lead their team to victory tonight and then take the tag titles off Carmella & Zelina at Wrestlemania
Sasha Banks, Naomi, Liv Morgan & Rhea Ripley Defeated Carmella, Queen Zelina, Natalya & Shayna Baszler:
Rhea Ripley pinned Queen Zelina
Stone Cold Steve Austin Video Package:
This was a cool highlight video of Stone Cold's career with other superstars talking about him such as HHH, Randy Orton, Kurt Angle, Stephanie & Vince McMahon, Becky Lynch, & The Rock
Kevin Owens in-ring promo:
Owens says the video of Austin was great but it was nothing compared to his tribute to him last week when he impersonated him. He said he did it as a favour to everybody because that is the closest we are going to get to the old Stone Cold. He then continues to cut a promo on Austin and says Austin is just coming for a nice chat to make him feel good and that Owens is the true master of the Stunner. Owens warns Austin that if he tries anything, then Owens will have a stunner waiting for him and pour one of Austins beers on him.
Austin Theory defeated Ricochet:
This was so quick it was kinda weird.
Video package recapping Triple H announcing his in-ring retirement:
Clips from big news sites posting the news of the announcement, followed by tweets from superstars reacting to it whilst the commentary team put over Triple H
Bianca Belair in-ring promo:
Belair cuts a promo on finding out low Becky Lynch will stoop, but after a week away she is back and there is nothing Becky Lynch can do to stop her. Becky Lynch then comes out and fails to attack Bianca Belair from behind. The two women brawl and Becky Lynch gets the upperhand and hits Belair with a chair, she then attempts to get a pair of scissors and cut Belair's hair, but Belair hits Lynch with 2 KOD's and uses the scissors to cut away at Lynch's hair. Lynch then has a tantrum in the ring when she realises what happened.
Backstage with Becky Lynch:
Becky is asked about what just happened. A fired up Becky looks at the camera and calls Bianca Belair a bitch
Backstage with Happy Corbin & Madcap Moss:
Moss cracks another bad joke that Corbin doesn't laugh at.
Drew McIntyre defeated Happy Corbin & Madcap Moss, Handicap Match:
Corbin abandoned Moss and watched from the ramp. McIntyre pinned Moss. After the match, Corbin attacked McIntyre then stole McIntyre's sword.
Edge Promo:
Edge says that AJ Styles needed to be his opponent at Wrestlemania. He says he is already in AJ's head, and this weekend is AJ's judgement day.
AJ Styles Promo:
AJ says Edge is in his head and all he's thought about is what he is going to do to Edge. He mentions how Edge said his Judgement day is coming, but Styles says the verdicts already in and AJ Styles is going to deliver a beating to Edge that the WWE Universe will never forget
RKBro defeated The Usos via disqualification
Rick Boogs & Shinsuke Nakamura were ringside. The Street Profits interrupted and attacked Randy Orton for the DQ. After the match all the teams brawled, ending with RKBro hitting RKO's on The Street Proftis.