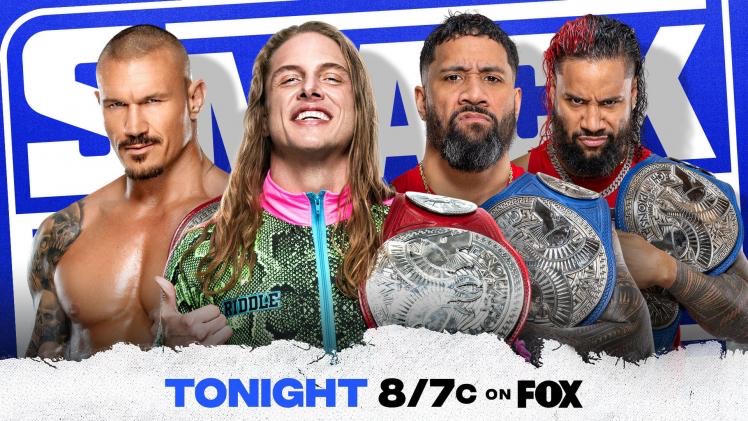 Welcome to Wrestle Purists' coverage of Smackdown on April 22nd 2022.
Championship Match Contract Signing Between Charlotte Flair and Ronda Rousey
Adam Pierce opens the show, introducing us to Flair and Rousey. Drew Gulak comes out with the contract, where Pierce mentions he's "interning" to be Pierces assistant. He wants to show a PowerPoint, but Flair cuts him off and starts digging at Rousey before signing the contract.
Rousey fires back, but Flair flips the table, revealing a kendo stick. She gets a couple shots off before Rousey gets it, but Gulak steps in. Rousey puts him in an armbar and signs the contract while he taps.
Xavier Woods defeated Butch
First match of the night is Woods taking on Butch in retribution for the latter's attack last week. Butch is in control on the back half of the match, but Woods manages to get the win with a roll up.
After the match Butch goes into the crowd and tosses a security guard over the ringside barrier.
Backstage Interview with Richochet
Ricochet is asked about the opponents he's taken on over the last few week, and says he wants to be a great champ. Jinder Mahal and Shanky walk up, and challenge for another IC title match for Shanky, which Ricochet accepts.
Gunther defeated Teddy Goodz
Gunther is up next, taking on a local competitor. Gunther squashes him, getting the pin with a powerbomb.
Backstage promo with RK-Bro and Drew McIntyre
Riddle says he's excited to meet his buds on Smackdown, and McIntyre walks in. Riddle tells him he's entered RK-Bro as lumberjacks for McIntyre's match against Sami Zayn later tonight.
They address the old feud between Orton and McIntyre, and they bury the hatchet. As they leave, Zayne is shown skulking in the background.
Xia Lee Backstage Promo
Lee does a promo backstage before the match, saying she was the "Protector," but now only protects herself, presumably turning heel.
Matt Riddle defeated Jey Uso
Riddle and Jey take each other on after Riddle managed to beat Jimmy last week. Jey goes for the splash, but Riddle gets his knees up and rolls Jey up for the three count.
In-Ring Interview with Sasha Banks and Naomi
The Women's Tag Team Champions speak a bit on their reign, and say there isn't anyone to challenge them before being interrupted by Shayna Baszler and Natalya coming out, saying the champs never beat them. The duo challenges the champs to a title match, and Banks and Naomi tell them to come take the belts from them.
Madcap Moss and Happy Corbin Backstage Segment
Corbin tries to get Moss back on his side, saying he forgives Moss for what he did to Corbin. Moss makes a joke about Corbin's receding hair, and tells him no.
Madcap Moss defeated Angel
Moss is taking on Angel after beating Humberto last week. Humberto tries getting on the apron, but Moss knocks him off and puts Angel down for the pin and the win.
After the match Corbin attacks Moss in the ring and steals the Andre trophy. Before it cuts to commercial Zayn is shown approaching Roman Reigns locker room.
Backstage Segment with The Bloodline
Jey is trying to make excuses for his loss to Riddle to Reigns before Paul Heyman says Zayn is there to see the champ. Zayn snitches that RK-Bro will be in the lumberjack match, and he proposes the Bloodline help him beat McIntyre in return for his help later.
After Zayn leaves, Reigns tells the Usos he's not happy about people talking smack about them, and tells the Usos to deal with it.
Lacy Evans Promo Package
Another promo from Evans going over her life and the lessons she learned from hardship.
Drew McIntyre defeated Sami Zayn
The main event will be McIntyre taking on Zayn in a lumberjack match. RK-Bro are among the lumberjacks, and after Zayn comes out the Usos make their way to the ring.
The lumberjacks start fighting each other after the Usos go after RK-Bro. Zayn tries to run away again, but Pierce comes out to announce Zayn and McIntyre will be in a steel cage match.
Shanky and Mahal try to attack McIntyre, but he fights them off and hits a Claymore on Mahal. The show closes out with McIntyre saying he'll tear Zayn apart.