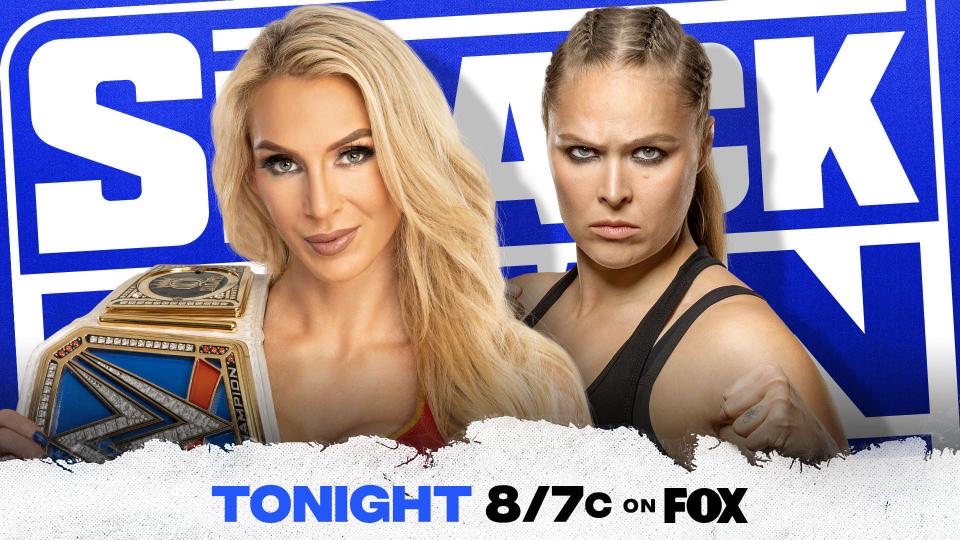 Welcome to Wrestle Purists' coverage of Smackdown on April 29th 2022.
Drew McIntyre defeated Sami Zayn, Steel Cage Match:
Interview with Charlotte Flair:
Charlotte is asked about Ronda Rousey. Flair cuts a promo on Rousey and says she will beat Rousey in the beat the clock I Quit challenge later tonight.
Happy Talk with Happy Corbin
Corbin cuts a promo on Madcap Moss and says he isnt funny. Corbin says he will teach him a lesson at Wrestlemania Backlash. Corbin then takes credit for Madcap Moss winning the Andre The Giant Battle Royal & says that he owes him. Corbin then says he is going to destroy the Andre Battle Royal trophy. Corbin then calls for the trophy to be brought to the ring. The trophy is then brought to the ring by two guys dressed in black. Corbin then brags about how he is going to trash the trophy, but one of the guys in black happens to be Madcap Moss who attacks Corbin and throws him out of the ring.
Ricochet (c) defeated Shanky (Intercontinental Championship):
After the match, Jinder Mahal & Shanky argued in the ring and Shanky walked away from Mahal
Backstage With Raquel Rodriguez:
Raquel says she is nervous for her debut and tonight she is going to put on a show.
Raquel Rodriguez defeated Cat Cardoza:
Gunther & Ludwig Kaiser Promo:
Kaiser cuts a promo putting Gunther over. Gunther says respect will be taken by the Ring General.
RKBro vs The Usos contract signing:
Jimmy Uso says the Usos has nothing to prove and the world knows that they are the 1's. Riddle says he cant tell the two Usos apart and points out how him and Randy Orton look different. Orton says he can tell the difference and says Jey is the right hand man, and Jimmy is the little bitch. The two teams then brawl. RKBro are getting the upper hand, then Roman Reigns makes his entrance with Paul Heyman. This distracts RKBro and the Usos take advantage and lay RKBro out. Reigns then rips up the contract and shoves it in Riddle's mouth. Drew McIntyre then makes hin entrance and takes out the Usos on his way down the ramp. McIntyre & Reigns then brawl in the middle of the ring with Drew throwing Reigns out of the ring.
Backstage With Adam Pearce with Paul Heyman:
Heyman says Reigns isnt happy. Heyman then asks Pearce to make RKBro & Drew McIntyre vs The Usos & Roman Reigns. Pearce says he cant make changes. Heyman says he applauds Pearce for sticking to his principles at the cost of his job and now has ammunition to make a formal complaint, he then assures Pearce that he will indeed make the match that he wants.
Naomi defeated Shayna Baszler:
Sasha Banks & Natalya were ringside. After the match, Natalya attacked Naomi, Sasha Banks attempts to make a save but Natalya gets her in a sharpshooter in between the ropes & Shayna Baszler stomps on Naomi's arm as Banks is made to watch.
#WheresButch
Video package replaying last week when Butch ran away through the crowd. Commentary then mention how nobody has seen Butch since then and promote the hashtag #WheresButch.
Backstage with Sheamus & Ridge Holland:
Sheamus is stressing about needing to find Butch because they don't know what he is going to do. He says he has put posters up over the arena and asked Ridge if he has done the same, Ridge says he has postered everywhere but it just happens to be the exact same places that Sheamus has already done.
The Bloodline vs Drew McIntyre & RKBro Announced for Wrestlemania Backlash:
Xavier Woods defeated Ridge Holland:
The New Day cut a promo on their way to the ring about how Sheamus has had so many different partners and how him, Ridge & Butch cant keep it together. Sheamus & Kofi Kingston were ringside. After the match, Sheamus got on the mic and said he will show Ridge Holland how it is done, he then calls Kofi out for a match.
Sheamus defeated Kofi Kingston:
After the match, Ridge Holland attacked Xavier Woods on the outside and put him through a table.
Lacey Evans Promo:
Lacey Evans cuts an emotional promo talking about her tough life experiences
Ronda Rousey defeated Charlotte Flair in a Beat The Clock I Quit Challenge:
– Ronda Rousey defeated Shotzi in 1:41
– Charlotte Flair was unable to defeat Aliyah in less that 1:41. She had her in the figure 8 in the last seconds but the time ran out before Aliyah tapped/quit
After the challenge, Charlotte Flair pointed to Drew Gulak who was the timekeeper for the night and attacked him with the ring bell.