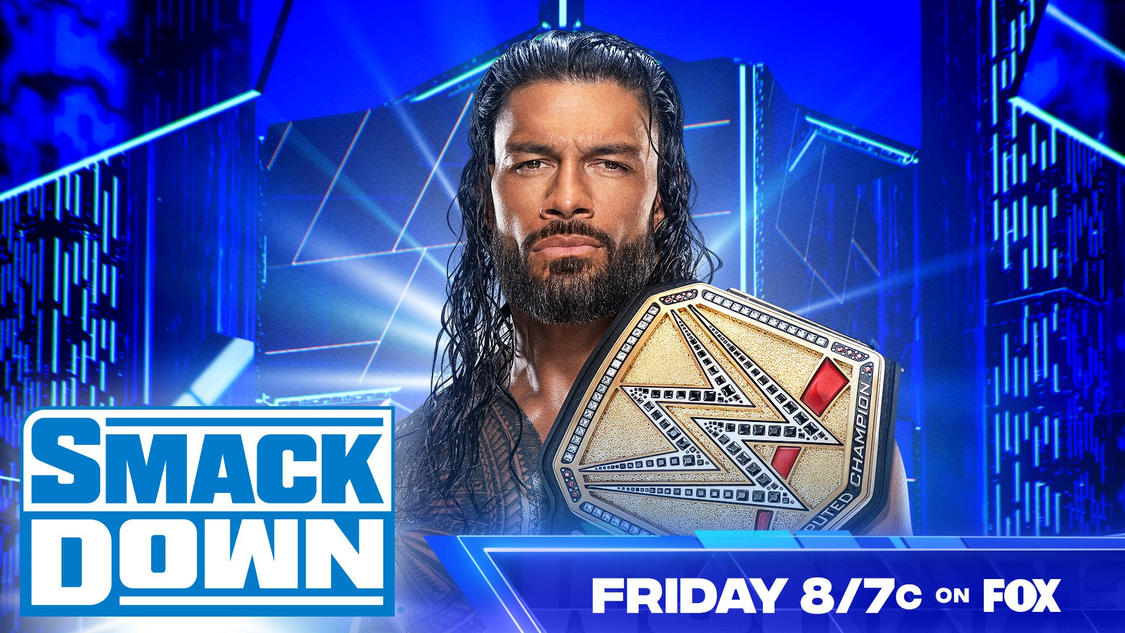 Welcome to WrestlePurists live coverage of SmackDown for the June 16 2023 episode.
We have a night filled with tag team action, with the tag team gauntlet match for a future title shot, and a mixed tag with Karrion Kross & Scarlett taking on AJ Styles & Michin Mia Yim. Also tonight, IYO SKY takes on Zelina Vega, and the Grayson Waller Effect hosts special guest Charlotte Flair. To cap off, Roman Reigns returns to address the fallout from last week's SmackDown.
TAG TEAM GAUNTLET MATCH: PRETTY DEADLY DEFEAT BRAWLING BRUTES, THE GOOD BROTHERS, LWO, AND HIT ROW
The show opens with the Tag Team Gauntlet match to determine the #1 contender to Kevin Owens and Sami Zayn's Undisputed WWE Tag Team Titles. The first two teams to enter are the Street Profits and Sheamus and Ridge representing the Brawling Brutes.
The match opens with a back and forth between Sheamus and Montez, before Sheamus tilts momentum into his favour with a vicious backbreaker. He tags in Ridge, and they isolate Montez on their side of the ring. Ford strikes back with an enzuigiri and tags in Dawkins for the hot tag, before getting hit with a leapfrog brogue kick and eating the pin for the Street Profits
The next team to come in just before the commercial break are the Good Brothers, trying to quickly score three on Sheamus. We come back from the ad break with the OC on top, Karl Anderson and Sheamus in the ring. Gallows tags in, and hits Sheamus with a nice snap suplex. Sheamus turns it around with a huge bodyslam, but Anderson tags back in before being met with a brogue kick and getting eliminated by the Brutes.
LWO are the next team in, and fire off with quick tandem tope suicidas. They gain momentum quickly, with a tired Sheamus fighting them off in the ring. He gets the tag to Ridge, but not before landing a wicked brogue kick on a springboarding Cruz Del Toro. Holland quickly picks up three on Cruz, and next to the bat is Hit Row. Top Dolla gets hit with a brogue kick and gets pinned immediately.
After the break, the final two teams face off, Pretty Deadly and the Brawling Brutes. Pretty Deadly take the early momentum, with Elton launching Ridge in to the turnbuckle with a wicked Irish whip. Pretty Deadly do an effective job in isolating Ridge Holland away from a much fresher Sheamus. Ridge overpowers both of them, crawling to the corner, and tagging Sheamus in for a a flurry of Irish Curse backbreakers. Sheamus tries to pin Kit Wilson, but Elton Prince makes the save before spilling outside of the ring with Ridge. Sheamus puts Kit over the top rope for the "ten" beats of the Bodhran, but Elton tries to stop him. He gets walloped and stacked on top of Kit, and Sheamus delivers a whopping 30 beats to the two of them. He pulls Kit back over the top rope, and lands the Celtic Cross, but not before Elton had tagged Kit out. While Sheamus has Wilson in the pinning predicament, Elton launches off the top rope and surprises Sheamus with a leg drop that looked Pretty Deadly, before stacking him up for three and winning the Tag Team Gauntlet match.
POST TAG TEAM GAUTLET MATCH SEGMENT
After the commercial break, we come back to Pretty Deadly in the ring, and while they're celebrating, Sami Zayn's music plays, and both him and Kevin make their way down the ramp. Sami says that they've been in the ring for five minutes after their match, and tells them to get the hell out. Kit and Elton fire back by insulting Sami's wet greasy hair, and cut an excellent promo about winning the tag team titles. This is a great showing for Pretty Deadly as they haven't had much promo time on the main roster yet. Kevin blows up and asks Sami if they can run down and give them a beating, but Pretty Deadly leave before KO & Sami can get their hands on them.
BACKSTAGE WITH ROMAN REIGNS
We go backstage to Paul and Roman, with Heyman asking if Reigns has spoken with Jey since last week. Roman tells him he hasn't, because he's the tribal chief, and complains that Jey should be reaching out to him. Curiously, in the background of this segment, Roman has all three belts (The Undisputed Title, and the two old WWE and Universal titles) on a table behind him.
ZELINA VEGA DEFEATS IYO SKY w/ BAYLEY
IYO makes her entrance before the break, and when we come back, Zelina gets an absolute monster pop for her entrance. She's really come in to her element since the match at Backlash, and I hope she spends the next few years as a prominent figure of the women's division in WWE. Zelina offers her hand to IYO before the match, who rejects her with a slap. The two have a high-speed opening, with IYO flipping out of a hurricanrana and firing back with a high dropkick. The two brawl more, before Bayley calls the ref over to the apron. While the ref is telling Bayley off, IYO rolls Zelina up for a three count, but the ref doesn't count it. After the distraction, Zelina rolls up SKY and scores the pin.
BACKSTAGE WITH ADAM PEARCE AND BIANCA BELAIR
After IYO and Zelina, there's a recap of last week's women's title segment replayed, and then we go backstage to Adam Pearce on the phone. Bianca arrives and is getting more frustrated by not getting her rematch. Perhaps we'll see her interrupt Charlotte on the Grayson Waller Effect next?
After commercial we come to Bayley and IYO arguing backstage, who get interrupted by Shotzi, who challenges Bayley to put her spot in the Money in the Bank ladder match on the line against her in a match next week. IYO accepts on behalf of Bayley, and says that she's "just trying to help."
THE GRAYSON WALLER EFFECT W/ CHARLOTTE FLAIR
Grayson is getting a big spotlight on Smackdown, they play a highlight video and give him a Kenny Omega length entrance read by Mike Rome. I see big things for his future, and hopefully he can get involved in some high profile matches instead of just being a chaperone for the women's division. He introduces Charlotte Flair, who gets a huge pop and some pyro. I think it's safe to say that Asuka can say goodbye to her shiny new championship in two weeks.
Charlotte says that she has Asuka's number, and gets cut off by Bianca Belair's music. Bianca asks Charlotte to apologise by cutting in front of her for a shot at the WWE Women's Championship, and Charlotte said she won't apologise because the line starts and ends with her. She says that she never got her rematch from losing to Rhea Ripley at WrestleMania, to which Bianca retorts that Charlotte ran away for two months.
Bianca says that she's the longest reigning women's champion of the modern era, and didn't need 14 chances to get it right. She tells Charlotte that if she doesn't get the rematch, but she'll be at ringside for Charlotte's match against Asuka in two weeks, before heading back up the ramp.
BACKSTAGE WITH PAUL HEYMAN AND JEY USO
After the segment, we go backstage to Jey Uso and Paul Heyman. Paul Heyman apologises to him, and tells him that he's better than his brother, and doesn't deserve his brother's antics. Jey says he's sorry to Paul Heyman… sorry that "if I'm in… you're still out."
KARRION KROSS & SCARLETT DEFEAT AJ STYLES & MICHIN
The match begins with AJ and Kross facing off. AJ kicks off with a vicious combo and diving forearm, before tagging in Michin who hits Karrion with a swinging DDT. Kross rolls out of the ring and Scarlett comes in. It's interesting to see Scarlett in the ring, something we haven't seen too much of on the main roster. Michin launches her back in to the corner with a release german suplex, and lands a pele kick on the tagged in Kross. AJ lands a picture perfect styles clash, but Scarlett interrupts the pin. She "seduces" AJ, before he pulls off his glove and says "I'm married bitch."
Kross locks in a standing Kross Jacket, and hits a stiff looking Kross Hammer. He pins AJ quickly after a swinging bodyslam. I would've liked to see this match run a little bit longer, but I'm hoping this builds to something more as this was actually quite an enjoyable mixed tag match.
BACKSTAGE WITH ROMAN REIGNS
Another backstage segment that just felt like it was padding for time. Paul Heyman reports back to Roman Reign's that his chat with Jey was unsuccessful. Roman looks up to Solo, who steps forward and scares the wiseman away, asking Roman if he wants him to handle this. Roman says they still have plenty of time.
BACKSTAGE WITH KAYLA BRAXTON and CAMERON GRIMES
Another quick backstage segment, where Kayla welcomes Cameron Grimes before he is quickly interrupted by Baron Corbin. I'm sure this will lead to another match between the two of them next week.
REY MYSTERIO IN-RING PROMO
Rey Mysterio comes out to the ring and says that he has many accomplishments in his career he's proud of, but one that he's really proud of is reforming the L.W.O. He introduces Santos Escobar cuts a promo and flips between Spanish and English. He tells Rey that he inspires him, and that he's fighting for his family and the people, and turns back to Rey before getting cut off by the megastar, LA Knight.
Knight extends his hand to Rey Mysterio, but quickly shoves him over instead. Santos fires back and sets up Knight of the 619, but he rolls out of the ring. Before we go to break, a graphic shows that the match is now official, and we'll come back to Santos Escobar v LA Knight.
SANTOS ESCOBAR w/ REY MYSTERIO DEFEATS LA KNIGHT
After the commercial break, Santos gains momentum with an enzuigiri and top rope crossbody. It appears that Santos is wearing his old Legado del Fantasma gear. Knight turns things around with a powerslam and hits his trademark elbow drop. Santos gets up to the electric chair position, and tries to roll Knight into a pinning position. LA grabs the ropes and pins Santos, but at the last second Escobar flips it around and rolls LA Knight up for a three count.
LA Knight launches in to a post match beatdown before being run off by Mysterio. This felt very much like a filler match that didn't have much substance, and it's frustrating to see LA Knight losing almost weekly. He's still my favourite for the Money in the Bank briefcase, and is still getting huge reactions, so I can understand why they would take the chance to put Escobar over here.
BACKSTAGE WITH JEY USO:
Jey is seen walking through the backstage area, and as he walks he comes past Sami. The crowd chants "ucey" before Zayn walks off without a word.
THE BLOODLINE SAGA: JEY USO'S DECISION:
Roman makes his entrance with twenty minutes of on-air time left. He makes his entrance with the Undisputed title around his waist, and Paul Heyman carrying both of the old titles still. As sick of some of us are of this story, Roman still gets a massive pop from the live audience.
Seven minutes and a commercial break later, we come back to Roman Reigns in the centre of the ring. Heyman hands him the mic and Roman asks the crowd to acknowledge him. The Uso's music hits, and Jey makes his way down the ramp. When he arrives in the ring, the crowd chants for him. Roman cuts to the chase and asks Jey for answers, asks him whether he is in or out of the Bloodline. Jey says to Roman that it's either Heyman, or Jey. Paul lets his crocodile tears loose, tearing up while Roman responds. He tells Jey that Paul is HIS wiseman, not the Bloodline's wiseman, and when Jey is the tribal chief, he can choose his own wiseman. Roman tells Jey that he was only here to GET them to the top, and that Jey will have to KEEP the Bloodline at the top. He tells Jey that he's meant to lead, but just not yet, before telling him that the problem is Jimmy, not Jey.
As Roman continues, Jimmy cuts him off, entering without music and walking down the ramp. He tells Jey that the problem isn't his brother, it's his cousin. He says that Roman isn't grooming him, he's using him. The crowd starts a loud Uso chant, and Roman says to them that the crowd wasn't doing this ten years ago. The only reason they got to Wrestlemania was because of him, and that they've main evented every one since. Roman doubles down on Jey, and tries to convince him to turn on his brother, telling Jey that Jimmy has been dragging him down since the start.
Jey begins to turn on Jimmy, telling him that for their whole lives Jey has been compared to him. He tells Jimmy that his injury was a blessing in disguise, because it turned Jey in to the main event player that he is. He thanks Roman, and tells Jimmy that he's out… and Jey's out too – He throws the mic down and superkicks Roman square in the jaw. Solo springs to action and the Uso's hit him with a tandem superkick. Heyman weasels his way out of the ring, and Roman looks up from the floor, stunned. As he gets up, they hit him with a double superkick. Paul begins crying as Roman lays on the floor, and the Uso's throw up the one to close out SmackDown.
POST SHOW NOTES
Overall, I think SmackDown felt like a filler episode until the last segment. The matches felt short and didn't have much substance, and nothing of consequence really occurred until the last twenty minutes. It was great to finally have a decision made by Jey, instead of padding the saga out until next week. I'm hoping this results in the Uso's v Roman & Solo at Money in the Bank, or either Jey/Jimmy challenging for the Undisputed title. Personally I think a triple threat with the three of them would be fantastic, so they could still play off the competitive dynamic between Jey and Jimmy. I'm looking forward to next week's women's tag title unification, and rooting for the Unholy Union to knock off Ronda and Shayna from their spot.
Stay tuned to wrestlepurists.com for more weekly show reviews, features, and match guides.