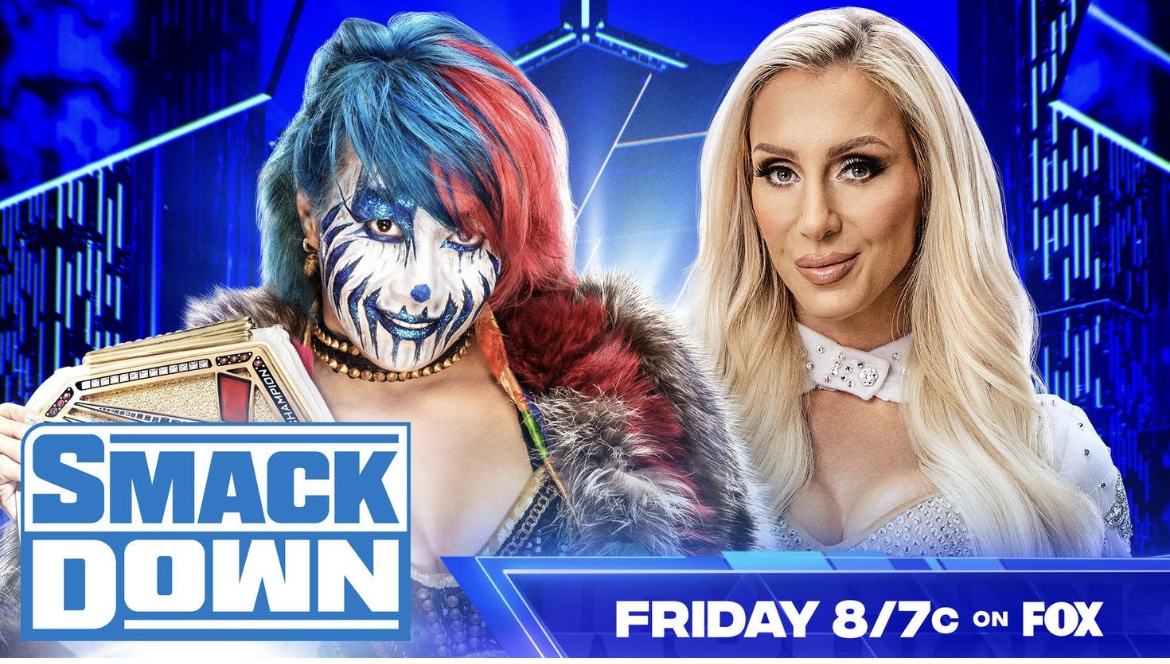 Welcome to the Wrestlepurists' live coverage of Smackdown for the June 30th, 2023 episode.
Kevin Owens & Sami Zayn (c.) defeat Pretty Deadly (undisputed WWE tag team championship):
Less than twenty four hours until Money in the Bank, we are in London England for a PPV edition of Smackdown! We start the show off with a graphic announcing the passing of Darren "Droz" Drozdov. May he rest in peace.
The action kicks off in a big way with the Undisputed WWE Tag Team Championships on the line! I always love seeing unique sets for these international shows. The crowd is HOT for Sami Zayn and Kevin Owens, which is a good sign of things to come tonight and tomorrow. Kit Wilson and Elton Prince are out to a chorus of boos. Pretty Deadly have been fun on the main roster so far, I'm hoping a title match this soon doesn't mean they get lost in the shuffle if they lose. Sami and Kit start the match, and it doesn't take long for Pretty Deadly to double team Sami behind the referee's back. Kit and Elton with some classic tag team strategy of cutting the ring off, but Sami is able to make the hot tag to Kevin who takes both men out with his version of Braun Strowman's train stampede. Kevin gives a DX "suck it" and then hits a cannonball on Kit. Kevin comes up favoring his left leg but he is able to hit a senton for a two count. Kevin's leg gives out on a stunner attempt, and like sharks smelling blood in the water, Pretty Deadly are all over Kevin. I love this. Obviously the champions are the favorites in this match, but giving Kevin an injury they can exploit is super smart. They get a very close two count off of Split Milk but Sami is able to save the titles. Kevin fights off both Kit and Elton and tags in Sami! Sami hits a Blue Thunder Bomb on Kit but that only gets a two count. Pretty Deadly try and fail with twin magic and Sami hits an exploder suplex on Kit. Sami wants the Helluva Kick but here comes Elton. Kevin intercepts him with a Stunner, and now Sami gets the Helluva kick on Kit for the three count. Great finish! Really good showing here from Pretty Deadly, no shame at all losing to Sami and Kevin. Kit and Elton are entertaining enough to sustain being in tag team limbo for awhile.
Interview with Adam Pearce and the Brawling Brutes:
We see a recap of last week's assault by Solo Sikoa onto Ridge Holland and subsequent main event between Solo and Sheamus. Then we kick it over to an interview earlier today with Adam Pierce who is shockingly NOT texting. The Brawling Brutes come into frame and ask where Solo is. Pearce says he has other business to take care of, but he scheduled Ridge for a match tonight against Austin Theory.
Austin Theory defeats Ridge Holland (championship contender's match):
Oh boy the "Championship Contender's" matches are back. Really good on paper but hard to pull off. No surprise that the Brutes are super over in London, a little surprised they haven't done more with them lately as crowds all over seem to love them. I'm usually writing the Raw reviews so I don't get a chance to talk about Theory much. I just…I don't know what they are doing with him. It's not even that I don't like him as a talent. They just seem unable and/or unwilling to give him a program with any meat on it before or since the Cena feud. Ridge lifts Theory up in DDT position and spins him around. A lot of really impressive moves from Ridge here. Theory finally gains the upper-hand after rolling out of the ring and chopping Ridge in the throat when he gives chase. Theory rolls into the ring and hits a pin-point drop kick to the throat for the three count. Oh! I like that, Theory knew Ridge had a weakness with the throat after Solo's attack last week, and he exploited it. See that's a gimmick I could get behind. Something like Theory may not be stronger or faster than his opponents but he is smarter. Have him win a bunch of matches like that. There is a lot you can do with that. After the match Theory continues his beatdown until Sheamus runs down and chases him off. Looks like Sheamus and Theory will be the next program.
Karrion Kross backstage:
Karrion Kross is backstage with Scarlett looking spooky. Kross says when he felt AJ Styles gasping for air a few weeks ago it felt "phenomenal." He beat Styles in only three moves. Next week? It'll be checkmate. Sure.
Video package for the Bloodline civil war:
We see a video package that details the most important beats of the Bloodline Civil War storyline. A very "epic" feel to it. I've been all for Cody Rhodes being the one to dethrone Roman. But I gotta be honest, I'm starting to really come around to the vision of Jey being the one.
Bayley defeats Shotzi (Bayley's Money in the bank spot on the line):
After being advertised for last weeks Smackdown and reportedly getting Vince'd, we have Bayley putting her Money in the Bank spot on the line against Shotzi. Bayley is out with Iyo Sky, who is the one who accepted the challenge on Bayley's behalf. I've got to wonder if the Damage CTRL split is coming as soon as tomorrow. We are in the UK so obviously the crowd is absolutely going bonkers for Bayley. Warms my heart. Shotzi is all over Bayley to start. The crowd will not stop singing "Heeeeey Bayley Uh! Ah!", it's hard to focus. Bayley is clearly loving it though. Shotzi hit's a Slice Bread and might have had the win, but Iyo put Bayley's foot on the bottom rope. Bayley rakes Shotzi's eyes and then hits the Rose Plant for the three count! Bayley stays in the ladder match tomorrow night.
Backstage with Damage CTRL:
Iyo Sky and Bayley are laughing backstage until Shotzi comes up and yells that she isn't done with them. A fight starts but the two on one advantage is clearly too much. Damage CTRL overwhelm Shotzi. Iyo holds Shotzi down while Bayley cuts some of Shotzi's hair off while calling her a freak.
The Grayson Waller effect with Logan Paul:
I know it's super cheesy but I absolutely love Grayson Waller's theme song. I cannot get it out of my head. Waller announced he had suffered a broken leg shortly before his call up. I'm really glad they decided to keep him on screen though, as he is a big asset even just on the microphone. Waller wastes little time in introducing the social media "megastar" Logan Paul. The crowd is…not a fan. I love the stupid tweets that scroll across the screen that are just all positive Waller posts. Logan says his dream isn't finished until he is a champion in WWE. Logan says he could get revenge on Seth Rollins or finish what he started with Roman Reigns. But LET ME TALK TO YA. My god, white hot doesn't even describe him. Screw Logan Paul. LA Knight is insanely over. I couldn't be more excited for tomorrow. Knight says Logan has proved a lot by what he has been given. But that's the point "what he has been given." Knight hasn't been given anything. Knight respects Logan can make himself a name on social media. But Logan is standing in Knight's ring. Knight is the one and only megastar with everyone saying L-A-KNIGHT. Logan hits back by saying all he sees is someone who was supposed to be a manager after twenty years of a mediocre career. The crowd responds for Knight by chanting his name louder and louder. Logan is good at this though, and tells the crowd they are drunk and to go back to the pub. Santos Escobar is out with his "London World Order" shirt and let's not even get into that. Santos says he is the one that needs the briefcase the most. The LWO are going to win both briefcases. But just like last time the men's Money in the Bank competitors were together, Butch runs straight into the ring and into Logan. We go to commercial break with Logan and Butch brawling!
This was a really fun segment with WWE at the very least recognizing that the fans are fully behind Knight. Not saying they will put the briefcase on him, but I think they realize he is the "wrestling star" of the match. Having him go back and forth with Logan was smart. Going to be a lot of nervous folks (myself included) watching Logan and Knight on that ladder tomorrow.
Butch defeats Santos Escobar and LA Knight:
The other match from last week that got Vince'd was the triple threat between LA Knight, Santos Esocbar, and Butch. We are getting it tonight as we join it in progress out of the break. The crowd is all about LA Knight. Knight hits a really nice uranage type maneuver. Logan Paul is on the outside drinking Prime and riling up the crowd. Knight is clearly over like rover, but his in ring work has also picked up. He's always been good, but you can tell he is wrestling with an intensity of someone who understands they are in prime position. Knight goes to the outside and argues with Paul. Santos dives to the outside, and Knight ducks forcing Paul to take all of it. Back in the ring Butch catches Santos and hits the Bitter End for the three count! After the match Butch grabs a ladder and tries to climb, but Knight throws him off. Knight starts to climb but Logan throws him off. Logan starts his climb but Butch yanks him off and clotheslines him out of the ring to a huge ovation. Butch gets the visual win and pulls down the briefcase.
Backstage with AJ Styles and the OC:
AJ Styles says Karrion Kross thinks this is a game. But if Kross can't keep his poodle on a leash, then he knows someone who will. Michin enters. Michael Cole tells us that Styles and Kross will happen.
Asuka (c.) defeats Charlotte Flair via DQ (WWE Women's championship):
These two have had incredible matches in the past, even if the booking circumstances weren't the greatest. We see Bianca Belair sitting ringside with a ticket, since she was banned from ringside by Adam Pearce. I'm sure he is furiously texting as we speak. A bit of a clunky start to the match, which isn't surprising as Flair had a pretty long lay off. Flair goes for a moonsault but lands on her feet as Asuka rolls out. Flair tries for the follow up moonsault but Asuka counters that with her knees up. They trade submission attempts before Flair hits a spear for a two count. Flair goes for the moonsault on the outside and barely connects with Asuka. Both women brawl near Belair. Flair goes for a running boot but Asuka ducks and Flair takes out Belair. Uh oh Belair is furious and attacks Asuka. This match is thrown out. Flair tells Belair this is her match, but makes the mistake of putting her hand in Belair's face. That's enough to push Belair over the edge and she goes after Flair. Belair picks up Asuka and hits a KOD on Asuka onto the table. She then turns her attention on Flair, and hits a KOD on Flair on Asuka onto the table!!
Really love the angle here to bring out this side of Belair. What I don't love is the majority of this match was in the commercial break. This match was promoted two weeks ago. I know there are rumors it was promoted early to Vince proof it. Obviously who knows if that's true. It really doesn't matter. If you promote a huge title match with two of your top stars and you give them a few minutes with most of it in a commercial break, that sucks plain and simple. I don't care what backstage power struggle is or isn't causing it.
Money In The Bank card rundown:
I only put this here because Michael Cole mentioned that Cody Rhodes and Dominik Mysterio were going to main event the show?!? Is it just "a main event" or is it actually going on last? I love my guys but really? Even a Brock Lesnar return feels less worthy than one of the other matches. If it is on last, I'm wondering that what means for the finish to the Bloodline Civil War. That is what I thought was a slam dunk show closer.
Roman Reigns, Solo Sikoa & the Usos confrontation:
Roman Reigns is heading to the ring with Solo Sikoa and Paul Heyman following behind. Quick, you've got about eight minutes to clean up your place before the segment starts. Roman says for two years he has allowed the Usos to come out and say "we the ones." The truth is that "we ain't the ones, I'm the one." Roman says he is the only one. Roman says he is the only one who cares about his cousins. He is the only one who loves the Usos. Roman says he lifted them up and allowed them into the promise land. The crowd chants "Roman sucks." Roman says what actually sucks is family who betrays you. Roman says he is the only one in the family who wants to give them a second chance. He says he will give them infinite amount of chances, all they have to do is come out, bow down, and acknowledge him. This brings out the Usos and Heyman's look tells the whole story. I don't think the Usos are coming out to apologize. Jimmy says Roman has it twisted. The Usos are past the apologizing. They are past the acknowledging. Now they are all about the consequences. Jey says now the family is talking about what happens if Roman loses. Jey says that when Roman loses, he is the only one out. Jey says when Roman loses he wont be tribal chief. Jey doesn't even want to be tribal chief. "Hey Jimmy, do you want to be tribal chief?" Jimmy says' helllll nah" Both the Usos say that they have someone in mind. That even though he's been trippin lately, he has their vote. In an incredible moment the crowd start chanting for Solo and the camera pans to him before they even say his name. Roman starts to LAUGH. And oh man, Solo is not happy. Roman quickly tries to regain control and asks the Usos if they think this is a game? Roman goes face to face with Jey and tells him that Jey is nothing with out him. Roman is flustered and is trying so hard to save himself. Wow, Jey pie faces Roman! Jimmy superkicks Roman! Solo gets involved and him and Jimmy end up brawling on the outside. In the ring Jey and Roman are fighting. Jey has the upperhand until security comes in, which Roman uses as a chance to hit a superman punch. There is a sea of security guards but they aren't able to keep the four men apart. Jey takes out everyone with a dive that clears the ropes as we sign off! What an ending, Money in the Bank should be a fun show!