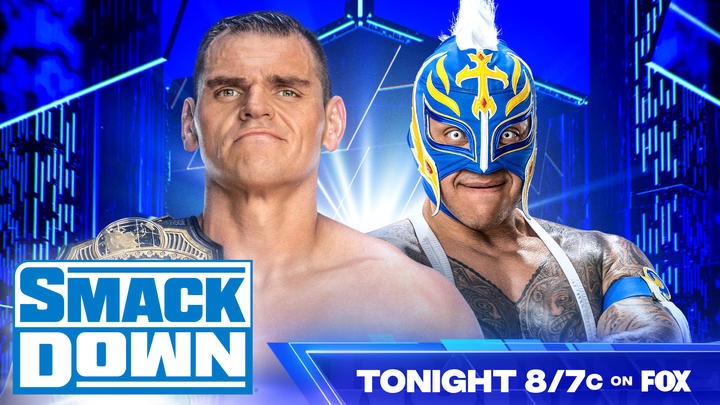 Welcome to the Wrestle Purists' Live Coverage of Smackdown for the November 4th, 2022 episode.
Smackdown is back on FOX from the Enterprise Center in St, Louis, Missouri.
Liv Morgan kicks off the show against Sonya Deville in a NO DQ Match
LIV MORGAN DEFEATS SONYA DEVILLE IN A NO DQ MATCH:
Liv Morgan continues to smile anytime she's attacked or hit with a weapon . Crowd chanted for tables and Liv Morgan got big cheers for getting one until Sonya put it away to big boos. Morgan put herself and Sonya through the table. Sonya started throwing chairs into the ring leading to Liv getting powerbombed into the chairs from the top rope. Liv hits the oblivion on Sonya on to the chairs for the win.
PROGRESSIVE MATCH FLO RECAPPING RONDA ROUSEY OPEN CHALLENGE DEFEATING A RETURNING EMMA
EMMA BACKSTAGE PROMO WITH XIA LI:
Emma says it's great to be back and said she didn't know when she would step in a WWE again. She says her heart was pounding out of her chest and had something to prove to herself but gets interrupted by Xia Li. Xia Li says the only thing she proved was that Emma is weak. Emma says 1) that was Ronda Rousey and 2) an elbow shot to the head knocking down Xia Li as we go to commercial
IMPAULSIVE CLIP HYPING UP WWE UNDISPUTED UNIVERSAL TITLE MATCH BETWEEN ROMAN REIGNS AND LOGAN PAUL:
Impaulsive Clip showing Jake Paul saying he will be in Logan Paul's corner
VIDEO PACKAGE HYPING UP THE WWE UNDISPUTED UNIVERSAL TITLE MATCH BETWEEN ROMAN REIGNS AND LOGAN PAUL
RICOCHET PRE-TAPED MATCH PROMO:
Ricochet says that LA Knight likes to hear himself talk but let's see how he has to say tonight after maybe he's missing a couple of teeth
VIKING RAIDERS VIGNETTE:
Sarah Logan seen with the Viking Raiders performing a ritual . She says Valhalla awaits
LA KNIGHT PRE-MATCH PROMO:
Says you gotta be kidding me that a once in a generation star is walking down the isle and says they want to jump on the gravy train, calling people incels. He goes after Samantha Irvin for getting his hometown wrong. Says she got lost in his baby blues and the intro she did for him wasn't good enough but maybe good enough for the gymnastic jerk (reference to Ricochet) which then leads to Ricochet doing a wild tope before the bell attacking LA Knight.
LA KNIGHT DEFEATED RICOCHET:
LA Knight tries to do a move off the top trope but Ricochet countered early on. LA Knight hoot booed throughout the match. He mocks Ricochet which then leads to a nice hurricanrana from the top of rope. LA KNIGHT Rolls up Ricochet using the tights and ropes for the win.
BLOODLINE BACKSTAGE SEGMENT:
Sami says they are rolling and says the Tribal chief will handle business along with the Usos at Crown Jewel. Says they will also break the Longest Tag Title reign in history. Jey wants to go to the ring and tell the Brutes what's going to happen in Saudi Arabia. Sami tells Jey not to go out in the ring. Zayn says the match is made and there's no reason to put themselves in jeopardy. Jey says just cause he's Sami Uso now doesn't mean he isn't charge of them cause it's an Uso thing. Jey adds they've been Champions before him and they'll be Champions way after he's gone. Jimmy says he's got a point. Sami asks them not to go. He says My Dawgs? As we go to commercial.
BRAY WYATT BACKSTAGE PROMO:
Bray says he's not the type of person that likes to share his feelings. It's a brand new concept for him and it makes it harder for him when people play with him and interrupt him when Someone walks behind the Bray into the shit as the producers yell we're live Bray asks the man what he's doing something incredibly hard for him. Bray asks the guy who interrupted him if he knows what he would do if he had that person that cut you off in traffic 30 seconds alone. He says he hates himself right now cause he wants to smash his head in. Bray says the man needs him to reach down and look in his soul and apologize to him for interrupting his segment Bray tells him to go away as he looks disheveled. All of this happened while clips of Uncle Howdy popped up on the screen.
USOS IN-RING SEGMENT.
Usos are 9 days away from tying New Day's Tag Team Title record. This is their 374th day as Tag Champions. Jimmy says they're on their way to make history starting at Crown Jewel being the longest reigning tag team Champions ever. Big Ucey chants breakout. New Day interrupts saying this o pump the breaks. They hype up the match and say they're rooting for the Brawling Brutes but say if the Usos get through the Brutes they will have them ready to protect their record when they arrive back in the states. Kofi declares they got next because New Day Rocks as sung by the crowd. Usos and New Day stare at each as the Brutes attack the Usos from behind. New Day join the Brawling Brutus in attacking the Usos until Solo Sikoa & Sami Zayn make the save as they all clear the ring. Sami Uso chants break out as The Usos try to hit stereo Uso splashes but Burch breaks it up who then gets Laid out by Solo Sikoa. The Bloodline stands tall.
REY MYSTERIO BACKSTAGE PROMO:
Rey gets asked by Kayla Braxton about facing GUNTHER and possibly giving him the fresh start he really needs. Rey loves competing as it's part of who he is and says he's given his whole life to the business. He says he's haunted by the memories and he's not giving up. Says that even when the worse happens he will show everyone you can't give up. He adds GUNTHER is one helm of an opponent and will turn the pain inside him from the chop to become the new Intercontinental Champion.
SHAYNA BASZLER w/RONDA ROUSEY DEFEATED NATALYA:
Baszler puts Natalya to sleep in the Kirifuda Clutch. Baszler knees Natalya in the face after the match at the direction of Rousey. Natalya is busted open.
VIDEO PACKAGE HYPING UP KARRION KROSS VS DREW MCINTYRE IN A STEEL CAGE MATCH
BRAUN STROWMAN & MVP SEGMENT:
MVP said he was pleased Braun Strowman would have a match tonight considering it's so close to his match against Omos. MVP says he's a big deal and uses his connections to sort out the opposition for Strowman. MVP has 5 opponents for Strowman. The 5 men immediately get slaughtered on the ramp as Strowman ran through them. Strowman makes his way to the ring but MVP runs away. He tries to hit Strowman with the cane but catches it and breaks it. Strowman throws him into the barricade then hitting multiple running powerslams in the ring.
IMPERIUM BACKSTAGE PROMO:
GUNTHER along with Imperium say tonight he will step in the ring and successfully defend title with dignity, respect and honor. Says Mysterio has no honor and that's why his son turned his back on him. He adds that one thing will never change, GUNTHER being the Intercontinental Champion.
The feed went black for a longer than usual time but all good now.
WINNER OF USOS/BRAWLING BRUTES WILL DEFEND THE UNDISPUTED WWE TAG TEAM TITLES NEXT WEEK AGAINST THE NEW DAY
THE SMACKDOWN WORLD CUP WILL BEGIN AS 8 TOP SUPERSTARS WILL COMPETE IN A TOURNAMENT TO CROWN THE FIRST EVER WORLD CUP WINNER
SHINSUKE NAKAMURA VS SANTOS ESCOBAR HAS BEEN MADE OFFICIAL FOR NEXT WEEK
LEGADO DEL FANTASMA BACKSTAGE SEGMENT:
Santos says he always thought Nakamura was an intelligent man but Nakamura's choice leaves him with no choice but to make an example of him. Zelina says everyone in WWE will see why Legado's growing empire cannot be stopped. Santos says that's why La Reyna and El Emperador make the perfect Enterprise.
Main event time
GUNTHER DEFEATS REY MYSTERIO TO RETAIN THE INTERCONTINENTAL TITLE:
Mysterio had real nice crucifix bomb on GUNTHER. GUNTHER had Mysterio on his back from the tope rope and dove back first into the ring dropping Mysterio. Mysterio with a hurricanrana countered into a powerbomb that then gets countered into a Hurricanrana in mid air on GUNTHER. GUNTHER with the massive dropkick and then powerbomb that leads to him kicking out! Pop up Clothesline allows GUNTHER to retain his Intercontinental Title. They show people in the crowd in disbelief and sadness as Rey wasn't able to prevail. GUNTHER raises the Title in the air as the show ends.