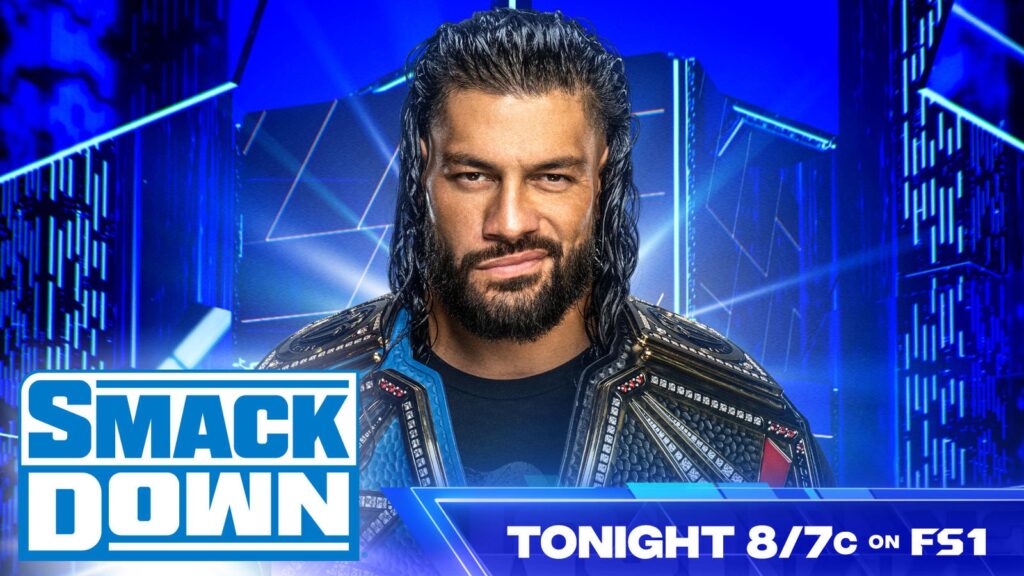 Welcome to the Wrestle Purists' Live Coverage of Smackdown for the October 28th, 2022 episode.
Smackdown is Live on FS1 from the Enterprise Center in St, Louis, Missouri.
BACKSTAGE SEGMENT WITH THE BLOODLINE (SAMI ZAYN, THE USOS & SOLO SIKOA):
In a backstage segment prior to the Bloodline's entrance Sami Zayn says it's a big night for The Bloodline and says last week was a black eye for the Bloodline. Zayn asks Jey Uso to bring the same energy he brought against Kofi Kingston and guarantee them a win before Roman Reigns arrives.
BRAWLING BRUTES DEFEATED SAMI ZAYN & SOLO SIKOA
Usos accompanied Zayn & Solo to the ring. During the match Jey Uso pulls Sami Zayn out of the ring leading to Solo pulling Butch from the ropes. Jey Usos & Sami Zayn continue to argue as Ridge Holland knocks them all down except Zayn who heads back to ring as Butch rolls up him up for the win.
POST MATCH BLOODLINE SEGMENT:
Sami Zayn and Jey Uso continue going back and forth leading to Solo Sikoa coming in to break it up but gets pushed away by Jey. Jimmy Uso tries to break things up but Jey pushes him away. Jey and Jimmy go face to face as things seem like they are about to get worse as Roman Reigns music hits leading to all the Bloodline staying in the ring waiting for the arrival Chief as we head to a commercial break.
BLOODLINE IN-RING SEGMENT:
Roman waits a minute or so before asking the crowd to Acknowledge Him. He gets some boos. Roman says he will now acknowledge the elephant in the ring. He speaks to 2 of the Bloodline members (he is looking at the crowd not at the Bloodline members). Wants the problem fixed right now and have them air it out. Zayn is the first to admit there is a communication breakdown specifically with Jey and says he doesn't understand the issue saying he's always liked Jey. Sami asks why he doesn't like him, asks what he did to offend him. Sami doesn't want this to go on any longer and wants bury the hatchet once and for all. Sami puts out his hand for a handshake but Jey tells him to take his hand out of his face. Jey says he doesn't like him, his hair, face, or shirt he wars. He questions how Sami is a part of the Bloodline if he isn't Blood. Calls Sami a fake Uce. Jey says he'll shed blood for any member of his family will Sami. Woah Jey Uso says he doesn't give a damn what the tribal chief says. This makes Roman finally turn around and acknowledge Jey face to face. Roman is staring daggers into Jey but Sami tries to calm the tcrowd nation by saying Jey hasn't been very Ucey.
Everyone in the ring breaks character after saying that. Roman asks Jey if he isn't feeling Ucey. Roman says if Jey can't find his inner Ucey again he will do something he won't like, take the honorary Uce Title away from Sami Zayn and make his Sami Uso.
A Bray Wyatt 10 second vignette promoting his segment to address his demons airs right after Paul Heyman says this segment is over and make sure to tune in to Crown Jewel to watch Roman Reigns destroy Logan Paul.
VIKING RAIDERS PROMO:
Tonight they celebrate the Gods and with Sarah Logan the Viking Raiders see what they must do. They say the Gods have opened their eyes.
NEW DAY PRE-MATCH PROMO:
New Day say they will help Maximum Male Models debut their getting pinned collection. They hope the Usos are watching to remind them they are the longest reigning tag team champions.
NEW DAY DEFEATED MAXIMUM MALE MODELS
SONYA DEVILLE BACKSTAGE PROMO:
Sonya says why would she waste announcing she's the surprise for the Ronda Rousey open challenge. Sonya says Liv Morgan won't be answering the open challenge because she had one loss to Rousey and is completely broken. Says Liv was walking around with a title she didn't deserve. Liv attacks attacks Sonya resulting in officials and referees separating them.
BRAUN STROWMAN BACKSTAGE PROMO:
Braun Strowman says there is always someone bigger and stronger than you are. Says Omos is taller but he's not stronger than him because he's ripped doors off cars and picked up track tot trailer and it excited him. Strowman says the challenges the bigger the better. Strowman says come Crown Jewel he will find out there is no giant too big for the Monster among Monsters.
RONDA ROUSEY SMACKDOWN WOMENS TITLE OPEN CHALLENGE:
A RETURNING EMMA ANSWERS THE OPEN CHALLENGE!!
RONDA ROUSEY RETAINS THE SMACKDOWN WOMENS TITLE DEFEATING EMMA
Ronda Rousey rakes the eyes to turn the tide as she makes EMMA submit in her return!
BREAKING NEWS: BIANCA BELAIR VS BAYLEY SET FOR CROWN JEWEL IN A LAST WOMAN STANDING
USOS VS BRAWLING BRUTES MADE OFFICIAL FOR CROWN JEWEL FOR THE UNDISPUTED TAG TEAM TITLES
JEY USO & PAUL HEYMAN BACKSTAGE SEGMENT:
Jey Uso tries to talk to Roman but Paul Heyman says it's better that he talk to Roman because it's better for Roman to hear it from the wiseman. Jey wants to ensure that Heyman has his back
As Legado Del Fantasma make their way to the ring another Bray Wyatt vignette cuts off the transmission.
RONDA ROUSEY, SHAYNA BASZLER & NATALYA BACKSTAGE PROMO:
Baszler congrats Ronda on beating EMMA. Natalya interrupts Ronda saying she would've beaten her If she answered the open challenge but Baszler chokes her out seemingly aligning with Ronda Rousey.
HIT ROW ANNOUNCE THEIR TAG TEAM PARTNER: SHINSUKE NAKAMURA!!
This is just an all out brawl as Hit Row take out Cruz del Toro & Joaquin Wilde. B-Fab lays out Zelina as she tries to get Santos up to face Hit Row & Nakamura. The match hasn't even officially begun.
SHINSUKE NAKAMURA & HIT ROW w/B-FAB DEFEATED LEGADO DEL FANTASMA w/ZELINA VEGA
Match began during the commercial break. Legado used dirty tactics to take control. Santos & Nakamura had a good back and forth. Down town 3 by AJ Francis had a big pop. Nakamura pinned Cruz Del Toro
ROMAN REIGNS & PAUL HEYMAN BACKSTAGE SEGMENT:
Heyman asks Roman to match one simple piece of footage. It's Logan Paul boxing training footage. Roman asks why he's watching this and Heyman says it takes one lucky punch. Heyman says Logan Paul has steel pins in his knockout punch. Roman says he's only had 2 matches. Heyman says Lesnar won the UFC Title in his 1st match. Heyman rambles and leaves thanking Roman for his time.
LA KNIGHT PROMO; RICOCHET INTERRUPTS:
LA Knight says the ring announcer couldn't get his hometown right. Ricochet interrupts saying he might get a warmer reception if he didn't act like he is God's Gift to Smackdown and says someone could shut his mouth. LA Knight says he is God's gift to Smackdown
KARRION KROSS DEFEATED MADCAP MOSS
Scarlett causes the distraction leading to Kross beating Moss with the blow to the back of the neck. Kross cuts a promo with Moss in the cross jacket submission saying Moss put up a much better fight than McIntyre saying Moss isn't a coward or hypocrite like McIntyre. Kross says he will always stand for the new beginning saying history will repeat itself at Crown Jewel. Moss was in the cross jacket for about 3 minutes.
BRAY WYATT MINI SEGMENT:
Bray Wyatt is seen pacing murmuring something to himself as it shows the television and the different faces of the Wyatt 6 as we head to commercial.
REY MYSTERIO BACKSTAGE PROMO; IMPERIUM INTERRUPTS:
Mysterio says he's happy to be back on Smackdown and it's excited for his a intercontinental title match against GUNTHER but is then attacked by Imperium. They rip his shirt open and GUNTHER chops him so hard he lays on the floor.
LIV MIRGAN VS SONYA DEVILLE IN A NO DQ MATCH ANNOUNCED FOR NEXT WEEK
REY MYSTERIO VS GUNTHER FOR THE INTERCONTINENTAL TITLE ANNOUNCED FOR NEXT WEEK
BRAY WYATT IN-RING PROMO:
Bray Wyatt says it's still pretty new to him and asks the crowd if they feel that. The crowd chant welcome back. Bray Wyatt says it's just him and the crowd, there are no smoke and mirrors. He says this is Best Wyatt The Real Man. Says he will do some spectacular things on Smackdown. He says his emotions can send him to a very dark place and other times no matter how hard he tries he doesn't feel anything at all. Bray says there's a part of him that isn't afraid to do horrible things. He says there will come another time where he will be faced with adversity and asked to do something horrible. He gets interrupted by Uncle Howdy on the tron. Uncle Howdy says he is the ghost of the man who saved the world. Says you are a fool and killed the world. Says you sent him away and they're the reason why you are a shell of the man you once were. Uncle Howdy says if you don't wear a mask tee both know that's not true. He says you can't hide from Uncle Howdy as a tear runs down his mask ending the show.