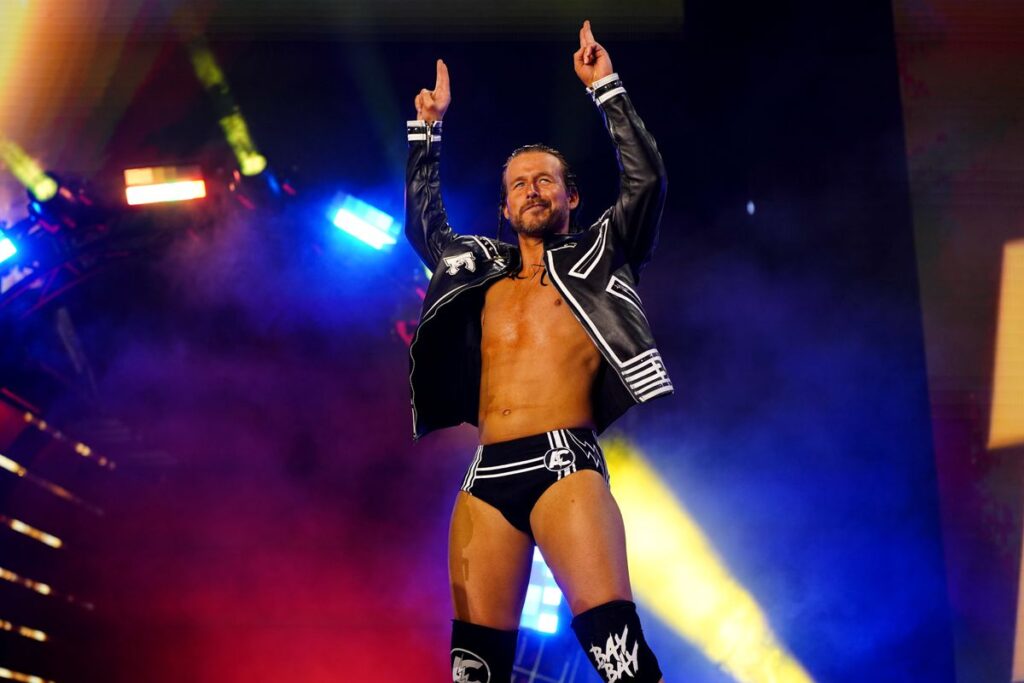 On June 26th this year at the United Centre in Chicago, Illinois, AEW and New Japan Pro Wrestling will come together to present 'Forbidden Door', the first joint pay-per view between the two promotions.
One AEW star keen to leave their mark on the event is Adam Cole. Cole formerly worked with NJPW as part of Bullet Club, and recently defeated New Japan's Tomohiro Ishii in an Owen Hart Cup qualifier on Dynamite, with the aid of 'Switchblade' Jay White.
Speaking with Stephanie Chase, Cole discussed the upcoming event and revealed that his AEW colleagues are very excited about it.
"Everyone, as far as in the locker room, everyone is so stoked for this [Forbidden Door show]. Again, New Japan Pro-Wrestling has some of the best pro wrestlers on the planet. I know a lot of people who do watch AEW also watch New Japan Pro-Wrestling and there's a lot of people who watch one or the other. There's some people that have never watched AEW that just support New Japan and there's some people that just watch AEW and have never seen New Japan before so it's like this really exciting combination of a bunch of people who know and are like, 'Guys, trust us. This show is gonna be awesome' and then there's a bunch of people who are very excited to see some of these guys or some matches that they've never seen before so, yeah, I'm thrilled with the idea. I think the world of New Japan Pro-Wrestling. Some of my fondest moments years ago were over in New Japan so yeah, I'm very, very excited for this event. I think it's gonna be awesome."

-Adam Cole
AEW President Tony Khan welcomed NJPW President Takami Ohbari to Dynamite in order to deliver the announcement together, however Adam Cole interrupted the pair, revealing the show himself before introducing Jay White.
Continuing, Cole says that he felt a lot of pressure when delivering the information live.
"It was a lot of pressure [making the AEW x NJPW Forbidden Door announcement]. It was a lot of pressure which by the way too, not that this matters but the announcement that I had made backstage, that was very live. That was not a taped thing. That was happening in the moment and again, I know that a lot of people are very excited about this show, very excited about the announcement so while still being Adam Cole but being able to deliver this really, really cool news was like — aside from it being a lot of pressure, it was so cool. The fact that I got to be the one to talk about it was awesome,"

-Adam Cole
Cole also revealed that he has his eys on one New Japan star in particular, that being 'The Rainmaker' Kazuchika Okada. Cole expressed his desire to face off against the current IWGP World Heavyweight Champion, noting that the two have only ever crossed paths in a six-man tag-team bout throughout his time with the company.
"So I've never had a singles match with [Kazuchika] Okada. I've wrestled Okada before in like a six-man tag team match in Ring of Honor but we barely had any interaction together. I've wrestled [Hiroshi] Tanahashi, just wrestled [Tomohiro] Ishii which was really cool. Wrestled Jushin Liger, YOSHI-HASHI, so many different guys but I would love a classic one-on-one singles match with Okada at some point. I think that'd be really cool."

-Adam Cole
Later during the conversation, Cole's history with Smackdown commentator Pat McAfee was brought up, with the two feuding in NXT leading up to Cole defeating McAfee at NXT Takeover XXX.
McAfee recently competed at Wrestlemania 38, defeating Austin Theory, before losing to Vince McMahon in an impromptu match immediately after. Cole said that McAfee's performance was a highlight of the weekend, and believes that the former football punter can go as far as wants to in pro-wrestling.
"As a person, he's [Pat McAfee] a dirt bag. Can't stand him. But, if I will look objectively and talk about how much potential he has like you said, Pat McAfee blows my mind. He is so athletically gifted. As far as the wrestling part, he's done great. Everyone knows he can talk for hours and he's super compelling and interesting. Pat knocked it out of the park [at WrestleMania 38]. He did an amazing, amazing job. So yeah, as far as potential of where he could go and what he could do in the pro wrestling industry, I think he could go as far as he wants to. Seriously, to me, it was one of the highlights of the entire weekend was Pat's match so, he's a terrible person but a lot of potential. Lot of potential."

-Adam Cole
Along with Adam Cole, both Samoa Joe and Kyle O'Reilly have qualified for the Owen Hart Foundation Tournament. Tonight's episode of AEW Dynamite will see Dax Harwood and Cash Wheeler of FTR face off for another spot in the competition.
H/T to POSTWrestling for the transcription.