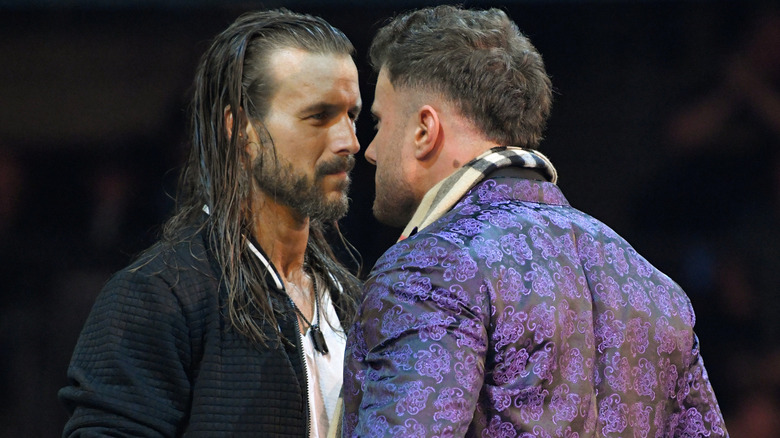 Adam Cole has provided his thoughts on his recent promo exchanges with MJF.
Over the past few weeks, we've seen numerous verbal sparring matches between the AEW World Heavyweight Champion, MJF, and Adam Cole. While the destination of a blow off match between the two seem certain, the duo will first have to co-exist as they are scheduled to team together in the upcoming Blind Eliminator Tag Team Tournament.
Adam Cole was recently the guest of honor on The Extreme Life of Matt Hardy, where he would provide additional insight into his first promo collision with the AEW World Champion, when he would recall what he felt was a "sink or swim type situation".
"There was a lot of excitement going into this. I don't know if intimidation is the right word, but it very much felt like a sink or swim type of situation for me, which was really exciting. I'm going to go toe to toe with what many consider, what I consider, one of the best talkers and one of the best guys of the generation in MJF. Either people are going to think I can hang with him or they're going to think that he ate me alive. I love that feeling of going out there and feeling, 'Oh God, we'll see how this goes.' It was really exciting for me to be tested in that way and to show everybody that I'll go toe to toe with anybody on the microphone. It was exciting, but I definitely had nerves and butterflies."

-Adam Cole
While MJF is obviously nowhere near a slouch on the mic, Adam was able to successfully sway the AEW champion into his future match with the ace of NJPW, Hiroshi Tanahashi at the upcoming Forbidden Door pay per view.
No matches or other tag teams have been made official for the upcoming blind eliminator tag team tournament aside from the team of MJF and Adam Cole.
H/T to Fightful for the transcription.