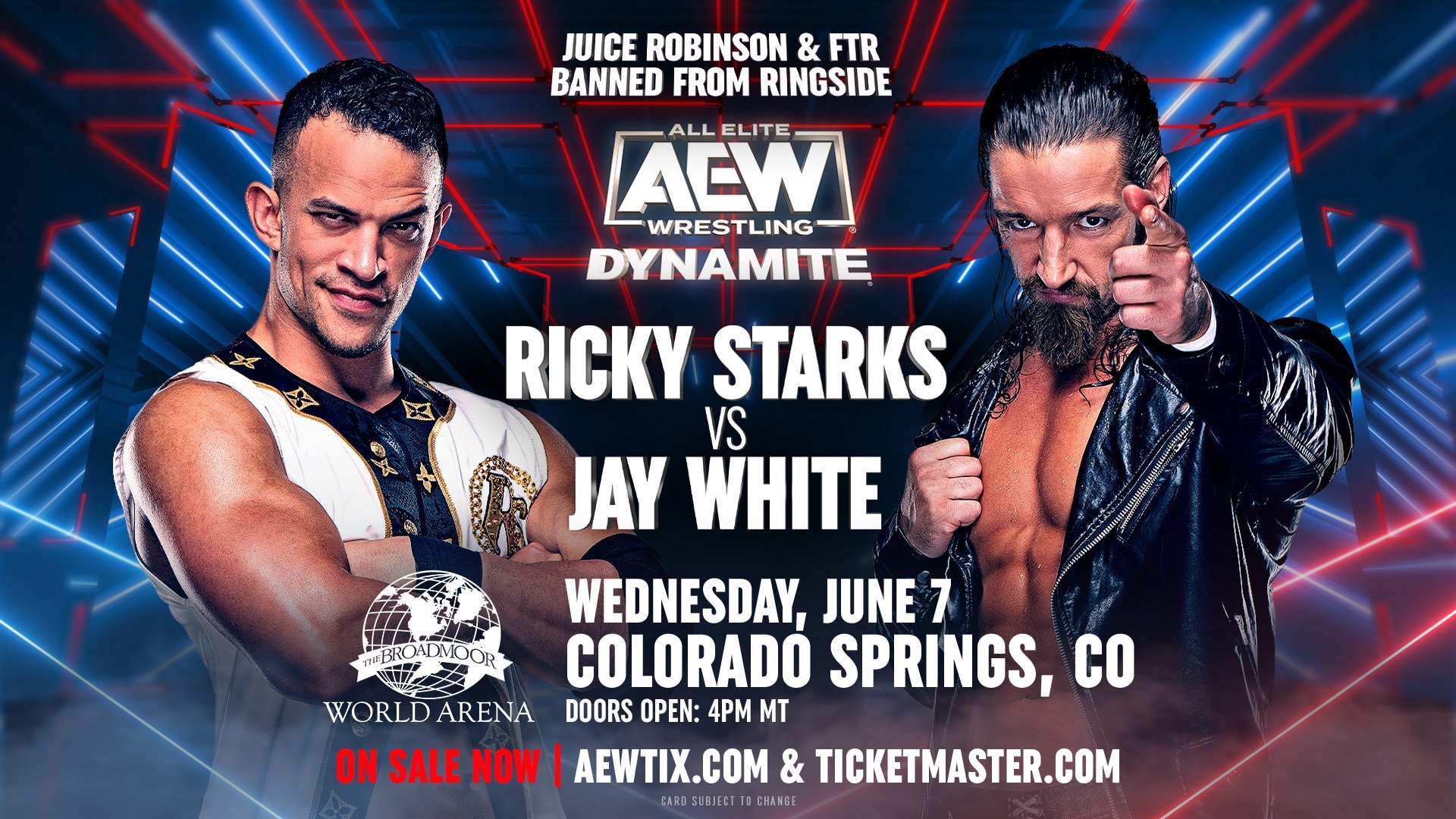 Welcome to the Wrestle Purists' Coverage of AEW Dynamite on June 7th, 2023.
Anticipation for this episode of Dynamite is high! Could Swerve be the one to dethrone Orange Cassidy's dominate reign? What does MJF have to say about the Forbidden Door? Let's watch to find out…
Opening Match: Orange Cassidy (champion) defeats Swerve Strickland (AEW International Championship):
Although Orange Cassidy has had amazing matches every week, I would love for there to be a new champion. Swerve is the perfect person to dethrone Orange. Very early on the crowd made their presence known. Unlike me, they were cheering for Orange to win. Heading into the match, it was very slow paced until is began to pick up some steam. This is the case for most of Orange Cassidy's matches. "Freshly Squeezed" chants filled the arena as momentum was going towards Orange. Until a high kick from Swerve connects, slowing the pace of the match down again. This back and forth continued until Orange Cassidy rolls up Swerve for the one. Orange Cassidy retains!
After the match, IT'S STING! The Embassy went into the ring to attack Orange after the match. After a 5 second beat down, the lights go out. Darby and Sting emerge. Sting's music hits ending the segment.
Second Segment: Bryan Danielson vs Okada Promo
This match is going to be amazing! A short and sweet promo helps to raise the stacks just a little more. This is a great segway into BCC vs Chaos as Danielson will be commentating.
Match #2: Blackpool Combat Club Defeat Chaos:
The result of this match won't be a surprise to anyone. However the message that the match is supposed to send makes it worth it. Even if you jump the BCC from the beginning, you will not have the advantage. Blackpool Combat Club means business. This match was entertaining with a great finish. Blackpool Combat Club makes Chaos tap out.
Next Segment: Elite Promo
The Elite challenges the BCC to a match next week. Danielson accepts. I could watch BCC vs The Elite a hundred times without getting tired. This should be an amazing 3 v 3 match. This could also set up a potential match at Forbidden Door.
Next Segment: MJF Live Promo
Cut my music… Cut my music… it's time for MJF. He starts with talking about how terrible Colorado is. As usual, he loves getting that local heat. Once that ends, he starts talking about competition in the company. He says that no one is on the level of the devil. That is until… music hits…. YOU KNOW ITS ALL ABOUT THE BOOM! Adam Cole seems to be the new feud for MJF. I LOVE THIS. The promos and matches we are about to get in this feud are going to be amazing. I can't wait! During the promo, MJF calls back to Adam Cole's success only to call him out for being a failure now. This set the tone for Adam's response. He called MJF a social media troll that does bare minimum. This leads to Adam Cole getting a future match against MJF. If the promos today are to suggest anything…. We're in for a treat.
Next Segment: Hardy's Promo
Matt Hardy introduces new member, Ethan Page to their group. Matt Hardy now owns Ethan Page's contract.
Match #3: JungleHOOK defeat Preston Vance & Dralistico:
This was a fantastic match! Hook keeps improving every match. I would like to see him in more opportunities like this. Hook gets TV time and matches to improve from. Right out of the gate, this match was fast paced! Preston Vance was out on a mission. He wanted to show us all what he's got. However, JungleHOOK was just too much to handle. An action packed match leads to a lot of blood. This adds to the intensity like crazy! Vance bleeding with chains over Hook was a very cool sight to see. The match ends with JungleHOOK making Dralistico tap out.
Tony Khan Collision Announcement:
The main event for the debut of Collision will be: Juice Robinson/ Jay White/ Samoa Joe vs FTR/ CM PUNK. I'm incredibly excited for the SECOND COMING OF CM PUNK!
Match #4: Takeshita Defeats Damon Ace:
A quick match that adds a bunch of heat for Takeshita and Don Callis. I've been loving the level of heat these two have gotten from the crowd. Obviously Takeshita wins with ease. However the promo towards Kenny Omega afterwards deserves some massive credit. Both these men have massive heat and that adds so much to the segment.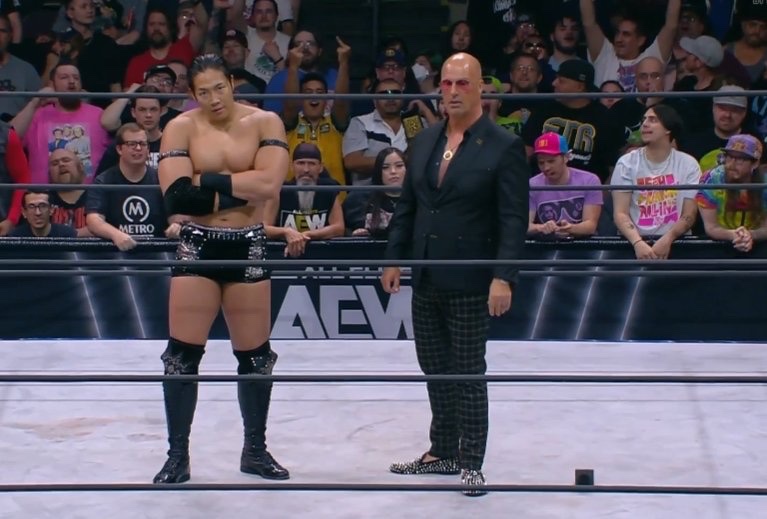 Match #5: Kris Statlander (c) defeats Anna Jay (TBS Championship):
Kris Statlander was the right person to beat Jade. Although I wouldn't have done it as sudden as it happened. She is definitely the right person to be carrying around the TBS title. As expected, this match was really good. However the result was inevitable. Kris Statlander retains!
MAIN EVENT: Jay White defeats Ricky Starks:
What a main event match! Every time I see Jay White on my screen, it's still very hard to believe he's in AEW. Although his booking has been questionable, his presence is still very much seen as elite level talent. On the other side of this match, Ricky Starks has been a rising singles star ever since his break up with Power House Hobbs. This match is about a month and a half in the making. With that being said, I can confidently say it delivered. Right from the start, Ricky runs towards Jay White to get this match started quickly. This sets the tone for the rest of the match! Towards the end of the match, all the momentum is on Ricky's side. This is until Ricky accidentally hits the referee. Once that happens, The Gunns show up?? This leads to them hitting Ricky and allowing Jay White to hit the blade runner for the victory. A confusing finish that didn't take too much away from the match. It just added plenty of questions.
Closing Thoughts: AEW DYNAMITE JUNE 7th 2023:
This show had many ups and very few downs. I really enjoyed the pacing of this show. The matches and promos were also very well placed. I will say, I would've had the MJF promo close the show. Although it seems to have garnered some mixed reactions, it was definitely the most impactful moment in the show. The Jay White be Ricky Starks match was good. However it didn't reach the same level of emotion as the MJF promo did. With that being said, this show did add a lot to the future of AEW. We know what MJF will be doing for awhile. The anticipation for Forbidden Door keeps rising. We also know what the main event will be for Collision night one. Overall, this was a good show that is definitely worth a watch!