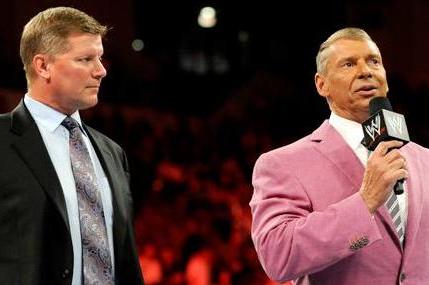 Following The Wall Street Journal's report detailing an ongoing investigation from WWE's Board of Directors into a $3 million "hush pact" made by Vince McMahon to a former female employee regarding an alleged affair, WWE this morning officially announced that McMahon would be temporarily stepping down as CEO & Chairman of WWE until the conclusion of this investigation, Stephanie McMahon assuming both positions for the time being.
Despite this, Vince McMahon is set to maintain his role within WWE in a creative capacity, and is even set to appear on tonight's edition of Smackdown as his 'Mr McMahon' character.
PWInsider have now provided an insight into the production meeting held by Vince McMahon ahead of tonight's show, with McMahon seemingly in good spirits despite the nature of the ongoing situation surrounding his alleged affair and subsequent settlement.
"Despite the last several days, McMahon was "joking around" during the production meeting before the taping and wasn't selling anything at all, described to PWInsider.com by multiple sources as being in a "great mood.""

-PWInsider
In regards to the subject matter of the meeting itself, PWInsider revealed that the investigation was not addressed or discussed during the proceedings, with a further note stating that talent had yet to be addressed as of 4pm this afternoon.
The report also touched upon the general feeling during and following the meeting, with several sources describing the meeting as "weird" given the obvious elephant in the room.
"The pre-show meetings were described by several sources as a "weird", given the obvious elephant in the room, especially since no one in the company knows when more will surface about the situation. Privately, some were wondering how many NDAs were uncovered during the investigation and how many others could be out there. Obviously, no one was asking McMahon about the situation."

-PWInsider
In terms of McMahon's scheduled appearance on tonight's show, PWInsider revealed that nothing had been mentioned regarding the segment during the meeting, almost appearing as though the segment wasn't part of the show at all. It was noted however, that this may have been in order to prevent any leaks in terms of the segments subject matter, with practically nothing known at this point as far as what Vince's segment will entail.
Another interesting note from PWInsider was thatJohn Laurinaitis is not at tonight's Smackdown tapings in Minneapolis, with the head of talent relations also implicated in the ongoing investigation.