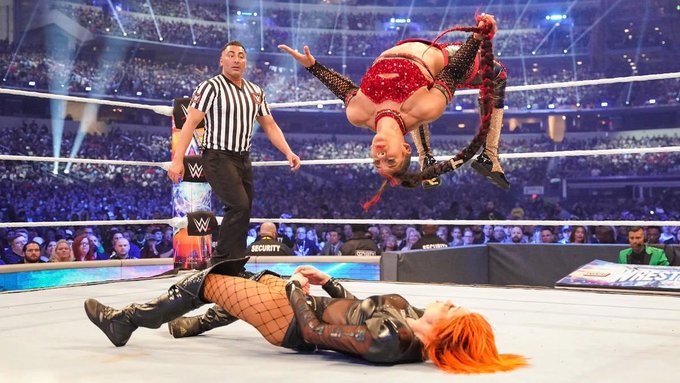 The night is April 10, 2021. Raymond James Stadium sits on a stormy day in Tampa, Florida. WrestleMania 37 is holding their main event for night one and something beautiful, emotional, and historical happening within the squared circle.
While WrestleMania has been headlined by women before, on this night two black women stood across from each other. The moment is heavy upon them and they understand it. They're breathing it. Sasha Banks and Bianca Belair held back tears because the monumental occasion was palpable, to the point the heavens raged and cried.
Still, they had a job to do, and they executed it to their best abilities and then some. Sasha, the sly champion, outmaneuvered the fresher face in Bianca, but the overwhelming fighting spirit and strength of the EST maintained destiny throughout. Through feats of strength and the whip of her hair that rang like the thunder up on high that very same day, Bianca won. The energy, elation, catharsis, and pure joy on her face is memorable.
Though her body language in kayfabe and in reality oozed with uncertainty in herself, her talent, skill, and ability saw her to a star making performance on the grandest stage of WWE.
Whether or not Bianca is as emotional on the surface as she is in her persona or she's just a damn good actor, she is sensitive to her feelings. In her NXT Takeover days, she would start panicking, upset and afraid that victory would elude her and it would cost her big matches, so it is absolutely a part of her character, but seeing how prone she is to anger, sadness, and joy throughout her journey, it adds another layer to her otherwise muscular, badass exterior.
Such was her undoing at SummerSlam 2021, when she faced Becky Lynch, seconds from a surprise return. The hype and adulation at the once-badass Man who forcibly grabbed success that was denied, she learned to never meet your heroes.
Accepting the new challenger, Bianca shook Becky's hand, and much like the story of Samson and Delilah, Belair's "hair', her Raw Women's Championship belt, was taken from her. All it took was a stab and the twist of a blade in a squash match that deflated the crowd and broke the hearts of many. A baffling turn of events that should have never happened – for The Man should have faced The EST on level ground and matched that fire.
Embarrassed, humiliated, and feeling like a fool, Belair tried and tried to regain what was stolen, but to no avail. One by one, her contemporaries she fought against and alongside in Lynch's absence fell to the Big Timer.
While on her quest for redemption, a transformation took hold on Becky, as though the Raw Women's Championship was sucking the soul out of her, denying the Irish Lass-kicker that which made her, her.
Then, a miracle happened. While the reigning champ would trounce legend Lita at 2022's Elimination Chamber, Bianca would push through the opposition in the titular match to successfully win inside the demonic structure.
With closure on the horizon, Becky knew the time was coming for someone who could very well have her number. Vengeance was on the mind of the previous holder. On May 21, Becky would cut a promo that felt ripped out of literature, from the pages of a different sort of mania, as she described her psychology, that she was ready to sacrifice anything, and as she spoke, she did not look like the Becky Lynch we know. A devilish grin, words ladened with venom, and the wrinkled, weathered look of madness accompanied her as she coveted her belt, holding it close like a mother to her child.. "So what does it profit a man, it profits him this!!"
The next week, Becky would ambush Belair with a pair of scissors, aiming to clip off that iconic braid that twirled behind Bianca's back, perhaps one of her greatest last resort weapons. Only this time, Bianca would be ready. With a KOD, the roles were to be reversed, with Belair snipping off chunks of Becky's hair.
Now, we get to the crux of the story – the match on Night One of WrestleMania 38.
Big Time Becks would emerge from a luxury truck, appearing glamorous, like a cyberpunk faerie, whilst Bianca would confidently jostle her way to the ring as a marching band from Texas State University played as the soundtrack.
In the early goings, the women sought to end things as quickly as possible, knowing either of them could use their greatest strengths. Becky had no shortage of tricks up her sleeve, such as using her legs on the ropes or utilizing any count-outs for possible victory.
Bianca had the fire inside born of fighting spirit, however, and overcame it all. She defied the odds of what would put away normal human beings, but not her. In what is undoubtedly an unbelievable feat of human agility, The EST managed a 450 splash from the second rope – and even then it wasn't enough.
Desperation trickled through them like a fountain of water. Becky would use Bianca's greatest weapon against her – if she can't remove it, might as well use it. Swinging Belair to the ring post, Manhandle Slamming her onto the steel ring steps, and celebrating cockily as the referee counted to ten.
In a second short of breath, before she could be sent to the pearly gates, Belair rose with renewed vigor and leapt like a gazelle back in the ring, refusing to give up. She went too long and fought too hard to not regain that which was unfairly stolen. She's Bianca Belair, dammit, and this is hers.
Unfocused and within the depths of insanity, a tearful and panicked Becky Lynch used whatever she had left in her arsenal, unfocused and flimsily. In this breakdown, she would lose more than her title – she lost her grip. Everything was slipping, slipping and she was losing control.
Carrying the champ on her shoulders, Becky was ready to slam, but with the turnbuckles so dangerously close, the waxy wings melted off of our Irish Icarus, and she plummeted to failure as Belair transitioned it to her KOD, ending the match and putting the crimson trophy back around her waist once more.
Bianca was battered; her eye was swollen shut. But she did it. Months and months of reclimbing the mountain she was banished from, she reached the top and the winds of jubilation were chilly and right. A year ago she was soaked with emotion and tears, fighting back only with her natural intangibles. This year, however, she stood her ground and fought with the confidence needed of someone deprived of it.
Bianca's journey was over, and fighting the high road profited her well.
Becky, however, fell deeper into the misery of lunacy in a character arc that would elevate the story even more until the Summerslam later that year. So what then, does it profit a man, who seeks redemption and righteousness?
A story for a different time, I suppose. On this night, however, a wrong had been righted and the universe of WWE was shifting closer to align with the stars just nicely.