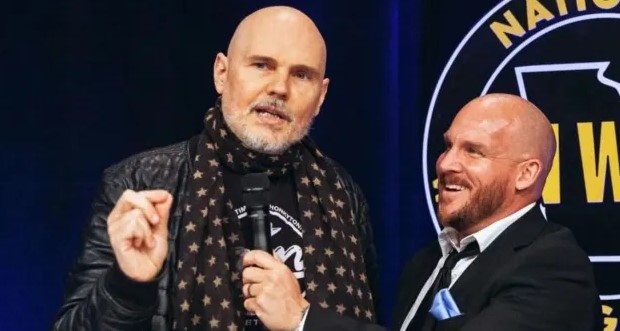 Billy Corgan has provided further insight about his booking strategies going forward for the NWA.
NWA's Hard Times 3, saw Tyrus emerge victorious as the new NWA Worlds Heavyweight Champion in a three way match against Matt Cardona and Trevor Murdoch.
Billy Corgan was a recent guest of Gerald Brisco and John Bradshaw Layfield on an episode of 'Stories with Brisco and Bradshaw' podcast.
Corgan described in detail the aesthetics and style he attempts to provide with the NWA product currently, detailing his attempts to showcase talent in the ring who could legitimately beat normal people up. Billy Corgan was pleased with the main event of Hard Times 3 and is looking forward to presenting more matchups similar to the recent NWA Worlds Championship match.
"Well first of all and it's been very hard for the general wrestling community to understand is to me, the NWA is a mainstream product. I want to bring back a traditional mainstream product to television, national television or international television. It's not complicated. In terms of the vibe, I like that old shooter vibe. I want you to watch people who you believe can beat your ass. That's it and I want the toughest to win and I want the toughest to feel like they're the stars of our company and it's interesting because as I've pivoted to that over the last 18 months and really built the company around the toughest people, not always the biggest but the toughest people. I really see how it's starting to really click. In essence, I finally connected that passion that I had for Bruiser [Brody] when I was a kid to the modern version of the NWA. A lot of people in the wrestling community and I know it's a highly debated topic, you know, they like what's going on with… I call it the 'eight-star Meltzer matches' and all that stuff and I like that stuff too but if we're just talking business, just straight business, not fan stuff, I still believe in Brock Lesnar versus Bobby Lashley and in this [main event at Hard Times 3], Matt Cardona who's recast himself on the independent scene as the star that he is versus Tyrus who's, you know, 6'8, 375 pounds versus Trevor Murdoch who's 6'3 and another 350, I wanna see that match… If you don't wanna see stuff like that, don't watch the NWA because that's what I'm going to give you, more and more of that and as we climb and I'm kind of able to develop younger talent in the mold of the NWA, we will be the toughest, hardest-hitting wrestling promotion in the world. I know there's the strong style in Japan but to me, that's a different psychological — it's hard to explain. I don't mean it disrespectfully. It's just a different psychology."

Billy Corgan
Billy Corgan later took time to put over NWA's women's division, making the case that the NWA has some of the hardest and strongest women in all of the wrestling business.
"I make the argument, we probably have the toughest women in the business right now. I love it. I love it. I love women who can be strong, beautiful and vicious. I just think that's a beautiful combination and with the men, I want the meanest, toughest elephants in the ring. If you can't hang, then go impress somebody else somewhere else. My NWA will be — if you wanna call it old school, you want to call it AWA, you want to call it Florida with Eddie Graham, you call it whatever you want. Put it this way and I say this, of course, respectfully to you Mr. Brisco, I want you or if Bruiser [Brody] in heaven, I want you guys to look at what we're doing and be proud because I believe that is the business and I'm not saying there isn't other variations of the business."

Billy Corgan
NWA's Hard Times 3 also saw Kamille retain her NWA Women's World Championship against KiLynn King and Chelsea Green.
H/T POST Wrestling for the transcription