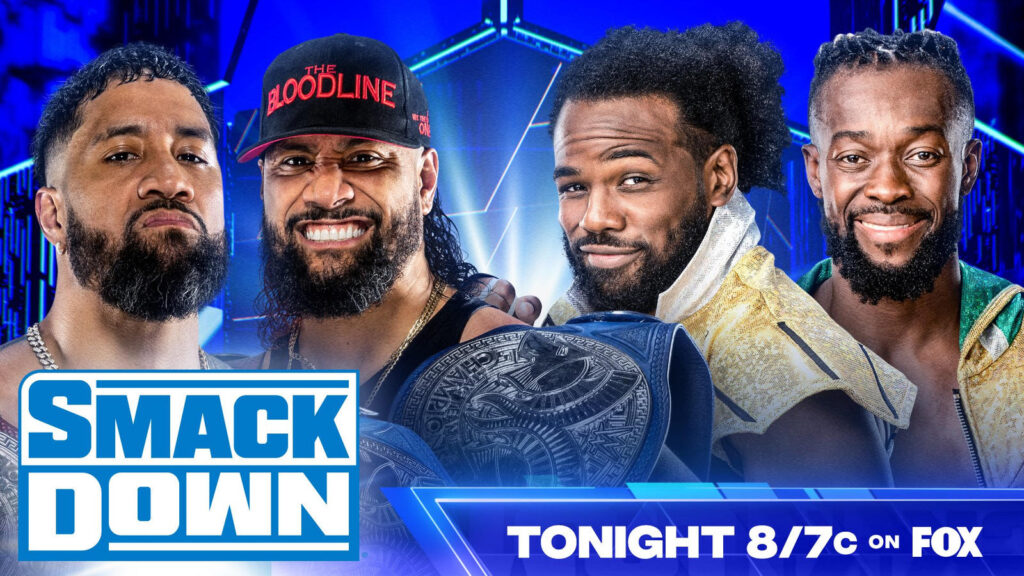 Welcome to the Wrestle Purists' Live Coverage of Smackdown for the November 11th, 2022 episode.
Smackdown is Live on FOX from the Gainbridge Fieldhouse in Indianapolis, Indiana.
A Video package is shown recapping the WWE Undisputed Universal Title Match between Roman Reigns and Logan Paul.
WWE UNDISPUTED TAG TEAM TITLE MATCH: USOS (C) DEFEATED NEW DAY TO RETAIN:
The Usos won with the D1 and are now on pace to beat the New Day's Tag Title Record of 483 days. Reigns, Paul Heyman & Solo Sikoa we're shown watching Usos make entrance.
BLOODLINE BACKSTAGE SEGMENT:
Usos celebrating in the locker room with Roman. Roman stands up and says it feels good right? Says this is what being the greatest of all time feels like. Says he has some business to handle live in the ring tonight.
SANTOS ESCOBAR W/LEGADO DEL FANTASMA PRE-MATCH VIDEO PROMO:
Santos says messing with LDF is reckless. Says he won't just represent Mexico but will show show Nakamura what messing with fire you will get burned.
1ST ROUND MATCH OF SMACKDOWN WORLD CUP: SANTOS ESCOBAR DEFEATED SHINSUKE NAKAMURA:
Santos Escobar wins after hitting an avalanche phantom driver. Michael Cole mentions that Nakamura will be at Budokan Hall facing Great Muta on New Year's Day. CMLL mention by Barrett man ruining the last time these 2 faced each other. Nakamura took out Wilde with a baseball slide & Del Toro with a knee. Santos Escobar will now take on a yet unknown opponent from the field in 2 weeks on Smackdown.
LA KNIGHT BACKSTAGE PROMO W/BRAY WYATT:
He says only thing that needs to be acknowledged is the major fumble that of not having him in the Smackdown World Cup. Says it's all for not because he's not in it. Behind him appears a Wyatt mini vignette messing with the monitor. This distracts the interviewer and then LA Knight. He gets irritated and asks if it's more interesting than he is? He turns around and tell the staff to fix it but as he goes back to the interviewer he sees Bray Wyatt stand in front of him. Bray says hi. He introduces himself and say they can be friends. Says he can understand him better than he thinks he does as he cans see the range brewing inside of LA Knight. He says his whole life his rage was going to make a monster out of him. Bray laughs and says for the longest time he's been pretending that he's not proud of the things he does. He says he doesn't know how true that is anymore. He says he knows what it takes to give respect. Wyatt asks him how far he's willing to go. LA Knight says how far he's willing to go ain't none of his business but how far Wyatt is willing to go is back to playing with puppets and sticking them up anywhere it gives him pleasure. An Uncle Howdy vignette briefly appears on the screen leading to Bray head butting LA Knight. As soon as he gets up Bray is gone.
6-PACK CHALLENGE TO DETERMINE THE #1 CONTENDER FOR THE SMACKDOWN WOMEN'S TITLE: SHOTZI DEFEATS LIV MORGAN, RAQUEL RODRIGUEZ, XIA LI, SONYA DEVILLE & LACEY EVANS:
Shotzi pins Lacey Evans to become the #1 Contender. Raquel and Sonya pull each other out the ring from winning the match
SHOTZI BACKSTAGE SEGMENT w/SHAYNA BASZLER & RONDA ROUSEY:
Emma congratulats Ahitdi and says they need to talk and asks if she's seen Madcap. Shotzi says she's crushing. Says they'll talk later. Then Shayna Baszler interrupts says she's actually won a beating of a lifetime by Ronda Rousey. Shotzi says Ronda has never been in the ring with someone like her and says she'll endure whatever Ronda throws at her. Shotzi says she might surprise the world. Baszler says why not tell all this to Ronda and says tell her yourself as Shotzi turns around sees Ronda Rousey and gets choked out by Baszler.
RICOCHET BACKSTAGE PROMO w/IMPERIUM:
Ricochet will face Mustafa Ali next week in the World Cup Tournament. He says it will be an opportunity much bigger than wrestling the best in the world, it's an opportunity to get back what is his, the Intercontinental title. Says he and Ali have history and there's no one who know how hungry and talented he is. He gets interrupted by GUNTHER who asks what he meant by what's his. GUNTHER asks if he didn't have enough the last time they met and wants him to fight with all his heart because he would love to beat him again.
BRAUN STROWMAN VS OMOS WWE CROWN JEWEL VIDEO PACKAGE RECAP
DREW MCINTYRE VS KARRION KROSS WWE CROWN JEWEL VIDEO PACKAGE RECAP
JINDER MAHAL PRE-MATCH PROMO:
Jinder Mahal says the embodiment of class and prestige, the greatest WWE Champion of all time is back. Says he begins the ascent to his rightful spot by first winning the Smackdown World Cup then becoming the International Champion tonight (almost knocks over the trophy). Says no mane can stop him as Strowman's music hits
1ST ROUND MATCH OF SMACKDOWN WORLD CUP: BRAUN STROWMAN DEFEATED JINDER MAHAL:
Strowman defeated Mahal with the powerbomb. Mahal attacked Strowman right when the bell rang. Strowman ran wild in an immediate comeback in what was a glorified squash match.
ZELINA VEGA w/LEGADO SEL FANTASMA VS B-FAB w/HIT EOW TUKED A NO CONTEST DUE TO BIKING RAIDERS RETURN:
VIKING RAIDERS & SARAH LOGAN HAVE RETURNED:
Legado del Fantasma & Zelina already in ring. Immediately we hear Sarah Logan saying "Valhalla is here" as the Viking Raiders attack and layout both teams. Viking Raiders drop Top Dolla. Sarah Logan drops B-Fab.
1ST ROUND MATCHES OF SMACKDOWN WORLD CUP: SAMI ZAYN VS BUTCH & MUSTAFA ALI ANNOUNCED FOR NEXT WEEK
SHAYNA BASZLER VS SHOTZI ALSO ANNOUNCED FOR NEXT WEEKS SMACKDOWN
BLOODLINE SPECIAL MOKENT IN-RING SEGMENT:
Roman tells them to acknowledge him. Heyman says he and the Tribal Chief discussed on the private jet flying into this hellhole. Immediate boos from around the arena. Heyman says that's very Ucey of them. Heyman says all the great sports rivalries that play out live on Fox: USA vs England & Packers vs Cowboys and even Usos vs New Day. Heyman says he can't say that with a straight face as the New Day can't compare to the Usos. No team can because the Usos live on the island of relevancy and the New Day like any being that steps up to the Tribal Chief get sent to the ocean of obscurity. Roman says it's not easy being a cousin of his. Says his whole life everyone is always acknowledging him for his greatness and thought this moment wouldn't come. (Heyman hyping up in the back). He names the Usos but before Roman can say anything Butch & Ridge Holland interrupt the Bloodline. Ridge says it's fight night and they brought backup.
SHEAMUS IS BACK!! Sheamus says Roman is a legend and tonight is the start of the end of the Bloodline. Roman laughs in his face saying he can't even get the mic to work saying what is he going to do. Sheamus says he doesn't mind saying it to his face. They all start brawling as the Bloodline is laying out everyone until DREW MCINTYRE comes to make the save. All of this leads to Roman then laying him out. The show ends as they all brawl in the ring.