Another week, another blockbuster event, as WWE's Money in the Bank PLE takes centre stage. Bloodline Civil War is the attraction there but elsewhere, the men's Owen bracket concludes round one, with Roderick Strong and Samoa Joe meeting in Joe Hulbert Promotions' official season finale. Even beyond those JHP encounters, it's a loaded weekend, with AJPW and Stardom also hosting major title tilts. Speaking of major title tilts, the big man is back, as Baron Corbin's legacy game makes the headlines.
Oh, Tomohiro Ishii is in town too so with that, let's get to some uncomfortable nitpicking, all hail.
Gunther vs. Sami Zayn (WWE RAW)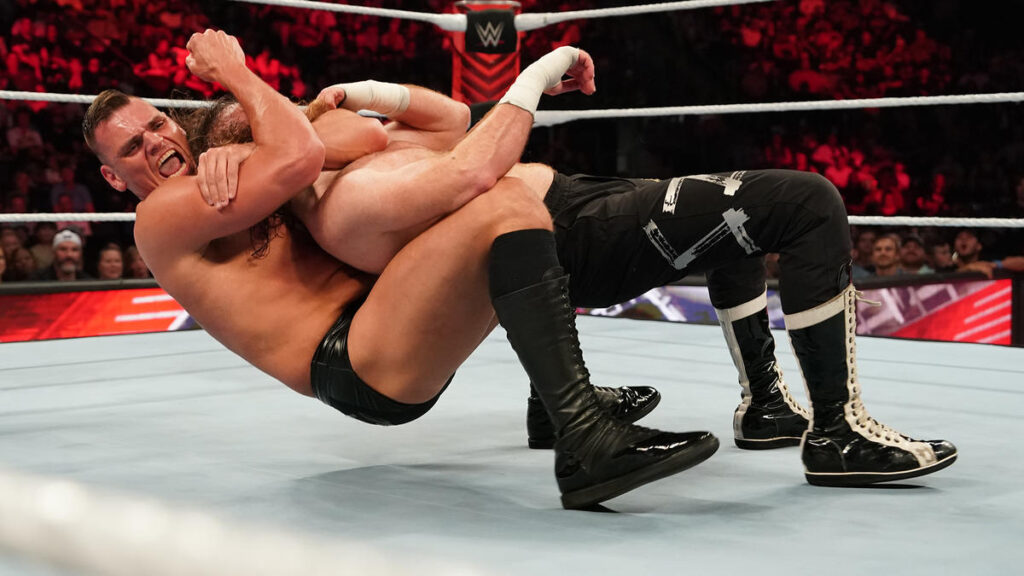 This programme has been a recent highlight of Monday Night RAW, with Gunther battling the tag champs on his road to Matt Riddle. Admittedly, that feels slightly backwards, but it's been a treat nonetheless. The latest entry came on the go-home RAW before Money in the Bank, as Gunther battled Sami Zayn. Much like the Owens matchup, this is an obvious pairing, with Gunther and Zayn allowing for a simple formula: one of the game's heaviest hitters unleashing on a simply unparalleled punching bag.
Inevitably, that's the form this takes, too. However, they do get things underway with something steadier, capturing a nice sense of contrasting tactics for the opening act. It isn't a firefight at the bell, instead allowing Gunther to take control via headlock. On the other hand, Zayn's earliest signs of success come from an uptick in speed, giving the match an almost cat and mouse nature. We lose some of the heat to an ad break, but there's an increasing intensity as we return.
Each Zayn fire up earns a violent retort, with Gunther frequently swatting him back to the mat. Zayn's defiance only encourages him in fact, as we head to that presumed destination with Gunther steadily going through the gears. Before long, he's absolutely drubbing Zayn, seemingly increasing the power behind each blow. As usual, Zayn is at home in that role, using his innate knack for sympathy to make every strike count. Better yet, his efforts also set the stage for a dramatic comeback.
That arrives via sunset bomb, with Zayn then thriving in the chaos, ratting Gunther as the match devolves into a frenetic shootout. It's a classic babyface performance from Zayn, one of the era's great protagonists. Even with the obvious wear and tear, he's still very much capable of producing quality, making the absolute most of this twelve minutes with one of the world's best. Speaking of such, Gunther is unsurprisingly superb, adding yet another hit to his catalogue.
I don't follow the RAW and SmackDown products closely, but it truly feels as though Gunther's move to the former has resulted in an obvious shift. In that sense, Gunther is one of this roster's few truly unique pieces, bringing a singular quality to his home brand. If nothing else, the extra hour allows that to be utilised even more frequently on RAW also, only cementing Gunther as the promotion's lead worker. Really good match, lovely television wrestling.
Baron Corbin vs. Carmelo Hayes (NXT Gold Rush)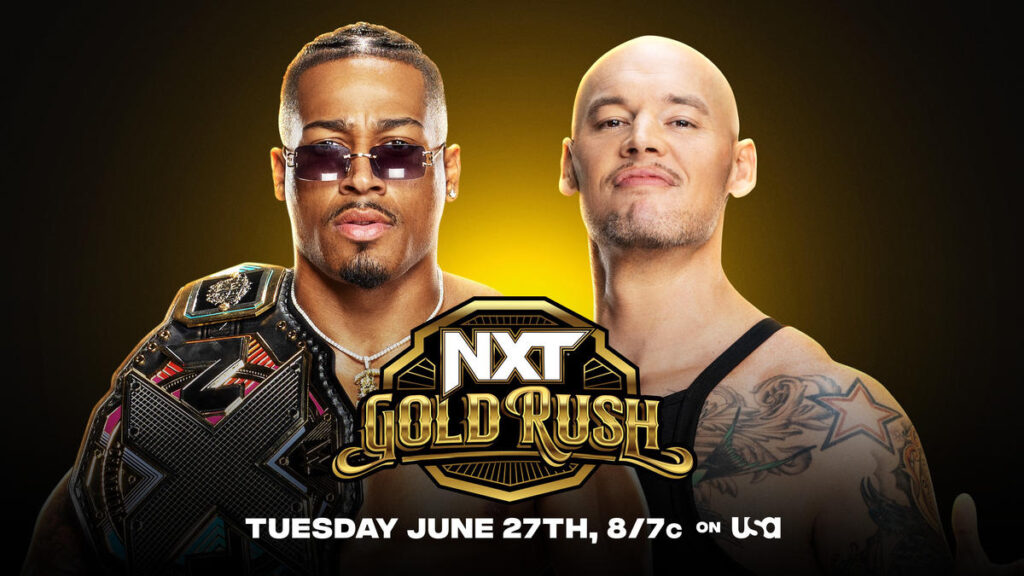 I've always liked Baron Corbin. Well, liked seems slightly dramatic, but I've always believed him to be pretty good, at least. Unfortunately, Corbin is one of the most overexposed wrestlers in recent memory, regularly being slotted as a brand's main character. That isn't his fault though, and Corbin has still produced some decent performances, even without setting the world alight. Throughout the years, Corbin has been particularly impressive in multi-man matches, with the King of the Ring Final against Chad Gable probably being his strongest singles effort.
As of late however, Corbin has appeared somewhat disengaged, sliding down the card before recently returning to NXT. That move brings him to the Gold Rush main event, challenging Carmelo Hayes' for the third brand's big belt. Thus far, I've liked the idea of Hayes more than what I've actually seen. He's an engaging personality with unquestionable charisma, but I've yet to see surefire superstar in terms of the total package. Considering all that, this is quite the triumph, for my money.
The dirty little secret about Corbin is that he's actually a quite capable offensive wrestler. He's a big man who can move, bringing some nice bombs to the table also. Thankfully, those traits are on display here, rather than crowbarring Corbin into an extensive heat segment. Instead, they mostly go back and forth, organically establishing their David and Goliath dynamic along the way. Don't get me wrong, it's not always silky smooth but it doesn't have to be, especially at Corbin's size.
Either way, he really makes an effort to match Hayes' output, producing some strong back and forth action. That's Hayes' domain, shining bright on offence and taking big bumps for Corbin's retorts. It's an exciting watch, armed with the content to comfortably fill its sixteen minute runtime, which is no mean feat considering the pace. Again, it's no outright sprint but they're putting in serious effort here, trying their absolute best to surprise people and emphatically succeeding.
Certainly, that element of surprise is the match's greatest strength, with Corbin's approach providing a unique novelty. Even on rewatch though, it's an enjoyable experience, wrestled with spirit throughout. I don't actually think it's quite as good as Corbin's aforementioned outing with Gable, but it's a different kind of hit. This match feels like a glance at Corbin's raw ability, much of which has been lost within his main roster presentation. Perhaps this'll be his new norm with the Lone Wolf reboot, time will tell.
As for Hayes, it's a really nice addition to his catalogue, overdelivering as champion opposite a contender who many dismissed. I'm still not totally convinced by his ability in more traditional title tilts but in this environment, he's at home, really going through the gears on offence. Good match, with both champion and challenger proving a point in the process.
Jon Moxley vs. Tomohiro Ishii (AEW Dynamite)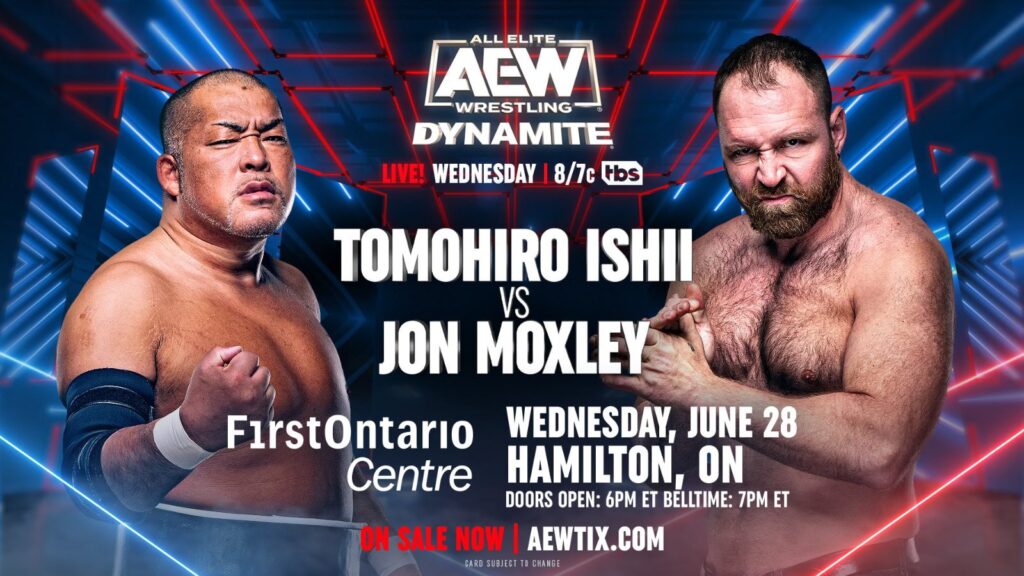 In 2019, Jon Moxley and Tomohiro Ishii shared a G1 thriller, producing a match that set the tone for the former's post-WWE reinvention. Four years later, they meet again, recently re-introducing themselves via multi-man tags. As is usually the case with scenarios such as this, it's very much a greatest hits take on their original match, which was the right choice. This is a Dynamite opener, not the Korakuen Hall main event, even if they manage to make you question that on occasion.
Must say, there is a real charm to Ishii in AEW, almost always entering to a star reaction. That assists the match, allowing familiar spots to pack an extra punch. They certainly are familiar too, as Ishii has an increasingly clear routine anyway, with Moxley not being the opponent to stray away from that path. Thankfully, these two have obvious chemistry and even beyond that, hit each other hard enough to keep you engaged throughout.
They achieve some things here also, with Eddie Kingston making his entrance to prevent any interference. AEW has many strengths, but doesn't always nail these situations, sometimes focusing so much on the surrounding players that it takes away from the match itself. That wasn't the case here, with Kingston's dynamic opposite Claudio Castagnoli being mostly limited to a stare down, serving as a backdrop while still developing that angle. It's effective, but not overbearing.
During picture-in-picture, Moxley takes a brief control segment, with Ishii ultimately firing up for a big knockout blow. From there, the match steadily escalates, pairing the bombs with an uptick in pace. The increasing intensity brings an inevitable violence to the bout, going far enough in that direction to escape my prior 'greatest hits' description. That phrase still fits the content itself, but it's now covered in blood, as they share sickening headbutts in centre ring.
The finishing stretch is especially exciting, with Ishii's usual defiance only winning more fans. By the end, it's a war, feeling like a worthy sequel to their 2019 bout, even without threatening to surpass it. Again though, that was never on the cards here in truth, and they worked the perfect match for this situation. It's another hit for Ishii in AEW, once again delivering against one of the promotion's top guys. His greatness is built on an extraordinary reliability, hardly ever failing to meet expectations.
In addition, it was noticeable that before this, Moxley hadn't wrestled a singles bout for a while, relatively speaking of course. This was his first since the May 10th cage match with Kenny Omega, only wrestling one in April also. That gave this a certain bite that was fading slightly in 2022, as Moxley sent back a contender almost every week. Either way, a very good match and almost more importantly in this case, superb television, an opener that only Dynamite could offer.
Roman Reigns & Solo Sikoa vs. The Usos (WWE Money in the Bank)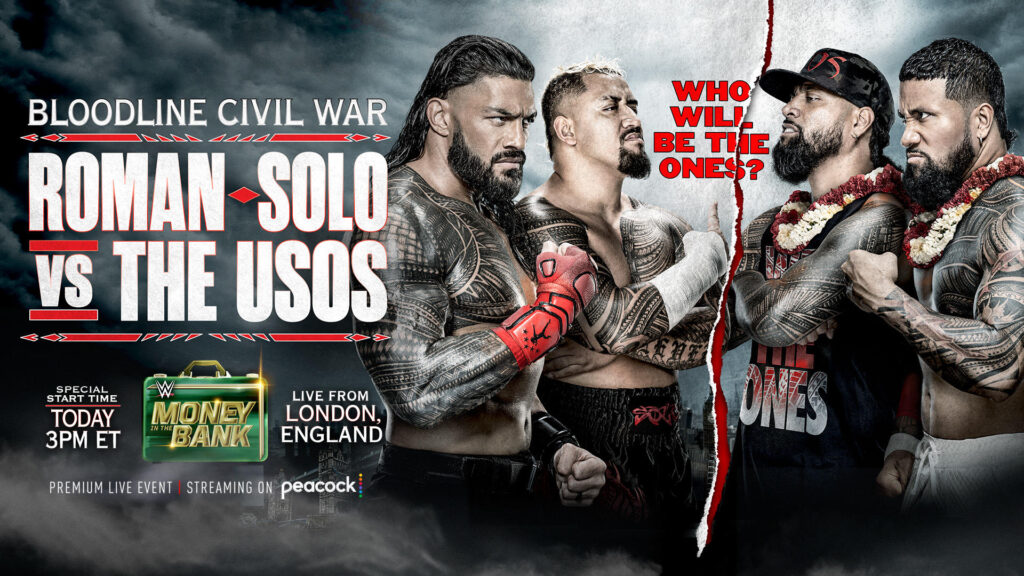 A few match guides ago, I acknowledged the current Roman Reigns formula. That night, he and Solo Sikoa challenged for the WWE Tag Team titles, taking their time with crowd work before exploding into a finishing stretch. It's a match that in 2023, only Reigns can successfully wrestle, reliant on the aura both built by booking and earned with presence. The final acts are anything but minimalistic, though that term certainly fits the meat of these matches.
The crowd investment is such that they can really slow things down, doing just enough to keep the people engaged as fireworks await. If anything, Saturday's match with The Usos is an even more extreme example of that than the bout with Kevin Owens and Sami Zayn was. Jimmy and Jey barely get a shine, with the latter eventually taking a beating before his brother's presumed hot tag is halted in an instant.
It's been quite some time, but that's a spot The Usos always liked as babyfaces, most famously using it in their 2-out-of-3 falls classic with Luke Harper and Erick Rowan. Here, it's portrayed via knockout blow, as Jimmy is flattened by a thudding Sikoa forearm. The heat on Jimmy is so prolonged that it's hard not to wonder if they're losing the live crowd, but they're still very much there, especially as they increasingly tease a tag.
Even still, it's not an exactly electric first half, but Jey's eventual hot tag quickly makes up the difference. He was on fire in London, embracing the audience's adoration and really going through the gears. That comeback transitions the match towards its big finish, blending The Usos' usual near falls with Reigns' recent formula. That brings shenanigans, but only after some fabulous wrestling drama, pushing false finishes just far enough that they test even the most cynical fan's instinct.
Within those momentum swings, there are some pivotal character moments, including Reigns' fragility being exposed to Sikoa in the heat of battle. In addition, there's a callback to Jey's 2020 meetings with Reigns, where this whole saga began. Like so many great wrestling finishes, it's a situation in which the audience collectively reaches the same conclusion. The impossible becoming inevitable, an emerging moment that feels no less surreal as it arrives. Those moments are simply magical, no matter the circumstance.
It's a very good main event, one very much in the mould of Night of Champions' tag title tilt. Unsurprisingly, it's probably even more reliant on investment than that one but either way, the finishing stretch packs a serious punch. The Usos have had much more exciting matches through the years, but WrestleMania main event aside, it's hard to imagine any of them will be remembered quite like this one. It's not a perfect match, but it is a perfect moment.
Now, as many of you will know, I was actually in attendance for this match. It was important to me that I still reviewed it as I would any other, as I'm so truly thankful for the opportunity to produce this each week, let alone have it willingly promoted. With that being said, there is nothing quite like losing yourself in pro wrestling. It's not something that I experience too frequently these days and that's fine, inevitable even.
Saturday was a special experience though, as almost 20,000 people rooted for a result, nothing more, nothing less. With that came a drama, a desperation for the good guys to prevail. There was a sense of dread as Reigns and Sikoa steered the ship, a palpable panic as they threatened to close the show. Usually, I'd be thrilled to even experience an atmosphere such as that, but it was truly a treat to come along for the ride.
I was there with them, encouraged by every comeback, delighted by each show of defiance. That's a special feeling, the pursuit of a happy ending. I have no intention of framing this match as some generational masterpiece as personally, that's not what I saw. I did see something special though, a match that had the people's hearts in its hand, a match that I'll remember for some time. Wherever your investment lies, these are the experiences that keep us coming back, regardless of promotion.
It isn't for everyone, but this Bloodline angle has captured something increasingly unique. They've earnt an emotion that transcends the era's expectations, an investment that escapes the current norm. That's a hard thing to portray in something such as this but on Saturday, I felt it. There's something magical within this formula, an authenticity that allows it to stand so separate from the rest. I'm still not certain of the exact answer but at Money in the Bank, I certainly experienced it.
Roderick Strong vs. Samoa Joe (AEW Collision)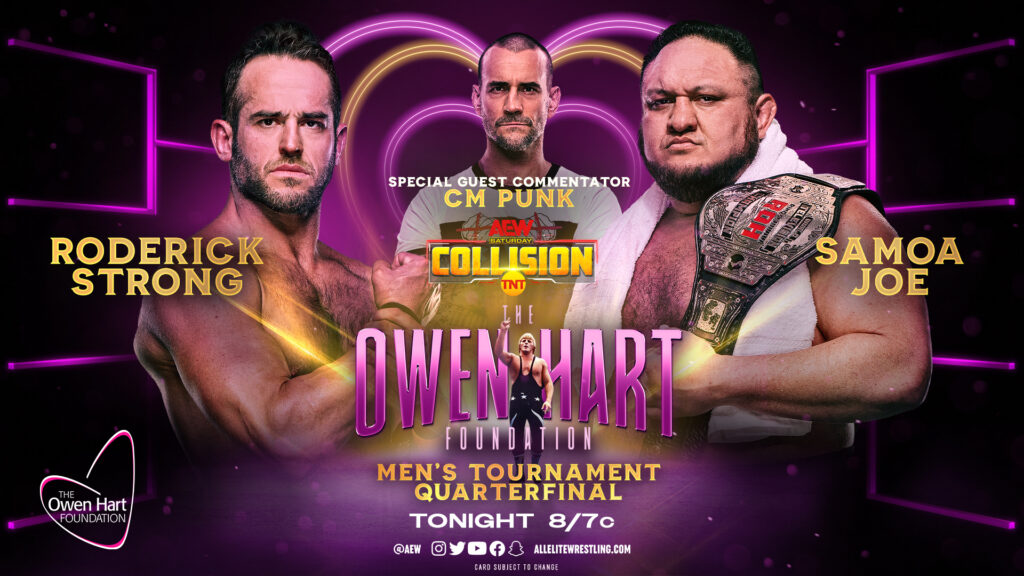 In 2004, these two shared a famous match, relatively speaking of course. That night, they battled in the Ted Petty Invitational's first round, with Joe ultimately advancing. Almost two decades later, they meet again, closing a major television show in yet another tournament's opening round. This time, it's the Owen Hart Foundation tournament, as CM Punk awaits in the semi-final. These two haven't battled since a 2017 NXT loop, with this being their first singles match since 2006.
Even still, the chemistry remains immediate, as Joe and Strong set the tone with physicality at the bell. It's not positioned as an outright slugfest, but that's still a frequent theme throughout. Ultimately, it's a match about preparing Joe for Punk, restoring any aura that had been diminished previously. In truth, Joe didn't need much help in that regard, comfortably protecting himself and even being rejuvenated since stepping under the AEW umbrella last April.
As a result, this match has as much of an atmosphere as anything on Collision, with the audience embracing Joe's dominance. As you'd expect, Strong is unmoved by the response, battling on defiantly as a plucky babyface. Everyone agrees that Strong's ultimate form is as a spiteful heel, but he's incredibly underrated in this role also. Strong's sheer intensity allows for a natural babyface, especially when climbing up a mountain such as Joe. Organically, he wins this crowd over.
It's all about Joe though, projecting sheer menace as steers the ship. Strong makes him earn it too, using every inch of space to fire away, producing windows of enthralling fireworks. They find a perfect balance in that regard too, as Strong matches Joe where necessary without undercutting the bout's purpose. Instead, it's always clear that he's outgunned, bumping for single blows while needing quantity to even trouble Joe. Here, the ROH TV champ is presented with such reverence that by even competing, Strong feels elevated.
Overall, it's a very good television main event, achieving a lot in its thirteen minutes and further establishing Collision's identity. It's another impressive outing for Joe also, who continues to seem incredibly motivated in this setting. Certainly, it's a more deliberate pace than what his physical prime allowed, but it's still undeniably effective. Joe shined bright here, establishing himself as Saturday nights' lead antagonist while as usual, Strong played his role to perfection.
Yuji Nagata vs. Yuma Aoyagi (AJPW Dynamite Series)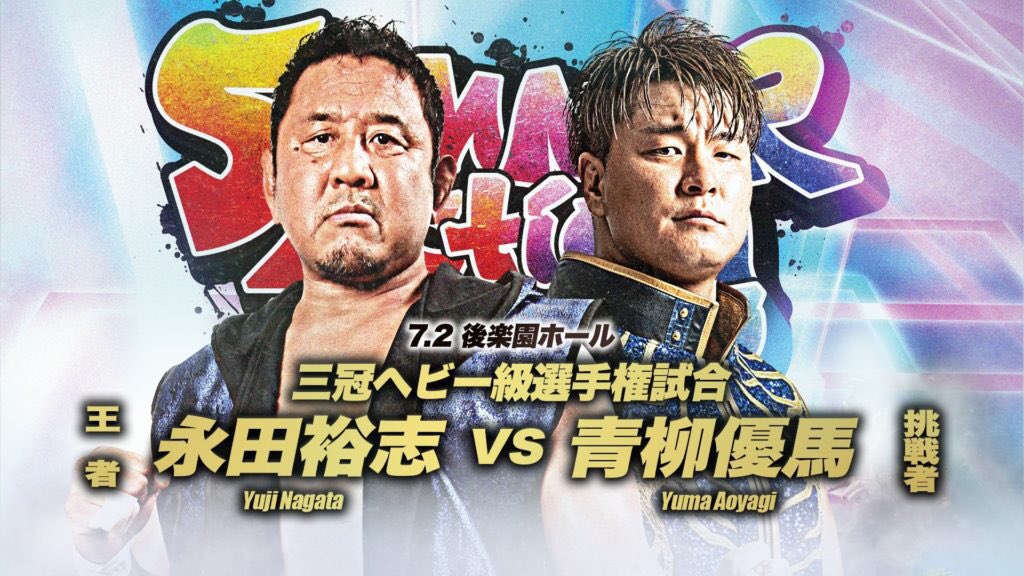 In February, Yuma Aoyagi challenged for the Triple Crown Title in one of my favourite matches of 2023 thus far. That night, he was once again sent back to the drawing board by Kento Miyahara, failing to unseat All Japan's ace for the third time. Even still, it was clear in February that Aoyagi's pursuit was still progressing, leaving the impression that it was a matter of when, not if. In the match's final moments, Miyahara's grip simply couldn't be broken, closing the show with his belt still barely intact.
In the five months since though, things have changed. Miyahara's reign met an unlikely end just two weeks after that Aoyagi defence, being toppled by a 55 year old Yuji Nagata. Now, in his fourth defence, Nagata meets Aoyagi, looking to win the title with his sixth attempt. To Nagata's credit, he avoids feeling like a mere hurdle in that journey however, producing yet another remarkable performance after an over thirty year career. Once again, he's outright good here too, regardless of age.
There's this wonderful sense that though his youth provides many advantages, Aoyagi is fighting uphill mentally. This is just another match for Nagata while his challenger is almost wrestling himself at times, desperate to finish the story, if you will. By contrast, Nagata is very matter of fact at the bell, only going through the gears in response to some initial bravado. Even still, Aoyagi's aforementioned advantages are obvious, overwhelming Nagata early but being slowed by the champion's tactical knowhow.
Nagata targets the arm extensively, setting up his finish and finding a deliberate pace. His control brings a palpable desperation out of Aoyagi, the walls seemingly closing in on him. Again, Nagata is terrific here, working with such purpose and really steering the ship seamlessly, challenging Aoyagi to step up along the way. That eventually sets the stage for a timely retort, with an uptick in speed swiftly erasing Nagata's edge. Aoyagi's comeback looks great, but does come at the expense of Nagata's work on his arm.
That intended centrepiece feels inconsistent as a result, slowly fading to the background as momentum swings back and forth. Thankfully, the work is good enough to at least somewhat forgive that flaw, especially with the pace they're pushing. It's a really lively title tilt, feeling refreshingly low on excess. Better yet, they find two different rhythms within that presentation, with the pace often deciding who's in control. It flies by, ultimately sporting genuine drama as they reach the finish line.
It's a very good match, bordering on great in its finest moments. Ironically, it's not my favourite Aoyagi performance, as I actually think he's shined brighter frequently throughout the year. Luckily, Yuji Nagata is in rare form, producing a quite staggering effort as champion. Either way, I enjoyed this an awful lot, a 21 minute main event that kept me thoroughly engaged throughout.
MIRAI vs. Tam Nakano (Stardom Midsummer Champions)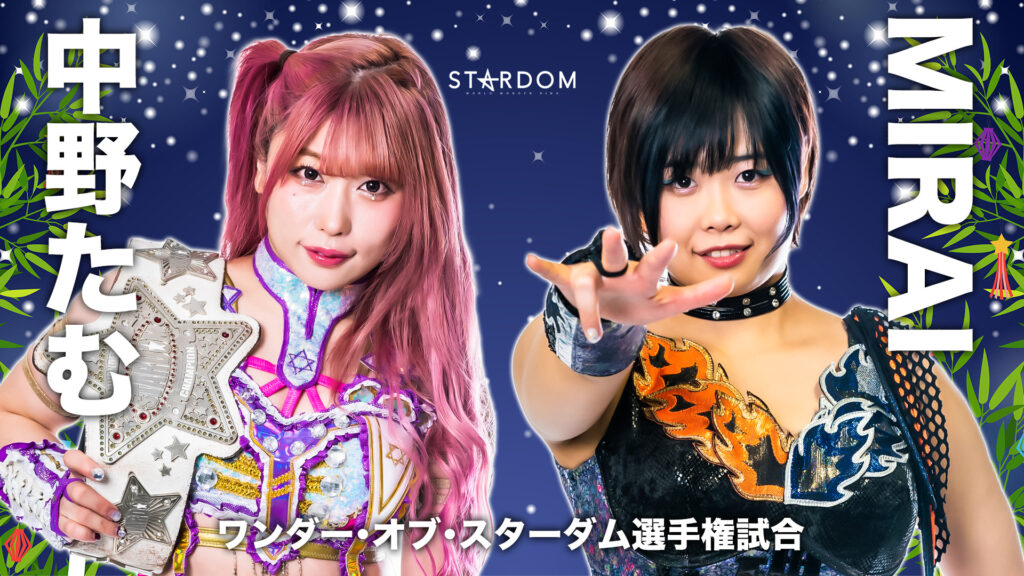 Even from the outside looking in, I'm aware that this one comes surrounded by debate. Stardom's Wonder of Stardom title has been handled somewhat divisively in recent months, with this stop being the latest topic in that conversation. Tam Nakano enters this match as champion, recently dethroning Mina Shirakawa only a month and change into her reign. That made Nakano a double-champion, with the World of Stardom belt also over her shoulder.
That brings us to her first defence as Wonder of Stardom champion, meeting MIRAI. Only four years or so into her career, MIRAI has become a somewhat polarizing presence, with many questioning her continued push as a major player. However, this is not the booking booklet, nor is it the creative crackdown, it's the match guide, so with that groundwork laid, I'm intrigued by the bout itself. Certainly, it's no slow burner, setting the tone with thunderous forearms at the bell.
That physicality is accompanied by palpable rage also, with MIRAI even dismissing the referee as she seeks an early finish. In response, Nakano wrangles her via headlock, then putting a sudden end to the onslaught with a timely suplex. That allows an exhale of sorts for the champion, finally resetting things after being rocked in the opening moments. Nakano doesn't admire her work for long either, quickly using the advantage to match MIRAI's nastiness, quite violently chipping away at her.
That portion is brief however, being halted for the mandatory ramp spot. Along the way, they slightly lose that initial intensity, with MIRAI taking much of the middle act. The segment itself is decent enough, it just feels somewhat distant from that opening burst. Even still, MIRAI's continued control brings a captivating desperation out of Nakano, fighting for her life in the final act. That elevates the match, with Nakano's work packing an extra punch as she tries to escape the jaws of defeat.
They trade submissions late, producing two strong false finishes in which they wait just long enough to earn some doubt. Even still, it does feel as though they're chasing an amount of drama that's not quite in reach, almost willing the match in that direction. Either way, the work is rock solid, even returning to that original shootout in the final moments. MIRAI feels unstoppable in that domain, earning an onslaught from Nakano and still pushing forward.
There's a lot to like here, especially in terms of outright physicality. I do think it's slightly disjointed at times, lacking the connective tissue that allows these extended title matches to truly explode. They open and close in grand fashion though, sharing intense exchanges in both segments. Very good match, even if one that falls slightly short of its aspirations in that regard.