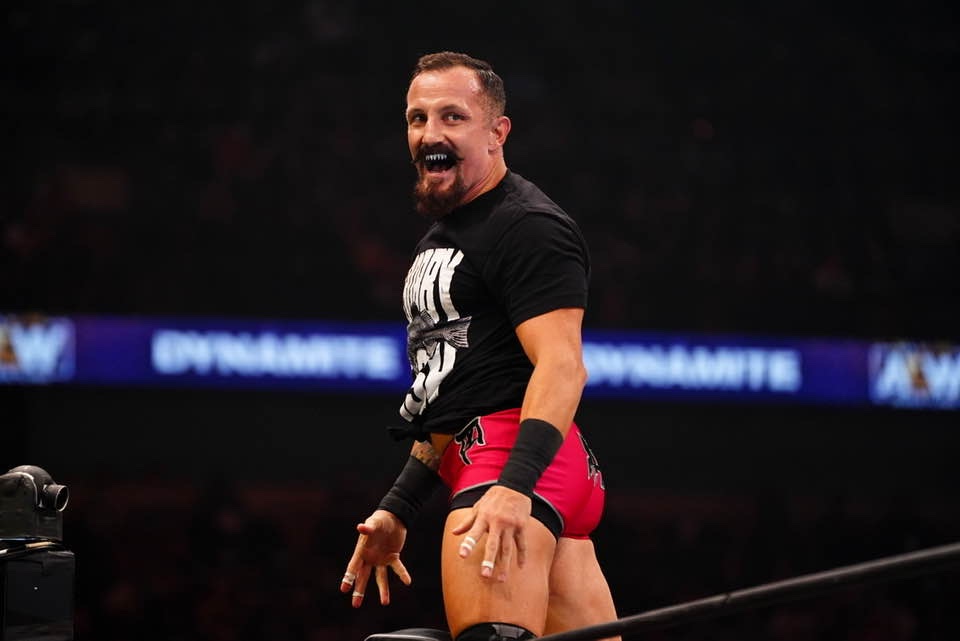 Bobby Fish gave a deep dive look at the way he personally feels about his place in AEW.
Multiple weeks ago, The Undisputed Elite made their split official from The Young Bucks when Bobby Fish, Adam Cole, and Kyle O'Reilly betrayed the team of Matt and Nick Jackson, only for Hangman Adam Page to make the save. Of the three members of The Undisputed Elite, only Bobby Fish is currently medically cleared, while O'Reilly and Cole are still confidently recovering from various injuries.
During a K & S WrestleFest Virtual signing that featured The Undisputed Elite's own, Bobby Fish spoke honestly and pulled no punches when it came to how he feels he is being used in All Elite Wrestling, he also made mention of his newly debuting 'Undisputed Podcast' that will be available on podcast platforms in the near future.
One of the virtual viewers of the virtual signing stated that they felt The Undisputed Elite should be main eventing episodes of Dynamite and Rampage regularly. Bobby Fish doubled down and agreed before he went on to mention how its the responsibility of the employer to know how to adequately use their host of talent. Fish added that since they're being paid by AEW they should at least be getting the best out of them. According to Bobby Fish, its up to AEW to decide whether they're being utilized most effectively.
"I have to agree (Fish responded to a commenter who noted that he, Adam Cole & Kyle O'Reilly should be headlining shows ). I certainly agree. I mean what it comes down to, we've all been doing it a good long time and we'd have to be numb in the head and that's the most political way I can put it to not be good at what we do. So, I know for a fact that myself, Kyle and Adam all do what we do at an extremely high level whether that's together or separate and it's our employer's job to know what to do with that. So, frankly it just comes down to, like, figure it out, utilize your talent and we're getting paid, use us the way you can best utilize us. Get the most bang for your buck and whether that's happening or not currently is — I don't know, it's up for debate. In his (commenter's)"

Bobby Fish
Bobby Fish continued but elected to speak solely for himself, and not for Adam Cole, nor Kyle O'Reilly. Bobby went on to admit that he knows his own worth and feels that he deserves to be booked in a specific way but admits that the bookers themselves have to have an understanding of the talent they posses.
"I'll just speak for myself and not speak for Kyle and Adam. I should be utilized a certain way and if my employer doesn't see that, then that's bad on them. Know the value of your talent and that's just being good at booking wrestling."

Bobby Fish
One of the hosts of the virtual signing expressed how they believed Bobby Fish may have been debuted in AEW just to put over other members of the roster. Bobby Fish responded by mentioning how being the one to consistently put people over will only get you so far, and as talents lose credibility wins mean less and less from that person.
Bobby Fish went on to express that he knows how valuable he is and believes that he should be being utilized properly by whomever is booking him.
"The thing is-is if you do nothing but put people over, putting people over doesn't mean anything anymore, so you lose your value so being able to utilize your talent is knowing how to balance those things. I'm like any other wrestler. I'm not gonna say I'm my biggest fan but I have spent 20-some-odd years learning this craft and I do it well and nobody's gonna tell me that I don't and I've spoken enough to the people I watched growing up who have paid compliments and to me, it's even somewhat surreal to hear guys that I watched growing up, comment in a positive way about the way that I do the business that they used to put food on their table, so I know I'm f*cking good. I'm not gonna mince words, I know I'm good. So if you're the person paying me and booking me, use me properly."

Bobby Fish
Bobby Fish's last match for AEW was on the 7/18 episode of AEW Dark, whereas his last TV match came in the form of a loss to Darby Allin.
H/T to POST Wrestling for the transcription