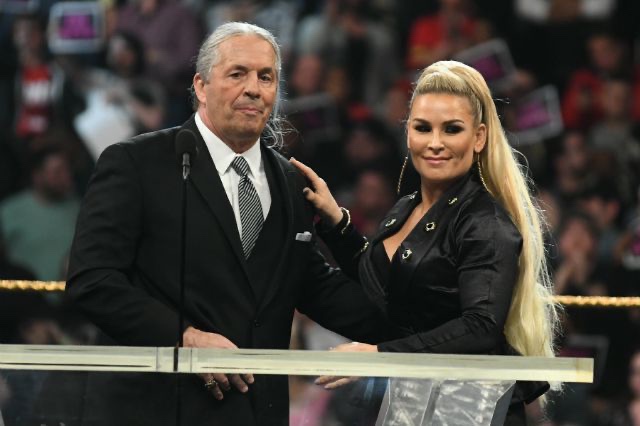 Bret Hart is considered by many to be one of, if not the, best professional wrestlers of all time, although he's not the only star from his family to have made a name for themselves in WWE.
Another Hart family member that has made waves throughout WWE is his niece Natalya, and the Hitman has always spoken affectionately about the former Smackdown Women's Champion.
2022 marks Natalya's fifteenth year as a member of the WWE system, making her one of the longest serving members of the active roster. Bret Hart recently spoke to Sportskeeda, where he claimed that his niece is a pioneer in the world of wrestling.
"She's a pioneer, breaking new ground every day,"

-Bret Hart
Throughout her career, Natalya has utilised the Sharpshooter as a finishing maneuver to pay homage to her uncle, although it has often appeared far less effective than the former WWF Champion's version.
Hart jokingly responded to Sportskeeda when asked about the differences between the two Sharpshooters, providing his opinion on the reasoning behind the difference in effectiveness.
"You have to talk to the writers [laughs]."

-Bret Hart
Despite history proving that Natalya's edition of the Sharpshooter is often far less effective than Hart's version, the maneuver proved more than effective on this past Friday's edition of Smackdown, as the move caused Ronda Rousey to suffer "a serious injury".
Bret Hart recently made headlines throughout the wrestling world as many speculated that the WWE Hall of Famer could potential be AEW bound.
Whilst these rumours never came to fruition, AEW were able to honor Hart's late brother Owen via the inaugural Owen Hart Foundation Memorial Tournament. Hart was asked by Sportskeeda how he felt about the first edition of the tournament, stating the following:
"I'm happy to see Owen remembered in any way. It was very nice."

-Bret Hart
Whilst future plans regarding a potential Bret Hart appearance in AEW remain to be seen, her niece Natalya will be in action in the upcoming Money in the Bank premium live event, as she's set to take on Ronda Rousey for the WWE Smackdown Women's Championship.