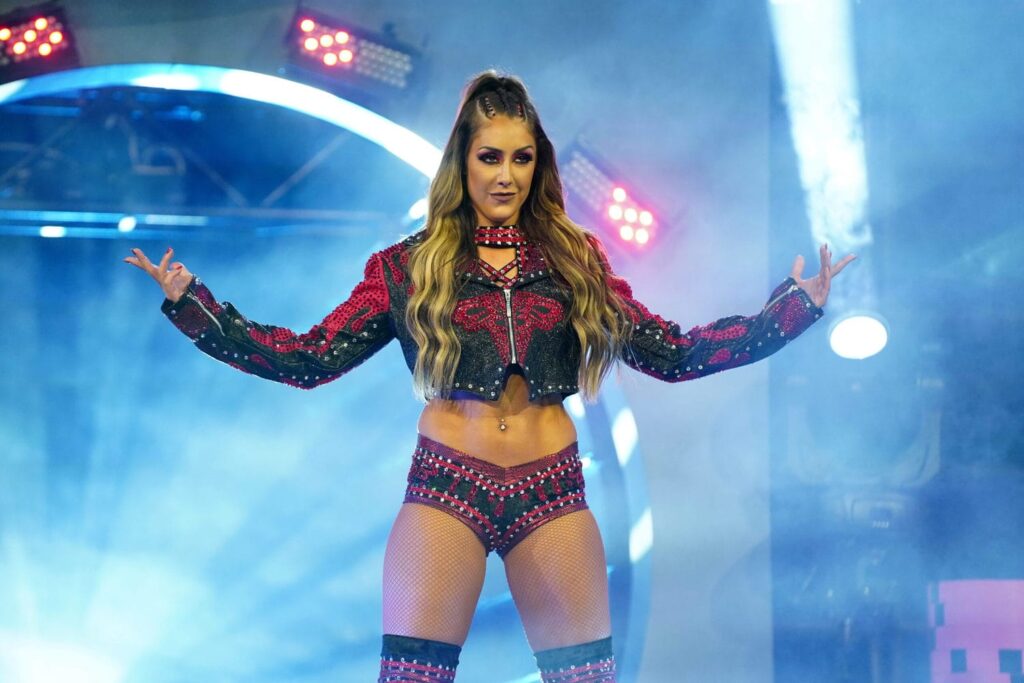 Britt Baker has solidified herself as one of AEW's biggest stars across both the men's and women's divisions since joining the company, with her reign as AEW Women's Champion cementing herself as the face of the division.
Baker's reign came to an end at St Patrick's Day Slam on March 16th at the hands of her long-time rival Thunder Rosa, and in a recent interview with Forbes, Baker acknowledged that it was time for a new star to take the reins.
"We have so many talented women that I can take a step back…I got to sit back and watch everyone else have their moment and watch everyone else rise. Sometimes you're going to be up, sometimes you're going to be the focus. Sometimes, you're not. Its somebody else's turn, and that's OK."

-Britt Baker
Whilst Baker currently finds herself away from the AEW Women's Championship picture for the time being, she is involved in the inaugural Owen Hart Foundation Tournament, with her sights set her upcoming semi-finals showdown with Toni Storm on this Wednesday's edition of Dynamite.
Baker noted that she's honoured to be a part of the first edition of the tournament, and hopes to go down in history as the first female victor.
"I'm obviously in the mix for the Owen Hart Foundation Tournament, and that's something that I think is really, really special and really, really cool. I want to have a really big role in that, and I would love to be the first female to win that tournament."

-Britt Baker
Baker also commented on Storm ahead of this upcoming tournament match, stating that AEW were very lucky that Storm fell into their hands the way that she did, labelling her semi-finals opponent as a star.
Baker's ascent to the top of AEW's women's division wasn't a journey she made on her own, as she has been aligned with both Rebel and Jamie Hayter along the way. Baker believes that her on-screen pairing with both Rebel and Hayter has been "mutually beneficial" for everyone involved, although she goes on to note that Hayter's personality and charisma will likely lead to her eventually walking her own path.
Despite playing the role of a heel, Baker has often been one of AEW's most popular stars in terms of fan reception. "The Doctor" however still considers herself a heel, although she admits that the fans often stray from the designated character roles and cheer for who they want to cheer.
"Villains are becoming more and more relatable in movies and TV and in wrestling. In every wrestling company across the board a lot of the heels get cheered. With that being said, I still consider myself a heel. It's really hard to predict crowd reaction with babyfaces and heels because the lines are so blurred, and it has nothing to do with the booking or the character work. It's just the fans. They like what they like."

-Britt Baker
Baker touched upon the first time she truly felt as though she connected with the live audience, noting that she believes that the go-home show before 2021's Double or Nothing PPV sparked the connection between her and the fans.
"I cut a promo and I signed off, 'Yours truly, Dr. Britt Baker, D.M.D.' And it was the first time that the crowd was there and they did it with me, and I had never had that before…So it almost made me stop dead in my tracks. I was like, oh wow. That's really cool. It really made me feel like I was finally clicking with the fans."

-Britt Baker
Despite Baker's connection with AEW fans remaining strong to this day, a load minority often cross the line, leading to some negative interactions that Baker would rather live without.
"I think people just go on to Twitter just to be heard in a negative way. They just want to say something nasty and hateful and mean, so they will go on to Twitter for literally no [other] reason and they just say it and make sure they tag you in it, too."

-Britt Baker
Baker's comments regarding online abuse come almost exactly two years after the passing of Hana Kimura. Kimura was one of the fastest rising stars across the wrestling world and seemingly had the world at her feet, although a serious of malicious online attacks led to her tragically taking her own life in 2020.
Baker noted how "horrible" some so-called fans can be, an encouraged those online to keep any thoughts that may be harmful to others to themselves.
"We've had people in the industry kill themselves over cyberbullying, and you'd think that that would be enough for people to wake up. Keep your mean thoughts to yourself. You know, the body-shaming and telling me I should go kill myself because I beat so and so in a match, it's just really, really horrible and toxic."

-Britt Baker
One recent example of an AEW angle recieving a less than favourable reaction from the AEW faithful is the on-screen pairing of real-life couple Sammy Guevara and Tay Conti. Baker's own partner, Adam Cole, is also a member of the AEW roster, although Baker revealed to Forbes that there are no plans for the pair to align in the future, nothing that both her and Cole can be at the top of their respective divisions on their own.
Whilst she admits that their joint "DMD Bay Bay" t-shirt was an "instant top seller", Baker reaffirmed her belief that the pair can thrive as solo competitors without needing to force their relationship "down people's throats".
The moniker 'Dr. Britt Baker, D.M.D.' is far more than a gimmick to Baker. It's reality. The former AEW Women's Champion also works as a dentist and is grateful to AEW for allowing her to pursue both financially stable career paths simultaneously.
"I have two stable financial careers, and I'm very fortunate that AEW gives me the opportunity to still be a dentist because it's something that I'm very passionate about. I went to school for eight years. I paid a lot of money, and I still have a lot of money in student loans. But I just didn't want to have to give that up at any point in my life. And if I do have to give it up at some point, then OK. But right now, I don't want to choose and I don't have to choose. Any other company in the world, this wouldn't happen. I wouldn't be a wrestler and a dentist. I would be a wrestler that was a dentist at one point."

-Britt Baker
With Baker seemingly financially set for the future, she revealed that her decision to call time on her in-ring career will eventually come down her being ready, a moment that seems distant as of writing, with Baker seemingly still within her prime.
Baker noted however that whilst she "hopes" that she's still in the midst of the peak of her career, the time will eventually come for her to consider a life after wrestling. She touches upon wanting to have children in the future, although she admits that she intends on staying within the wrestling industry in some capacity.
"I definitely want to have a family and kids in my future, so I'm not going to be wrestling forever, but I want have involvement in wrestling for a long time even if I'm not a full-time in-ring competitor."

-Britt Baker
If Baker's AEW career so far is anything to go by, the future is certainly a bright one for the Pittsburgh native, as the cornerstone of the AEW women's division looks set to have yet another red-hot summer.