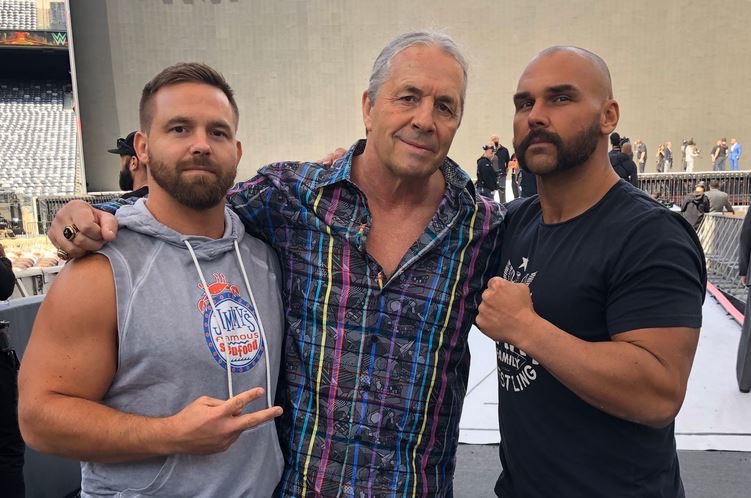 It's well known just how much certain members of the AEW roster have a great respect for and look up to Bret Hart. The Hitman was a revolutionary wrestler who inspired a generation of performers.
Though, very few people seem to admire Bret Hart more than FTR and they'll tell you that themselves. Hart will even accompany FTR to the ring on June 10 at Big Time Wrestling but Bret is mostly happy away from the team and doesn't have any plans to join them in AEW long term.
Speaking to Brandon Walker on Rasslin, FTR discussed their love for the Hitman and mentioned him not choosing to come to AEW.
"I think people can resonate with admiration for their heroes. Obviously, there is nobody on planet earth that has more admiration for Bret Hart than me. I can promise you, there is not one person. They'll try to (argue that someone else likes Bret more) and I'll beat the shit out of them. There is nobody that has more admiration for Bret because personally, without him even knowing it, he's done a lot of shit for me. I think people can resonate with that and they are like, 'these guys can meet their hero and work with their hero, I would love to do that.' That's what they want."

-Dax Harwood.
Cash then chimes in and discusses the one-off appearance that Bret will make with them and when this has happened before with other legends.
"Those are cooler for me. I would love for Bret to be here (in AEW) and do all that, but I would rather do one night, tuff like we're doing with Bret and (Mick) Foley. Dennis Condrey, the night after Bret. Those are cooler because it's one night, we get to pay our respect and be out there with these guys. As far as AEW and full-time, I'm happy it being me and Dax and doing our thing. We had a manager for a long time and now that we don't, I'm okay with it being the two of us and seeing what happens,"

-Cash Wheeler.
Recently, FTR fired their long term manager Tully Blanchard and have shifted their focus to presenting themselves as an act without a manager. This Wednesday, FTR will attempt to defend their ROH World Tag Championships against Trent Baretta and Rocky Romero.
H/T to fightful for the transcription