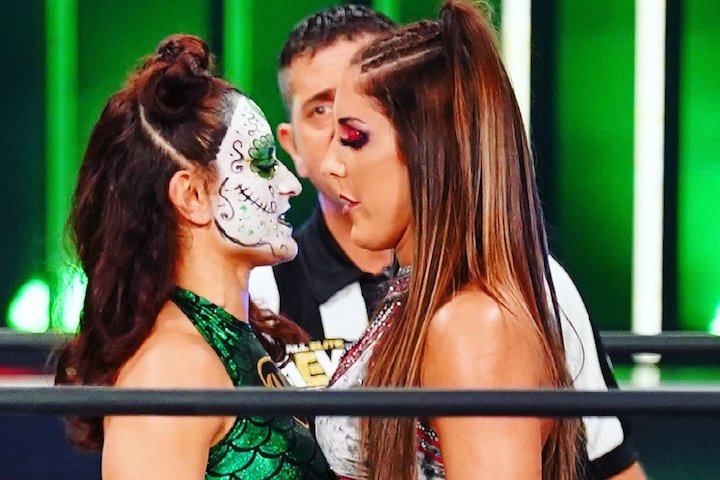 Earlier this year, AEW Women's World Champion Thunder Rosa appeared on the Under the Ring Podcast, where she reflected on her rivalry with former champion Britt Baker, comparing it to classic rivalries such as Stone Cold Steve Austin vs The Rock, as well as Lita and Trish Stratus.
During a recent chat with Sportskeeda, Baker had the chance to react to those comments from Rosa. Baker noted that whilst in kayfabe she can back the sentiment behind the comparison, in reality she doesn't believe that she can live up to the level of those rivalries mentioned by the current champion. Baker also jokingly stated that the world would be a better place if Rosa talked less.
"No, I think Thunder Rosa should talk the least amount as possible in wrestling and in interviews and in everything and the world would be a better place because she sounds stupid all the time when she says anything. That's what I think [Baker smiled]. No, I don't compare myself to people like The Rock and [Steve] Austin or anything like that. In-character, sure, I think I'm better. Dr. Britt Baker D.M.D. is better than anybody but when we're talking realistic storyline settings, I don't think anything right now that I could do would be at that level. Someday? I hope so, maybe and I hope and pray that I can have that type of impact on the wrestling world but, Thunder Rosa, most of the time when she opens her mouth, something stupid comes out."

-Britt Baker
Baker recently caused a degree on controversy online due to a backstage segment where she handed a sandbag to Rosa, alluding to the recent allegations of the AEW Women's World Champion sandbagging during a match with Marina Shafir. Baker commented on the backlash following the segment, seemingly poking fun at those who didn't like the reference.
"I don't know. It's — how do you prepare for flooding from thunderstorms? Sandbags. So I don't know what — I don't understand what the problem is or what people are so upset about so…"

-Britt Baker
H/T to POST Wrestling for the transcription.