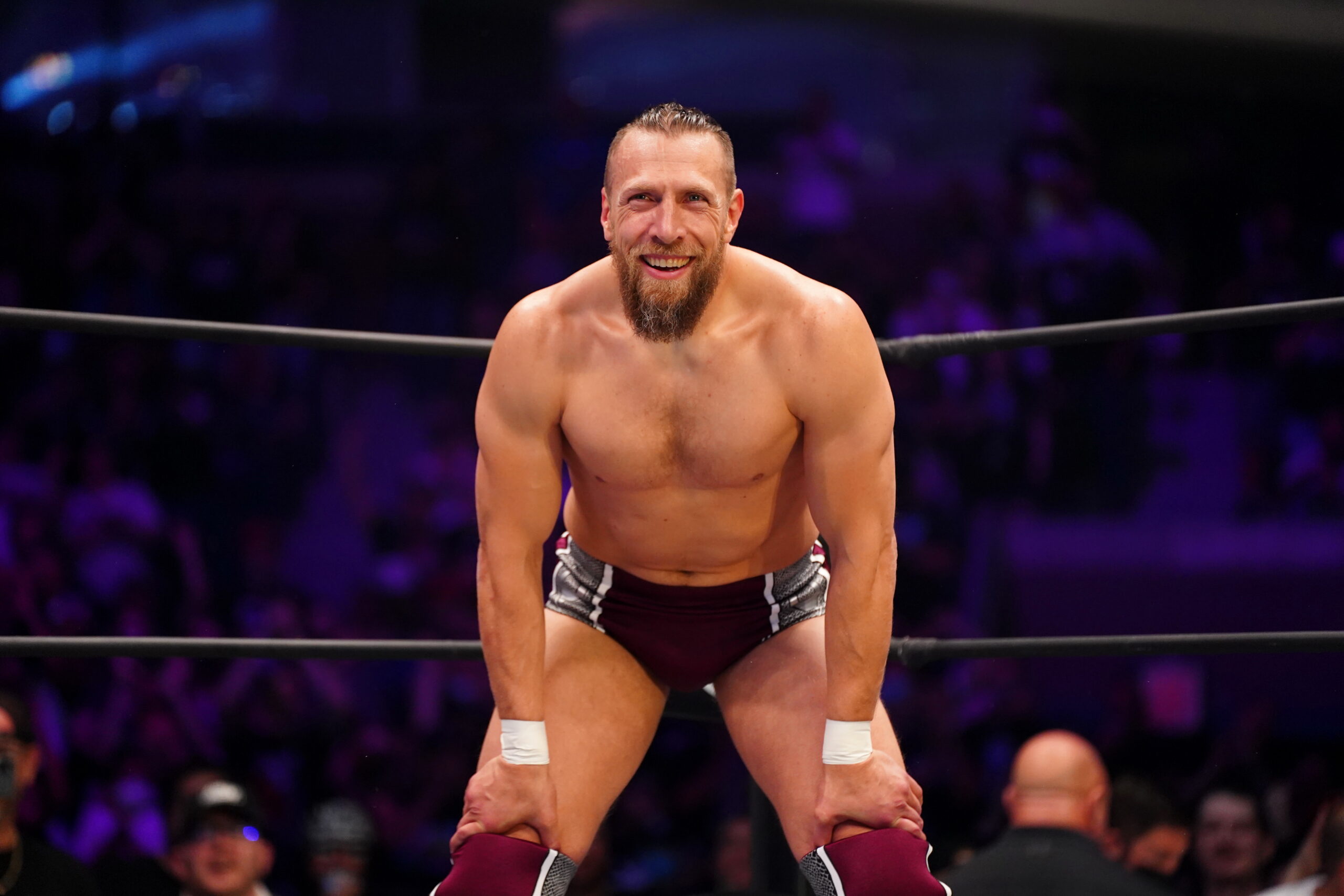 This Sunday at AEW's Revolution PPV, Bryan Danielson is set to challenge MJF for the AEW World Championship in a 60-minute iron man match. The former WWE Champion made waves almost two years ago when he first arrived in AEW, however, he's yet to grab his first taste of championship gold in the promotion, with many hoping that his long wait will finally end this weekend.
Speaking to Uproxx Sports, Danielson discussed the value of the AEW World Championship, stating that him being crowned champion would make him the man tasked with carrying the brand.
"The AEW World Championship is the centerpiece of the promotion. You can't say that about every wrestling company in the world, but you can say that about AEW. That's why guys like Jon Moxley have been considered the man in AEW for the last couple years, Kenny (Omega), a little bit after that. When you're the champion, you're the one in charge of carrying the company. And it would be … for really the first time since I was in Ring of Honor that I'd get the opportunity to do that."

-Bryan Danielson
Danielson revealed that he views being the face of a company as privilege, although he also understands the inherent challenge that stems from that level of responsibility.
During his time in WWE, Danielson (then known as Daniel Bryan) main-evented WrestleMania 30, capturing the WWE World Heavyweight Championship after defeating Triple H earlier in the night to earn his place in a triple-threat match with Randy Orton and Batista. Despite the undeniable popularity that catapulted Bryan into that position, he recalls never really feeling as though he was "the guy" for the company.
"After WrestleMania 30, when I had won the championship and just main evented WrestleMania, they had a meeting with me where it was like, 'Okay, what we'd really like is to do is to set this other guy up to be the guy,'" he says. "I think the phrase was the next John Cena. And I was like, 'I would like to be the next John Cena,' (and they said) nobody can be John Cena. I literally just main evented WrestleMania, and you're already telling me directly — and I actually appreciated that — that you don't see me as the guy. That's good for me because (I knew) this is what I have to overcome if I want to be that. I never got there in WWE as far as being the company's guy. When Ric Flair talked about to be the man, you gotta beat the man. In AEW, that's really how it is. To be the man, you've gotta be the AEW World Champion."

-Bryan Danielson
Danielson's decision to join AEW following his WWE departure involved much more than simply becoming the face of the company. Despite his love for being WWE's "best first match wrestler in the history of WWE", second only to Rey Mysterio who he deems an exception, Danielson saw more main event opportunities for him in AEW, with his current program with MJF being an example of this.
Speaking on his upcoming AEW Revolution opponent, Danielson admitted that whilst he's an asshole, he also puts in the work and is thoughtful about his craft.
"Everybody unanimously agrees that he is an asshole. So, you have to deal with that. But I'm ok with people being assholes. The one thing I want out of people is to put effort and thought into it. And MJF is very thoughtful and he loves wrestling."

-Bryan Danielson
Outside of his desire to main event more shows for AEW, Danielson pointed towards the opportunity to work with the company's rising stars, with the hope of passing on his knowledge to the next generation.
Some of the names the 'American Dragon' highlighted as hoping to work more with in the future included the likes of Darby Allin, Wardlow, FTR, the Young Bucks, and Dante Martin. Danielson also looks to make himself readily available backstage to give advice to the younger stars, noting that Daniel Garcia and Wheeler Yuta are the ones who are most often reaching out for mentorship.
AEW is also the home of several other veteran-like figures, with Danielson making a point out of highlighting The Blade as a veteran leader that few talk about. He also stated that the locker room is a blend of lightheartedness and "very good, serious conversations" about shared experiences, mental health, and how to navigate life on the road.
In terms of those Danielson views as having the capability to reach the level of stardom achieved in wrestling by the likes of Roman Reigns and Kenny Omega, the likes of Wardlow, Hangman Adam Page, Ricky Starks, and Daniel Garcia are all names he thinks can make it to the top.
"Where I got to in wrestling is partially because of working hard and being good at what I do, but also it's a lot of luck, too — luck in not getting injuries, luck in being at the right place at the right time. I felt like I've wrestled people who, if things fell into the same place, same kind of positions that I've been, could have been just as successful, if not more successful. And they never got those things right. And so, wrestling is not like basketball where if you score 25 points a game, somebody's gonna put you on their team in the NBA. Wrestling's not like that. In wrestling, it's not always the cream rises to the top. So, that's all of that to say with the right bit of luck, any of those guys could do it."

-Bryan Danielson
Danielson compares his love for professional wrestling to an artistic expression, like gardening, pottery, or playing music. He sees the business as a release that gives him the feeling of freedom, making it something he hopes to do for as long as he physically can. Priorities in life often change however, and with Danielson now being a family, wrestling is no longer his primary concern.
"You have to be smart because, MJF cut a promo on me last week saying you're not gonna be able to hold your children or play with your kids and all that kind of stuff. And one of my things that I'm very diligent with is working with neurologists to keep an eye on how I am physically, from a brain perspective, at all times. I'm constantly getting checkups on it. My number one priority, more so than wrestling, is my family."

-Bryan Danielson
With his health at the top of his mind, Danielson believes his decision to join AEW allowed him to very easily change his in-ring style and extend his wrestling career.
"(WWE) hires these enormous humans, and then you get somebody like me, who is 5'8, two inches below average height, I think, for an American male. But you take me and then automatically, part of my role is to go in there as an underdog and get bumped around. In AEW, the hiring practices aren't necessarily that we've got to get all these big guys. It's most people my size, some a little bigger, some a little smaller, but what that does is it allows me to do more mat wrestling, more hard-hitting stuff. For example, if you look at some of the people from a longevity perspective to do really well in Japan, they do hard shots, but they're not taking these huge bumps, the stuff that really wrecks your neck. I've cut some of the stuff that literally I just can't do anymore, like springboard dives in to the crowd."

-Bryan Danielson
Staying on the topic of Japan, the Blackpool Combat Club member revealed he'd love to return to the country and wrestle, particularly if the opportunity arose for him to be a part of NJPW's annual G1 Climax tournament. To do this, however, Danielson would require an extended period away from AEW, something that may prove difficult to balance with World Title aspirations.
"I don't know because that requires Tony (Khan) to allow me to be off of TV for four weeks or whatever. You have to look at it from a Tony investment point of view, right? Does he really want somebody like me who is older to go through that many hard matches, be off of TV for four weeks, and potentially get injured? Probably not. Although, I do have a dream that me, Mox and Claudio [Castagnoli] and maybe Eddie Kingston, just so we have somebody to pick on, would all be able to go do one G1 together, because that would be just so much fun. To go do those incredible matches, but do it with your friends so that you all have this experience together. I think that would be incredible. Now, if you're asking me if Tony is going to let me go do a G1 and is it a smart move for him? Probably not, but the odds of him letting me do it, I would say a 33 percent chance. The odds of him letting me, Mox, and Claudio all be gone for a month off of TV, an astronomically small percentage, but I haven't even talked to him about it. So maybe with this interview he'll see it."

-Bryan Danielson
Fans of Danielson, Eddie Kingston, and Claudio Castagnoli would certainly be excited to see the three men compete in the G1 Climax at some point soon, however, for now, Danielson's focus remains on his AEW World Championship clash with MJF this Sunday in San Francisco, California.
AEW Revolution is also set to feature fellow Blackpool Combat Club member Jon Moxley taking on long-time rival Hangman Adam Page in a Texas Death Match, whilst AEW Women's Champion Jamie Hayter will put her title on the line against both Saraya and Ruby Soho.