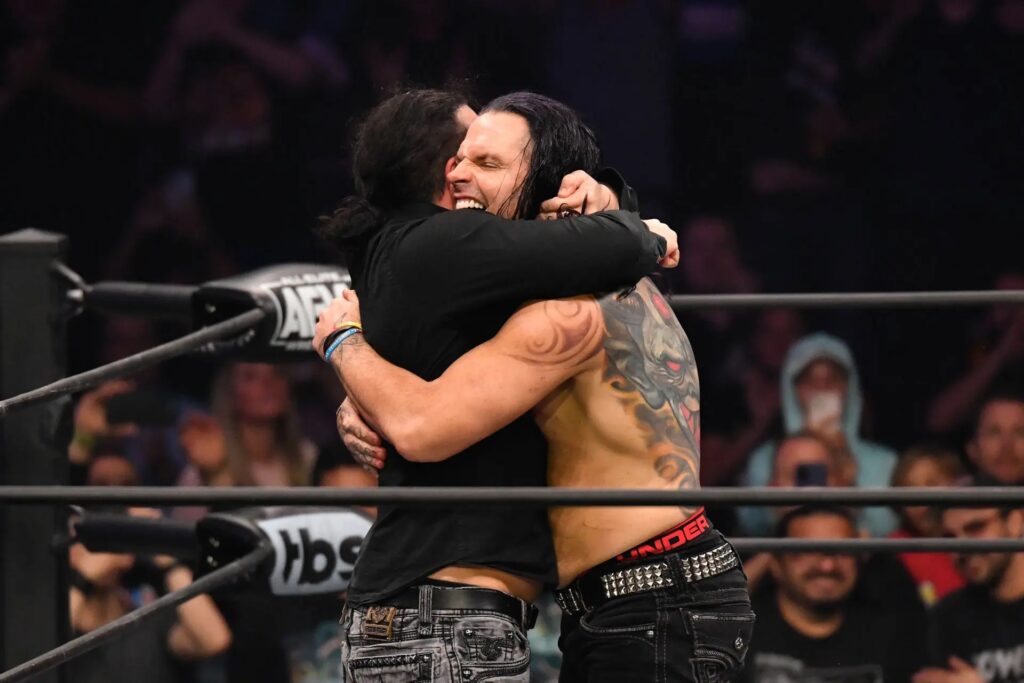 Jeff Hardy was arrested on June 13, 2022 for driving without a license and being three times over the DUI limit. The star has since entered rehab and the wrestling world is collectively behind Hardy as he looks to fully recover from his long standing substance abuse issues in the future.
Though, there remains fans who are optimistic about Hardy's return to a wrestling ring and Jeff's brother Matt has spoken on his Extreme Life Of Matt Hardy podcast to discuss The Charismatic Enigma's status, stating that the star is working really hard to correct his behaviour.
"The first thing Jeff did whenever he got the opportunity, he traveled to Florida and stayed 90 days and did an extensive rehabilitation stint. Really intense work on himself. Even after those 90 days, he was doing outpatient, where he was going every week. He probably did 170 days altogether when it was said and done, on treatment on himself, being there and trying to rehabilitate himself and get to the bottom of this, 'why do you have issues? What causes this? How can we correct and change this?' It's one of those things, my brother, obviously, he's had so many addiction problems through the years, but he's never been this specific and in detail to try and work through it so much, really commit himself to this,"

-Matt Hardy.
Matt revealed that Jeff went to rehab for thirty days in April 2021, while he was still with WWE. In fact, negotiations about the 2021 rehab frightened Jeff as there was talk of him going to prison to complete rehabilitation.
"The reason I say it'll be different this time is because he went into it with a different mentality and he's never been this scared before. There was a lot of talk where they wanted him to go to prison for months and do this. They ended up working this deal where it was 30 days. One of the biggest things you're going to see with Jeff Hardy going forward is how he wants to share his story and help other people out. That's something he's been very adamant about already. He's been so motivated,"

-Matt Hardy.
Alcohol appears to be the worst addition to deal with for Jeff, with Matt stating that he can go a while without it but just needs a little bit to go past his limits.
"This last time, alcohol was harder than anything else for him to kick. There was a time when he first came to AEW where he would go weeks without doing anything, but once he would get that little…get a little started, it would quickly turn to an avalanche, and that's just how he is and how his personality is. I think he understands that now more. The fact that he had so much on the line, and legitimately, this could have cost him a large chunk of his life. He was trying to do the work in treatment, he had legal people trying to help him out as much as they could. At the end of the day, he's not someone who has done violent, bad things that come from a terrible place. He's someone who had an addiction problem. I hate it. There is no way to justify someone being intoxicated, getting behind the wheel, and driving. It can't be justified. In this day and age, it should never happen. The help that he went and got during this time, I've seen a different version of him, and it's not one trying to play the game. Don't take my word for it here. Follow him going forward and we'll see what happens. Could I be wrong? Of course I could, but this is the most drastically different I've seen my brother,"

-Matt Hardy.
As for an in-ring return, Hardy claims that his brother's comeback to AEW hasn't even been discussed. This is a large part because of just how complicated the situation is, with Jeff's court case only recently being resolved.
"That hasn't been talked about. Will it happen? Maybe. Maybe not. That isn't something that hasn't been talked about at all at this point and it certainly wasn't going to be like, his court case is done, he shows back up on AEW Dynamite."

-Matt Hardy.
If Jeff was to make a return to the ring, it would certainly divide the audience. Portions of AEW fans would be concerned about Hardy's wild in-ring style and how dangerous that would be to his health. To combat this, Matt has said that he has previously talked to his brother about changing the way he wrestles.
"Yes. I already have. I've had it with him throughout the years. Whenever I wanted him to become Brother Nero at the beginning, I was having that conversation with him then. That's why I said he could no longer jump off the top rope. 'You're Jeff Hardy, you're a rockstar, people want to see Jeff Hardy. I know you feel so committed and passionate and you want to give them a whisper in the wind and swanton every single night. You can do those things when the time is right. Pick and choose. Be smart. You're not just Jeff Hardy the wrestler anymore, you're Jeff Hardy the father, the husband, the family man. You have to think about that.'"

-Matt Hardy.
Matt Hardy still appears on AEW programming on a semi-regular basis. Last night, he wrestled in a losing effort against Hook.
As always, we'll aim to update you on the condition of Jeff Hardy and his wrestling future as we hear more.
H/T to Fightful for the transcription.