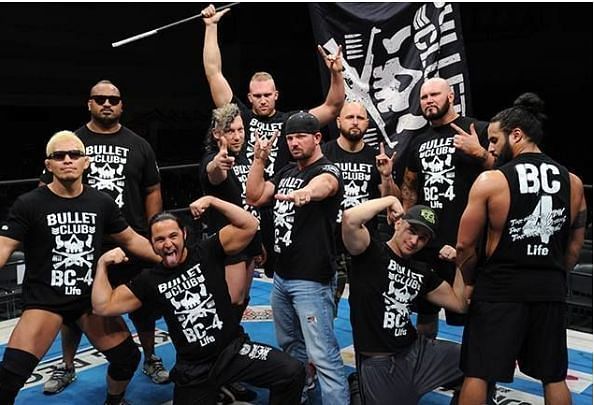 Not half an hour after Prince Devitt's shocking expulsion from the group, a tag match involving reigning IWGP Heavyweight Champion Kazuchika Okada was disrupted by Bad Luck Fale and a hooded figure. The hood was pulled down to reveal AJ Styles, who delivered a Styles Clash to the champion before revealing himself to be Bullet Club's newest member. Much like Devitt, who had heavyweight title ambitions of his own, Styles had aimed straight for the top of New Japan Pro Wrestling, bringing a reputation that made him an instant contender. Styles had long been considered one of the best pro-wrestlers the world had to offer during his time in TNA/IMPACT, reigning as champion of the promotion a total of 5 times, as well as holding their X-Division title 6 times, whilst putting on classics such as his triple threat encounter with Christopher Daniels and Samoa Joe.
On May 4th, 2014, year to the day that Bullet Club was founded, Okada granted Styles a title shot at Wrestling Dontaku in Fukuoka. Styles was already more than a match for 'The Rainmaker,' but with his insurance policy at ringside it was almost unfair, as Okada was forced to repel constant attacks from the likes of Karl Anderson and The Young Bucks. With the referee distracted, Yujiro Takahashi entered the ring and levelled the champion with a lariat, before delivering Tokyo Pimps to Okada, giving Styles the opening to seal the victory. Stabbing his Chaos stablemate in the back, Takahashi became Bullet Club's first Japanese member, breaking the tradition of Bullet Club members being all Gaijin, and opening the door for more Japanese members to join down the line.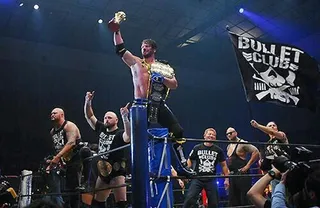 The headline was of course Styles' victory however, as he captured the IWGP Heavyweight Championship and placed Bullet Club atop of the wrestling mountain at a time when many expected them to fall into disarray. With Styles as its standard-bearer, Bullet Club became the talk of the wrestling world. The New Japan faithful even began to begrudgingly respect the stable, due to Styles' breath-taking performances in the squared circle. They rapidly became pop-culture icons, and as previously mentioned, sold merchandise at levels which would struggle to ever be matched.
Moving into 2015 and Wrestle Kingdom 9, Styles laid claim to the IWGP Heavyweight Title once again, defeating Tetsuya Naito to grant him an opportunity at Hiroshi Tanahashi, who had defeated Styles in October of 2014 to end his initial reign. A month after WK9, Styles and Tanahashi had a violent and bloody battle at New Beginning in Osaka, with 'The Phenomenal One' scoring his second IWGP Heavyweight Championship win. Following the match, official leader Karl Anderson would declare Bullet Club the "greatest faction in professional wrestling for the last 20 years", a claim hard to argue with, and would proceed to reintroduce each member for any new fans watching the event.
On that long list of names was 'The Cleaner' Kenny Omega, who had been introduced to the stable in November 2014, appearing much different to his previous spells as part of NJPW. Gone was the bleach blonde hair and colourful attire, and in was black leather, round shades, and silver curls, as he vowed to "clean up the Junior Division." He made good on his promise at the aforementioned Wrestle Kingdom 9, defeating Ryusuke Taguchi to capture the IWGP Junior Heavyweight Championship. The psychotic Omega seemed devoid of any redeeming qualities as apart of Bullet Club, until crossing paths with former best-friend Kota Ibushi.
Ibushi had been on an incredible run of form that saw 'The Golden Phoenix' win the New Japan Cup in 2015, setting him on a collision course with IWGP Heavyweight Champion, and Bullet Club member, AJ Styles. During their title encounter at April's Invasion Attack, Ibushi looked to have the match won, heading to the top rope to deliver a Phoenix Splash. It was at that moment Omega jumped up on the apron, seemingly about to attack his former tag-partner. In a rare moment of hesitation for Omega however, he was unable to go through with the attack, although the momentary distraction would prove enough for Styles to capitalise on, catching Ibushi and delivering an emphatic Styles Clash to keep the gold around his waist.
As the entirety of Bullet Club celebrated in the ring following the match, Omega was visibly conflicted, and it was clear for all to see that he would play a major part in what was to come for the stable. As 2016 rolled around, Bullet Club seemed in prime position to steal the spotlight at Wrestle Kingdom 10, being involved in half of the matches on the card, with all five of those matches being for New Japan gold. The most talked about match on the card was undoubtably the IWGP Intercontinental Title match between AJ Styles and "The King of Strong Style" Shinsuke Nakamura.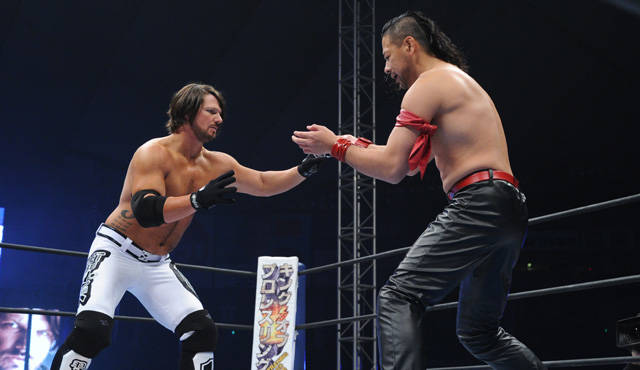 The match more than delivered in terms of in-ring quality, with fans widely praising the bout to this day as one of the greatest of all time, however it didn't deliver in the eyes of Bullet Club, as Styles came away unsuccessful. The Young Bucks were the only Bullet Club members to leave New Japan's headline event with their gold intact, and this was far from the only trouble brewing within the stable's ranks. Rumours flooded the online wrestling community that WWE were on the brink of signing Shinsuke Nakamura, AJ Styles, and The Good Brothers (Gallows & Anderson), and at New Year Dash following Wrestle Kingdom, Kenny Omega saw an opportunity to make a statement.
Making his entrance for a tag-team match alongside AJ Styles, Omega announced to the cameraman (and subsequently the viewers watching at home) that we were about to see "some crazy sh*t today", and that is exactly what would transpire. Omega proved the difference maker in the match, shockingly pinning Intercontinental Champion Nakamura, but what was to follow was even more unbelievable. Celebrating their victory, Styles posed atop the second rope, at which moment Omega saw the opening and delivered a One-Winged Angel to the man who had raised Bullet Club's profile to astronomical heights. Omega would be joined in the ring by his BC cohorts, who after a brief moment of discussion, joined the beatdown and shared a too-sweet whilst standing over a beaten Styles.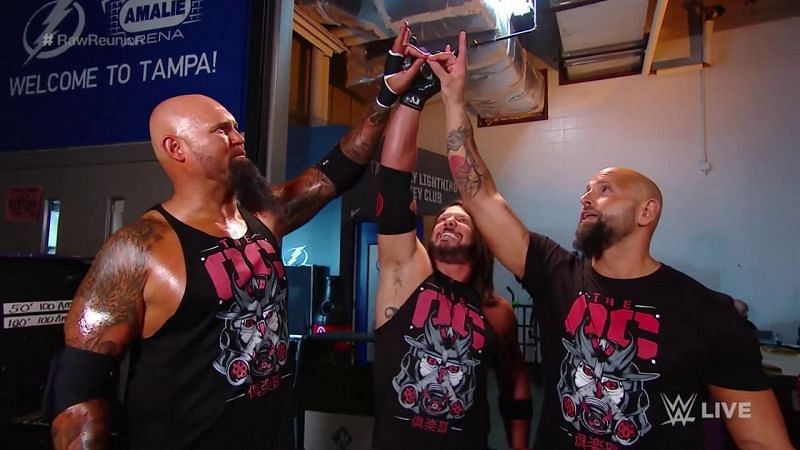 In case there were any doubt regarding Styles' Bullet Club future in this moment, Omega formally announced that he had "fired" the former world champion, officially ushering in a new era. AJ Styles and The Good Brothers would eventually land in WWE, and occasionally aligned as both 'The Club' and 'The OC', another clear nod to their Bullet Club pasts. This can, in a way, be seen as Bullet Club unofficially crossing over into WWE, with Styles reigning as WWE Champion, and Gallows and Anderson holding tag-team gold also, ensuring that no matter where they are, the Bullet Club would always be synonymous with success. Styles' Bullet Club ties have only further been solidified this week, as this Monday's episode of Raw saw the Phenomenal One align with Finn Balor to take down Judgement Day (Edge & Damian Priest. The scene of the two former BC leaders of old too-sweeting in the ring made for a nostalgic scene for those who watched the first few years of the faction, and served as the perfect tribute to the pair's shared history as Bullet Club marks their 9 year anniversary.