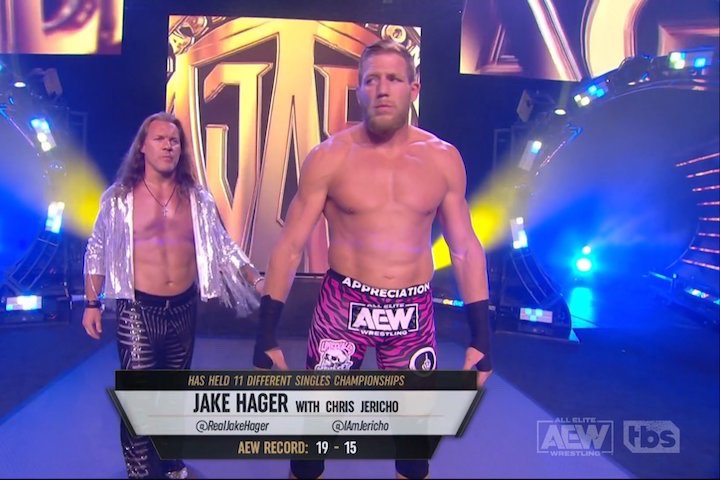 The Jericho Appreciation Society has become a key part of AEW and now JAS member Jake Hager has been given a new deal to stick around in AEW.
Currently, Chris Jericho and the Jericho Appreciation Society are producing some incredible TV each week. Their focus on sports entertainment rather than professional wrestling makes them ideal villains and a really valuable part of the show.
It seems like their work hasn't gone unnoticed as far as contracts go. On August 19, it was revealed that Matt Menard and Angelo Parker of 2point0 had signed extensions with the company. Jericho was asked about this by Alex McCarthy of Inside The Ropes where he revealed that Jake Hager had also signed an extension.
"Jake Hager too, they all got contract extensions,"

-Chris Jericho
Jericho also commented more generally on 2point0 and how he likes the fact they're currently doing their own thing. He discussed the JAS recently getting new members and his love for the group as a whole.
"I knew those guys were really good the moment I started working with them. I do feel proud that they got contract extensions, raises, and everything in between. I don't want to say anybody deserves…they earned it. They earned it by showing what they can do. The JAS has so many members, that's the way Tony (Khan) wants it, adding Sammy (Guevara), Tay (Conti), Anna (Jay), I can't do everything for everybody, so I love that they have their own story going on with Angelo and HOOK. Daddy Magic has a shoulder issue so he's been doing commentary and he's been killing it. I gave them an opening and they just kicked the door open, and they understand, the more they can do, the more valuable they are to the company and Tony Khan agreed. It is great to see because they didn't deserve it, they earned it."

-Chris Jericho
Jericho is currently tied up in the AEW World Championship tournament in which he'll take ok Bryan Danielson next week on Dynamite. The JAS also has the 2point0 and Hook storyline as well as trying to keep Daniel Garcia in their ranks. It's a group that are all busy with their own thing which Jericho loves.
H/T to Fightful for the transcription