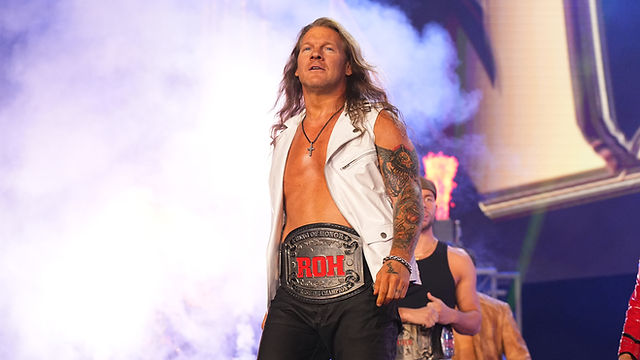 In January of 2019, wrestling legend Chris Jericho was revealed to have signed a full-time contract with the upstart All Elite Wrestling promotion. Jericho defeated Executive Vice President Kenny Omega at the company's inaugural event Double or Nothing, before going on to best Hangman Adam Page at All Out to become the first ever AEW World Champion. Since then, Jericho has been a constant on AEW television, and currently reigns as the ROH World Champion whilst leading the Jericho Appreciation Society.
According to Variety, Jericho is far from done with AEW, as they're reporting that "The Wizard" has signed a three year contract extension that will keep him with the company until December 2025. Variety also noted that Jericho, in a similar vein to AEW World Champion Jon Moxley who also recently agreed to a contract extension, will take on increased responsibilities behind the scenes and will now serve as a producer and creative advisor in addition to continuing as a mentor to young talent.
Discussing the news, AEW President Tony Khan hailed Jericho as one of the all-time greats, and shared his excitement about being able to keep such a knowledgeable mind around backstage.
"Chris Jericho long ago cemented his legacy as one of the greatest professional wrestlers of all time, and we're fortunate to have his skills, charisma, knowledge and insights in AEW for years to come. Chris has discovered a fountain of youth this year, and he's having some of the very best matches of his legendary career against some of the top names in wrestling. In expanding his responsibilities, he'll continue to serve as a valuable leader with our roster having the opportunity to utilize one of most creative minds in the history of wrestling."

-Tony Khan
Variety were also able to interview Jericho following his contract extension being made official. The ROH World Champion was asked to comment on the reason as to why he has chosen to stick with AEW and signed this extension, with Jericho replying that he didn't even consider calling it quits.
"I guess the simple answer is 'Why not?' Things have been going so well in the company, and I really do feel that this is my company. It's tattooed on my heart, so to speak. I've been here since day one, and there's really no reason not to be here continuing forward. When AEW first started, I think basically it was Chris Jericho and a group of very talented people that might not have been as well known. Within three months that changed and now within three years, we've got at least a dozen, maybe two dozen, of our own homegrown stars that came into their own on AEW television."

-Chris Jericho
Throughout his career, Jericho has proven himself to be a master of reinvention. During his AEW career alone, he's been known as "Le Champion", "The Wizard", and most recently "The Ocho", as the ROH championship marks the eighth world championship he has held during his career.
Discussing his numerous gimmick changes, Jericho emphasised the need to evolve in order to stay at the top, and shared an insight into how he develops the latest chapters of his legendary career.
"I think evolving and always reinventing myself is what keeps me going, and now I have this freedom to be creative, to just do anything that I think is going to work. I've never really had that before. I don't have to worry about anybody else opinions. Obviously, Tony Khan weighs in from time to time, but it's really just an open canvas to just paint whatever pictures that I want to paint and that makes it so much more fun."

-Chris Jericho
In terms of his role within the company these days, Jericho compares himself to hockey great Gordie Howe, who played at the top levels of the sport into his 50s. Additionally, the 51 year-old also referred to himself as an "elder statesman" of the locker room, noting that he spends the majority of his time with AEW working with less established talent in order to offer his insight on how they can improve.
Finally, the former AEW World Champion addressed his current run with the ROH World Title, stating that he hopes to elevate said title to a level of prestige second only to the AEW World Championship itself. He made sure to emphasise, however, that he aims to do this in his own way, and doesn't intend to respect the legacy of Ring of Honor.
"It's very simple. I've said I want to desecrate the legacy of Ring of Honor. Well, who's gonna stop me from doing that? We haven't found out yet, but when it happens, suddenly they slayed the dragon and they become a bigger star as a result."

-Chris Jericho
Jericho is set to defend the gold against former ROH World Champion Dalton Castle during tonight's Tuesday night edition of AEW Dynamite, as he aims to continue to erase the company's history.
Jericho has been a consistent highlight of AEW's weekly television since the company's inception, and we're certainly looking forward to seeing what the next 3 years have in store for him.