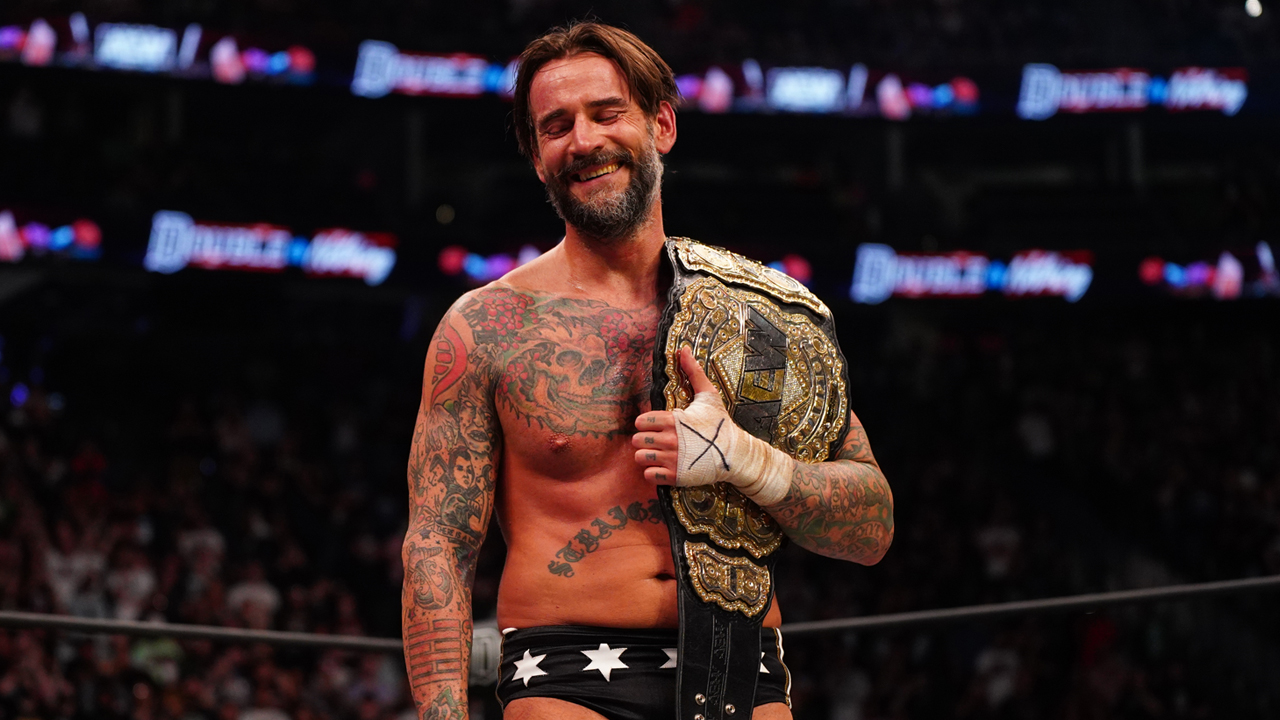 AEW World Champion made his return from injury two weeks ago today, setting his sights firmly on AEW Interim World Champion Jon Moxley as he looks to cement himself as the company's top star once again. It was just a week into Punk's reign that injury derailed his momentum, although he's looking to pick up exactly where he left off, with his first World Championship defence set for tonight's Dynamite in Cleveland.
Punk recently spoke with Sports Illustrated ahead of tonight's AEW World Championship unification bout, touching upon a number of subjects including tonight's match, as well as reports of backstage unrest following his promo last week.
Punk began by touching upon his time wrestling for Ian Rotten's IWA Mid-South promotion at the turn of the century, highlighting the difficulties the promotion faced in terms of production quality.
"IWA Mid-South ran out of a barn, I don't even know what the actual commercial functional use of the space was, but it was a barn. The first time I ever wrestled for Ian, I had to wrestle outside the barn. The fire marshall had shut Ian down because something wasn't up to code. It was like a diesel engine barn, if that makes any sense. When I was doing backyard wrestling, we wrestled at a barn and people sat on haystacks. With Ian, we were lucky if people had seats. That was Charlestown, Indiana. Kentuckiana, they called it. That's why there was an OVW/Jim Cornette–IWA/Ian Rotten blood feud. Here's a little history lesson. Ian got wrestling thrown out of Kentucky. Everybody was always told, if you wanted to work for the WWF, don't ever work for Ian Rotten. If you did, you'd never work for Jim Cornette or OVW."

-CM Punk
Despite the bitter feud between Rotten and Cornette, Punk continued to blaze his own trail and eventually made his way to WWE. Whilst his outlook on the business has changed in numerous ways thanks to his experience throughout multiple companies, Punk admits that wrestling still elicits the same fervor in his soul.
"I still feel it, just in a new way. I'm much more driven by business metrics, whereas I think some people are driven by match quality and star ratings. I think a good match is one that sells tickets."

-CM Punk
Punk is set to clash with AEW Interim World Champion Jon Moxley on tonight's edition of Dynamite, with the two Brawling throughout last week's show leading to their scheduled All Out main event being brought ahead. Speaking about Moxley, Punk stated that the pair of them are alike in the sense that they're both far different people compared to when they last wrestled eachother.
"I think Moxley is a guy who followed in my footsteps. He was a guy that was never really given the ball [in WWE]. When he was, it was taken away from him, time and time again, for other stars. I think he's got a chip on his shoulder because he thinks the same thing's happening to him again. He's a different dude from the last time I wrestled him, which was almost 10 years ago, and I'm a much different person, too."

-CM Punk
Before addressing Jon Moxley at the start of last week's Dynamite, Punk called out former AEW World Champion Hangman Adam Page, before labelling him a "coward" when he didn't show up. Reports have since emerged revealing that the moment was unplanned, prompting further reports of backstage unrest to come to light.
Addressing the rumours, Punk was asked whether he felt creatively fulfilled in AEW, as well as whether he enjoys working with the roster.
"Yes, 100%. You try not to put too much stock in internet rumors. But for AEW, I definitely think that's part of our audience. Twitter's not real life, though. On top of that, a lie makes its way around the world twice before the truth puts his boots on or gets out of bed. If I addressed every rumor, I'd be here all day. I love AEW. It's not a competition of who loves it more or who's the heart and soul, or who's this and who's that. AEW allowed me a second chance to do what I do best, and that's professionally wrestle."

-CM Punk
Punk continued, further quashing the rumours of him being unhappy behind the scenes by revealing that he's always open to talk backstage, as well as stating that those who feel the need to air their grievances to the dirt sheets should come to him instead.
"It's one side of the story. My locker room is never closed. It's always open. Anybody who wants to DM [the Wrestling Observer's Dave] Meltzer some bulls— can come talk to me about it. It's not macho, stupid bulls—. I'm an adult. Come talk with me."

-CM Punk
Turning his attention back to tonight's show, Punk was asked whether he's heading into his first AEW World Championship defence feeling 100% healthy, with the champion providing an honest answer, noting that he can't be sure whether he's 100% or not until he's in the ring.
"It's a prickly topic. I've had problems with the way my health was handled in the past. I've been devoting all my waking time to getting my foot back to 100%. I will be cleared by my surgeon. Whether that means I'm 100% or not, there's where the tricky answer comes in. "It's kind of like fighting for the first time in the UFC. I'm ready, I've done the work, but you're never ready until you do it. This foot, I'm doing everything I can to make sure it's ready, but it won't be ready until I do it. Am I game ready until I play a game? I'm looking forward to playing a game and finding out where we're at."

-CM Punk
Punk then stated that he told his wife, surgeon, and Tony Khan that he's in a rush to be healthy, not to get back, with his focus now on staying healthy rather than forcing himself to see through creative plans.
The attention then shifted back to Punk's call out towards Adam Page, a moment that has been the talking point of the wrestling world throughout the entirety of this week. Punk made it clear that personal vendettas are never his focus, with his primary goal being to create a buzz and sell tickets for the following week.
"That's what I'm here to do, make people want to see what happens next. I'm trying to sell tickets to the live events. That goes back to me saying Twitter isn't [the] real world. Twitter is a bunch of people that don't really care about your opinion. They want to find like-minded opinions that share their worldview. I'm trying to tell stories, sell tickets, and get people to tune in on Dynamite."

-CM Punk
Regardless of your thoughts on Punk, there can be no doubt that he's played a huge part in the rise of AEW since joining the company last year. Having made his return from injury, Punk is now hopeful that his second year can exceed his first.
"My first year exceeded my expectations, and now we have a baseline to build off—a foundation of rivalries and people I'm friendly with. It makes the second year all that more exciting. Seeing all the business metrics tick upward, that's why I was brought here. It's possibly even more exciting than the first year."

-CM Punk
One aspect of Punk's game that he has long been heralded as one of the best in the business for is his ability on the microphone, with the "Second City Saviour" often holding nothing back with his scathing insults, something Jon Moxley found out first hand during last week's Dynamite. Explaining the art behind the way he cuts promos, Punk explained the following:
"I don't write stuff [down ahead of time], I just talk. That's one of the biggest things that's missing from pro wrestling. It's letting people go out there and talk if they know what they're doing. It can be magic."

-CM Punk
Closing, Punk made sure to emphasise how his passion for pro-wrestling will carry both himself and AEW into the future, with tonight's AEW World Championship unification bout set to mark the first defence of what should be another stellar year for the Chicago native.
"My passion for this, that's all I bring and that's all I have. It's passion for this and making it all about that world title belt."

-CM Punk