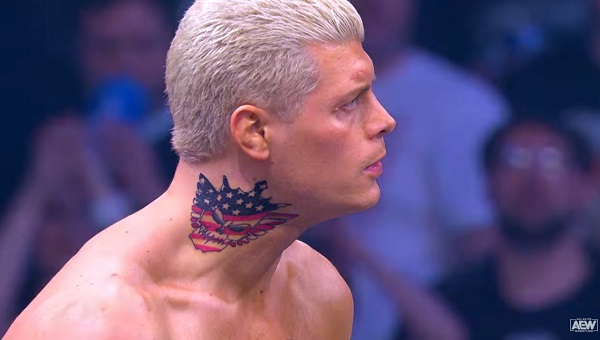 Making its debut at AEW Revolution 2020, Cody Rhodes's 'Nightmare Family' neck tattoo has certainly been a divisive addition to the former TNT Champion's appearance amongst fans.
Whilst many fans have gotten used to the tattoo, it's position and colouration likely mean that the tattoo will always stand out as a talking point.
Since making his shocking return to WWE at Wrestlemania 38, Cody has been able to continue utilising his American Nightmare brand, with the Nightmare Family logo being incorporated as a giant CGI entrance display.
Speaking to Justin Barrasso of Sports Illustrated, Cody discussed the backstage reaction to his neck tattoo since returning to WWE, and noted that temporary versions of the tattoo would soon be coming to the WWE Shop.
"Vince [McMahon] hasn't said anything [negative] about the tattoo, I've been waiting for some of these guys who knew me back in the day to say something, specifically Bruce [Prichard] and Michael Hayes. Even Randy [Orton] hasn't said anything, and that was a shock to me because I wasn't a tattoo guy and he was covered. But it's a good thing to have. Temporary tattoos are going to be released by WWE Shop, and people now see it as an extension of me. That's what it is. When I was here before, everyone tried to tell me who I was. That wasn't a bad thing—I was searching, too. Now I'm reaching my final form. That's why I am sticking to my guns about my character, keeping it as close as possible to who I am. But I'll promise you this—I'm not getting another one."

-Cody Rhodes
No time frame has been given regarding the release of the temporary tattoos as of writing.
Rhodes is currently embroiled in a feud on the red brand with Seth Rollins, who attacked him during his US Championship match on last Monday's episode of Raw. Rhodes defeated Rollins at both Wrestlemania 38 and Wrestlemania Backlash, although it appears as though at least one more match between the pair is in store in the near future.