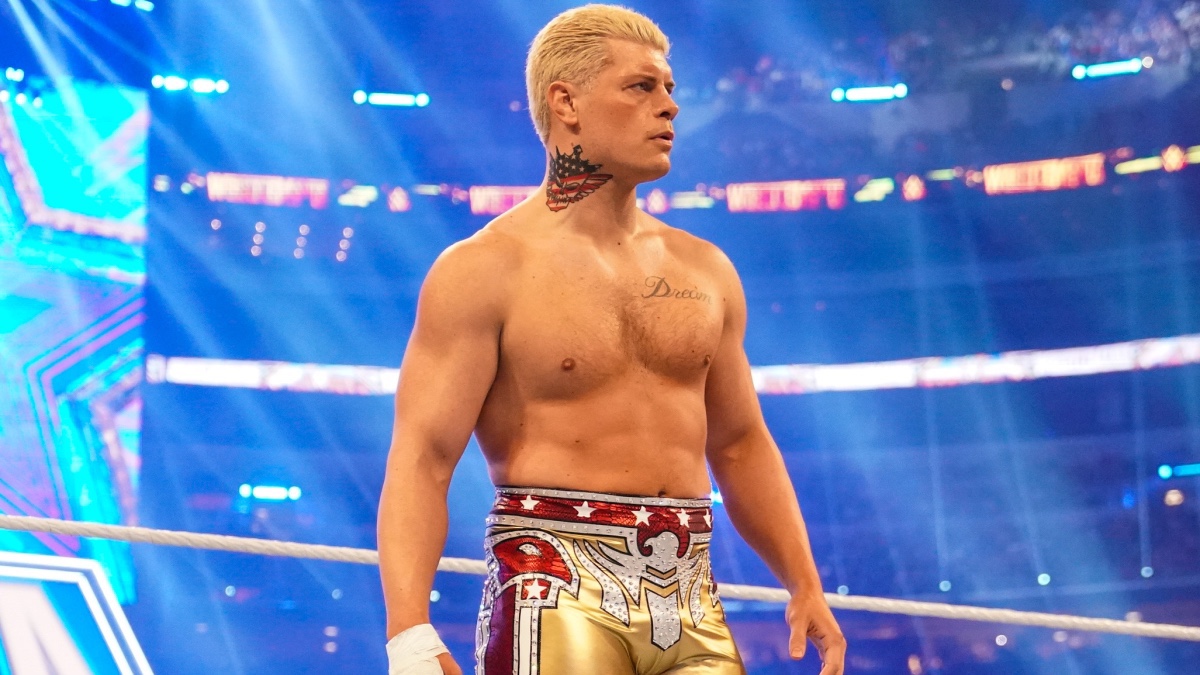 Cody Rhodes seems very happy to be back in WWE, and understandably so since according to him he's on "maybe one of Wrestling's biggest contracts"
Rhodes since last night is already racking up the interviews, which makes sense since his latest WWE debut was a big deal and its Wrestlemania weekend so media is everywhere. He recently sat down with Ariel Helwani to do a interview for BT Sport's youtube channel to talk a number of topics
Rhodes would talk to Helwani about his time in AEW as of late, and how he didn't want to be a "gatekeeper pro wrestler":
"I didn't wanna be a gatekeeper pro wrestler. I didn't wanna be the guy at AEW where you come in and you had your first program with or your first story, whatever it might be. That wasn't how the first year of the business went for me. I wanted to be The American Nightmare, I wanted to keep expanding and I wanted to move. But also I had wrestled everyone I wanted to wrestle there, I truly had."

"We had a situation where "is he gonna be a 15x TNT champ?" Which would've been a really great stat but also, I did it. I was the first, It was a really sincere and great moment but just i got the sense I didn't wanna be a gatekeeper"

– Cody Rhodes
One of topics also being that Rhodes believes he is the best wrestler in the world, also elaborating on it:
"I think I'm the best there is, and I define it as a wrestler. Because there's all these definitions, 'oh he's a good worker' 'he's a good talker' all these qualifiers. To me what a Pro Wrestler is or WWE superstar, is your ability to capture peoples imagination from week to week. Are they talking about it? Good, bad, ugly. Are they having a discussion? discourse? and thats what I've been able to bring to the table everywhere i went"

– Cody Rhodes
He'd also talk a little about his WWE deal, and a request that he made:
"There wasn't any true guarantees, but there was a request. I said I never wanna see Stardust ever again"

"Its complex to get this all together, maybe one of wrestlings biggest contracts which I'm so flattered about. My gosh I'm so happy about, I have a child so yeah."

– Cody Rhodes
Rhodes has been pretty open when making his intentions clear that he wants to win "the big one" at WWE like his Father, Dusty Rhodes never did. The interview with Helwani was no different, and he also mentioned how there was no better person to debut against than Seth Rollins
"Dusty's not around anymore, I can't do what I originally wanted to do and win the big one and hand it to him. That dream is gone. But, is it? In terms of its not gone and I got this other opportunity to revisit and theres no better way than it being Seth"

– Cody Rhodes
Rhodes was asked by Helwani about if any AEW stars had been reaching out to him and what advice he would give to them about WWE:
"I would only give someone honest advice. That might be right for somebody, and this was right for me. I don't know if when the first, and I think I know who those people will be because theres certain people who fit the superstar mode, I think I know who the types might be and when they ask I'm just gonna give them the best advice I possibly can"

– Cody Rhodes
If you use any of the quotes above, please credit the original source with a h/t and link back to WrestlePurists.com for the transcription.