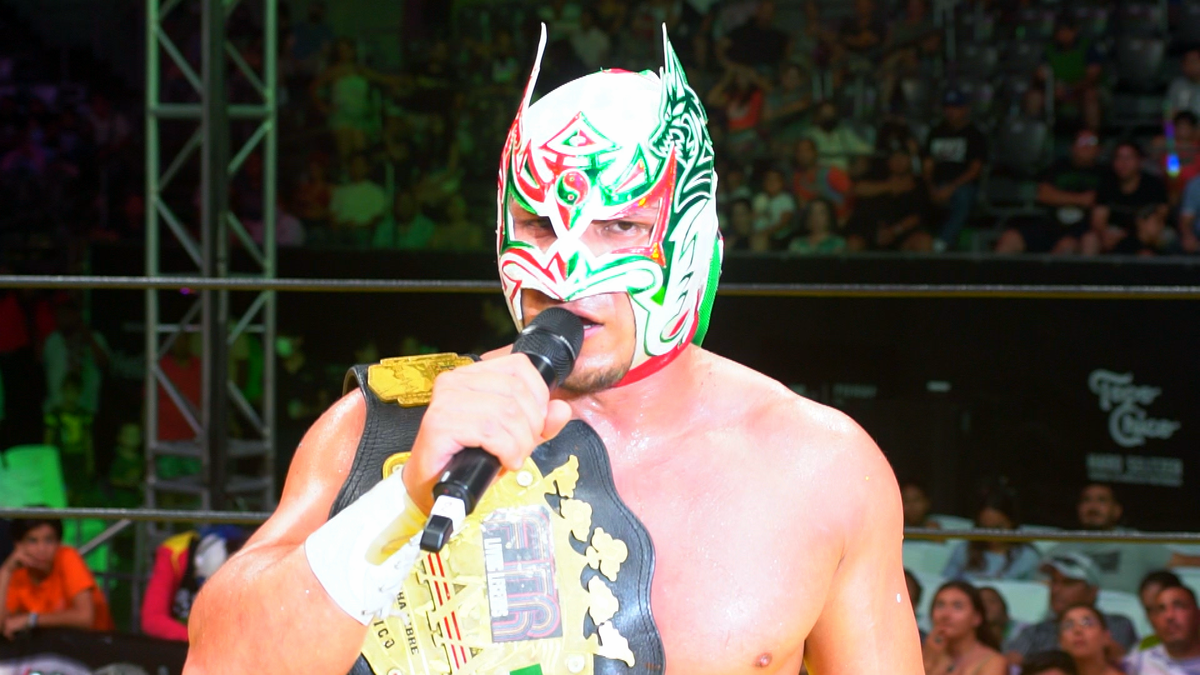 Last night saw Los Hermano Lee (Dragon Lee & Dralistico) capture the AAA World Tag Team Championships from FTR at the Noche de Campeones show in Acapulco, Guerrero, however shortly after capturing the titles, Lee announced that the pair would be vacating their newly won gold due to him signing with WWE.
The 27-year-old has held titles across NJPW, ROH, AAA, and CMLL thus far in his career, and is highly regarded as one of Mexico's best luchadors in 2022. Per ESPN, Lee is set to move to Orlando in the near future to begin the next chapter of his career with WWE, where he is believed to be in line to debut as part of the NXT brand.
Interestingly, ESPN highlighted in their report that Lee's signing is a highly significant one for WWE, with plans in place for a global expansion that will reportedly see the company focus on Latin America, as referenced by WWE's Senior Vice President of Talent Development and Creative for NXT Shawn Michaels, who recently mentioned the possibility of an NXT Mexico brand.
Speaking to ESPN, WWE's Head of Talent Strategy and Operations James Kimball shared his excitement regarding Dragon Lee's signing and emphasised how important he can be in expanding the company within the Latin American market.
"Dragon Lee is a tremendous talent that will immediately add value to the NXT roster. This signing is reflective of WWE's renewed emphasis on globalizing our talent pipeline with Latin America positioned as a focal market."

-James Kimball
Despite appearing for AEW earlier in the year, teaming with his brother RUSH and Andrade, Lee claims that being a part of WWE has always been his dream, as he hopes to follow in the footsteps of the likes of Shawn Michaels, Batista, and of course WWE's own Mexican legend Rey Mysterio.
"I think I can become the new Rey Mysterio in WWE. I just need the opportunity."

-Dragon Lee
Lee recently revealed to ESPN that he spoke in the past with former WWE talent relations exec Canyon Ceman, however, it wasn't until he spoke with current WWE Superstar Finn Balor a few months ago that the ball truly got rolling. Lee then began working with James Kimball and Trent Wilfinger leading to him agreeing to terms with the company in early December.
"[Balor] told me, 'Would you like to be in WWE?' I said, 'Yeah, sure. Why not?' … It was something special for me."

-Dragon Lee
The former IWGP Jr Heavyweight Champion is undoubtedly one of the world's most talented in-ring performers, possessing the ability to interchange between a high-flying Lucha Libre style, heavy-hitting strong style, and technical, mat-based offence. One of Lee's goals is to consistently improve in-ring in order to become a well-rounded performer, although this isn't the only part of his game he's focused on improving, as he shared that he's been diligently working on his English and his ability to connect with fans on the microphone ahead of his move to Orlando.
"It's my challenge to learn more about promos. You will never finish learning in pro wrestling. But every time you wrestle, you learn. But about promos, it's something new for me. I would like to learn something new, how to become not just a wrestler — an artist."

-Dragon Lee
Shortly after the news was confirmed by ESPN, Luchablog provided further insight on the signing, first noting that the company have already begun producing introductory videos ahead of his arrival.
Additionally, Luchablog also revealed that it wasn't until Lee's appearance on the August 17th episode of AEW Dynamite that they began to make overtures to sign him, reportedly inviting both him and his brother Dralistico for a tryout shortly after said appearance, although they ultimately passed on Dralistico in favour of Lee.
"WWE has been aware of Dragon Lee for a while but made no recent move to sign him until he appeared on the August 17th AEW Dynamite. (Dragon Lee appeared as part of a 'House of Dragon' promotion, which may have meant more for him than it did that show.) WWE reached out to bring Dragon Lee and his older brother Dralistico in for a tryout quickly after that appearance. WWE passed on Dralistico, brought Dragon Lee back for a second tryout, and offered him a deal. Dragon Lee accepted, and the deal was official earlier this month."

-Luchablog
It's important to note that since initially posting this insight, Luchablog have updated their website to confirm that another source believes that Dralistico wasn't offered a tryout by WWE, believing that it was only Lee that they made efforts to sign. As soon as we hear more regarding this particular detail we'll aim to provide any updates we can.
Per Luchablog, Lee wasn't under contract during his AEW appearance and competed for AAA as a non-contracted freelancer, which is common in Mexico. Lee's most recent formal contract with any promotion was for ROH, a deal that expired in late 2021.
Dragon Lee is reported to have notified AAA of his status in advance of last night's Noches de Campeones show, however, the decision was still made to have Los Hermanos Lee defeat FTR for the titles, likely due to the show also being Dax Harwood and Cash Wheeler's final appearance for the promotion.
Regarding how Lee will be presented by WWE, Luchablog are unaware as to whether he'll be keeping his mask moving forward, or as to whether he'll be receiving a name change as is the norm when joining the company.
Finally, Luchablog shed some light on what Lee's signing for his brother Dralistico's future, citing a report from the Wrestling Observer Newsletter regarding his intention to team with his brother. Whilst it no longer appears as though Lee and Dralistico will be teaming together, all signs are currently pointing towards Dralistico forming a partnership with his other brother RUSH in AEW.
"Dralistico's recent AEW appearances appear connected to Dragon Lee's WWE deal. Dralistico left CMLL in 2021 with a plan of teaming with his brothers, mostly Dragon Lee. The Wrestling Observer Newsletter previously quoted an AAA source saying Dralistico asked out of a singles tournament because he only wanted to do matches where he teamed with his family. WWE accepting Dragon Lee and not Dralistico ended that plan. Dralistico joining LFI in Mexico and AEW appears to be his new idea. Rush convinced AEW to give Dralistico a tryout, and both brothers have heavily hinted on social media that AEW's signed Dralistico. AEW hasn't confirmed that story as accurate."

-Luchablog
Lee's signing is certainly an exciting one for WWE fans, and we hope he's able to show just how talented he is on the biggest stage.
As always, we'll aim to provide any further updates on Lee's WWE signing as soon as we hear more.