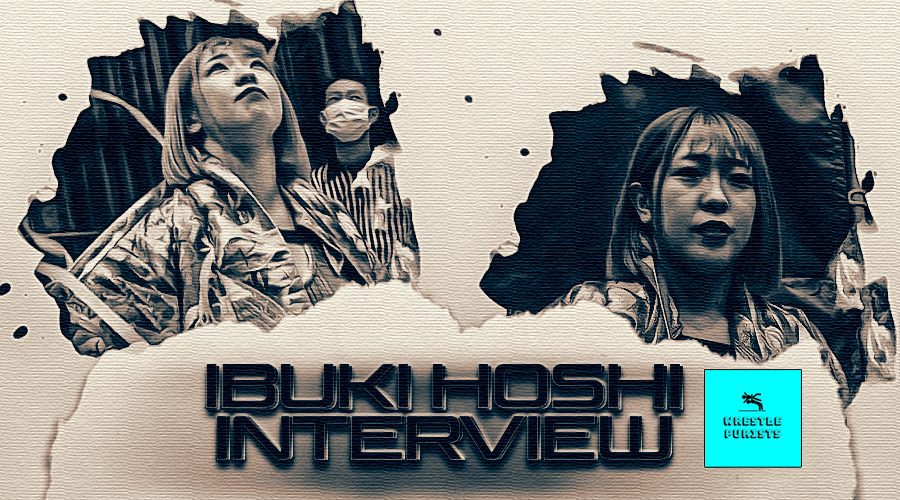 Ibuki Hoshi is not only one of the future top Stars of Japanese Joshi Promotion, Ice Ribbon, but also a future Star in the whole Joshi Scene.
At just the age of 19 years, Ibuki already is a two-time International Ribbon Tag Team Champion and had multiple Title Shots at the ICExInfinity, which is the Top Title in Ice Ribbon. And it's only a matter of time until she wins the ICExInfinity Title.
I was lucky to get the chance to talk with Ibuki about her time in Ice Ribbon, her Tag Team with Hikaru Shida, her desire to wrestle in Mexico, and more.
Ibuki made her Pro Wrestling debut on June 11th 2017 as a replacement for the absent Mochi Miyagi in an International Ribbon Tag Team Title Match. Ibuki challenged together with her mother Hamuko Hoshi against Hiragi Kurumi & Tsukushi Haruka in the Main Event of the show. While she and Hamuko came close to winning in the end, the experience of the Champion team was too much and Ibuki failed to capture the Tag Team Title in her debut. Ibuki talked about how it was to debut in such a big match.
"I was very nervous. To have a title match as your debut match is very rare opportunity after all, so there was nothing but nervousness in me."

「すごく緊張しました。やっぱりデビュー戦がタイトルマッチという中々ない機会なので緊張しかなかったです。」

– Ibuki Hoshi
Over the next few years, Ibuki challenged together with Suzu Suzuki and her mother for the Tag Titles several times but failed to win the title until the 31st December 2021 at Ribbonmania where she and Hamuko Hoshi challenged Maya Yukihi and Risa Sera, who are four-time Champions under the Tag Team Name Azure Revolution. In a long and intense Match, the mother and daughter tag team was able to upset Yukihi and Sera when Ibuki pinned Sera to win the Tag Titles. 4 1/2 years after her first challenge together with her mother, Ibuki was able to secure the first-ever title of her career. She told us that this was a dream of hers.
"I was very happy because it was one of my dreams to wear a belt with my mother. I'm happy that my dream has come true."

「母とベルトを巻くのが1つの夢だったのですごく嬉しかったです。夢がかなってよかったです。」

– Ibuki Hoshi
Besides her tries to win the Tag Team Titles of Ice Ribbon, Ibuki Hoshi also challenged for the ICExInfinity Title on several occasions, with the last challenge being in January against the now-retired Tsukushi Haruka. While the 19-year-old always performed really well, it was never enough to get the job done and crown herself. Ibushi explains to us what she learned from her past challenges for the ICExInfinity Title.
"I've challenged for the belt many times. I learned that I shouldn't simply challenge for the belt whenever I want it. I think it's better that I should declare my challenge after I've become aware of my own ability."

「シングルのベルトには何回も挑戦してきました。やっぱりベルトが欲しくて簡単に挑戦表明してはいけないと学びました。自分の実力がみえてから挑戦表明したいなとは思います。」

– Ibuki Hoshi
One of her ICExInfinity Title challenges was around a year ago, Ibuki Hoshi faced Tsukasa Fujimoto in the Main Event of a Korakuen Hall Show. The most important impressive stat about this match is that it was reported 240 chops were delivered in this match, with the most damage done by the challenger. For many, this was the first time Ibuki really stood out and she proved here that she is The Star Child. It was a star-making performance against the back-then Ace of Ice Ribbon Fujimoto but the pain in her chest from all the chops was there even a week later.
"It was extremely painful. During the match, my heart felt like it was breaking, but I didn't want to lose so I unleashed a lot of chops. Taking baths was painful for about a week so it was really terrible."

「ものすごく痛かったです。試合中も心が折れそうになったけど負けたくなくてチョップをいっぱいやりました。お風呂も入るのがつらく1週間ぐらい大変でした。」

– Ibuki Hoshi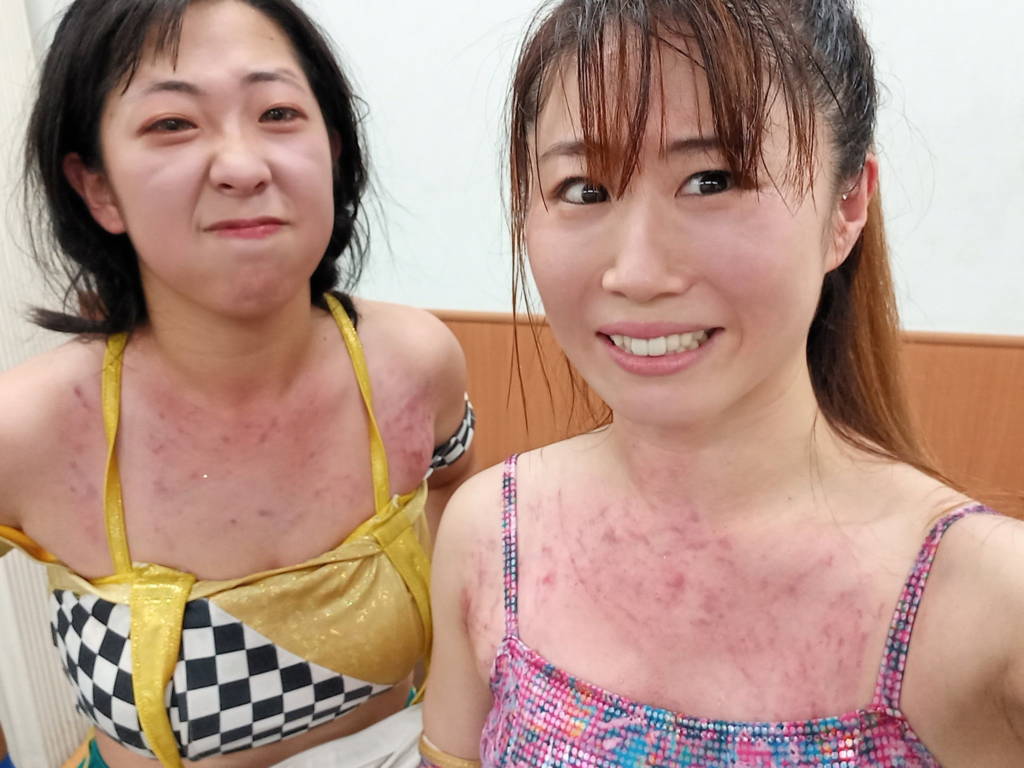 Speaking of Chops. Her Chops are known to be really hard-hitting and are in contention for many to be one of the hardest-hitting Chops in the industry. It's a weapon that destroys the opponent's chest and stands out of her move set. Whenever someone new watches an Ibuki Match, the first thing that stays in their mind are the chops. She revealed to us why her chops are as strong as they are.
"I didn't really practice doing chops before but when I tried using them in a match, everyone said that they hurt so much so chops became my weapon. I used to play volleyball until junior high school so I think that's why I'm able to hit such strong chops."

「チョップの練習はしていなく試合で使ってみたらあまりにもみんなが痛いと言うので自分の武器になりました。中学生までバレーボールをしていたのでそのおかげで強いチョップが打てると思います。」

– Ibuki Hoshi
Currently, Ibuki Hoshi is once again International Ribbon Tag Team Champion together with AEW's Hikaru Shida. They know each other since Ibuki was a child because Shida started wrestling around the same time as Hamuko Hoshi, Ibuki Hoshi's mom. That was in 2008 and Ibuki was around 5 years old. 14 years later Shida and Ibuki faced each other in singles match when the Star Child put on her best performance yet but Shida still defeated her without having big trouble. They decided to form a Tag Team when Ibuki asked Shida to team with her after their Singles Match and they even won the Tag Titles together from Ibuki's Mother and Makoto in their first match together in September. Ibuki explained to us why she wanted to team up with Shida.
"I've known Shida before I became a wrestler, and I never would have thought that I would fight a single against her and would be wearing a belt with her. When I fought a single against Shida, it was then that I knew that I wanted to surpass her, which is why I asked her to tag with me. Because I thought that I would get to know Hikaru Shida better if I was alongside her. I'm happy that I was able to team up with her and wear the belt together."

「自分がレスラーになる前から志田光を知っていてまさかこの方とシングル、一緒にベルトを巻くとは思ってもいませんでした。志田光とシングルしてわかったんです。この人を超えたいってだからタッグを志願しました。隣にいれば志田光をもっと知れると思ったから。志田光とタッグそしてベルトを巻けて良かったです。」

– Ibuki Hoshi
Shida and Ibuki Hoshi now hold the belt for over 90 days, with their first defense coming up on December 31st against former Champions Totoro Satsuki & Yuna Manase. Ibuki obviously has no intention to lose the belt in the first defense and for future challengers, she had a simple message for them.
"No matter who challenges us, we're going to win, so I'm not afraid of anything."

「誰がきても私たちが勝つので何も怖くはありません。」

– Ibuki Hoshi
One of the reasons why Ibuki wanted to team with Shida is that she wants to know her better, so she can surpass the former AEW Women's Champion down the line. Ibuki wants to beat her and that is what she works on right now. The Star Child sees Shida as her biggest rival and won't give up until she surpasses her.
"Everyone is my rival but Hikaru Shida is my number one rival. She's the one that I want beat the most at the moment."

「みんながライバルです。でも志田光が1番のライバルです。今1番倒したい相手だから。」

– Ibuki Hoshi
Yuuki Mashiro, who was seen as a future Star in Ice Ribbon next to Ibuki Hoshi and Asahi, is retiring at Ribbonmania on December 31st in a Match against Suzu Suzuki. She's a special talent that Ibuki had many great battles with in Singles and Tag Team matches, with their last big singles match ending with Yuuki winning. Hoshi talked about how it was to wrestle against a talent like her.
"Mashiro is the wrestler that I'm closest to in Ice Ribbon. She's the one that I've spoken to and consulted about personal matters. I was surprised when I heard that she was retiring. It's really fun to be able to fight matches against Killer Mashiro."

「真白とはアイスリボンの中で1番仲の良い選手です。プライベートと話や相談などもしてきた相手です。その選手が引退と聞いた時はびっくりしました。キラー真白と試合ができるのはすごく楽しい。」

– Ibuki Hoshi
With Dalys and Stephanie Vaquer, two wrestlers that were representing CMLL, were in Japan for a couple of months. Tae Honma and Hikari Shimizu were wrestling in Mexico for CMLL, while Fujimoto and Tsukushi were representing Ice Ribbon in Mexico last year. Wrestling in Mexico is a great experience for wrestlers to evolve their skills in a new style. Ibuki talks about if she's interested in following the steps of and representing Ice Ribbon in Mexico
"I really want to go to Mexico. After all, I want to learn authentic Lucha. I think it would be really great to become a wrestler who can also do Lucha style.

「すごくメキシコに行ってみたいです。やっぱり本場のルチャを学びたいです。ルチャもできる選手になるととてもいいと思うから。」

– Ibuki Hoshi
Two of the biggest stars in the roster, Tsukushi and Tsukasa Fujomoto are absent since May of this. This forced the other Wrestlers on the Ice Ribbon Roster needed to step up their game and one of them being Ibuki as someone who is seen as the future of Ice Ribbon and a leader of this new generation. Tsukka and Tsukushi left big footsteps behind that Ibuki wants to fill.
"I think I have to reach the top just like Tsukka and Tsukushi. To do that I feel that I also need to get the singles belt. I want to show the world what I can do even if the fans don't recognize who I am.

「自分がつっかさんやつくしさんのようにトップにたたなければいけないなと思います。そのためにもシングルのベルトは必要だと思っています。ファンの人にも認められなくても実力を世界の人々に見せつけたいです。」

– Ibuki Hoshi
2022 was a big year for the Star Child. She wrestled Hikaru Shida in a singles match, held the Tag Team Title twice with two different partners and improved a lot, and gained new fans. It felt like a little break-out year for her. Ibuki talked about her 2022 and why her 2023 will be even better for her.
"I think I showed the fans a new Ibuki Hoshi in 2022. In 2023 I want to stand at the top of Ice Ribbon and get more eyes on Ice Ribbon. And then, I want to become a wrestler who can fight internationally."

「2022年は新しい星いぶきをファンの方々にお見せしたと思います。2023年はアイスリボンのトップにたってアイスリボンを広げていきたい。そして世界で戦える選手になりたいです。」

– Ibuki Hoshi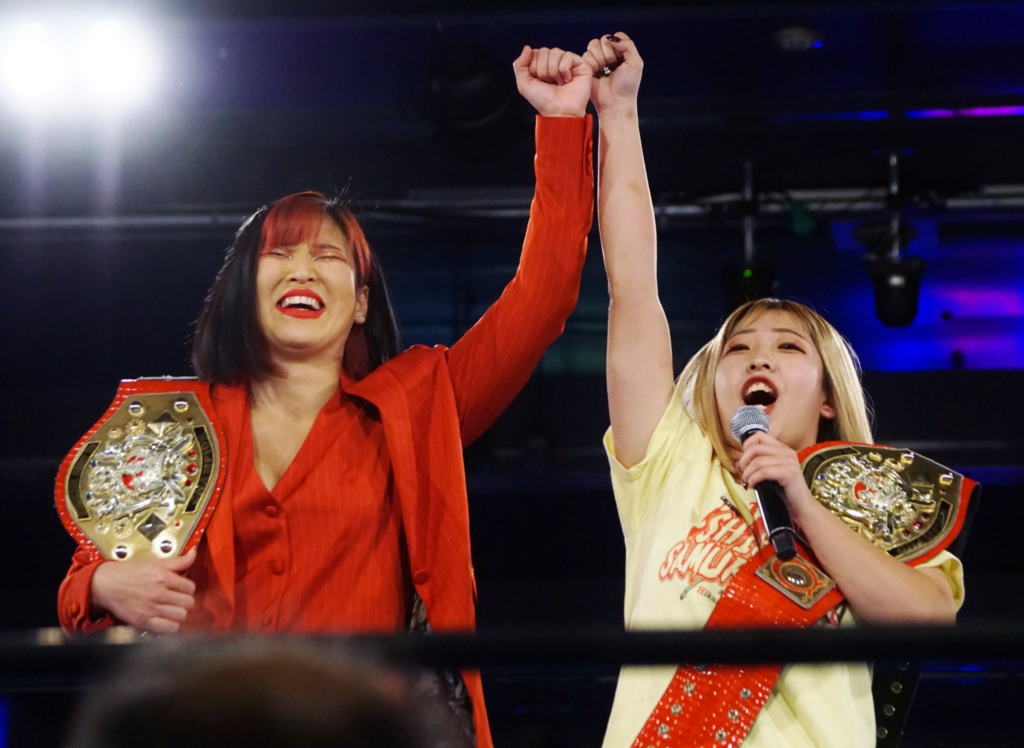 Since her debut, Ibuki always has been an underdog, but from her first match on, she showed her heart and determination to get better and better in every match. The improvement she had over the last few years is only been made by a couple of others. The Star Child found her own style and success in Tag Team Matches, proving her improvement and success right. She talks about what she wants to show with her Wrestling.
"I want everyone to see just how much I hate to lose. And then I want people to be able to feel how much I have grown since my debut.

「負けず嫌いな所を見てもらいたいです。そしてデビューしてからの成長を感じてほしいです。」

– Ibuki Hoshi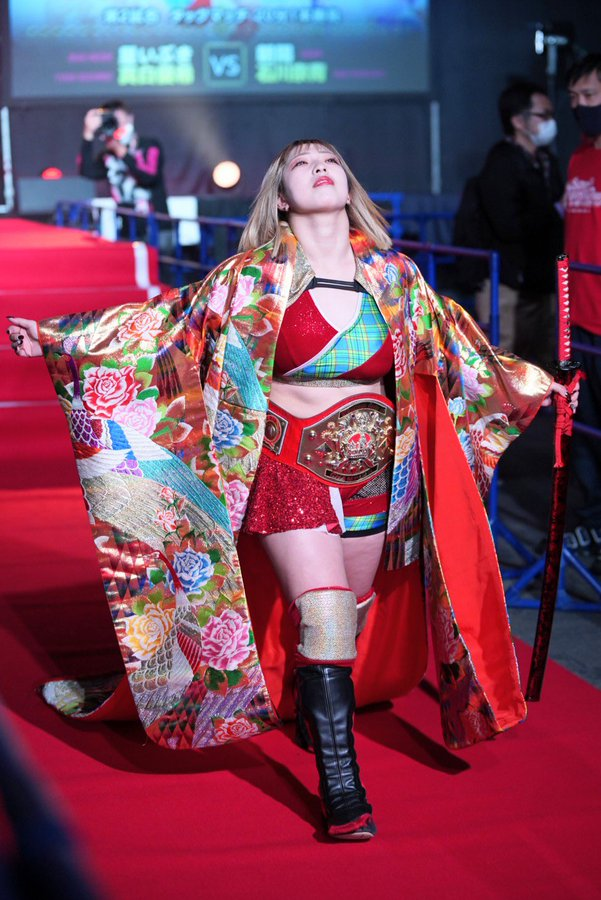 Ice Ribbon lost with Tsukushi and Tsukka their two biggest stars this year after a handful of Wrestlers left the promotion at the end of 2021. A new era has started in Ice Ribbon. Many of our readers might never have seen Ice Ribbon. Ibuki talks about why currently is the best moment to follow and support the Promotion and what Ice Ribbon makes so special compared to other Promotions
"There are many young wrestlers in Ice Ribbon, which is what makes it attractive. These are young girls who are working hard to reach the top of Ice Ribbon. We have a lot of kids who are the kids of the future. Everyone is working hard on their pro wrestling journey, so they want the people to support them. And by all means, I would like you to see Ice Ribbon and Ibuki Hoshi."

「アイスリボンは若い選手が多いのが魅力です。若い子たちがアイスリボンのトップを目指して頑張っています。未来のある子達がたくさんいます。みんな頑張ってプロレスをしているので応援して頂きたいです。そしてぜひアイスリボン、星いぶきを見ていただきたいです。」

– Ibuki Hoshi
Thank you Ice Ribbon and Ibuki Hoshi to make this interview possible. Also thank you to Yappy for helping with the translations! If you would like to follow and support Ibuki Hoshi and Ice Ribbon, here is where you can find them on Twitter:

Twitter (Ibuki Hoshi): https://twitter.com/hoshi_ibuki
Twitter (Ice Ribbon Jp): https://twitter.com/ICERIBBON_jp
Twitter (Ice Ribbon Eng): https://twitter.com/IceRibbon_eng
Twitter (Yappy): https://twitter.com/Yapi