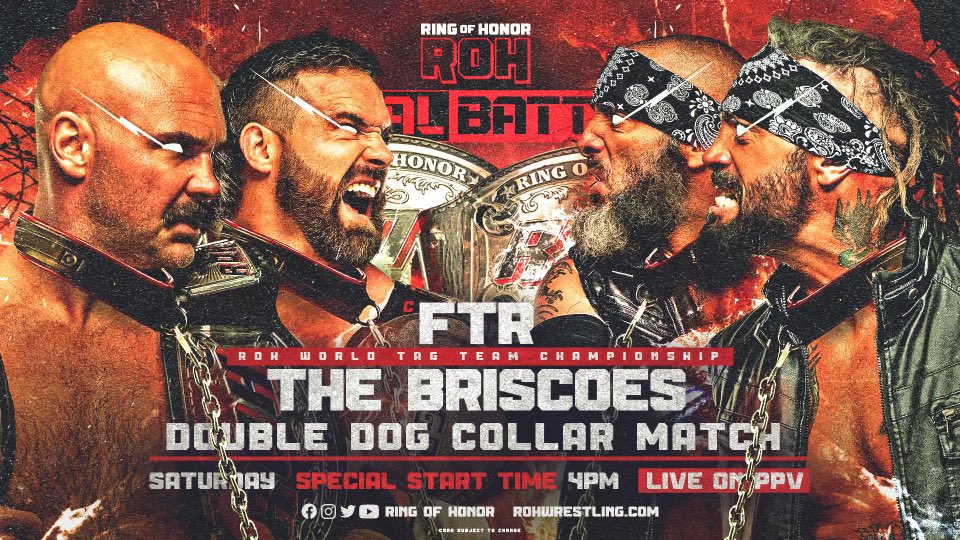 Wrestling history will swiftly forget this, but there was something remarkably final about the Death Before Dishonor main event. Taking a 2-0 lead in their series with The Briscoes, FTR had seemingly completed perhaps the finest chapter of their career. With both the original and its sequel, these teams had secured two contenders for Match of the Year honours, the first true classics of an emerging new era for ROH. That second encounter was especially gruelling, a bruising contrast to its more thrilling predecessor.
There was a palpable chemistry between the two teams, a unique energy that certainly made further entries enticing but for now, that felt like the story's current conclusion. Last Wednesday though, that suddenly changed, as Dynamite closed with the announcement of part three: a Double Dog Collar match at Final Battle. The stipulation spoke for itself, swiftly silencing any doubts. If your initial instincts were that you'd seen enough at Supercard of Honor and Death Before Dishonor, this promise of brutality comfortably recaptured your imagination.
Some matches are selling spectacle, maybe even mystery. The unknown is a compelling thing, filled with possibilities. This wasn't that though, quite the opposite. If you tuned into Final Battle, you knew exactly what you'd be getting from these two teams. Their prior meetings told you everything that you needed to know, with the new stipulation acting as a mere confirmation. At ROH's biggest event of the year, these two legendary teams would fight, plain and simple. It'd be bloody throughout, a living, breathing horror scene in centre ring.
The Dog Collar match has returned to the mainstream in recent years, with Brodie Lee and Cody sharing an instant classic on national television in October 2020. Since then, CM Punk and MJF took the gimmick back to big time PPV, concluding their memorable rivalry in unsurprisingly bloody fashion. Those encounters only further cemented the daunting expectations awaiting these two teams, setting the stage for a gory completion of their trilogy. There was no subverting expectations at Final Battle, it was a matter of daring to meet the fan's wildest dreams.
In the end, they manage that and more because in truth, no other outcome was possible. Though probably not quite as electric as that WrestleMania weekend crowd from April, a special reaction awaited these teams at Final Battle. The visual alone earns a collective explosion, two of wrestling history's greatest teams chained together, ready to share one more classic. A breathtaking proposition, this moment hosts a drama and gravity before any blow is even thrown, that special type of pro wrestling magic.
The Briscoes' behaviour is mostly unchanged but FTR are sporting a palpable sense of dread. For all their famed grit and toughness, this is something different, a harrowing hurdle against anyone, let alone their greatest rivals. That was an element that Mark and Jay had focused on in their pre-match promo, the notion that based on styles alone, this was their domain. FTR are happy to challenge that belief though, matching The Briscoes immediately, as a wild brawl gets us underway.
If parts one and two were admirable in their ability to stand alone as separate entities, this third entry goes one step further. Using the gimmick at their disposal, they again create a totally different match while also featuring established ideas from the series thus far. Perhaps my favourite thing about this rivalry is the organic, natural dance partners within both teams. To me, the first match was about Dax vs. Jay, the emotional edges to their respective tandems, and lead trash talkers at that.
By contrast, I thought the sequel was much more focused on their partners, even with the finish returning to those roots. At Death Before Dishonor, Mark Briscoe produced one of the most extraordinary tag team showings in recent memory, with Cash Wheeler having his own career night in a performance that perfectly showcased his range. Wheeler added a different element to that sequel, assisting its extended runtime greatly and on occasion, stealing the show with his gorgeously timed interruptions and saves.
It quickly became apparent to me that this was the perfect stipulation to build upon those foundations, quite literally pairing up these pieces once more. Speaking of Mark, he's busted open within seconds here as the fight pours to the floor, chaos an immediate centrepiece. Violence was inevitable but this has an instant authenticity that truly shapes things. It never feels forced or staged in its latest grotesque offering, instead simply evolving, from one crazed act to the next. In that way, it has a spiritual overlap with May's Anarchy in the Arena masterpiece.
It's disorganized and untamed, a ferocious fight at every turn. This match isn't the first instance of violence within the rivalry either, it's just executed in a way that feels fresh. Part two was especially packed with brutality but it was spread more broadly, an enduring, gruelling physicality compared to the frenzied, dizzying effort on display here. Even as Dax and Jay fight into the crowd, it doesn't lose that feel, instead projecting a genuine danger, the kind so often absent from the most genuinely dangerous ideas.
The production is thrown into disarray right away and I mean that as a compliment. They shouldn't be able to keep up with this, it'd be an indictment if they could. After brawling across the building, the teams then reunite in-ring, with The Briscoes initially isolating Harwood in an investment that'd ultimately guide them to victory. As usual though, Wheeler soon adjusts, allowing FTR to retaliate. In the meantime, Jay is busted open too, sporting a crimson mask that could only take one back to a famous night opposite Samoa Joe in 2004.
At one point, Harwood swings the chain so viciously that he even hits Wheeler, that misfire not even grazing their collective focus. There are some truly horrifying visuals that emerge along the way too, all living just long enough to be forever etched in the memory. Though the match is mostly limited to the stipulation itself, they do introduce some weaponry with a mountain of steel chairs. There's also a table that goes unused and in hindsight, was possibly introduced by Mark in direct response to the honestly bizarre chants demanding them.
If so, that spontaneity proved to be a glorious diversion for one of the bout's signature spots. Speaking of such, we soon get Dax Harwood desperately spinning the chain around his head before yelling at its complete refusal to collaborate with his bloody skull, dropping a diving headbutt anyway. The teams are separated once again at this point, with Harwood accidentally nailing the referee too, leaving him covered in blood for good measure. That brings Jay back to his feet, allowing him and Dax to take us back to their staggering July duel, wiping each other out once more.
It says more about the other three than anything else but on paper at least, Cash Wheeler feels the furthest from home in this setting. I felt that added a lot to his performance though, as it almost seems as though he's more comfortable with each passing minute, adapting out of sheer necessity. There's an almost cinematic quality to his work here, it's so reactive, his every move shaped by the danger that he's so often in. It truly feels as though he's fighting for his life in there, each act drenched in desperation.
The aforementioned table is then teased a time or two before getting to the actual idea, as Wheeler intercepts the finish by yanking Mark from the top rope all the way down to the chair-covered floor. It's the perfect high spot for this match, an organic outburst without any excessive setup or staging. That leaves Dax and Jay all alone again and this time, Briscoe isn't falling short. Escaping the same pin that ended his night in July, Jay uses the mountain of chairs that FTR built, scoring a devastating superplex for two.
The damage is done though and Harwood has no fight left, then being put to sleep by Jay as Mark prevents one last save from Wheeler. It's the perfect final note, the natural conclusion of a match that had already pushed every limit. No booming combination or extravagant manoeuvre necessary, they simply fought until one man had no fight left, the only outcome befitting a Double Dog Collar match. There's a collective exhale as the result is read, Mark the only man even moving for a moment or two.
This was final, the kind of encounter that you can physically feel, an exhausting watch in the most rewarding way. At Final Battle, FTR and The Briscoes concluded one of the greatest trilogies in wrestling history. Each match had its own feel, its own distinct flavour, all while containing consistent ideas that'll stick with me forever. Top guys, living legends, top five dead or alive, take your pick, they're all accurate. These two teams were in the history books before they even met but now, they're forever attached together too.